Many new enterprise SEOs ask me for advice on improving keyword rankings quickly.
Most tell me they've already been hard at work – writing content, building links, eliminating technical issues on the site... Seeing no immediate results, they're wondering if there's anything else that could help push their search results further (and as soon as possible).
I always remind them that when it comes to improving rankings, nothing beats publishing quality content optimized for the target keyword, boosting its authority, or improving the user experience.
That said, I know a handful of small SEO tweaks that, although may not boost rankings greatly, will increase the chances of content to rank higher.
And in this post, let me show you some of the best practices on quick ways to increase your SEO visibility. But, before we get started, let's make sure we are on the same page on what we are trying to accomplish.
What is Search Visibility?
The technical definition of search visibility is the percentage of Estimated Traffic (keyword position CTR x Search Volume) divided by Traffic Potential (estimated traffic assuming all keywords are in rank position #1).
Simply put, a visibility score is based on how well your keywords rank in the SERP. This is just one of the metrics you should monitor to evaluate the performance of your content.
The higher your SEO visibility is, the more target keywords you have ranking.
Now that you have an idea of what SEO visibility is, let me show you how to increase it.
#1. Interlink the Target Page with Other Authoritative Content Using the Keyword in the Anchor Text
Sometimes the biggest challenge in acquiring better keyword ranking is getting Google to actually understand the page's topic better.
Sure, many strategies exist that help communicate what the page is about to the search engine. Incorporating more LSI (Latent Semantic Indexing) keywords is one. Optimizing on-page SEO is another.
But occasionally, you might need to go one step further. And that's where this SEO tweak comes in handy.
Why, because Google might use the anchor text pointing to a page to a.) discern its meaning, and b.) identify the most relevant keyword for which to rank it.
Here's an excerpt from Sergey Brin's and Lawrence Page's paper, "The Anatomy of a Large-Scale Hypertextual Web Search Engine," published at Stanford that explains it further:
"Most search engines associate the text of a link with the page that the link is on. In addition, we associate it with the page the link points to. This has several advantages. First, anchors often provide more accurate descriptions of web pages than the pages themselves."
Naturally, the internal anchor text isn't a huge ranking factor in itself. But you can use it to send a relevancy signal to help Google understand the keyword of the page.
This, in turn, might translate to slightly better rankings. Or at least, give you a better chance at increasing your search results further.
#2. Improve Meta Tags
There's absolutely no doubt about it: meta tags (meta-title and meta-description) provide Google with a strong relevancy signal. And in doing so, they help your content acquire better rankings on the SERP.
The other benefit of improving meta-tags is a potential for higher click-through rates.
After all, our search behavior is changing. Often, we skip the first organic result in lieu of content that promises to deliver on our needs.
This would suggest that you could win in search results by analyzing, and then outdoing already ranking pages.
For example, using Content Fusion, our AI-powered content editor, I ran a quick analysis of the top ranking pages for the phrase "Florida rentals." Immediately, I see that not a single site there uses this exact phrase in their titles. Using it in yours, therefore, might offer an opportunity to gain some advantage in SERPs.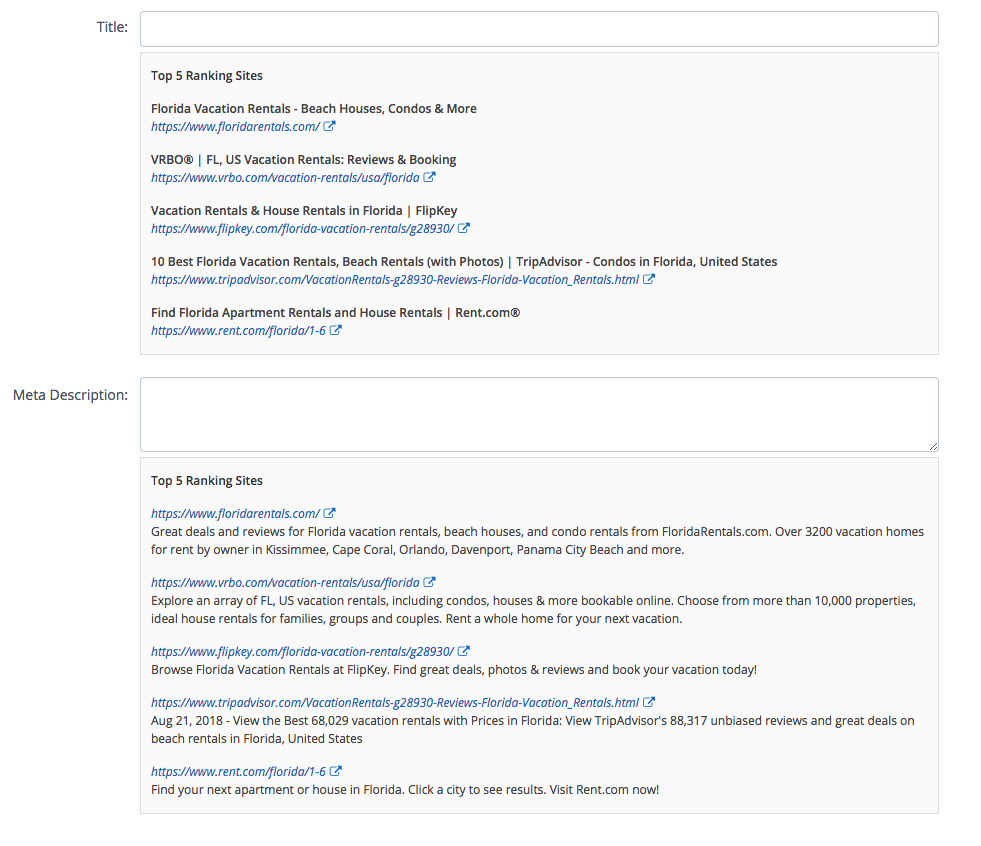 #3.

Include Missing Content That Other Top Ranking Pages Include
While it's important to outdo other websites, it's also important you ensure that your content is optimized to present the end user with all the information they need. It's useful to see what other top ranking pages include in their content that you might be missing. This doesn't mean to plagiarize from other sites, but rather to get an understanding across multiple different ranking content what the user might be looking for.
Sometimes, you may have missed key content on your page, so review what top ranking pages include in their copy – if a handful of pages include it, it's probably important that you do too. What's more – is to offer your unique perspective and your expertise about that missing area.
For content that is already published, periodically go back and see what others are including and how you can optimize your content to be the most authoritative on the web.
Focus on this tactic when your page is just missing page one on the search engine (typically we do this for pages that rank between position 8 and 20). It's not worthwhile to focus on content that ranks beyond position 20 because, unfortunately, content ranking that high usually means you've missed the mark and optimization efforts won't make a substantial difference. Maybe you didn't focus on the correct search intent. Or, it could be a combination of things like links, page speed, etc. Sometimes, it can be the result of a topic area being so competitive, with so many people creating authoritative content, that it's just too difficult to break through.
#4. Reference the Target Page on the Homepage
I admit that this tweak works best for specific projects, rather than every page you've created. Projects such as:
A new long-form guide you want to use to target a highly competitive keyword.

A specific category page for which you want to gain better Google rankings.

Linkable assets for your next link building campaign, etc.
With such content, you want Google to index it as quickly as possible, ensuring it doesn't get lost in the crawl budget. Not to mention, give it more link authority too.
My recommendation: link to it from the homepage. Include a text link to the page in the footer, ensuring that it doesn't end up site-wide or somewhere in the copy.
The reason: the homepage is the strongest asset you have on the site.

Here's why.
The homepage typically acquires the greatest amount of links and mentions. After all, most people referencing your organization will use its homepage URL.
As a result, the page quickly gains the strongest Page Authority. And it's from the home page that other pages acquire their authority too.
Therefore, linking to your target page from home shortens the link juice distribution path. In turn, this increases the link authority it acquires and ensures it gets indexed much faster.
#5. Add Semantic Keywords to

Cover a Topic In Its Entirety
We talked about semantic keywords in this post already, however, given their ability to show readers your true understanding of the subject matter at hand, I believe they deserve another mention.
Weave semantic keywords into your content to boost its authority. When a user makes a search on Google, they are looking for the most relevant and knowledgeable listing on the SERP to give them an appropriate answer. Since the search engine wants to please the end user, it presents them with the information most likely to answer their query. To do this, it is looking for an authoritative source for the given topic.
So not only do semantic keywords provide the search engine with more context about your page, they also prove you are an authoritative source on the subject and have covered a subject in its entirety, and so search engines may prioritize your page to the end user.
For example, analyzing the phrase "Florida Rentals" again, Content Fusion reports the entire list of phrases I should include on a page to properly cover the topic and demonstrate my knowledge.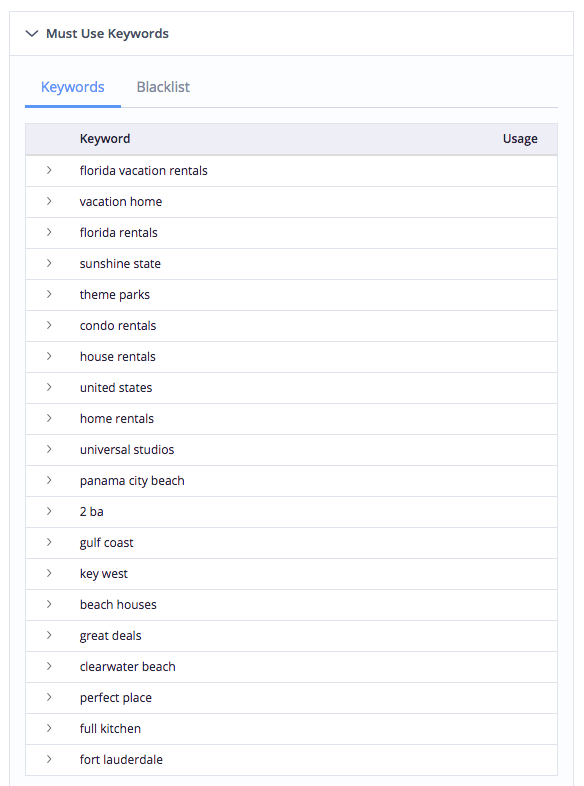 (Content Fusion presents must use topics to boost content's authoritativeness.)
What's more, all of these phrases appear on the highest ranking pages for the term. Including them in my content will make it more relevant to the phrase. It will also expand it with information the user expects to find there.
#6. Include More Keywords in the Headline
Typically, when writing headlines, SEOs focus on including the primary keyword. Ideally, they position it somewhere at the beginning. Since the headline typically appears in the H1 tag, its effect on rankings is irrefutable.
However, I know of a headline formula that allows adding more keywords there. Although I must admit, it works better for blog posts rather than pages with commercial intent.
For one, the resulting headline is too long for product pages or similar assets. Second, it's hard to expand such a page's title with additional information anyway.
The formula looks like this:
[Headline incl. primary keyword] : [Sub-headline incl. secondary keyword]
Note that, de facto, its structure comprises of two headlines. The primary one including your target keyword, and a sub-headline offering more information.
In fact, I've used it in the headline of this post.
How to Boost Keyword Rankings: 7 Quick SEO Tweaks That Help Increase Search Visibility
This way, I can, potentially, expand the number of keywords for which my content could rank.
#7. Add Engaging Openings and Multimedia to Keep Users Reading for Longer
Last year, I wrote these words here on the blog:
"Irrelevance is the biggest problem with the content today."
And I still stand by that statement. But I can also add to it that the effect of irrelevance goes beyond a lack of engagement (which is something on what my other post focused).
It also results in potentially poorer rankings.
Why, because anytime a reader a.) finds your content irrelevant, and b.) leaves the page immediately, it sends a low-quality signal to the search engine. Needless to say, this is not good for site visibility.
Similarly, people who stay on your page for longer communicate the content's high quality to Google.
The solution:
Captivate a reader with a strong opening paragraph. Ideally, make it relevant to the very problem that drew them to your content. Here's a

great resource by Neil Patel

showing how to do it well.

Include multimedia – videos, animated visuals, etc. - to retain visitors for longer.
#8. Improve Mobile Readability
Recently, my colleague, Tyson Braun, wrote here on the blog:
"As marketers, we emphasize the mobile SEO in every aspect of our work today. We optimize our strategies to target mobile users first. We analyze which mobile devices send the most traffic regularly. We place our entire effort into gaining visibility in the mobile search.
Yet, when it comes to content marketing, we still write and optimize copy with desktop devices in mind."
I couldn't agree more. In spite of a strong push toward delivering an immense mobile experience, we still create text as if users read it on the desktop.
We set it in small fonts. Specify insufficient space between lines. Hell, we even write in too long sentences. And they do make the content look uninviting on a small screen.
Compare these two pages, for example.
One features long passages of copy. The other, shorter text coupled with formatting that highlights the most critical information.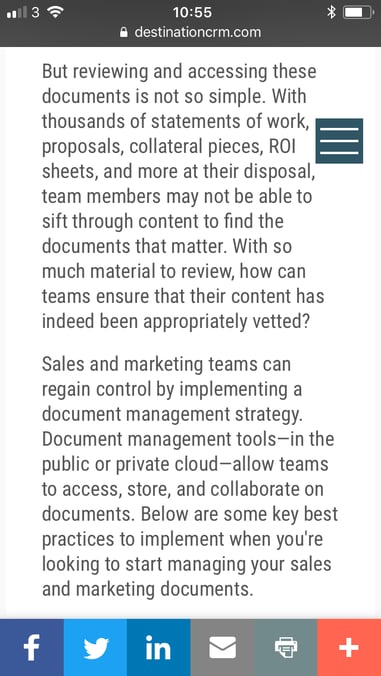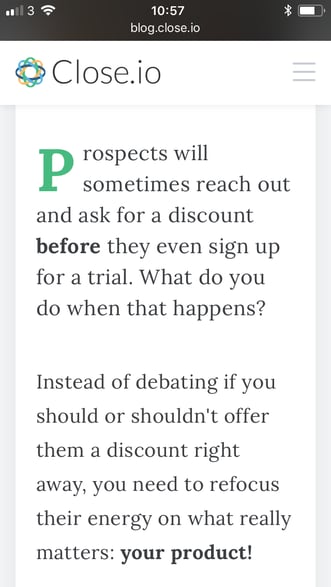 Now, tell me, which one looks more inviting to read? Exactly.
And in the age of social media, where content is constantly being shared across mobile devices, it's imperative your content is optimized for mobile readability.
Given how much importance Google puts on the mobile UX, improving mobile optimization can only benefit your rankings.
Here are some ideas on how to do it:
Increase the legibility of your content. Set it up so that users don't have to pinch to read it. Also, make sure that they can scroll and still get the gist of the information.

Improve mobile page speed.

And display all content, without hiding any information behind accordions or other scripts.
And that's it…
As I said already, none of these tweaks will have a huge impact on your keyword rankings. But they might certainly increase your content's chances of ranking higher.
---
Editor's Note: This post was originally published in August 2018 and has been updated for accuracy and comprehensiveness.