In today's digital landscape, traditional SEO content writing approaches that focus on a single topic or aspect fall short in driving visibility and traffic.
Both users and search engines now seek comprehensive information which often surpasses the subject matter expertise of a content team.
Your challenge? Writing in-depth content that signals authority and expertise while still focusing on the right search intent and relevant keywords.
In this post, we'll walk you through the steps to creating authoritative content and optimizing visibility in search results.
Table of Contents:
Why We Need to Change How We Write Content
The answer is simple: both users' and search engines' expectations of quality content have changed significantly.
In the past, we could create a short page targeting a single keyword, and use it to drive traffic.
(If you were involved in search engine optimization several years ago, I'm sure you remember that the average content length sufficient to deliver rankings and visitors was only around 300 words.)
To do the same today, not only do we need to provide more information that a) confirms our authority and expertise, and b) provides users with in-depth answers, we also need to consider the multitude of ways users search.
And here are just some of the changes that have impacted how people search:
1. RankBrain and BERT
Google's RankBrain and BERT updates completely changed the way we look for information. For one, they allowed us to provide the search engine with scraps of information about our problem and it delivers the results we want.
Here's an example I often use to illustrate this point: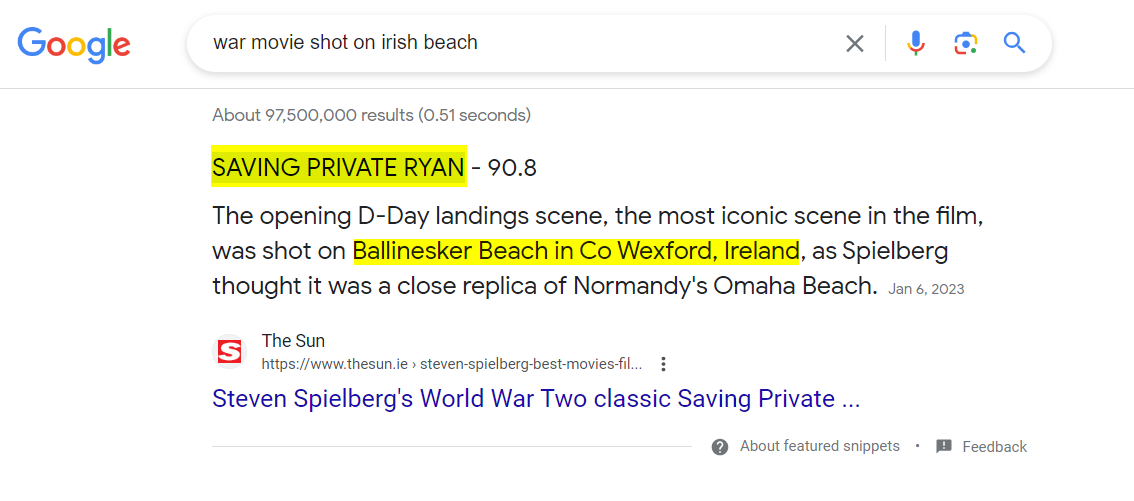 Note that, in spite of receiving only some ambiguous information, the search engine still retrieved the right content. It understands the context of this search query beyond the explicit individual words used.
2. Voice Search
We can also ask search engines or voice assistants like Amazon Echo questions and receive the answer immediately. When we looked at voice search, we saw that the ability to ask Google or voice assistants for information has changed the length of the query, what goes with it, and its nature.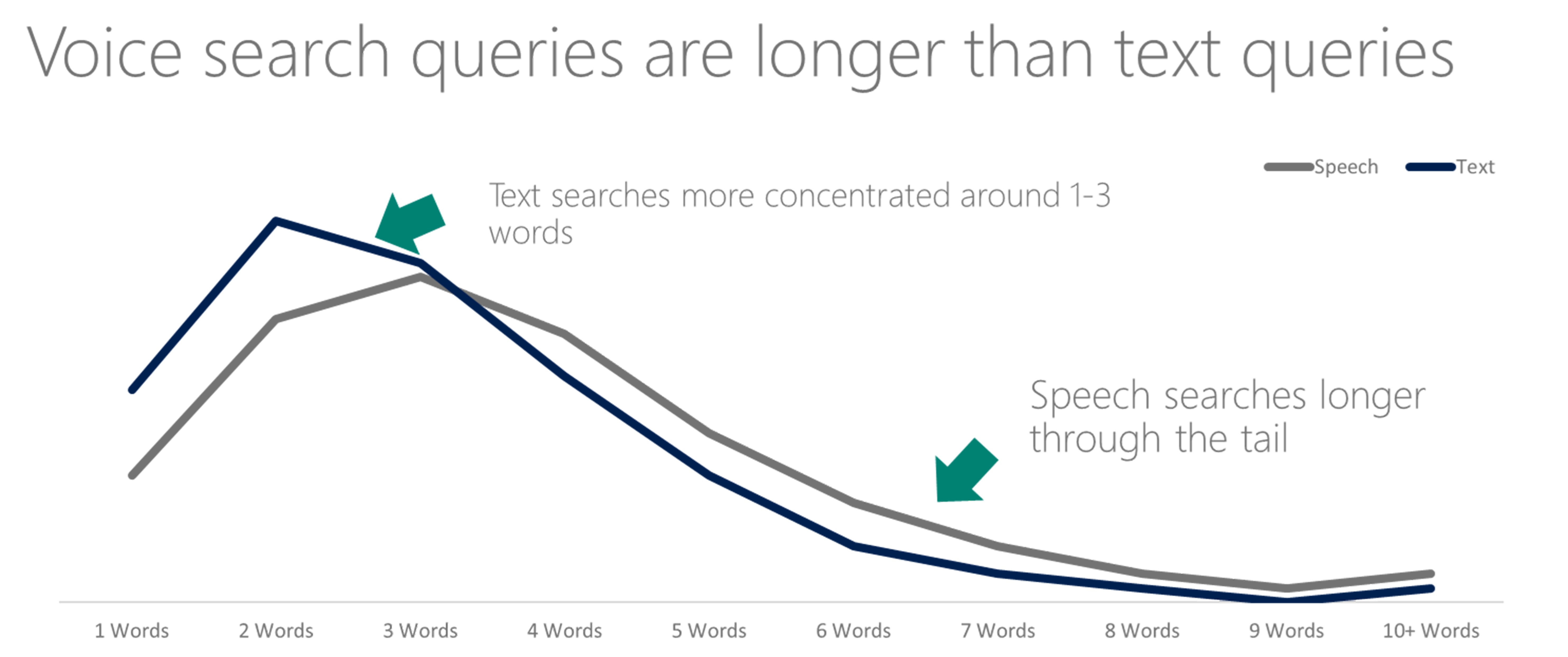 (Image Source)
3. Answer Box/Featured Snippets
In many instances, we don't even need to click on a listing to get the answer we're looking for thanks to the Answer Box.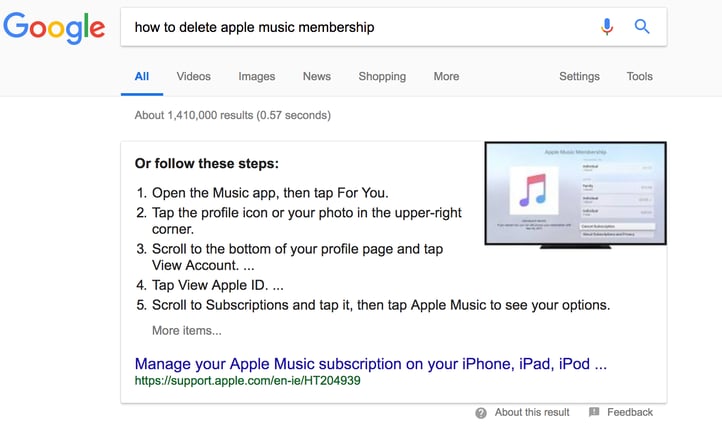 4. Helpful Content System
The Helpful Content Update in 2022 was announced by Google as a way to enforce the need for unique, quality content with greater specificity. This means that unoriginal, low-quality, and less relevant content ranks poorly in search.
Most enterprise SEOs can agree that aligning with the end user experience is their top marketing objective.
Recommended Reading: A Proactive Approach to the Helpful Content Update
5. Generative AI
Generative AI has had a profound impact on the way people search for information. With the rise of AI-powered content generation, Google's Search Generative Experience, and the new Bing, search queries now yield a wider range of results, some of which are generated by algorithms rather than human creators.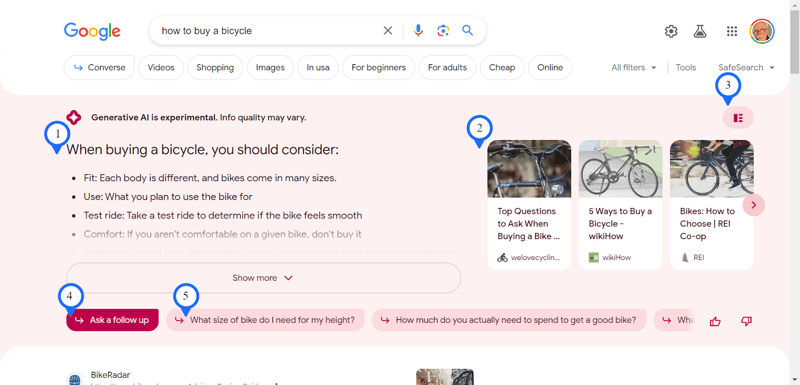 Recommended Reading: 4 Ways ChatGPT Impacts Enterprise SEO
As a result of these changes, the way we search has also evolved.
For one, we use different queries, often including phrases we're the most comfortable with but aren't necessarily relevant to the information we search. (Remember, Google is smarter now, which means our queries can be ambiguous but still understood.)
These changes mean we must also adjust the way in which we create content.
To guarantee rankings, the content you write must consider all of the above. Then, you must provide expert and authoritative advice on what your users are searching.
What Types of SEO Content Can You Create?
The simplest answer: any assets that Google includes in the search results. But to be more specific, the most common SEO-driven content types include:
Blog posts and long-form articles
Evergreen content – long-form assets that target the audience's universal interests
Videos – Google is likely to showcase them in the search results
Tutorials that have the potential to appear in the Answer Box
Podcasts (the search engine has been experimenting recently with including them in the SERP)
Product and category page content that targets transactional intent
Now that you know what types of content to include in your digital marketing strategy, let's dig into how to write content for SEO.
How to Write Authoritative SEO Content
To deliver content that provides insights and targets a myriad of different search phrases, you need to ensure that the content:
Conveys authority on the topic
Presents in-depth information that covers the breadth of the topic space
Matches the audience's intent for this information
So what actually makes a piece of content authoritative? We'll dive into the various aspects that denote authoritative SEO content.

Follow Google's Search Quality Guidelines
Google's Search Quality Guidelines E-E-A-T highlights the importance of Authoritativeness in your content. This guide focuses on how to evaluate a website for disinformation about products or services and display distrustful content.
E - Experience:
In the digital world, firsthand experiences are invaluable, especially as AI-generated content becomes more prevalent. Google acknowledged this by adding "experience" to its search quality guidelines in December 2022.
Unlike AI, human experiences are unique and can provide genuine insights. By emphasizing firsthand experiences and building trust, you have the ability to create a sense of security for your audience when they engage with your content or services.
E - Expertise:
The second E in Google's Search Quality Guidelines refers to the expertise of the content creator or the website itself.
Simple ways to demonstrate expertise include:
Attribute posts to an author and make sure their bio describes their expertise
Fact check your content and make sure to reference facts throughout your content
Make sure your site is technically sound and free of errors.
A - Authoritativeness:
Authoritativeness relates to the reputation and authority of the content creator or the website in the industry or topic area.
Google considers signals such as backlinks, mentions from other authoritative sources, and the overall reputation of the website to determine its level of authority.
T - Trustworthiness:
Trustworthiness focuses on the reliability and trustworthiness of the content and the website as a whole. Google evaluates factors such as the accuracy of the information, transparency, privacy policies, and the overall reputation of the website to determine its trustworthiness.
Here's a short list of ways to ensure your site signals its trustworthiness:
Add clear, easy-to-find contact information from your address, email, and your phone number.
Include easy-to-find info on how to resolve a refund, return, or cancel information. Bonus: Make sure it's also indexable.
Reference facts and scientific information whenever applicable.
Provide a clean ad experience that is transparent and includes why or where an ad is being shown.
Conduct Keyword Research to Find the Words Users Search For
Before writing a single word, you must conduct thorough keyword research to identify how the audience searches for information online.
We've covered the process in detail in this guide on how to do keyword research. I recommend you review it for detailed instructions on how to identify the best keywords to target so your content is relevant along the buyers' journey.
To scale the keyword research process, seoClarity operates the world's most competitive data set, Research Grid, which reveals content gaps and content ideas that ensure you cover all angles of what users search for.
Take a Strategic Approach to Those Keywords
This is a critical yet greatly overlooked step. You need to understand what questions searchers have about your topic.
Keywords guide the structure of the content, the type of information that should be included, and even determine its ideal length. However, more information is needed to create an effective SEO content strategy.
#1. Search Intent
A writer should consider the search intent. What drives the users' search? Consider the reason why the readers search for this information.
All search queries can be categorized as one or more intent types:
Informational
Transactional
Navigational
Local
User intent determines the type of content, and what you should focus on in the copy. For example, a blog post or article is best suited for a search with informational intent, while a buyer's guide is more appropriate for transactional intent.
Authoritative content takes their search behavior into consideration and targets semantically related words and phrases. Doing so makes the content more relevant to the user and easier for search engines to rank.
Consider the phrase "gaming desktop." A person looking to buy new gaming equipment may also research phrases such as "gaming rig" or "gaming performance."
Targeting those in your content makes it more relevant and engaging to a greater number of searchers (and more likely to appear in SERPs).
#2. Analyze the SERP
You should also consider whether a particular piece of content stands a chance to appear in the Answer Box. To determine this, evaluate whether Google actually displays a Featured Snippet for the keyword.
You can also evaluate the search intent to gauge whether an Answer Box is likely (informational intent-based keywords are more likely to trigger the Answer Box).
When you evaluate what to write about, you should also consider the "People Also Ask" section of the SERP. This is a great way to determine what other, relevant information users search for in relation to the keyword. Plus, if you answer those questions in your content, portions of your content can appear in the "People Also Ask" drop-down.
#3. Skyscrape
Finally, content marketers should review the top-ranking content, looking for patterns that could reveal what Google considers the best piece on the topic.
This can inform you of topic ideas that you overlooked to make sure your content covers the subject in its entirety, which proves the authoritativeness of your page.
#4. Goals and Performance
To write great SEO-driven content, you also must understand the goal of your content from a user perspective.
What is your content doing for your users? How is it helping them, specifically? Remember, your first objective is to engage readers. The better you do it, the greater the chance that Google will want to include your content high in SERP.
Finally, you need sufficient data to measure the overall performance of your content. When data supports your content creation process, you'll know if you've met your goals, or what needs to be adjusted to get you there.
Define the Writing Criteria to Create Authoritative Content
With all that information at hand, you need to define the criteria for writing the content. It's important that you create a guideline for every copywriter that contributes to your site to follow.
Recommended Reading: 19 SEO Content Writing Tips: Creating Copy That Both Google and Users Love
1. Semantic must-use keywords
A factor that immediately confirms the content is authoritative: it exhausts the topic.
Authoritative pages or articles typically provide more information than a person would expect to learn about a topic.
They contain references to information a person already knows about the topic and then introduce new aspects they haven't thought of yet.
In short, such content anticipates and over-delivers on the reader's needs.
Let me illustrate this with a quick example.
Imagine that you create content targeting the phrase "credit cards."
Naturally, such a page would include information on different types of credit cards and their use.
But your users might also want to learn about other aspects of the topic – credit history, credit limits, balance transfers – and so on.
Including sections relating to that information will make the content far more authoritative on the topic, and relevant to their different queries. Not to mention that search engines will also perceive it as more important and propagate for more search queries.
2. Length and Type of Content
You can find an ideal word count based on the analysis of the top-ranking content. Do note that longer content often conveys greater topic expertise.
Also try to break up the long text with visuals such as graphs, infographics, or block quotes. These elements both strengthen authority and enhance user experience.
3. Meta Data
Optimized title and meta descriptions. Be sure to have targeted title and meta descriptions for the landing page. Consider leveraging the OpenGraph tags as well to create alternate versions of these tags to display when shared on social media. These versions could be more enticing to draw attention than meta tags intended for SEO.
4. Internal Links
Consider your topic clusters and interlinks appropriately to boost your authority on the overall topic. When you cover a topic from multiple angles, it shows the user (and Google) that you have an overall authority and understanding on that topic.
Topic Explorer makes it easy to find semantically related keywords based on your seed keyword to create the full topic cluster and understand how to cover a topic with authority. Multiple filtering options (such as intent, industry, keyword patterns, and search volume) narrow down the list so you can select the keyword that is most relevant to your content creation.
Now integrated with Sia, our AI-driven SEO assistant, Topic Explorer even automatically identifies alternative ways people search for a topic and predicts what people search for before and after they search for a keyword. Such capabilities make it even easier to create comprehensive and authoritative content on a given topic.

How to Create Authoritative Content at Scale
Completing the above steps to optimize a single piece of content requires a substantial time commitment. That's why we created Content Fusion to streamline the content creation and optimization process.
Content Fusion is a fully-integrated content marketing solution that speeds up a writer's research time to integrate semantically related topics and identify relevant, connected topics associated with search demand (pictured below).
From there, content writers can also optimize current content to improve their authority, all through the AI-driven insights from the tool's content analysis and content optimization recommendations.

(Must-use topics for the keyword "iPhone 12")
In addition, Content Fusion has recently been integrated with, Sia, our intelligent AI-powered SEO assistant. Now, Content Fusion allows you to effortlessly generate outlines, draft paragraphs, or even rewrite existing content using the writer tool.
Sia leverages its vast knowledge about the topic and your preferences, employing AI to complete each task. By highlighting specific sentences, you also have the option to generate a starter paragraph, which you can then refine, optimize, and customize based on your product expertise.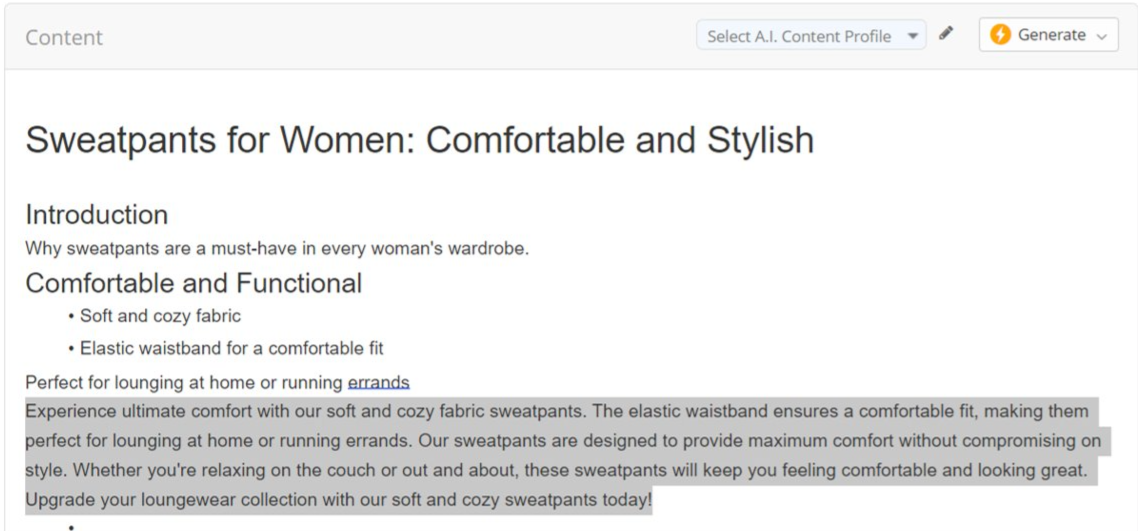 To define your target audience, tone of voice, output language, and content type for each piece of content, Content Fusion also offers Content Profiles. With Content Profiles, Sia ensures that these specifications are precisely followed, enhancing the quality and relevance of your output.

Keep in mind that Sia's outputs are not meant to be published as-is without human review. They are simply meant to help writers overcome writer's block and streamline the writing and optimization process.
As stated in Google's guidelines on AI-generated content, "AI has the ability to power new levels of expression and creativity, and to serve as a critical tool to help people create great content for the web."
Key Takeaways
In SEO, content binds everything together. For that reason, you must produce exceptional and highly relevant content that meets your users' needs and expectations. In doing so, you increase the chances of Google rewarding it with high rankings.
To recap, the steps to creating authoritative SEO content include:
Want to see how our platform will help
your content level up?
---
Editor's Note: This post was originally published in April 2018 and has been updated for accuracy and comprehensiveness.