In this post you'll learn how to use data to execute one of the most effective SEO tactics you can leverage: using semantic keywords to support your content.
It's tempting to focus on top opportunities when approaching SEO, using tactics like spotting keyword topics where visibility is slightly out of reach, and working to improve. This works great, but if you take the time to also re-visit your wins and find ways to support the experience of these visitors, you'll be more likely to hold them and also find more opportunities.
Here's how I like to support content using semantic keywords to boost its longevity, authority, and search visibility as a part of a successful approach to SEO.


Step 1: Assess Your Current SEO Positions
Let's find where the site is doing well: ranking for high value terms and attracting high quality visitors. To do so, look at pages that attract the most traffic, and correlate them with top SEO rankings.
Here's how to do it in seoClarity:
Log into the Search Analytics report and click the Keyword + URL tab.

Pull the URL matched with the first non-brand keyword of interest, ideally one with an Average Position less than three.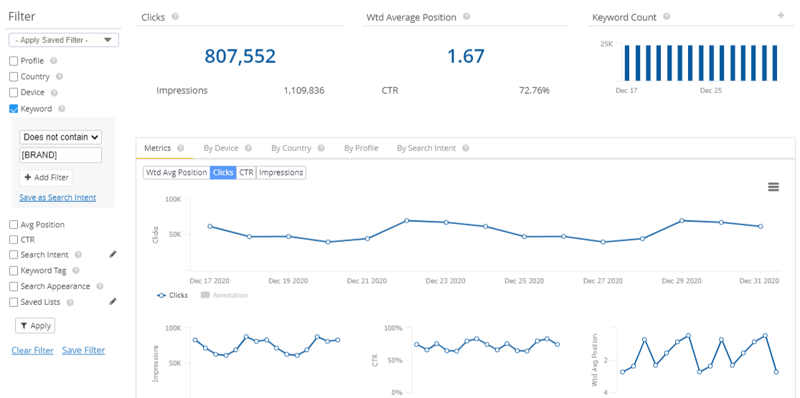 Select the filters to view more queries for this URL and add to the platform.

Be sure the page and keywords have consistent demand, rather than, say, a one-time product launch or an annual event.

Add keywords to the platform associated to the target URL.

Review tracked keywords in Rank Intelligence where the target URL is the Highest-Ranking URL.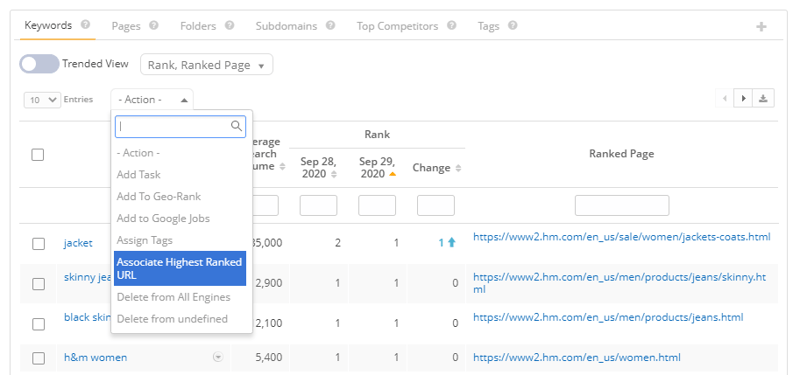 Select all, and choose the action item to Associate the Highest Ranking URL if the pairing is an ideal connection

We have now deepened our investment in this page. By adding and associating these keywords we can now better monitor competitors and find ways to reach more searchers on the topic, including revealing semantically related terms.


Step 2: Analyze Semantically Related Keywords
The first step allowed you to assess the strategy so far and expand the list of target keywords.
Now, I'll show you how to use this insight to find semantic keywords to make your content even more engaging.
To do this, we're going to use Content Fusion, our AI-powered content editor, designed to reveal additional phrases to include in the copy, among other things.
I often use the TF-IDF concept to describe this idea to our customers further. The TF-IDF acronym stands for Term Frequency and Inverse Document Frequency. As Eric Enge writes, TF-IDF measures two things:
What terms and phrases are emphasized by a group of pages, and

Which terms define unique aspects of these pages.
Or to make it simpler: if the search engine ranks pages containing particular phrases on top of the Google search results, then, to achieve similar results, your content should include them too.
That's precisely one of many things Content Fusion helps you achieve.
By analyzing the top 20 pages ranking for your main keyword (i.e. the target keyword), it identifies phrases you simply must use in the content. These topics and words relate to your main keyword, but in a non-direct way.
(These are known as semantically-related keywords. Including these keywords in your copy shows your authority on a topic because you cover it from multiple angles.)
seoClarity's analysis goes even further, mixing in other unique aspects of the search results page and key on-page elements to determine the SEO priorities.
What's more, it lists them by relevance and also shows you the terms that you've used in the content already. Keeping a tab of the keyword count can help you monitor keyword density.
Here's a portion of the recommended keywords for the query "things to do in florida".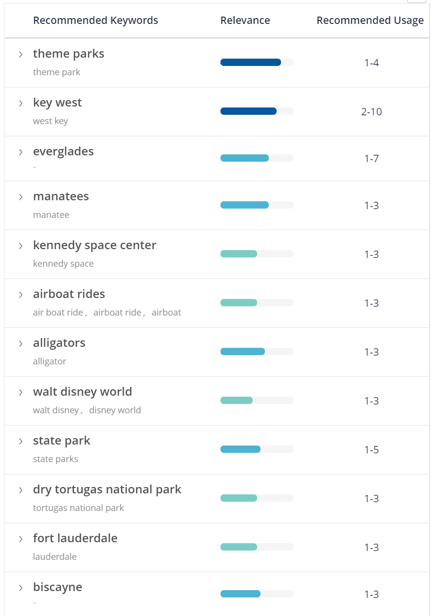 (Content Fusion recommended keywords list.)
Here's how to use it to identify those semantic keywords for your content:
Run Content Fusion for each keyword you identified in step 1. You'll want to work through each new keyword associated with your page.

Once the tool finishes its analysis, import your content into Content Fusion to let it evaluate how many recommended keywords are included in your copy.

Collect all the recommended keywords that you haven't included in the content. This way, you'll identify what phrases related to your target keywords you could use to enrich your content from the point of view of all the keywords associated with the URL.
For this step, I typically group those missing keywords into three categories. This helps me apply what's missing from each section of the content.
Sample or Value

, including terms that indicate what searchers may wish to get from the content. It's the "thing" they are searching for.



Options

. These terms reveal how the audience tends to group the pages' topic. For example, travel sites may see terms here like "packages" or "best" appear in the list of must use keywords. These keywords are usually all the ways value could be delivered to them in other words.

Finally,

Character Mapping keywords reveal more information about a person or group of people. They could describe the searcher themselves (e.g. "best shoes for shin splints") or be somehow related to the topic. With the rise of personal search, this area tends to be the most overlooked by brands currently.
The final step of the process is all about identifying the best opportunities to include those semantic areas.
Unfortunately, it's actually easier said than done.
Because, for one, any new information must blend with the existing copy, making it sound human, and retain the logical flow of information. (Remember, your content marketing should offer value to the end users, not the algorithms.)
Here are some suggestions for working out semantic keywords into your copy I've found to be work particularly well:
Include the top one or two recommended keywords in the content's introduction to connect with the target reader right away. Remember, Content Fusion ranks the semantic keywords you must use by how important they are to SEO. And so, the top phrases are the ones a reader should see in the copy as quickly as possible to make a great experience.
If you're updating a product description, semantic keywords fit nicely in describing the options available to purchase, and also in the product description. Again, these are the key areas that would help connect with a reader.
For retail sites, semantic keywords often relate to product types or categories. You could easily include them on category pages, for example, to describe your product line.
Semantic keywords might also refer to a feature or an aspect of your offering that isn't directly linked to your content. To work it into the content naturally, consider adding sections positioning your topic against or different than the Must Use term. For example, for a page targeting "new homes in Chicago", a term to include may be "1920s two flat" — a popular historic home style.
Finally, consider creating a new section to include phrases that were not relevant to the piece when you created the content originally. Many topics expand, often as technology associated with them advances. As a result, brand new terms might become relevant to them. Overcome this by adding a new section acknowledging the new development, and the new information associated with it.


Step 4. Measure Results and Improve Further
Finally, implement a strategy to monitor the success of your improved content.
I often recommend our clients assign tags to pages they've updated with the process above, and also an "Event" in the platform on the date the pages were updated.
seoClarity allows you to do that easily for both keywords and pages (in case if you want to track improvements for both.)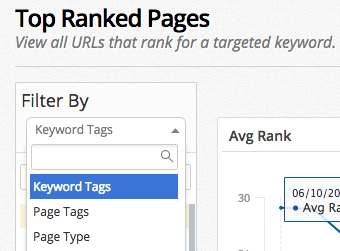 (Track a group of pages with page tags.)
Using tags will make it easier to navigate to those pages quickly, assess their performance improvement over time.
In fact, tracking our own content in tags has allowed us to analyze content improvements that are due to Content Fusion. We put together an entire blog post on Content Fusion success stories that highlight our clients' wins.
By monitoring their performance over time, plus comparing it to pages that you haven't updated with semantic keywords (by looking at the "Average Rank" of the Page Tag compared to a similar tag or just all pages), you'll be able to assess what worked and which topics you need to update further.

Conclusion
Semantic keywords allow you to make your content more relevant to users, but it also demonstrates your authority on a topic because you tackle a wider range of related search queries.
By leveraging tools like Content Fusion, you can identify phrases pertinent to your topic. Then, include them in the content to help position the content higher and earn more search visibility while making it relevant to the audience's needs for a longer period of time.
Simply put: semantic search and its relation to your content isn't something that can be overlooked in your SEO strategy if you want maximum search visibility.