What is a Google Answer Box?
In updated research across a sample of 6.3 million keywords, we found there are over 2,100 unique possible features on Google SERPs (search engine results pages). Google's Answer Box is one unique SERP result that is powered by the knowledge graph or scraped from a site that provides an adequate answer to a user's query.
Also known as a Featured Snippet, it is typically displayed at the top of Google's results page above the organic results. Featured Snippets usually appear as a box with a brief text answer and a source URL. This is Google's attempt to quickly answer questions without the need for the searcher to find and click a Google search result.
Really, SERP features are Google's way of enhancing the user experience.
Here is an example for the Google search query "internal vs external links" and its respective Answer Box:

If users did click in the Answer Box to navigate to the specific webpage, that would still count as organic traffic to the site. The only thing that's different is the presentation of the webpage listing on the SERP.
The Featured Snippet can also present itself as a list or a table, depending on the query.
Take a look at this list of the best streaming services: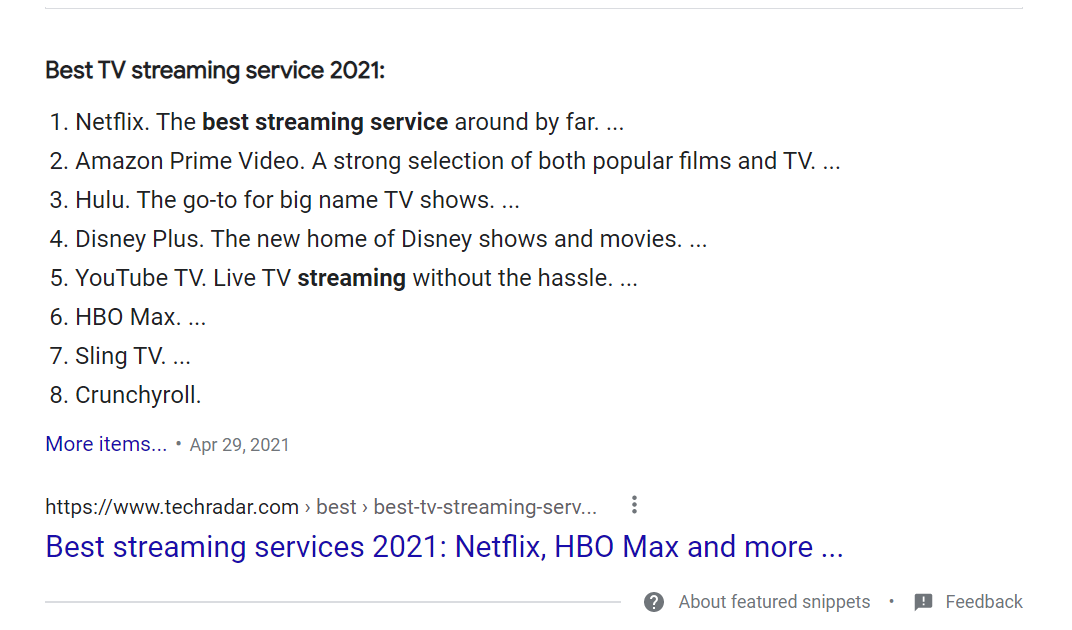 The Rise and Fall of the Answer Box
For some content marketers, winning the Answer Box is the ultimate goal. But before you focus all your SEO strategy toward securing it, it's important to know the Answer Box has been rocky in the US.
A few years ago, there seemed to be no stopping the growth of the Answer Box: In early 2018, 23% of all search queries triggered one. Then suddenly, the numbers fell.
(Algorithm updates and other factors can change the appearance of SERPs.)
After reaching a low of 8%, the frequency of the Answer Box began to slowly increase again, but it will most likely not reach the levels it once had. In late summer 2020, there was yet another decline, and it continued to decrease well into March 2021.
One consistent insight the data shows us is that these numbers are always in flux. These numbers are based on a sampling of our Research Grid data set in the US - we took a look at more than 100 million keywords.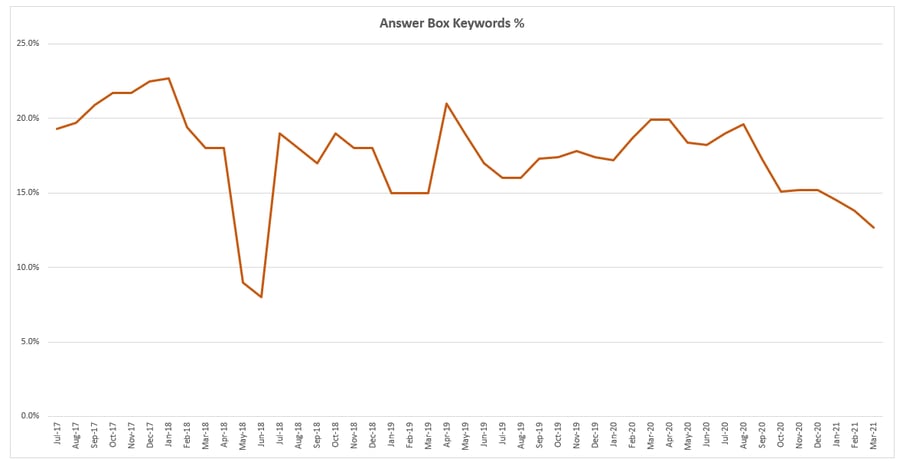 The Industry Makes a Big Difference
Fluctuations in the Answer Box should not discourage you from seeking it out altogether, but you should be aware that the prevalence of the Answer Box varies by industry.
Be mindful of the numbers below before you make it an ultimate goal to secure the Featured Snippet.
We categorized our dataset into multiple industry categories, and it comes as little surprise that the Health industry leads the way. After all, WebMD was the original that everyone learned about Answer Boxes from.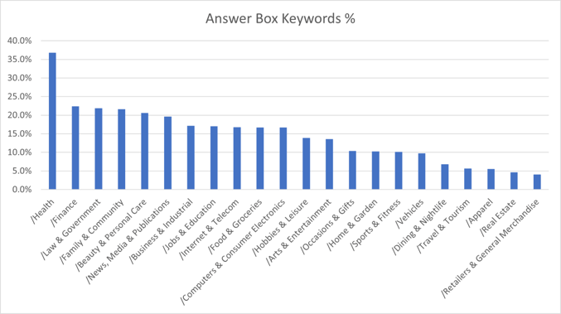 So before you put all effort toward securing the Answer Box, realize that – depending on your industry – it might not be the most valuable digital marketing strategy.


How Do You Win an Answer Box?
There are a few best practices to follow in order to increase your chances of winning the Google Answer Box.
1. Cater to short attention spans
It is essential for you to connect with customers at the right moment. Google outlines the following moments that every digital marketer should be familiar with: I-want-to-know moment; I-want-to-go moment; I-want-to-do moment; I want-to-buy moment.
Be clear and concise, and give the users what they want!
2. Check out your competitors
Review where competitors have won the Answer Box for valuable opportunities for you to write content that you want to answer for. Competitor insights reveal great Feature Snippet opportunities. Like with any content marketing, proper keyword research is required.
3. Create an FAQ page
Your FAQ page should provide answers to common questions that your users may ask. By figuring out what questions your customers are asking, you can create the type of content that they are most likely to find useful.
4. Answer the five W's and H
Think about how searchers use Google. There are a few question stems that everyone uses: Who, What, Where, When, Why, and How! So directly answer these questions in your content. The data also showed some other important trigger words including Best, Can, Is, and Top.
5. Explain the steps required to complete tasks
Focus on content that details steps and how to complete tasks that relate to your product or service. "How to" and "What is" contain significant lead over other trigger words.
6. Highlight the best options for customers
Create buying guides that help aid the decision making process in list and bullet point format to demonstrate the best options for customers.
7. Include a definition statement
Placing a sentence that answers a question at the top of your content that answers the "What" question helps Google automatically find answers.
8. Focus on structuring content in a way that matches consumer intent
Use formats that work for your customers and structure the content to the right intent. Consider using tables, ordered lists, bullet points, and video.
9. Use schema markup
Always use the best SEO practices by placing your keywords and key phrases in your header, metadata, URL structures, and alt tags. Also consider Schema markup. Schema structured data helps you highlight specific information for search engines. It tells Google what information means, not just what it says.
10. Produce in-depth content
In your SEO efforts, you must never forget that content is the most important thing. Be sure to create relevant content that provides in-depth answers to the questions your target audience is asking.
11. Leverage seoClarity's Research Grid
To help our clients explore and understand every content opportunity, we introduced the Research Grid. It's the most up-to-date and in-depth solution to provide insights on content gaps, opportunities, and performance for any domain, subdomain, and URL.
It's designed to help optimize and create content that is proven to perform. Built on the Clarity Grid, it provides instant access to trillions of data points. There is also a free version available for instant access.
12. Leverage seoClarity's Answer Box Opportunity analysis
The only one of its kind in the marketplace, our Answer Box Opportunity allows you to see the site that currently owns the Answer Box within your industry.
Leverage the insights and understand the opportunities to easily create and optimize content that can compete for that Answer Box.
13. Understand the search intent
It is important to understand the intent behind the queries that trigger a Universal Rank Type, including video, PLA, People Also Ask, and local. Look at high-ranking pages for keywords that have awareness and consideration intent on behalf of the person conducting the search.
Thinking about the awareness and consideration phases of the buyer's journey, and optimizing content to answer those questions or respond to the pains your audience has, will help you capture the Answer Box for desktop and voice search.
14. Track performance
As always, it is essential that you track performance against your strategy and objectives.
For further reading on Answer Box optimization head over to How to Track Answer Box Opportunities With an Answer Box Strategy


---
To dive deeper into Answer Box statistics, take a look at this in-depth research conducted in 2017:
Google Answers Your Query
To find out more about these nuggets of knowledge we took a look at over 40 million (!) keywords. For this set we focused on US desktop results. Of those, just under 4 million returned Answer Boxes.
That equates to about 9.5%, so the percentage of search results with Answer Boxes is certainly significant. This presents a great opportunity for all sites, as the click-through rate (CTR) and traffic driven from these seem to be higher than the first position.
Answer Box Stats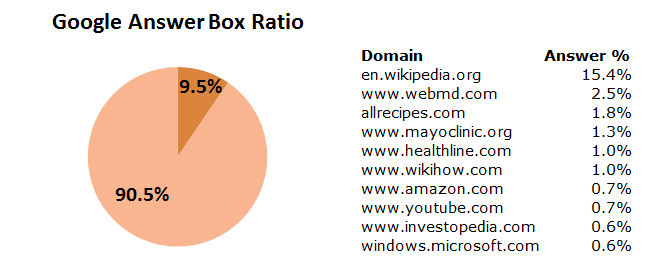 It comes as little surprise that when it comes to Answer Box results, Wikipedia led the way by a wide margin at 15.4% of the nearly 4 million answer boxes. The Health industry has good representation between WebMD, Mayoclinic, and Healthline making up 4.8% collectively.
Google tells us there is more to come for Health Answer Boxes on mobile as well. Finance has some representation with Investopedia, and this industry has plenty of room for more in the future.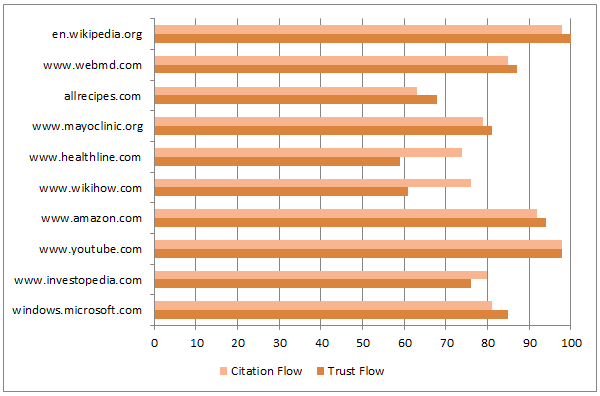 These top 10 domains are all recognizable and are, by most accounts, logical choices as resources in their respected areas. One major way a search engine could discern that, is with linking data and metrics similar to PageRank.
By taking a look at the Majestic scoring metrics for these domains we get a better understanding of why these domains appear in Answer Boxes more frequently than others. The average for both trust and citation flow for these top Answer Box domains is over 80 out of a possible 100. This means the Flow Ratio (CF/TF) is about two times better than the average.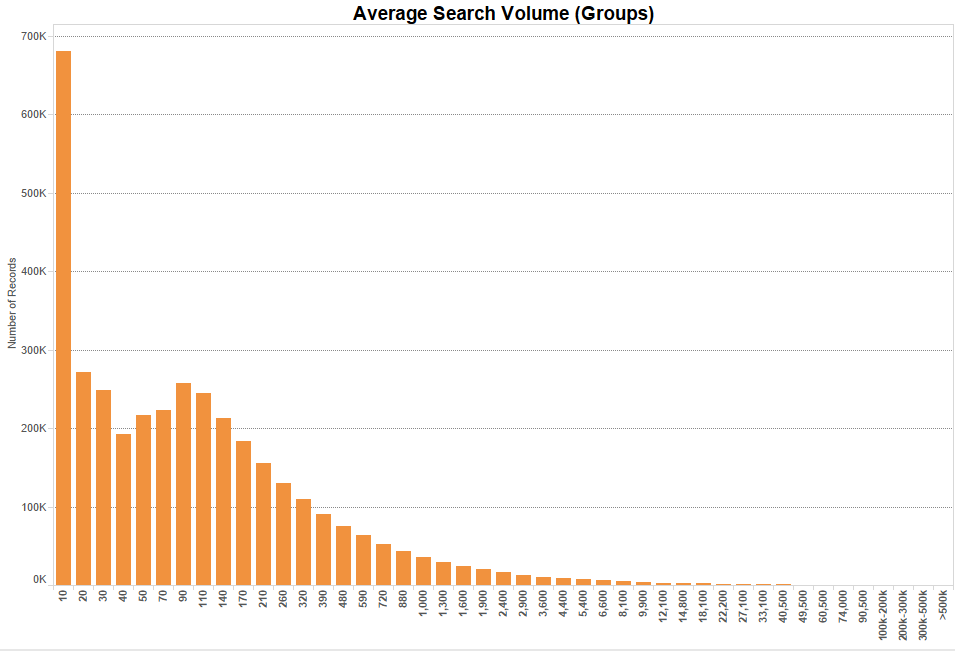 Visualizing the approximately 4 million keywords that trigger Answer Boxes by search volume groups shows a heavily logarithmic chart. We saw occurrences of 56 unique instances of the estimated 85 keyword search volume buckets. This graph indicates that Answer Boxes are more frequently occurring for mid to long tail keywords, or those where the search volume range is less than 1,000.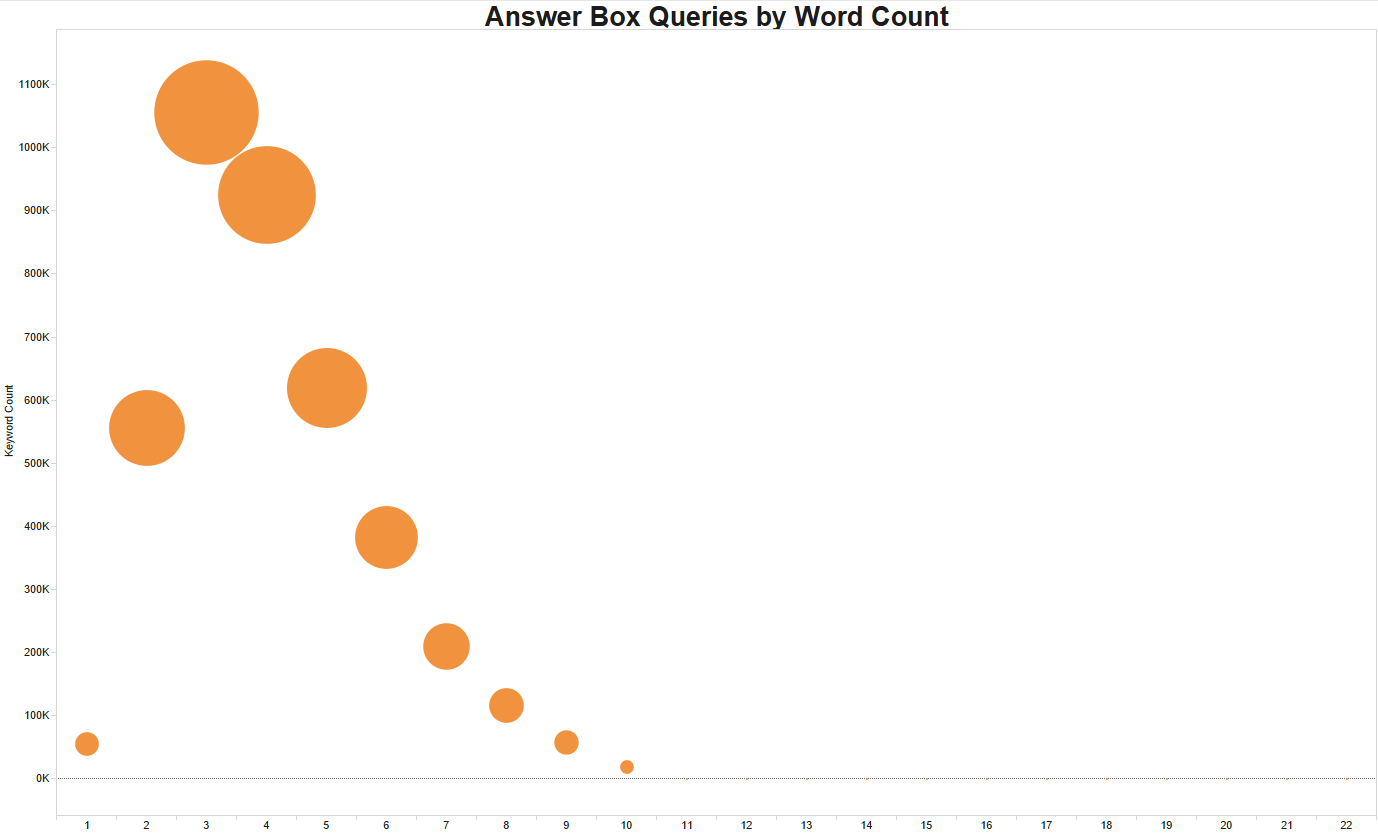 To garner a clearer picture of this, we can take a look at the count of words per query. This shows us that a good majority, over 65%, of queries that display Answer Boxes contain between 3-5 words. This imperfect bell curve gives an idea as to what the length (in words) of queries are that trigger Answer Boxes.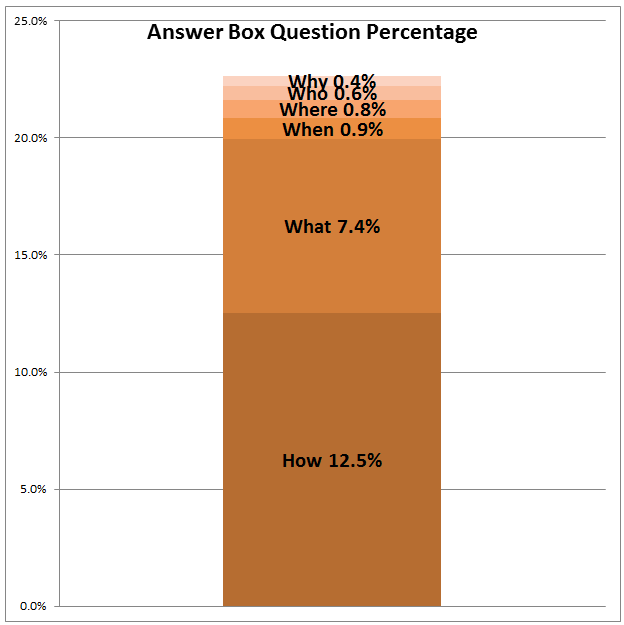 Nearly a quarter of all Answer Boxes include question specific words such as: who, where, when, why, what and how. These inquisitive words were commonly seen as the starter words of the query (first 2 words in the query).
The top 10 most frequently occurring starter words and their percent of total queries can be seen below: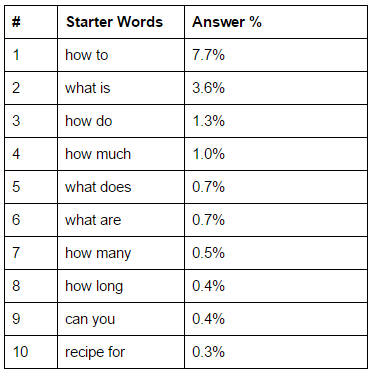 Some of these were more prevalent in domains in the Health industry, such as WebMD, which saw a majority of its queries follow the pattern above where their top starter words were "how to" and "what is".
Not all domains followed this pattern though. For example, in the Financial industry, Investopedia saw a majority of its queries start with "what is" and then "definition of". This makes it apparent that some phrases are more specific to certain industries, which makes sense logically.
Mobile Answer Boxes
Are Answer Boxes the same between devices? Instant answer: Not always. When Answer Boxes appear for a query on both mobile and desktop, more often than not they are identical. But there are exceptions, such as with the example search for the query "seo and sem".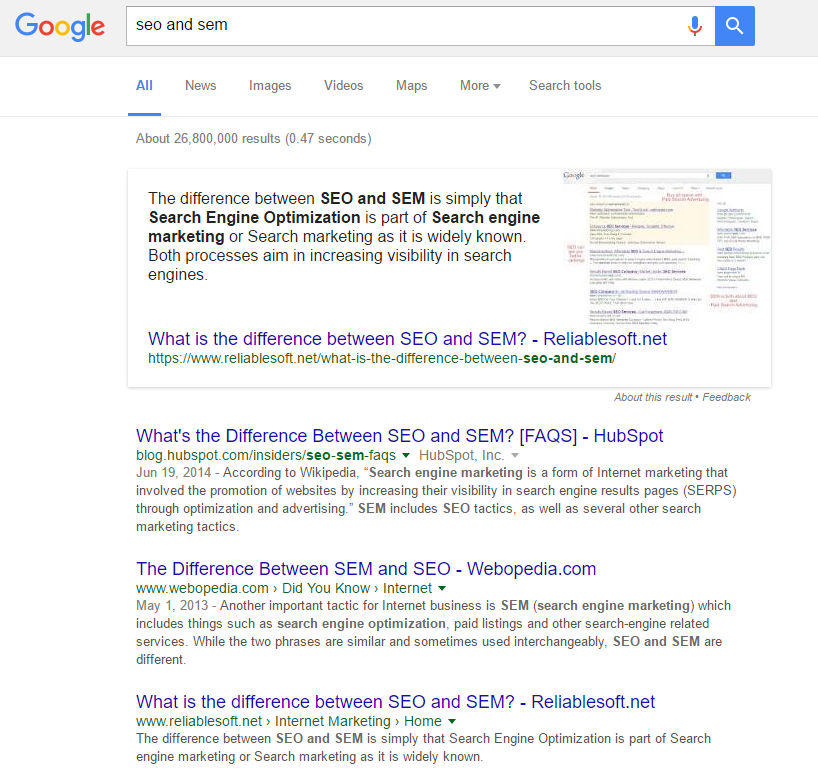 The desktop Answer Box displays a source URL from www.reliablesoft.net, whereas the mobile Answer Box displays a source URL from blog.hubspot.com. The first 3 results (seen in the desktop image) are identical between devices. Is this because reliablesoft isn't mobile friendly?
Not in this case, as both URLs passed the mobile test based on Google's mobile friendly tool. What makes this more interesting is that HubSpot quotes a Wikipedia article.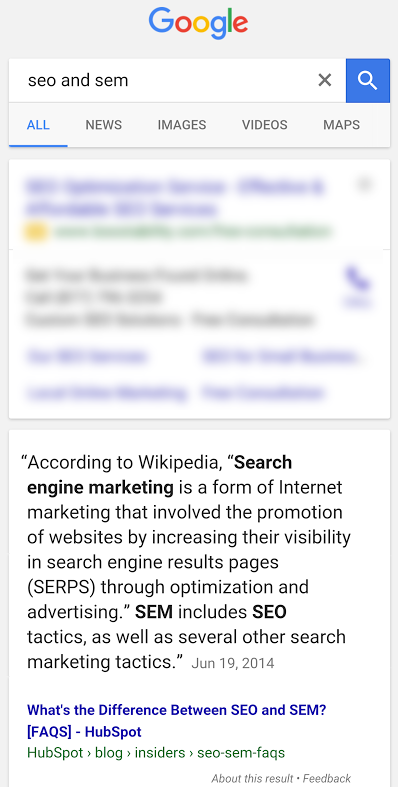 Answer Box Observations
While all YouTube desktop URLs displayed with HTTPS, the mobile YouTube URL (m.youtube.com) displayed as HTTP 99% of the time. These all redirect to their HTTPS counterparts though, indicating Answer Boxes might not be updated often. As most Android powered devices have YouTube pre-installed, this wouldn't be as prevalently seen.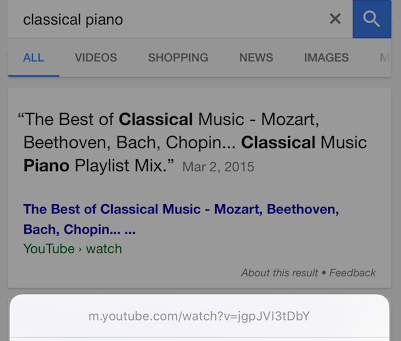 Beyond that there are multiple instances of an FTP protocol used in the Answer Box URL. Such is the case of San Diego State University where the displayed URL is ftp://rohan.sdsu.edu/ for "type a transmission fluid" (Google US).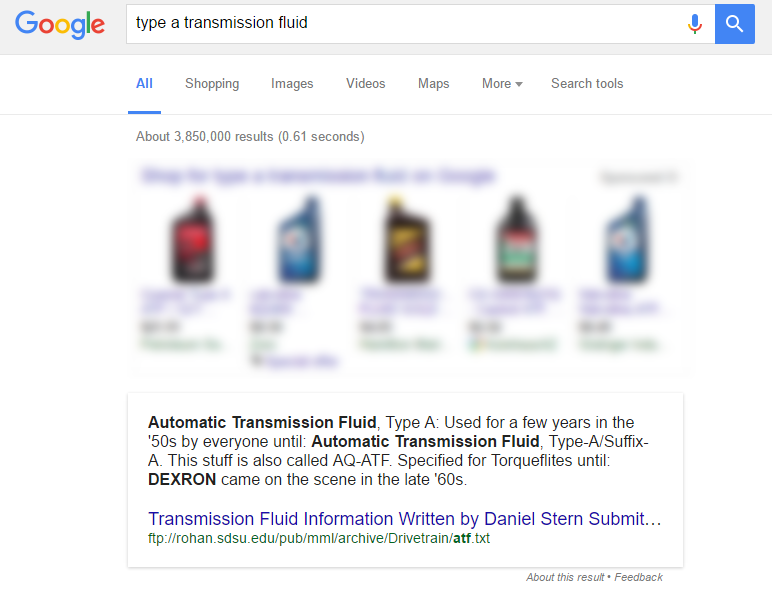 There are also cases of IP addresses as the Answer Box URL. This is the case of the Canadian Revenue Agency, whose web presence is located at 198.103.185.80 and can be seen when searching for "netfile canada" on Google Canada (Google.ca).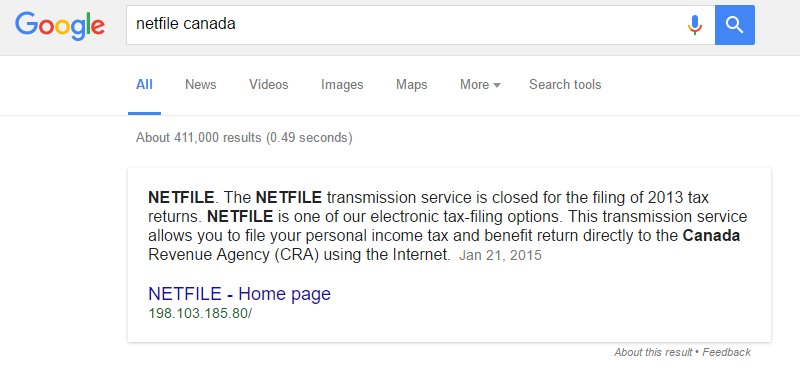 Answer Box Research Takeaways – TL;DR
In the end, Google has logic for dictating which queries display Answer Boxes. Determining what it is and how it is processed isn't as straightforward as one might think, though.
This logic, as we saw, is different between desktop and mobile devices. It also doesn't have to be a traditional web URL, such as an IP address or FTP location. Video descriptions such as those found on YouTube can also be used. The frequency of Answer Box updates, such as the URL display, seems to vary.
Frequency varies by industry

Device type plays a role

Answer Boxes are not stagnant, but can display old URLs

Answer Boxes will vary per industry when it comes to the types of queries

Authoritative domains are more prevalent as the Featured Snippet

Answer Boxes occur more frequently for 3-5 keyword queries

Most Answer Box queries have less than 1,000 in average search volume
As a whole these should be seen primarily as an opportunity for queries where answers are descriptive and more information is needed than can be found in 2-3 sentences (keeping in mind your industry).
Conversely, answers that are simplistic in nature likely won't drive traffic if the answer can be viewed and understood within the SERP. This means a bit of research should go into reviewing the search query to get a perception of intent.
Interested to know what keywords your domain ranks for that trigger answer boxes? Request a demo!
---
-- Ryan Heuser, Product & Technical Services Manager, seoClarity