Relevant content, or content that authoritatively connects and engages with your target audience, is hard to create.
Not only is it expected that you are the expert in a particular subject matter, you must also know what the user wants, when they want it, and how it should be packaged up — all in the right tone of voice.
Essentially, you need to combine your authority and relevance into a single piece of content to meet users where they are along their search journey.
Nearly all organizations publish some form of content today, and 36% of them have found great success with their efforts already. Blog posts, video, infographics — no matter what content type you prefer, one thing is for certain: content helps a business reach and engage with their target audience, which generates more leads and sales than any other marketing channel.
Realizing this, many of our customers ask:
How could we possibly create content today that can stand out from all the noise and help us rank better at the same time?
The answer is by publishing personalized, audience-centric, and relevant content that achieves three objectives:
Confirms a company's authority on the topic,

Includes information relevant to a searcher's intent, and finally,

Matches Google's preferences when ranking pages for specific keywords.
In this post, I'll expand on this issue and show you how to create relevant content that meets the direct needs of your target audience. I'll also share the best way to do this with the optimization tools you have at your disposal, and within the seoClarity platform.
First, let's get a broader perspective on why some enterprise brands struggle so much with creating content that the audience actually desires.

Recommended Reading: 19 SEO Content Writing Tips: Create Copy That Both Google and Users Love


The Content Chaos Challenge
Marketers publish an incredible amount of information each day. According to Smart Insights, for example, within one minute companies:
Publish nearly 1,500 blog posts,

Send almost hundreds of thousands of email marketing resources, and

Post close to 450,000 Twitter updates.
The problem? Many of these assets fail.
Why? Not all content achieves the search visibility needed to attract and convert any significant number of new visitors. And for the most part, it's all because they lack relevance. Marketers continuously fail to understand their audience's actual needs.
Instead, they focus on keywords and other data points when creating content. This approach puts too much emphasis on the search engine, all without taking the actual buyer intent into account!
This is why relevant content is so important! If you want to your work to earn search visibility and help your customers, your content must meet the searcher where they are.
The following are several ways in which you can find topics your audience is actually interested in, which allows you to create more relevant content.


How to Create More Relevant Content
#1. Identify the Real Questions Your Audience Asks
Every day, your potential customers go online in search for information and answers. They use Google to navigate to useful resources, or interact with the "People Also Ask" (PAA) questions to continue their hunt for the right relevant content.
Being able to uncover the PAA questions at scale gives you an unparalleled insight into what questions and topics your audience finds useful along their search journey.
For our platform users, that's exactly what Content Ideas lets you uncover. Content Ideas operates on our Research Grid — the world's largest competitive data set — to pull in information directly from Google's People Also Ask!
Here's a glimpse at some of the results for the query "shoes":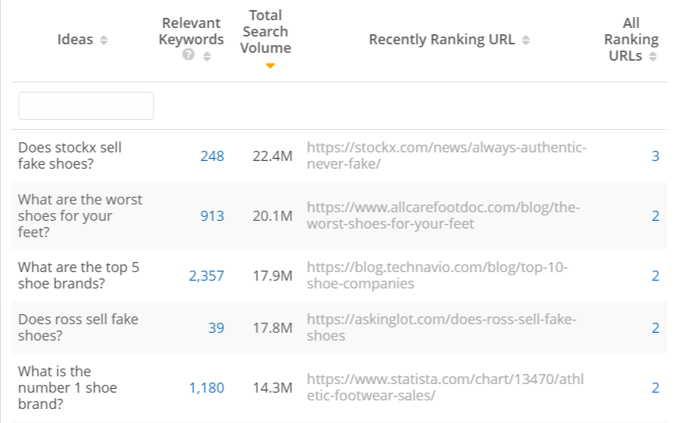 (Uncover People Also Ask questions at scale.)
Instead of returning related keywords or phrases, Content Ideas draws on numerous sources scanned directly from Google search results (like those PAA questions!) to give you real, direct questions that relate to your audience's search.
Use the Topics filter to narrow down on specific content ideas. For our "shoes" example, let's have the content ideas include the topic "size" — a frequent question or concern that potential customers have when shopping for new footwear.


(Filter Content Ideas with specific topics or keywords.)
Our new list now includes questions like:
What's the difference between 9.5 and 10 shoe size?
What does d and b mean in shoe size?
Does 0.5 shoe size make a difference?
Is your boot size the same as your shoe size?
These are the questions on the buyer's mind! Answer them in your content to be the relevant, authoritative source that they can build trust with (and give their business to).


#2. Discover News or Trending Topics that Engage Your Audience
Depending on the industry you target, your audience might engage with current events or trending news more than with questions. Google Trends is a great, free SEO tool that lets you find and visualize the popularity of current trends.

(Google Trends for the topic "hair coloring" over the year 2020.)
In early 2020, when the world was ordered to remain at home, there was a huge surge for the search topic "hair coloring". The smart SEOs paid attention to this trend, told their content marketing and product teams about the increase in demand, and published content that provided insightful information about the event (i.e. lockdown, hair color at home, etc.).
The seoClarity platform also makes it possible to view a YoY comparison of the trend data — something you can't even do in Google Trends itself! Here, we look at the trend for the search term "dresses":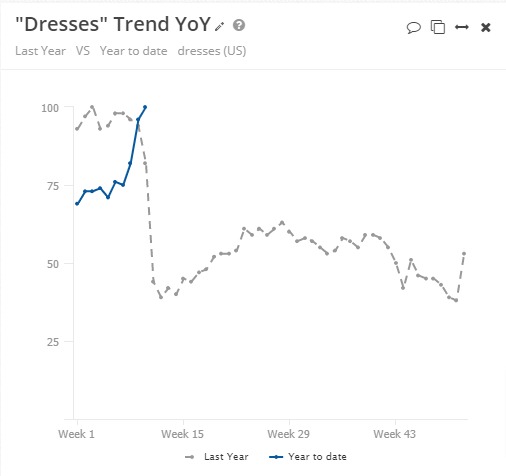 (YoY comparison with Google Trends data in the seoClarity platform.)


#3. Learn Phrases Your Audience Associates with the Problem
Language can cause a serious friction in content marketing. The most extreme example of this is industry jargon. Although using industry speak may seem like a good idea — to reassure a person that you know what you're talking about — in reality, it causes a serious friction.
Not to mention that it often scares them away from consuming the rest of your content (let alone learning more about your brand). But there are other forms of this friction, many of which might seem insignificant. Unfortunately, their effect is equally harmful.
One of those forms is explaining the problem by using different words than your audience.
Our very industry, digital marketing, is a good example of this. After all, how often we speak about PPC when the audience wants to talk about AdWords? Or discuss the importance of anchor text, but our prospects are interested in the text in the link?
Luckily, you can speak the language of your customers with Topic Explorer — the topical research portion of our platform.
Let's say we want to create a content asset around the target keyword "survival kit". Well, how else do people talk about a survival kit?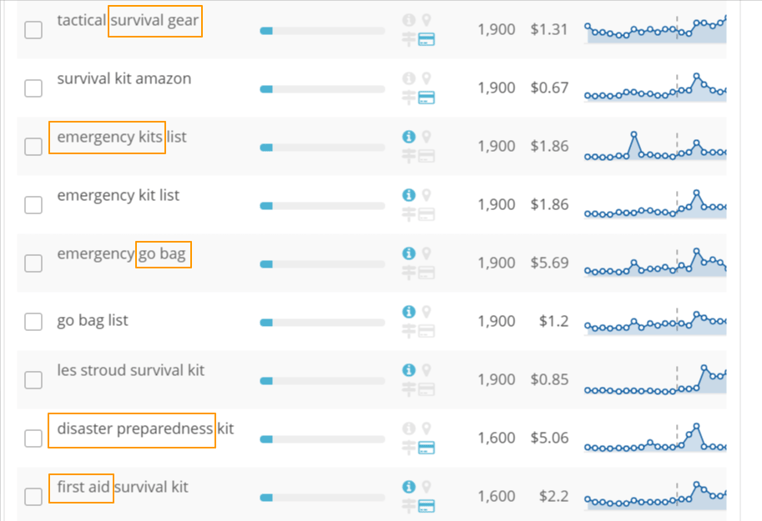 (Uncover how your audience thinks about - and searches for - the target keyword.)
Notice how "survival kits" can go by many names:
survival gear
emergency kits
go bag
disaster preparedness kit
When you understand the language of your customers and infuse it into your content, your writing becomes all the more relevant to what it is they're actually searching for.
Recommended Reading: Build Content that Drives Authority with Topic Explorer, Our Topic Cluster Tool
Similarly, you could use Topic Explorer to discover new content topics (and content opportunities) that relate to your target keyword. It's easy to do this with Intent Similarity — a metric that identifies different words used with the same intent by an audience group similar to your original keyword entered.
You'll not only be able to speak the language of your audience, you'll know which topic deserves its own piece of content, or what topic ideas can be covered on a single page.


#4:
Uncover the Intent Behind a Keyword
It's not enough to understand the language of your customers, you need to know what that language means.
When searching, users typically aim to achieve one of four objectives. They're either looking to:
Know (informational intent),
Go (navigational intent),
Do (local intent), or
Buy (transactional intent)
In SEO, we refer to those as four search intents. Needless to say, understanding a person's reasons for using a specific keyword can determine many aspects of your content.
For one, it can help you determine what type of content to create.
The intent behind a keyword can reveal whether this term is transactional or informational. If it turns out to be the latter, for example, then you might find an opportunity to position your content in the Answer Box.
With a transactional keyword on the other hand, you can strive to increase conversions with a product page.
What's also important is that intent might change throughout the year.
Depending on the time of the year, a keyword might be more transactional. In those months, Google might highlight sites where you can buy or transact in some way. But other times of the year, it might be favoring blogs that offer advice on various aspects of the topic.
And Content Fusion can tell you what intent searchers have for your desired keyword. Leveraging artificial intelligence, it reports what stage of the buying a searcher might be in.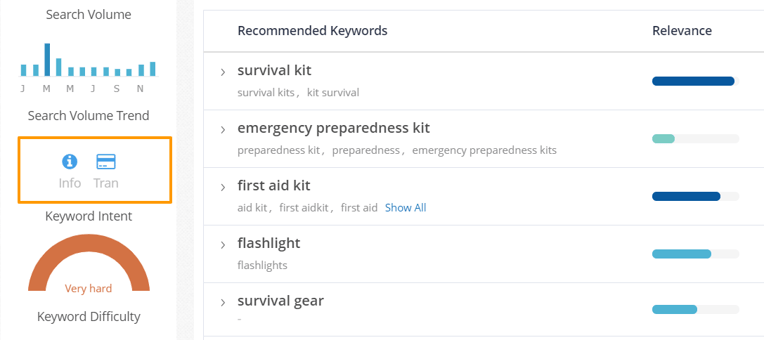 (A keyword's underlying intent influences what type of content should be created.)
This is a groundbreaking feature allowing any organization to position the right content in front of their audience while always delivering on their expectations at the same time.


Final Thoughts
Creating relevant content for your audience is difficult — but it doesn't have to be.
Although many brands turn to the quantity of content published to overcome their challenges, you need to focus on creating quality content. The real secret to publishing content that engages and boosts rankings is to use data to back up decisions about various aspects of the content, from type, to length, and even the information to include.
---
Editor's Note: This blog post was originally published in December 2017 and has been updated for accuracy and comprehensiveness.