SEO isn't about individual keywords. You must focus on your appropriate topic clusters as a whole in order to build topical authority (and increase your search visibility).
When you tackle a subject from every angle and then interlink those assets to boost their connection, you demonstrate your holistic understanding of the subject matter.
Don't just take it from us — Google algorithm updates (like BERT: a way to understand natural language processing) show that the search engine now uses a semantic approach to dissect search queries. That is to say, the search engine can understand overall concepts outside of the specific keywords used in the query.
So, how do you find your relevant topics that you need to build content around? seoClarity's Topic Explorer is a powerful research component that allows for a keyword or topic to be searched against our Research Grid database to find relevant related keywords and their search volume.
Let's dig in a little deeper.
Recommended Reading: Why Topic Strategy Matters Most in Keyword Research


What is Topic Explorer?
Topic Explorer allows you to do exactly what the name implies: research topics for your content! This follows the topic cluster methodology first introduced by HubSpot in 2017.
Our keyword database is the largest community-contributed keyword database there is, so we wanted users to have an easy way to slice, dice, and analyze the data in order to draw insights that are relevant to their industry.
Within Topic Explorer, you're presented with a list of key topic ideas based on your target keyword (for both phrase match and semantic match). Users are also provided with subtopics around their core topic idea. Essentially, you're discovering which topics you should be creating content around.


Using Topic Explorer for Keyword Research
In order for you to draw the proper insights from Topic Explorer, we'll walk you through three use cases in detail so you can align your SEO strategy with the current methods of keyword research.
A note before we begin: to fully harness the power of Topic Explorer, it is super important that you understand the makeup of your target audience, or your buyer personas. This will help you focus only on those topics that will drive traffic to your site.
1. Discover Keyword Seasonality
As you know, interest in certain products, services, and all around keyword topics varies over the course of the year. In order to plan a proper content campaign, you need to have an understanding of when demand not only peaks, but first begins to make a resurgence.
The information that Topic Explorer provides can help you formulate a timeline for your campaign. In the example below, we'll look at a scenario where people begin to search for a term (not necessarily when that topic's demand peaks). With this information, you can ensure your content is ready so you can start to catch that initial rise in demand.
Let's break this down within the platform …
1. Create a new search within Topic Explorer.
2. Search with phrase match.
This means your keyword will (for the most part) be a part of the generated list of keywords.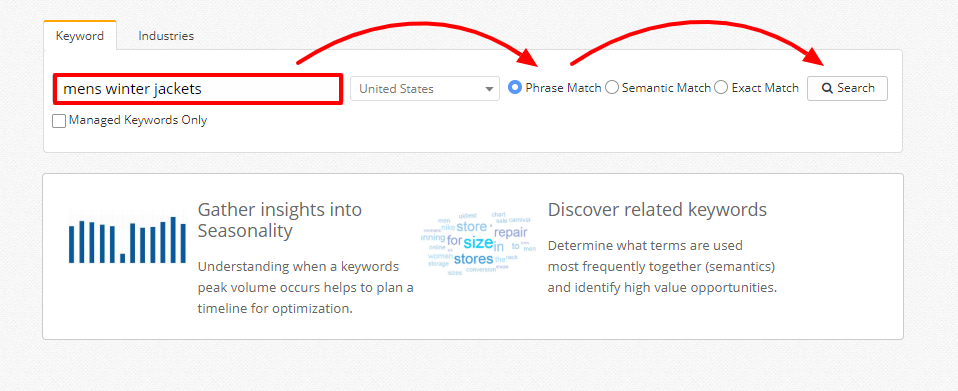 (Topic Explorer "mens winter jackets" phrase match search.)
TIP: If you want to analyze your managed keywords, simply click the corresponding box under the search bar. This will eliminate the search bar feature since the resulting workflows will be solely focused on your own keywords.
3. Analyze the seasonality trend chart to see when demand fluctuates for your search term.
With this information, you can strategically plan the launch of your content campaigns.

(Seasonality trend within Topic Explorer.)
Based on the graph above, you know that content centered around "mens winter jackets" should launch in August — not the fall or winter months. This is because the initial bump in demand means people are beginning to search for that term more, and if the content is ready and published, you can rise with that upward wave.
You can also dig into the specific keywords based on the user intent, which helps you identify which types of content to create.
4. Identify keywords by intent (i.e. informational, local, navigational, transactional).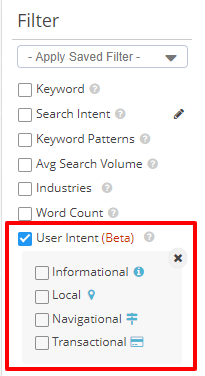 (Filter options in Topic Explorer.)
When you filter by intent, the main keyword list will update. Focus on those keywords and pay attention to what type of content you want to create or modify in order to properly capture that seasonal topic and the respective intent. For example, an informational intent may signal the need for an explanatory blog post, while transactional intent signals the need for product pages.
2. Find Topic Ideas
As mentioned above, Topic Explorer's list of keywords shows you which topics you should center your content around. Because our keyword database is so massive, we've created a variety of filters that allow you to discover topics that are relevant to your industry and current objectives.
Enter in your target keyword (with phrase match, as the example above) and scroll to see a list of related keywords.
We'll continue to look at the keyword "mens winter jackets."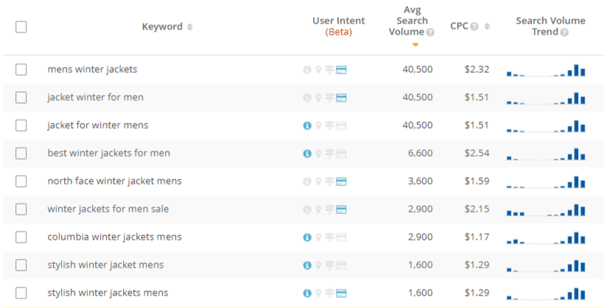 (Part of the initial keyword list for "mens winter jackets.")
2. To narrow down the keyword list to find what is relevant to you, filter by specific work industries in the Industry tab.
Note: This simple action activates the industry filter on the left task bar as well, but is a great way to visualize the different layers of the categorization.
Let's say we're only concerned with our keyword as it pertains to apparel, not the other possible industries like sports and fitness.

(Filtering results via industry in Topic Explorer.)
All related keywords are now relevant to our selected category. In this case, the industry is "/Apparel."
TIP: Filter down even further with the triangle toggle at the left of each industry name.
3. To further filter down the list, use the Topic Clusters filter in the navigation bar.
This filter groups various keywords together into meaningful groups to make the total number of keywords more manageable.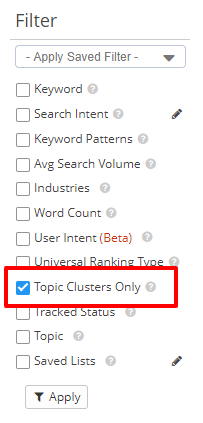 (The "Topic Clusters Only" filter groups together variations of keywords.)
Let's take a look at what this filter did for our total keyword list.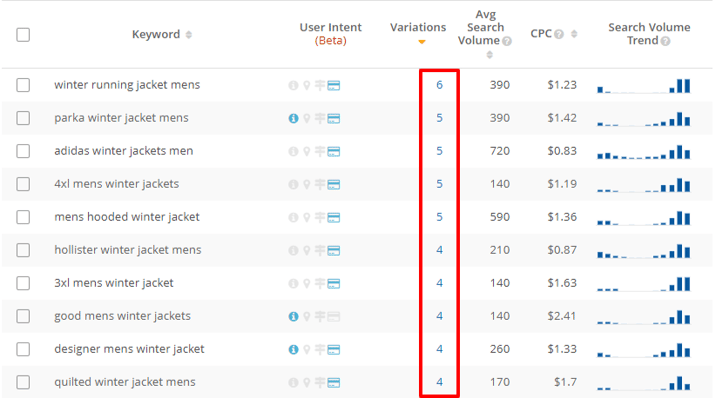 (Keywords sorted by amount of variations in Topic Explorer.)
You'll see that there's a new column that appears called "Variations." The platform has housed the variations of these keywords into a single group to dwindle down the original keyword list. Click on the variation number to see the different keywords that are housed within that group.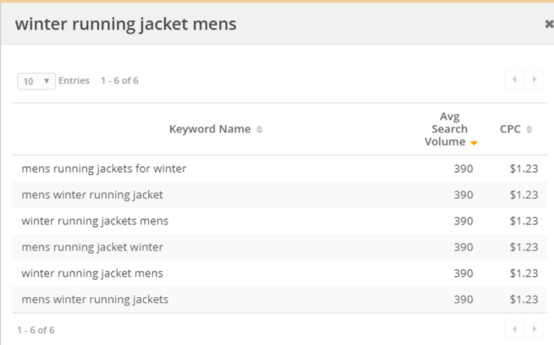 (Keyword variations for the term "winter running jackets mens.")
Note: Since the search is a phrase match in this example, the individual keywords won't be too different from each other, but you can still see variations that people search for.
Taking it to the Next Level: Other Features
Long-Tail Keywords
To really hone in on keywords that are full of opportunity, use Topic Explorer's word count filter to target long-tail keywords.
To do this, filter the word count to any keyword that is greater than 2.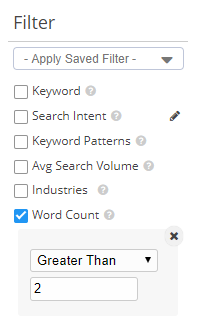 (Filter by word count to find long-tail keywords.)
This is where you'll uncover low hanging fruit opportunities and the areas that you should target.
Recommended Reading: Niche Keyword Research: Choosing the Best Terms in a Low Search Volume Industry
Keyword Patterns
The keyword patterns tab takes us to the next step beyond the literal phrase match to reveal the more complex variations of keywords that people actually search for.
The underscore in each term represents a word or phrase that can be substituted in, creating a new unique keyword.

(Keyword patterns view in Topic Explorer.)
Let's look closer at the pattern "_ winter jackets _". When you click the 32 variations, you can see the different terms that people are searching for that complete the keyword pattern.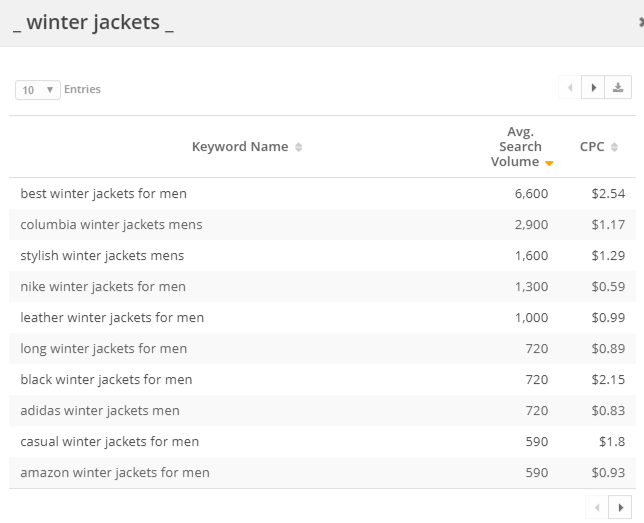 (A specific keyword pattern and its specific keywords.)
Word Cloud
The Word Cloud is used to see a visual representation of the related keywords. This view, although high-level, allows you to see a glimpse of semantically related keywords (without actually conducting a semantic search) because the keywords presented are not direct phrase match variations.
The center of the word cloud is similar to a pillar page topic and all of the surrounding terms are subtopics on which you could create additional pieces of content.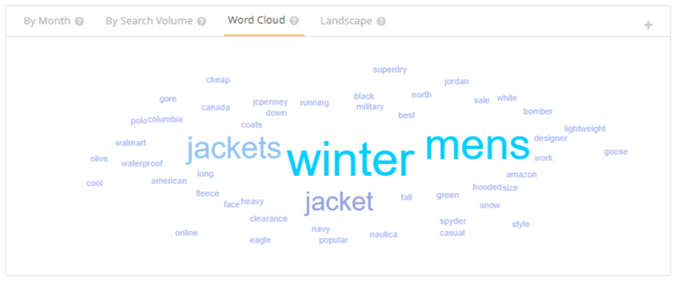 (The Word Cloud shows a visual of related keywords.)
Landscape
The Landscape view allows you to expand a web of related keywords and click through different terms to continuously expand the web.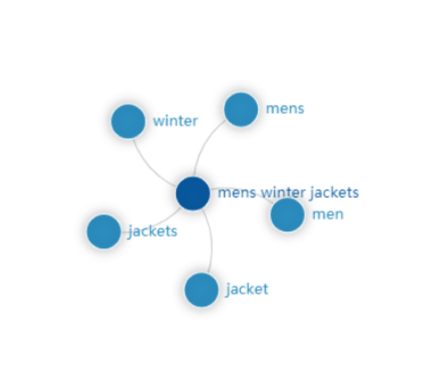 (Use the Landscape view to create an interactive spider web of topics.)
Note: Right click on any term in the Landscape map to see the total keyword count, total search volume, and the average CPC.
3. Improve Tactical Coverage and Authority with Semantic Match
The last use case of Topic Explorer that we'll cover is conducting a semantic match search.
We'll continue with our winter jackets example to show the difference in the keyword list.

(Creating a search using semantic match.)
To specify results to the apparel industry, you still want to apply an industry filter, but this time around, the results are much different than they were before.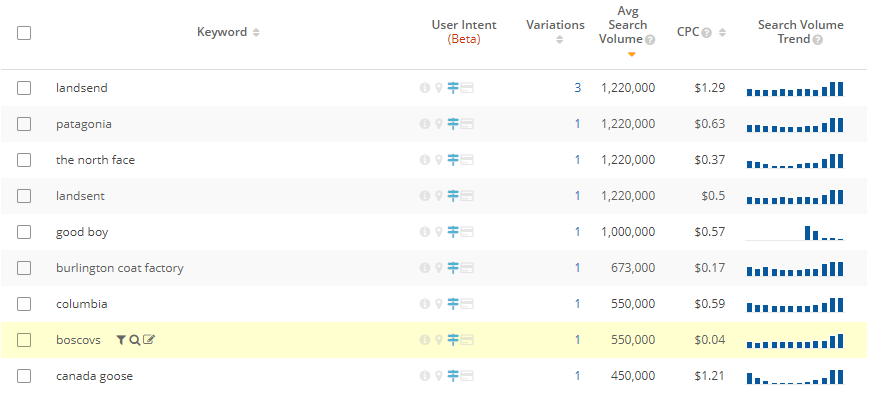 (Semantically related keywords to the target keyword "mens winter jackets.")
Remember that a semantic search does not present a keyword's synonyms, rather the keywords which are topically related to the specified target phrase.
As you can see, the keywords now cover the topic of pink eye because — just like Google — Topic Explorer understands the connection between topics outside of explicit phrase match context.
You can continue to filter down the list to reveal the keywords that matter to you, which reveals the topics that you should cover in your content in a broader sense than the phrase match would reveal.
Recommended Reading: Why Your Content Strategy Needs Topic Clusters (Updated for 2019)
Conclusion
Topic Explorer shows you important keyword topics that you should build content around. This is information that people are looking for, is relevant to your industry, and is trended out based on monthly search volume. The information presented here is invaluable to keyword research and content creation, and is helpful for anyone building an inbound marketing strategy.
For a recap, here are some of the use cases that Topic Explorer is capable of:
Finding seasonality trends
Finding new topic ideas
Improving topical coverage and authority with semantic match