If you search Google for SEO tools, you find a bevy of point solutions available on the market.
We as marketers know that the landscape of available tools is expanding in every which direction, as evidenced by MarTech's annual Landscape Supergraphic.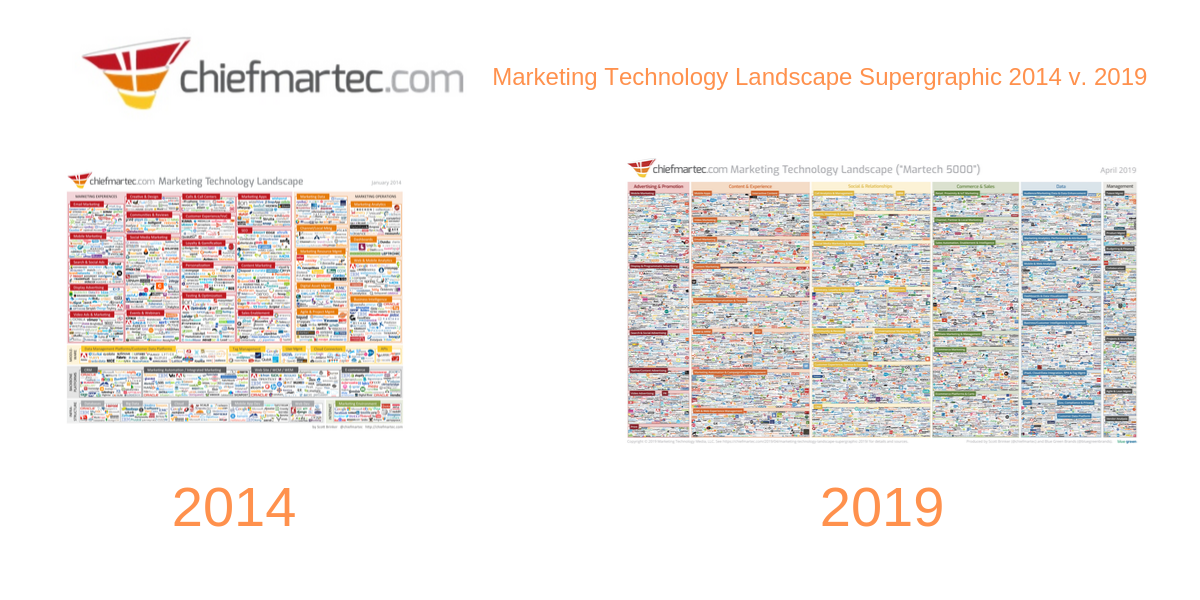 Image via chiefmartec.com
Looking closely at the above, you can see that each tool is categorized by what challenge the tool solves for modern marketers. One of the most packed subcategories is that of SEO tools. These tools harness SEO data, simplify analysis, and improve content distribution - among many other capabilities.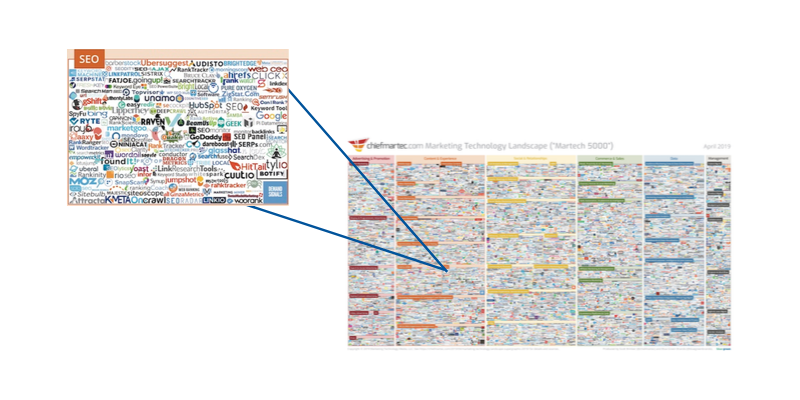 Can you spot seoClarity's logo? Leave a comment below once you find us!
You can find a lot of helpful tools out there made by small software companies or tech giants; which is great for us marketers, considering the data-heavy world of search engine optimization. The right tools make all the difference when you're trying to scale. That's why I have compiled this list of the most popular, free SEO tools on the market today to assist you with your own SEO success story.
The 10 Best Free SEO Tools
You can get a sufficient amount of valuable data and insight from free SEO tools, whether you're just starting out in SEO or you're a seasoned SEO veteran. Some of the best SEO tools on the market today are gateway products designed to get users introduced to a specific SEO skill.
The following list of SEO tools are, in my opinion, among the best because of their popularity among SEOs and marketers and their deliverance of data, analysis and insight your business needs to scale.
1. Website Grader Powered by HubSpot
Used For: Site Health, Overall Site Performance (Desktop and Mobile)
This free online SEO tool powered by HubSpot delivers reporting on key site factors including:
SEO quality and discoverability by both search engines and your audience
Mobile readiness
Site performance
Site security, an important metric that tells visitors your site is safe.
To use the tool, all you need to do is plug in a website URL and give your email address. In seconds you'll get a report and site score from 1 to 100.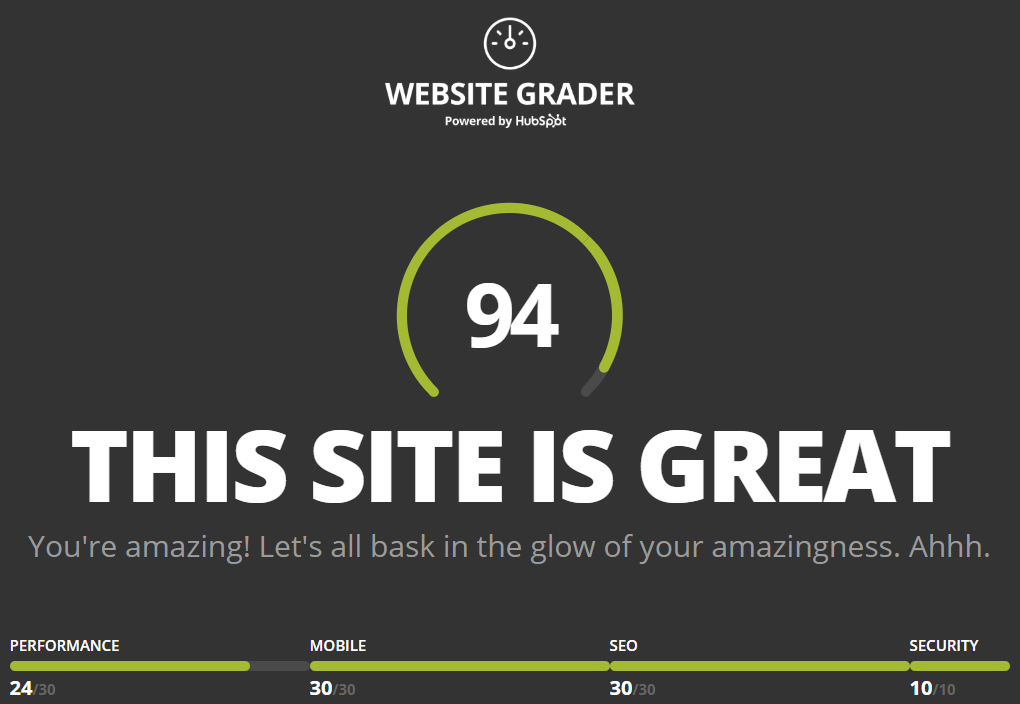 Image: HubSpot Website Grader's quick site analysis score
Why We Included This Tool on Our List
HubSpot's Web Grader offers a big picture analysis of how a site is performing. SEOs can drill down even further to investigate areas for improvement and educate themselves on the best course of action for site optimization.
2. Google Search Console
Used For: Keyword, Link Management, and Technical Site Issues
To see your site as Google sees it, use Google Search Console. Formerly known as Google Webmaster Tools, GSC gives users a snapshot of their site's performance including organic search traffic, link data, and issues impacting the site so you can "make your site shine" in the search results.
More granular than other site analysis tools, GSC breaks down your site's information into several categories to display organic search traffic data in one, easy-to-manage place. While any marketer can benefit from using it, this tool is really for SEOs.
Why We Included This Tool on Our List
Google Search Console is a great starting point for anyone - content strategists, SEOs, and beyond - who is monitoring a site's performance; however, GSC can only provide its users with a top-level overview. Our own Search Analytics integrates the data you receive from GSC to provide an even deeper look into the keywords that are driving traffic to your site. Search Analytics helps users reach their full traffic potential with a look at
The intent behind organic searches
An analysis of brand vs. non-brand terms
Page-level optimization
Recommended Reading: What Are the Best Site Audit and Crawler Tools?
3. Google PageSpeed Insights
Used For: Page Speed Analysis
With this free tool, you can track page speed performance on both mobile and desktop devices. The importance of page speed, search visibility of those pages and the user experiencing of navigating those pages makes tracking this factor an essential facet of every SEOs' and web developers' practice. Google PageSpeed Insights is one of the most valuable free SEO tools around.
The PageSpeed Optimization Score defines how fast or slow a site is for users, with 100 being the fastest speed. A score of <59 is considered Low, a Score between 60 to 79 is considered Medium and >80 is considered Good.
Why We Included This Tool on Our List
PageSpeed Insights helps SEOs and developers understand how to think about site performance and navigate through the solution, offering suggestions for common optimizations to improve your site.
In a similar fashion, seoClarity includes Page Speed Insights to provide SEOs and IT teams an overview of the most important issues affecting your page speed at scale across all of your pages and summarizes those insights based on the time to byte load.
4. Google Analytics
Used For: Site Analytics
Every digital marketer uses Google Analytics. It's the crème de la crème for all the data you need about your site, from visitors to traffic to conversions and so much more (but you probably already know that!). If you aren't using it, set up your account right now (seriously, stop reading and do this now). Just about every online data tool relies on data from Google Analytics to populate their tools and platforms via the Google API.
Why We Included This Tool on Our List
Like Google Search Console, Google Analytics data syncs seamlessly into seoClarity keeping all of our data is one, easy-to-comprehend place. Specifically, the traffic metric used in seoClarity is based on the Sessions metric in Google Analytics, but where Google Analytics provides a basic overview, seoClarity dives deep allowing you to filter, dynamically update, and apply interactive analysis on the fly.
5. Google Keyword Planner
Used For: Keyword Research
If it wasn't clear by now, Google offers some of the best and most consistent free SEO keyword tools for beginners and experts alike. One of those tools, Google Keyword Planner, can be found in Google Ads, under Tools. It's a simple and free way to find new keyword opportunities related to a specific term.
It also shows potentially related keywords and their search volumes. Admittedly, it's part of Google Ads, but you can sign up for an account and gain access to the planner without running any campaigns.
Why We Included This Tool on Our List
If you're just getting started, Google Keyword Planner is an excellent resource that provides insight into your audience (how they're finding you over your competitors, what drives organic traffic, and so on). Just remember though, it is a free tool and requires the manual effort of digging through the data and "connecting the dots" on your own.
Recommended Reading: What Are the Best Keyword Research Tools?
6. seoClarity Research Grid
Used For: Keyword Research and Competitive Intelligence

For anyone looking for a slick free keyword research tool outside of the Google Suite, seoClarity's Research Grid offers in-depth reporting and insights via a detailed dashboard for any domain. Users can uncover the desktop and mobile SEO performance secrets of any website they choose by leveraging the industry's largest data set. This tool also provides insights on top performing site content, directories and sub-domains of any site in 90+ countries - Including Baidu China!

Research Grid dashboard by seoClarity
Why We Included This Tool on Our List
We couldn't skip out on including ourselves! The free version of Research Grid is a great gateway into detailed keyword research and includes a variety of helpful features within digital marketing. This works well for experienced marketers who can turn the data into insights for themselves. It's also useful for SEOs who are looking to start anywhere on their SEO journey.
7. SEOWorkers Analysis Tool
Used For: Keyword Ranking Analysis
Enter a URL (any URL, even if it's not yours!) and you'll get a real-time thorough report that covers important (but often overlooked) SEO best practices checker for common SEO elements like meta tags and HTTP headers. You'll also receive detailed keyword analysis including relevancy, keywords in anchor tags, image alt text, and where the page ranks for a given keyword.
Why We Included This Tool on Our List
The SEOWorkers point solution does a great job at providing its users with resources (usually video) directly from Google in order to explain areas of the report. From there, users can choose to pay for tele-consulting, making this free SEO tool a great choice for beginner SEOs who are looking to educate themselves on tasks that help optimize their site.
Recommended Reading: What Are the Best Keyword Rank Tracking Tools?
8. SEO Web Page Analyzer
Used For: On-page SEO Analyzer
Here's another great on-page analysis tool to understand how technical elements, links and more are affecting a given page. The tool gives you an SEO score from 1 to 100, but the real value is its ability to layout the problem areas in a clear-cut report. Fixing the problem areas will really help your SEO effort.
Why We Included This Tool on Our List
This easy-to-comprehend report by SEO Web Page Analyzer, which is also available as an iOS app, provides a simple, yet effective, breakdown of a site page. Areas of concern are color-coded green for "good" or red for "needs attention". Also, this tool is effective at letting whoever manages the site pinpoint where the image alt attributes are non-existent.
9. UpCity SEO Report Card
Used For: Competitive Analysis
This tool tells you how you match up against the competition. With the SEO Report Card, you'll see where you rank on Google, Bing and Yahoo for your primary keyword; how many sites link back to your site; site load speed; search engine crawler accessibility; and your site's level of authority. It's a great way to understand the progress of your SEO effort.
Why We Included This Tool on Our List
While UpCity does require a name and email to use their reporting tool, this report card is a gold mine of basic information, providing its users with information against your competitors. From rank analysis to link building reports, UpCity's report card is a simple reporting tool to show quick, surface-level insights on you versus your competitors.


Sample report summary from UpCity.
10) Check My Links
Used For: Link Management
A broken link can really hamper a page's SEO value. Check My Links evaluates links, finds broken ones (both internal and external) and can check a link-loaded page in seconds. It's a great tool to use before you publish but can be used as part of regular maintenance, too!
Why We Included This Tool on Our List
This Chrome Plugin from Page Modified quickly provides SEOs and marketers with an overview of links that need tending to. By providing actionable insights for a site, users of this plugin are able to target issues with confidence. This is a great glimpse into linking strategies for newer SEOs.
Conclusion
Free SEO tools are great, especially if you're new to SEO or you need some quick and basic insights without an investment in a larger solution. That being said, there are many differences between the capabilities of free SEO tools versus an SEO platform. SEOs who are looking to provide detailed reporting or an SEO roadmap for their business or stakeholders might want to consider a top SEO platform to fit an advanced team's needs.