Technical SEO optimization is one of the most important aspects of organic search – after all, if your site isn't functioning properly, users will bounce and return to the SERP, and search engines will have a difficult time crawling and indexing the content.
Site audits allow you to see the technical areas of your site that are not optimized or are performing poorly, which gives you the opportunity to fix these issues before they become a real problem for the overall search experience and hurt your search visibility.
If you're unfamiliar with site audits, we recommend you start with our intro post: What is a Site Audit?
With so many different site audit tools on the market, it can be hard to choose the best one for your organization and your needs.
Different companies have their own site audit tools, or integrate with another, that can identify technical issues on your site, and each has its own set of capabilities set at different price points.
You may also hear some of these tools referred to as SEO checkers.
In this post, we'll cover the following:
seoClarity

(hi, there!)
To compare even more SEO software, we recommend our SEO tools comparison page.


What to Look for in Audit and Crawler Tools
Do keep in mind that not all SEO site crawlers are equal within the site audit tools — different tools have different capabilities of what they can crawl, and how often.
Some companies leverage a desktop crawler and others use cloud crawling. This difference is critical to ensure the crawler emulates what search engine bots and your user sees.
There can also be limitations to what content a crawler can see, so make sure to research the crawler capabilities based on what your site needs. For example, does it only crawl HTML, or does it include the ability to crawl JavaScript?
All the website audit tools listed here will have a monthly price, with the exception of Google Search Console and a free version of Screaming Frog.
And believe us, there are a lot more free site audit tools on the market. The problem, however, is that you can't use them to scale. So for the purpose of this post, we focus on the most advanced tools on the market.
This article is meant to inform you of the best SEO audit tools so you can ensure that your thousands, tens of thousands, or even millions of pages for your enterprise organization have achieved technical optimization. This then allows you to please the end user and allows for the best search experience possible.
Of course, if you are an SEO working on a smaller site or an agency that provides site audits for multiple sites, choosing the right site audit tool is just as important for you and your situation.


Why is Conducting a Site Audit Important?
As we mention in our Search Experience Optimization framework, you must ensure your site is optimized for usability before other SEO efforts are implemented – but it can be difficult to do this.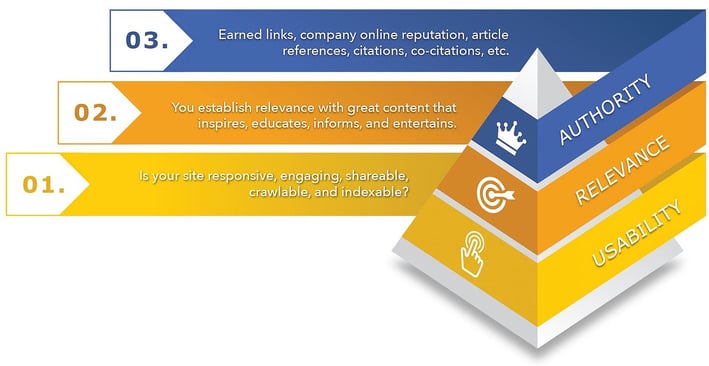 (seoClarity's Search Experience Optimization framework.)
After all, the world of SEO is constantly changing. At any given time, Google can release an algorithm update, and what used to be considered best practices can instantly become something of the past.
Therefore, it's necessary to perform regular SEO audits on your website – they allow you to stay on top of the latest SEO trends.
Our site audit checklist guides you through every step of a top-down site audit. Download today to check up on your site health.
Staying knowledgeable about your website and how it's operating makes your website all around better in and of itself, and it also gives you the opportunity to create an SEO strategy for the future.


The Best Site Audit Tools
Many site audit tools exist on the market. However, those listed below are most commonly used, and the ones that we deem most capable of getting the job done.
Note: We do not list all features and capabilities of the following companies' site audit tools, only what we thought to be most important. A full list of features can be found on each company's respective website.
1. seoClarity
seoClarity's site audit technology can find and report on more than 100 technical health checks.
No limits are placed on the built-in website crawler, which allows you to run an unlimited amount of crawls where you define the depth – they can be full site audits or specialized ad hoc audits.
Complete customization also lets you set the crawl speed, time, and other factors.
You can check for broken links and duplicate content, confirm indexation, and as well as make quick SEO upgrades with simple on-page SEO fixes (i.e. add titles, meta descriptions, and tags) – even for JavaScript sites. And this is just the tip of the iceberg.
Customized reporting and a complete overview of technical errors make it easy to prioritize SEO issues. To really see your site like Google sees it, utilize our advanced server log-file analyzer.
Besides uncovering errors, you can optimize your crawl budget, improve indexation, monitor mobile site crawls, and more.
These insights are simplified and actionable. Plus, size is no issue – our crawler is capable of analyzing sites of 48 million plus pages with a speed of 100 pages per second.
Crawl data is stored so you can track progress between crawls. Our platform, for all inclusive capabilities, starts at $3,000 per month, and we also offer a free SEO site audit.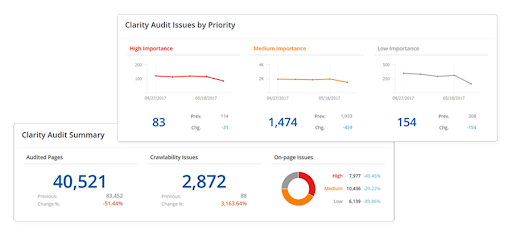 2. Ahrefs
Ahrefs' Lite plan is $99 per month, which allows you to crawl 10,000 internal pages per month. The data from these crawls is stored for three months.
However, if you want to crawl more pages, increase the data retention period, or allow for JavaScript rendering, other monthly price packages are available.
For example, their Agency package ($999 per month) allows for 2.5 million pages to be crawled, with crawl data retained for 12 months, plus JavaScript rendering.
Ahrefs can identify 100+ pre-defined SEO issues, including performance, incoming links, content quality, and more. An overall SEO health score is also given, with colored, printable charts for easily understood SEO reports, as well as recommendations on how to fix issues.
Ahrefs' Data Explorer also allows you to segment out the data with custom filters and URL parameters. The crawl can occur on a daily, weekly, or monthly basis, and mobile crawls are also possible.
3. Botify
Botify can crawl up to 50 million URLs at the rate of 250 URLs per second. You can crawl your entire site, or set up personalized crawls, which allows you to engage in case-specific analyses, with unlimited exports.
Its ability to analyze JavaScript pages with multi-device evaluation allows it to view and assess your site like a search engine does. Botify also offers the Botify XML Sitemap Generator, which automatically creates sitemaps for you.
In addition to standard site audit capabilities, Botify offers the Botify Log Analyzer, which they say analyzes 100 million search engine requests per day.
See when your pages have been crawled, and get alerts if Google stops their crawls on important pages, or conversely, starts crawls on pages that should be off limits.
You can learn more about the platform with a demo request.
4. BrightEdge
As an SEO platform, BrightEdge's site audit tool is just one capability of the platform.
BrightEdge's ContentIQ is able to crawl hundreds of millions of pages – or simply a few hundred, if that's what your site consists of – at a custom crawl rate. You're also able to crawl JavaScript, progressive web applications, single page applications, etc.
Since all businesses and websites have different purposes and needs, ContentIQ is customizable, which lets you configure rules for your site audits so you're only shown the information relevant to you.
Visualize the data with clear SEO reports, and get an overall understanding of your website's performance with a ContentIQ score.
Do note that BrightEdge does not list its platform price on their website – but you may request a demo to learn more.
5. Conductor
Another SEO platform, Conductor offers a site audit tool as one of its many SEO offerings.
Conductor lets you crawl your site on demand, so you don't have to wait for the next crawl cycle to come around before you receive insights into site health and performance.
Note: Conductor relies on a third-party for technical SEO capabilities.
If a search engine penalizes your site, discover why the penalization occurred and track the changes to try to get that lost traffic back.
Speaking of lost traffic, site migrations can be one of the most daunting tasks in SEO, so Conductor's site audit tool helps with this process. You're able to compare the new site to the old, ensuring everything transitions appropriately.
For sites that deal with international SEO and serve a global audience, Conductor also allows you to ensure that content is appropriately tagged for its correct location.
You're able to schedule a demo on their website, but do note that no price information is offered.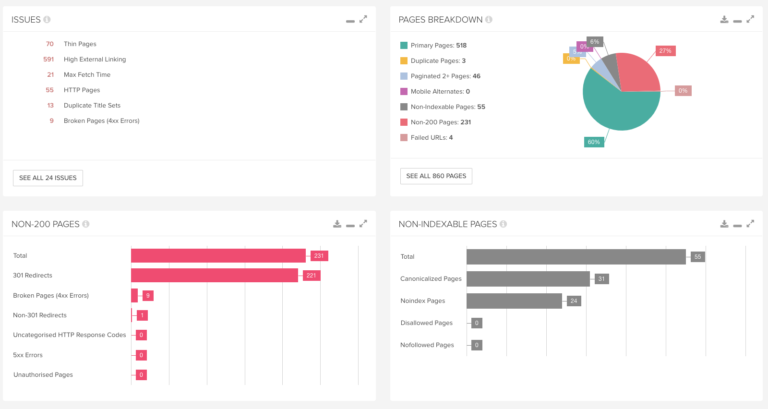 6. DeepCrawl
DeepCrawl is a technical SEO point solution that begins at $14 per month.
The Light package is tailored to individuals who are working on one project with a maximum 10,000 URLs. Move up to the Light Plus package ($62 per month) or request a quote for a Custom package.
All packages come with JavaScript rendering, but other features such as API access and partner integrations are dependent upon the select package.
For example, the Light Plus package can integrate with Google Analytics and Search Console, where the Light package cannot.
While only the Custom package comes with a Customer Success Manager, the Light and Light Plus packages come with in-app on-boarding to make the beginning process easier.
Additionally, DeepCrawl is capable of log file analysis, which allows you to see which pages search engines miss or view, which lets you optimize your crawl budget.
Also detect faulty pages that cause search experience issues for users and bots, and test XML sitemaps to see if all important pages are listed.
DeepCrawl is suited for ecommerce, publishers, agencies, and enterprise brands.


7. Google Search Console
One of the two free SEO tools on this list, Google Search Console alerts users to website errors, and allows SEOs to communicate back to Google when the issues have been fixed.
Another upside of GSC is that you can see your site how Google sees it, since information comes straight from the Google index.
In addition to site issues, GSC lets you confirm that Googlebot is able to find and crawl your website.
Tailored to "anyone with a website," GSC can do more than reveal site errors, it also shows you a page speed report, which uses real usage data to show you how fast your pages are loading.
Keep in mind, the slower a page loads, the higher its bounce rate will be.
GSC also offers rich results tests, status reports, and an unparsable structured data report to help you understand the rich results and structured data on your site and any potential errors there are.
Lastly, it allows you to troubleshoot for AMP and mobile usability.


8. Moz Pro
Moz Pro offers a handful of packages that range in price from $99 per month (100,000 pages crawled per week/20,000 per campaign) to $599 per month (2 million pages crawled per week/200,000 per campaign). Crawling occurs automatically every week and alerts you of any new developments.
Moz Pro presents site audit data to you in charts that segment out the information to reveal patterns, opportunities, and overall SEO health.
The crawler also presents you with explanations for the different page errors it finds, the potential effects of that issue, and how to fix it.
Since a lot of technical information can be presented at once, Moz Pro allows you to ignore certain aspects of the crawl, or flag important areas. Then, mark an issue as corrected so you can keep track of your work.
A free trial is available on Moz's website.
9. OnCrawl
Crawl up to 100,000 URLs per month for €49 per month. This explorer package allows for one project (i.e. one domain) with unlimited subdomains.
You can move up to their Ultimate package, which allows for up to 2 million URLs per month and is priced at €399 euros per month (although priced annually).
A package can be customized for agencies and enterprises, but you must book a demo to learn more about this option.
All plans include capabilities like custom dashboard reports, unlimited analyses, project sharing, crawl over crawl comparison, and more.
Additional options also include log-file analysis for crawl budget optimization, integrations (Google Analytics, Adobe Analytics, Google Search Console, Majestic, and AT Internet), Javascript rendering, and API access.
OnCrawl does offer a package for agencies and enterprise websites, but you must book a demo to learn more. You're able to upgrade or downgrade your package whenever you wish.
A 14-day free trial is available.
10. Screaming Frog
Screaming Frog's SEO spider is will crawl 500 URLs for free, or you can have an unlimited crawl limit – dependent upon memory and storage – for £149 per year (per user).
While the free version allows for seven capabilities (things like finding broken links, generating XML sitemaps, and site visualizations), the paid version gives an additional 16.
These paid features include things like scheduled crawls, with the ability to save and re-upload them. Screaming Frog is also capable of JavaScript rendering, as well as custom robot.txt and custom extraction.
Certain integrations – Google Analytics, Google Search Console – are also a possibility. Technical support is offered with the paid version as well, where users can email the support department or open a ticket.


11. Searchmetrics
Within the Searchmetrics Suit is the Site Experience – a way to monitor and improve website performance. With Site Experience, you can schedule site audits to check the crawlability and indexability of your sites. This includes sites running on JavaScript as well.
Essentially, Site Experience presents you with a SWOT analysis, which allows you to figure out strengths, weaknesses, opportunities, and threats.
If the site audit picks up an error on your site, you can follow the given priority action recommendations to fix the issues in an effective way.
Do note that no price is listed for Searchmetrics, but there is a 14-day free trial available – although for their Research Cloud and Content Experience, not Site Experience.
12. Semrush
Semrush offers four plans – Pro, Guru, Business, and Enterprise – with the Pro plan beginning at $99.95 per month.
All plans include site audits and log file analysis. The site audit tool allows you to find hreflang mistakes, AMP issues, check for HTTPS site security, and more.
The differences come in with the number of projects and crawl limit each plan allows for.
With Pro, you can create three projects and crawl 100,000 pages per month and 20,000 pages per project, but you can move upward of 1 million pages with the more advanced plans.
You can change your plan at any time, or cancel your subscription entirely.
13. WooRank
WooRank has three plans: Pro ($59.99 monthly), Premium ($179.99 monthly), and Enterprise (no price listed). Crawl 2,500 pages on the Pro plan or 10,000 with the Premium plan.
Stay informed on redirects and potential security issues, and find any indexing errors when they arise. The site audit also helps avoid duplicate content – which can lead to penalties and confuse search engine crawlers.
WooRank allows for integration with Google Analytics, Google Search Console, and Facebook, and (plan dependent) API access to integrate CRM, ERP, Salesforce, and more.
The information gathered in WooRank's site audit can be downloaded and shared (e.g. the development team can be informed and fix the issues).
You can try the service for free with a 14-day trial.


The Takeaway
A proper site audit shows you insights into your site's overall health, which allows you to fix these potential errors before they become a real problem for search visibility.
It's also important to track progress as you make those changes so you can correlate the updates with improvements in ranking performance – which ultimately leads to increased traffic and conversions.
Selecting the right keyword rank tracking tool is just as important as selecting the right site audit and crawler tool.
With so many different site audit tools on the market, we can't tell you which is the best – after all, different companies have different needs for their SEO strategy.
But remember, for enterprise companies, it's crucial that you select a tool that will allow you to scale your efforts and grow.
More SEO Tools