Well-optimized content that attracts your target audience is the key to ranking organically on Google Search (or any search engine, for that matter).
High rankings lead to organic traffic, conversions, customers, and revenue — so, it all boils down to content marketing!
In an industry as data-driven as digital marketing and SEO, it's no surprise that the best way to create authoritative content is by leveraging data and artificial intelligence.
If you want to succeed in content marketing, you need technology to help you, and that's where content analysis tools come in …
For a complete look at different SEO software, head over to our SEO tools comparison page.


What Are the Best Content Analysis Tools?
Content Fusion

(that's us!)
What Are Content Analysis Tools?
A content analysis tool utilizes data to scale your content process and ensure quality content.
With some, you enter a target search query and receive key information like what to cover in your content to be topically authoritative; with others, you can create content briefs in a breeze.
Some are a combination of the two, among other things. They all seek to scale your process so you can write expert-level content faster than ever before.


The Best Content Analysis Tools
We took the liberty of compiling key information from a few of the top content analysis tools on the market to help your evaluation process.
We didn't include Google-owned tools like Google Analytics, even though it can be used as a content audit tool, for example, because everyone has access to those free SEO tools.
1. Content Fusion
Content Fusion is seoClarity's AI-powered content optimizer. It allows you to create authoritative content, all at scale.
Here's how it works: Content Fusion runs on a natural language processing (NLP) model that learns from top-ranking search results for your target keyword and reveals key insights that make your content writing process a breeze - whether you're updating a site page or writing a blog post from scratch.
It doesn't write the content for you. It's a powerful tool that helps to scale the content development process so you can save time on the research process.
You can analyze a keyword to write new content or analyze a URL to enhance an existing piece of content. Plus, a Google Docs plug-in lets you write and analyze your content while keeping your workflow the same.
Recommended Reading: How to Conduct Blog Content Analysis To Improve SEO Performance
A global hospitality brand used Content Fusion to build 5x content for 800 unique pages!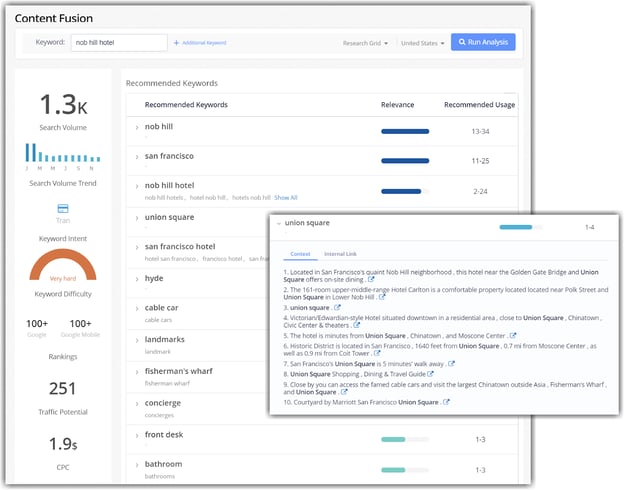 (Discover the context of must-use terms with Content Fusion)

Authoritative Content at Scale
Content Fusion intelligently gathers the top semantically-related topics you should cover in your content to be seen as authoritative so you can earn organic search visibility.
Each recommended topic shows you the:
Relevance
Recommended usage count (and usage checker to track keyword density)
The underlying context of each keyword so you can become an expert on the topic
Internal link recommendations to strengthen your topic clusters
Key Metrics
Here's the key information Content Fusion reveals for your target query:
Search volume (with season trend)
Keyword Intent
Keyword difficulty
Where your web page currently ranks on Google for the target keyword
Organic traffic potential
CPC
Discover User Questions
Content Fusion pulls the People Also Ask questions for your query (if applicable) so you can understand the Google search queries that real users ask around your topic.
One-Click Content Briefs
With one click, you can turn this analysis into an SEO-ready content brief, and specify other information that will help your content creators write relevant, user-friendly content.
Customize the brief with different themes and design elements to give it a personalized look.
If you're in need of a content brief now, download our free content brief template to consolidate key information for your content writers, or let us send you a free content brief straight to your inbox.
Global Content Opportunities
Write and optimize content across 13 global languages, including English, Japanese, Chinese, Swedish, Danish, German, Spanish, French, Norwegian, Dutch, Finnish, Indonesian, and Italian.
Learn More About Content Fusion
Content Fusion is included in our Essentials package, which begins at just $.15 per keyword, and also includes keyword and topic research and keyword rank tracking. Our other packages include Content Fusion as well.
Go ahead and try it out for free, or continue to cruise the other tools. There will be another opportunity to try Content Fusion for free at the bottom of this page — we swear you'll be impressed!
2. Clearscope
Clearscope helps you produce relevant content in 5 languages: English, Dutch, Spanish, Italian, French. When you write in the UI itself, Clearscope highlights the times you've included their recommended terms.
An overall "Content Grade", word count, and readability level are given as well. Clearscope also integrates with WordPress and Google Docs.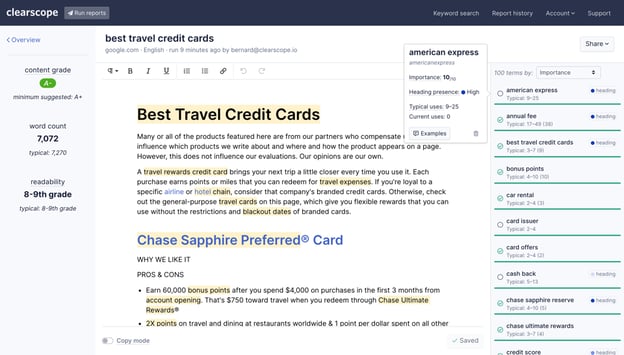 (Image Source: Clearscope)
There are three plans available (Essentials, Business, and Enterprise) with pricing at $170 per month, $1,200 per month, and custom-quote pricing, all listed respectively.
The pricing plans determine how many "content report credits" and user seats you get. For example, the Essentials plan comes with 20 report credits, which, according to Clearscope, is "Everything you need to get started optimizing content."
Three user seats are included with Essentials.
Further Reading: Compare Clearscope to MarketMuse
3. cognitiveSEO
cognitiveSEO is able to analyze the rankings of any keyword in any language and country.
The tool reveals things like topically-related words and phrases to include on your page, a content performance score, a Flesch-Kincaid score, and the number of words currently on the page.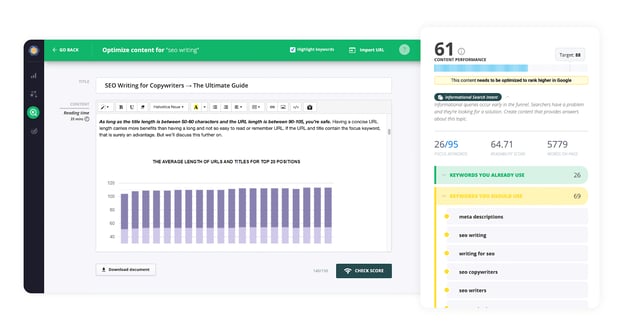 (Image Source: cognitiveSEO)
Their SERP analysis reveals insights into competitors' strategies, so you can understand why they rank the way they do.
For new content, cognitiveSEO has a research tool based on their own database, keyword suggestions, and Google's autocomplete feature.
The content tool is built into a suite of other tools, including an audit tool that reveals insights into title tags and meta descriptions.
cognitiveSEO offers three plans: Starter ($129.99 per month), Premium ($199 per month), and Elite ($499 per month). All plans come with Content Audits, which is how they classify their research, SERP analysis, and content optimization suite.
4. Frase.io
Frase is content creation and optimization software that covers four main areas:
Topic Research
Content Briefs
Content Creation
Content Optimization
Let's break some of this down.
Frase lets you see information like topics, headers, questions, and more for your target search queries. You can then turn this into a content brief or a custom template for your writers.
You're able to collaborate with team members since all Frase documents can be sent to WordPress.
The Frase algorithm scores your content in real-time with a "Frase Topic score" — think of this as a content score.
Pricing is split between three plans: Basic ($44.99 per month), Team ($114.99 per month), and Enterprise (custom pricing).
Add-ons are also available.
Further Reading: Compare Frase to MarketMuse
5. MarketMuse
MarketMuse groups its functionalities into 5 applications:
Optimize
Research

Compete

Questions

Connect
MarketMuse uses a live text editor that shows you the relevant topics that you should include in your copy. They highlight topics, their relevance, and related topics, too. This portion of the MarketMuse software uses machine learning to identify what it is you're set to write about and compares it against data.
You can also use MarketMuse to build content briefs. Compile key information — like the target content score, subheading suggestions, and questions to answer — for your writers.
MarketMuse ranges in price and functionality:
Free: $0 per month
Standard: $7,200 per year
Premium: Starting at $12,000 per year
6. Ryte: Content Success
Ryte is a website quality platform. Within its suite of tools is Content Success. This tool allows you to discover keyword recommendations for your content, and compare TF*IDF scores (this is their competitive analysis).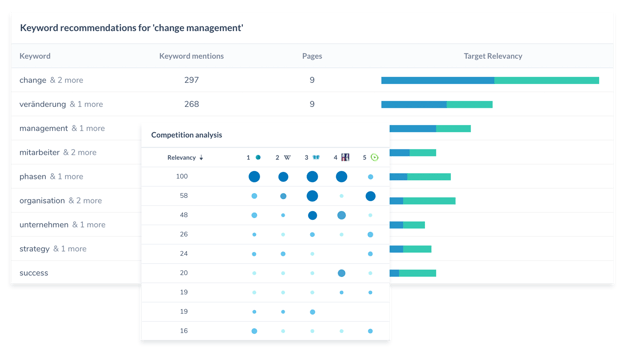 (Image Source: Ryte)
This tool uses a "content editor" that suggests which terms to add or remove from your copy. It also has an HTML export function (so you can paste the HTML code into your content management system) and schema.org integration.
There are three plans available. Note that pricing is listed in Euros:
Basic: €99 per month
Business: €540 per month
Enterprise: Custom
7. Searchmetrics: Content Experience
Editor's note: Searchmetrics was acquired by Conductor in February 2023, at last update of this article. For now, Content Experience is still available from Searchmetrics, but time will tell what's next for its users.
The Searchmetrics Content Experience was built for online marketers, content strategists, and content writers. It allows you to uncover search intent and various topics that you can write content about.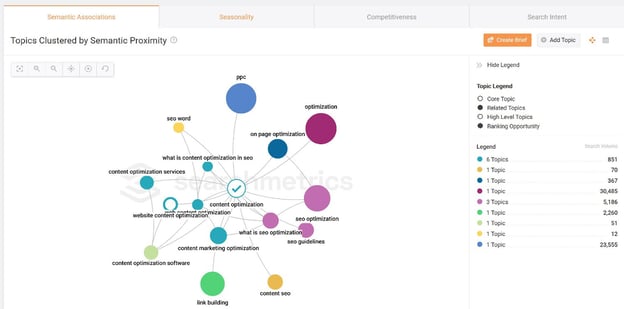 (Image Source: Searchmetrics)
You're able to type directly into the UI (or use the Microsoft Word add-in) to follow their keyword recommendations, and the system will track your usage.
As you type, you also receive a content score shown as a percentage. You can analyze 5 topics at once.
The system works in 16 countries and 4 languages.
No price is given on the Searchmetrics or Conductor site.
Recommended Reading: How Content Scoring Can Transform Your Content Marketing Strategy
8. Semrush
Semrush offers both an SEO Content Template and an SEO Writing Assistant.
The SEO Content Template shows you which semantic keyword to include in your content, with the information based on Google's top 10 rankings for your target keyword.
The tool checks recommended backlinks, readability levels (same with the SEO Writing Assistant), length, and on-page SEO usage.
Their SEO Writing Assistant allows you to "optimize your content for user intent and search engines," according to the feature page.
It checks things like originality, tone, and SEO best practices. It can be used as a Google Docs add-on, or a WordPress plug in.
Plans vary: Pro, Guru, and Business ($119.95 - $449.95 per month). You'll want to check the comparison chart to make sure the content functionality you need is included in each plan.
9. Surfer
The Surfer Content Editor lets you draft your copy and see a variety of metrics change in real-time as you type:
Keyword recommendations and usage count
Overall content score (out of 100)
Word count, paragraph count, image count
In the Topics section, you can see related questions to your target keyword. And, feel free to use the Notes section to tell you writers about any other key information.
You can work with more than one keyword at a time for a multi-keyword analysis, and connect with WordPress and Google Docs.
Prices range from $59 per month to $239 per month, with custom pricing for enterprises and a 7-day money back guarantee.
There is a set amount of queries for the Content Editor depending on the plan.
Further Reading: Compare Surfer SEO to MarketMuse
10. Yoast
Yoast is a WordPress plugin that allows for a few things. To start, you can locate relevant keywords and add them to Yoast. This is actually powered by Semrush.
The plugin has keyword optimization and content insights. Content insights will reveal 5 words or phrases that you use most commonly on your page. You can then cross-reference these keywords with your target keywords.
To keep your content fresh, Yoast offers a date reminder, which warns you when your important pages haven't been updated in six month.
Yoast is available for free, though with limited availability, or as a paid version. The premium subscription for one site is $99 per year.


Conclusion
SEO content analysis tools all have different capabilities that can help you to write and analyze high-performing content.
Whatever you choose will depend on your specific needs and business goals — but we would love to give you a free trial to Content Fusion so you can see first-hand how it scales the content process.
Additional Resources
---
Editor's Note: This blog was originally published in March 2021 and has been refreshed for accuracy and comprehensiveness.