With so many options on the market, choosing an SEO platform means striking the right balance between cost, efficiency, and every capability to fit your business needs.
Whether this is your first time investing in an SEO solution, or you're looking to upgrade from a tool (or multiple tools!) to a platform, there's a lot to consider when you're ready to scale your organic search visibility
We believe an informed buyer is the best kind of customer, so in this post, we share our research and insights about the SEO marketplace, including:
By providing you with this high-level information you need to know before you invest in a platform, you'll be equipped to make the best choice for your team's needs and your overall business success.


Want to compare some of the most
well-known SEO software on the market?
Take a look at our SEO tools comparison page.


What is an SEO Platform?
An enterprise-level SEO platform allows you to research, devise, implement, manage, and measure every aspect of your appearance in the SERP.
It's used to conduct research around new topics, to manage content ideation and creation, and to implement SEO as part of a larger digital marketing strategy — all while continuously monitoring results.
Beyond that, a platform allows an entire team to integrate all data sources to centralize SEO so that, instead of working with scattered information and disparate tools, marketing and SEO teams can get a complete picture of their data in one, convenient location.
Simply put, SEO platforms provide a large brand or agency with the ability to execute any task within their SEO strategy - without spreadsheets and manual calculations - which leads to consistent and repeatable growth in the organic channel.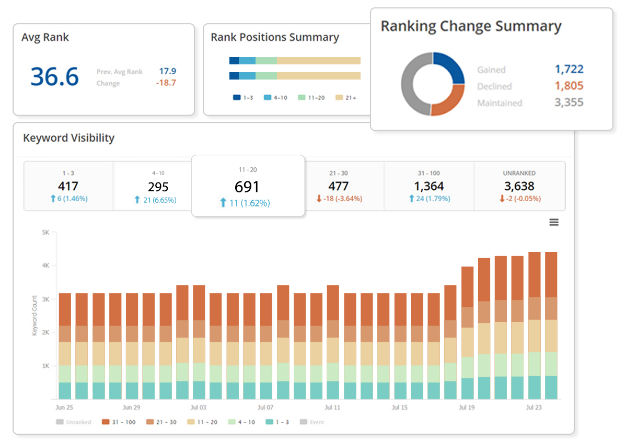 What Capabilities Should I Look for in an SEO Platform?
We covered the 8 must-have capabilities of an SEO platform in a previous post, but as you start to think about how your business objectives could be met with this type of solution, it's important to keep the following in mind:
Unrestricted Access to the Data in One Place


Disparate data sets mean more time stitching together insights and less time executing. When your data is centralized, you're able to easily pull insights, locate opportunities, and move to implementation.


Plus, at the enterprise level, you'll want to make sure your platform doesn't place caps on things like pages crawled, competitor analysis, etc. If you don't have the full picture, your SEO program will never be as strong as it can be.



Repeatable Workflows for Your Team to Follow

We like to call SEO search experience optimization. Since SEO brings value to every team, it's important that your SEO platform makes it easy to set up repeatable, streamlined workflows and standard operating procedures for the entire organization — from product managers to content writers. That works to only further prove the value of SEO and organic search data.



Site Audits With Unlimited Crawls


A successful SEO program starts with a technically-sound site. If there are usability issues, even the most relevant, authoritative content won't be enough to drive users to your site.

And remember the notion of search experience optimization. No one likes a slow site or constant 404 pages.

Be sure to look for an SEO platform with a built-in crawler so your data remains centralized. Also verify that you can run specialized audits, like schema audits or JavaScript.



Actionable AI-Driven Insights




Gone are the days of sifting through piles of data in the hope of finding an actionable insight. Of course, you may still be doing that, but now you don't have to.
Your platform should be able to present you with actionable insights related to technical health, content, mobile issues, internal links and more — all with a single click.
Technology Built Based on Real Challenges




The only consistency in Google search over the years is that nothing stays the same. Things like new SERP features and changes to user behavior keep SEOs on their toes.

An enterprise SEO platform should take into account the state of the industry, and work this into the feature roadmap. At seoClarity, for example, our roadmap is client-driven. If two or more clients request it, we vet it and build it.



Platform Adoption and Live Chat




Any MarTech should include a live chat support function, but taking it one step further is a dedicated Client Success Manager who's there to help you drive adoption of your enterprise SEO platform.

Recommended Reading: seoClarity's Client Success Framework: Your Success is Our Success



Data Transparency and Accessibility


You should always know where your data is coming from with full transparency. For example, a cached version of the SERP for any given day can prove that keyword ranking data is, in fact, accurate.


Check to see if your platform offers bulk data downloads or an API connection.



Artificial Intelligence That Remains One-Step Ahead


AI can supplement your knowledge to implement faster and realize those results you've been after.
From intelligent topic research that matches topically-similar queries to your head term, to the ability to make page changes with just a few clicks, consider what your SEO platform can do to help you scale.
When evaluating enterprise platforms in the marketplace, it's imperative that you consider more than just basic functionality requirements on your checklist. Be sure to consider its integrations, security features, stability, support and insights as well.
→ To help you with this, we created an easy-to-use platform evaluation worksheet to help you evaluate your options in the marketplace.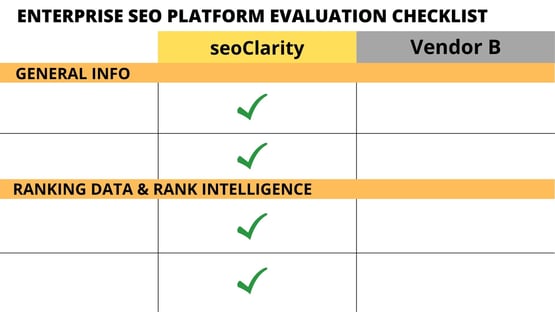 The Value of an SEO Platform
One of the most important - and most often overlooked - details to consider when it comes to learning about SEO software is that you have a team that can leverage it. We recommend focusing on evaluating an all-in-one platform if at least two of the three apply:
You plan to hire or have at least one dedicated SEO team member
You have content marketers that support optimizing and writing content for your site
Your need to scale your efforts and centralize your processes and data to drive organic growth
Because of its breadth and depth of data and capabilities, this kind of tech comes at a premium, so to get the most from your investment, you'll need sufficient support to act on the insights. For a less expensive solution, you might consider a niche SEO tool.
Recommended Reading: SEO Pricing: How Much Does SEO Cost?
But, once that's in place, the value you receive is unmatched. With an enterprise platform, your team will be equipped to:
Tackle massive amounts of data by gathering, managing and analyzing more easily and at scale using dashboards and automated reporting as well as additional automation

⁠⁠

View a single source of truth and uniform approach across your entire enterprise which:

Reduces inefficiencies and drives scale
Helps inter-department communication as everyone speaks the same way about SEO
Enables enterprise-level reporting as everyone's using the same metrics

Take the guesswork out of SEO by providing actionable insights
Enhance the customer search experience throughout the entire buyer journey
Provide repeatable workflows that deliver a consistent and trackable approach to SEO
Our research from our own clients who shift to an SEO platform after using multiple point solutions shows that SEO professionals spend 77% of their working hours on analysis, data collection, and reporting.
Platforms provide SEO professionals with the time to generate insights, deliver strategy, and help others drive better results - all of which gives you the organizational oversight that makes SEO scalable.



What is the Best SEO Platform for Your Business?
An all-inclusive SEO platform provides everything you need to scale your organic search visibility. How do we know? Because this is where seoClarity fits into the SEO software picture, as an all-in-one enterprise SEO platform.
We're not here to talk only about ourselves, but instead educate you on the different types of SEO platforms available.
The checklist we've included below highlights what should be included in every SEO platform so you can easily compare between different vendors.
Recommended Reading: The Top 4 Enterprise SEO Platform Tools: An In-Depth Review (via Search Engine Journal)
SEO Platform Comparison
BrightEdge
BrightEdge helps its customers create powerful content marketing strategies, build high-performing websites and identify SEO results and the associated return on investment plus performance versus the competition.
Recommended Reading: How Much Does an SEO Platform Like BrightEdge Cost?
This software provides users with research, keyword rankings and recommendations that help you:
Identify what customers are looking for on the internet
Develop an effective content strategy that targets the right customers, guides them further down the sales funnel and keeps them engaged with your brand
Boost your social media campaigns
Be visible in local searches
Put mobile consumers at the center of your SEO
Further Reading: Compare seoClarity to BrightEdge, or explore other BrightEdge competitors
Conductor
Conductor believes that SEO is as simple as connecting customers who are searching for information with your company's expertise.
They do this by providing 'beyond the platform' services that — similar to BrightEdge — uncover new customer insights, create powerful marketing content and track performance.
By performing advanced SEO tasks, like rank tracking, the platform generates insights that inform strategic digital services like content optimization and performance measurement.
And of course, their overall aim is to maximize the ROI of your SEO and content marketing investment. If you want to know more, take a look at their app that provides an instant snapshot into your customers' world.
Further Reading: Compare seoClarity to Conductor Searchlight
Searchmetrics
Want to be able to easily spot global and local search opportunities, support decision making and connect SEO with marketing strategy all with a clear link to revenue? Searchmetrics offers this through:
Analysis of mobile search engine rankings and traffic to optimize search specifically across mobile devices
Access to millions of data points across 30 countries
Enabling you to drill down into data for hundreds of cities in 14 countries
Optimizing web page performance with backlink analysis
Optimal site architecture to make your site attractive to search engines
Evaluating the effectiveness of paid search campaigns and comparing them to organic search results
Identifying opportunities with keyword analysis and making web pages and content more complete
Further Reading: Compare seoClarity to Searchmetrics
seoClarity
seoClarity (that's us!) gives our clients a single source of truth that allows them to simplify, structure, and scale their SEO within their organization through a secure partnership and data-driven product offering.
We provide our clients with all metrics, capabilities and data without artificial limitations and our automation makes it easier than ever to access your information in any way that fits the needs of your business.
Our platform seamlessly combines it all: content optimization, rank tracking, analytics, backlink analysis and link management, dashboards for executive teams, out-of-this-world crawler capabilities, AI-driven content writing, and so much more.
Instead of chasing the never-ending algorithm updates and endless ranking factors, seoClarity focuses on delivering the best search experience for your user. Companies that turn their focus from search engine optimization to search experience optimization can anticipate long-term, consistent SEO results.
We work hard to make SEO as straightforward as possible so you can move away from tactics and prep work and into strategy and execution. Your customers are out there⁠—it's time to optimize your content to win the search visibility it deserves.
seoClarity provides clients with the ability to access rankings for any domain, sub-domain, URL and backlink index, and we're the only SEO platform to offer unlimited competitive comparisons.
Search Analytics integrates directly with Google Search Console click data with ~100% visibility to address term "not provided". And, feel free to take that data with you with our ranking data API and custom extracts.
Our powerful platform also allows you to scale your SEO to achieve consistent, repeatable results. That's why nearly all of our package options come with a dedicated Client Success Manager to offer support when you need it.
And, if you need help forming your data-driven strategies, our Professional Services Team is here to accelerate your SEO efforts.
If that's not enough, our clients rave about the marriage of data at scale and our amazing partnership, where seoClarity acts as a true extension of your team. The proof is in the praise we've received on sites like G2 and Capterra.

For a list of accolades, awards, and articles where seoClarity is heralded, visit our Reviews page, a one-stop-shop for good news about our platform.
A Summary of the Best SEO Platforms
If we had to sum up these enterprise SEO platforms, we'd say that they:
Provide comprehensive functionality
Have the capabilities to provide insights based on your KPIs and metrics
Create actionable roadmaps
Search Engine Land annually prepares an amazing Marketer's Guide to Enterprise SEO Platforms that takes a deeper look into the aforementioned platforms as well as many others to provide an even broader scope of the SEO tech industry.
We've also done our homework and evaluated the top solutions on the market. Visit our SEO software comparisons page to help you choose the best SEO platform solution for your organic search program.


How Secure and Stable is an SEO Platform for My Business?
Platforms that deal with large data sets and large clients require nothing less than enterprise-grade security in their solution.
You want to choose a provider that not only offers rigorous security but also provides you with the reassurance of stability of data and ability to scale over time, thus providing you with the freshest data available.
With seoClarity, clients receive the best security, stability, and scalability available in the industry with the following:
Security of an SEO Platform
Every security assessment we complete for our clients includes several key components:
Recommended Reading: FAQs About seoClarity Security
Stability of an SEO Platform
Our clients love us for our reliability. seoClarity offers accurate, fresh, and reliable ranking data at scale - we haven't missed a day of rankings in over a decade.
We don't rely on others for our ranking data, and we provide our users with quality ranking data delivered daily (or weekly) for desktop and mobile.
Scalability of an Enterprise Platform
Our platform is built to scale, much like the enterprise clients we work with. We're extremely proud to offer our clients the largest and freshest keyword and topic research tool available anywhere!
With a dataset size of 30+ billion keywords across 170+ countries (updated weekly!), we provide marketers and SEOs with confidence that:
They are seeing a detailed picture of how their audience searches.
Their research is capturing the absolute latest in search demand trends.
They can easily identify new and trending terms.
As the market evolves, it's important that you work with a research data set that will keep track of it and make it available with a single click.


What are Enterprise SEO Tools?
Enterprise SEO tools specialize in one component of SEO.
One thing to keep in mind with SEO tools is that your data will become decentralized. Since each tool has one unique function, you'll need to manually bring your insights together to have a cohesive report.
Niche and Free Point Solutions for Specific Tasks
Let's say you don't have a team to leverage a platform or the cost of an SEO platform doesn't fit your budget.
Luckily, there's likely a niche point solution out there for you to assist you with traffic improvement and conversions! Different from platforms, these are the more specific or specialized SEO tools, like:
rank trackers
technical audit tools
backlink analysis tools to support your link building strategy
The Best Enterprise SEO Tools
If you're looking for a specific SEO tool, we've compiled a list of some of the best to get your tasks done:
They start from as little as $99 a month and could make sense for your business if you don't have an SEO budget or you don't have a team to act on the insights from an SEO roadmap.
Does this sound like you? Consider the following brands to fit your business needs:
Semrush - includes a lot of different features within digital marketing, from search to social media. This works well for experienced digital marketers who can turn the data into insights for themselves.
Ahrefs - best known for their ability to analyze backlinks, they've also added a range of other features to their platform including a rank checker, other link building capabilities, and competitive analysis.
Moz/STAT - this recent merger provides a tool that combines STAT's daily, localized rankings and SERP analytics with Moz's local SEO expertise and their keyword and link research tools.


Recommended Reading:

Compare Rank tracking Abilities between seoClarity and STAT
Authority Labs - has a more limited list of features than some other niche tools and plans are priced by number of keywords per month. This could fit smaller businesses or those with limited SEO needs. If you want more included in your plan, you can scale up to over 5,000 keywords for $450 per month.
Screaming Frog - an SEO website crawling and auditing tool that can be combined with custom filters to provide additional insights.
DeepCrawl - a little more expensive than some of its competitors, DeepCrawl goes further into your site and provides you with recommendations to help you prioritize your technical SEO website issues.
There are some important considerations to make if you choose to go this route, however.
While these tools all have a starting price that is less than the all-inclusive platforms, the trade-off is that you might need multiple tools to get exactly what you want, and with that comes more time and effort to provide a unified view of the data you desire.
If you do not have the budget to invest in SEO technology or you don't have the team in place to leverage all aspects of a platform solution, you could opt for free SEO tools like Google Search Console, Google Analytics and Keyword Planner.
We provide the greater SEO community with a collection of free SEO tools and templates to simplify their approach to organic search.
Here, you can access to our free keyword research tool, content planning templates, our schema builder, and so much more!
Recommended Reading: Compare Multiple SEO Tools to One SEO Platform


Next Steps to Find the Best SEO Platform for Your Business
Whether you've only used Google Search Console and other tools or you're familiar with enterprise platforms, there's a solution out there for you to scale your organic search visibility.
If you're ready to truly scale your business and your SEO with a comprehensive, all-in-one platform, use our evaluation template to compare and contrast the different vendors to help you reach an informed decision.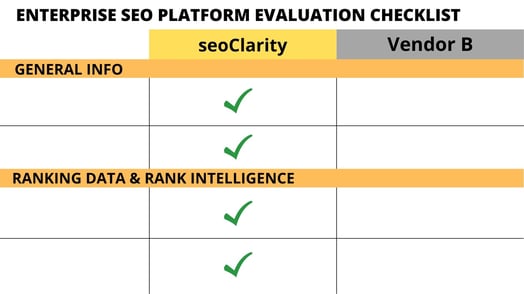 As a quick reminder here, we've laid out some key differentiators between us and other top SEO software companies:
Once you gather all your research and are ready to see the power of the only all-in-one SEO platform built to scale for organic success, dive into a platform tour to see how seoClarity can work for you.