With so many options on the market, choosing an SEO platform means striking the right balance between cost, efficiency, and every capability to fit your business needs.
Whether this is your first time investing in an SEO solution, or you're looking to upgrade from a tool (or multiple tools!) to a platform, there's a lot to consider when you're ready to scale your organic search visibility
We believe an informed buyer is the best kind of customer, so in this post, we share our research and insights about the SEO marketplace, including:
By providing you with this high-level information you need to know before you invest in a platform, you'll be equipped to make the best choice for your team's needs and your overall business success.
What Is an SEO Platform?
An enterprise-level SEO platform offers a centralized solution for researching, implementing, optimizing, and measuring all aspects of your search engine presence, including content ideation, SEO execution, and result monitoring, streamlining workflows for consistent organic growth.
Qualities and Capabilities to Look for in an SEO Platform
We covered the top must-have SEO capabilities of an enterprise platform in a previous post, but as you think about how your business objectives could be met with this type of solution, it's important to keep the following qualities in mind:
1. Unrestricted Access to the Data in One Place
2. Repeatable Workflows for Your Team to Follow
3. Site Audits With Unlimited Crawls
4. Actionable AI-Driven Insights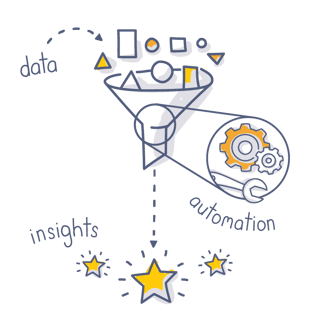 5. Technology Built Based on Real Challenges
6. Platform Adoption and Live Chat
7. Data Transparency and Accessibility
8. Artificial Intelligence That Remains One-Step Ahead with Generative AI Innovations
In addition, an SEO platform should include certain key capabilities to ensure that you're able to successfully execute all aspects of your SEO strategies. These vital capabilities include:
Rank Tracking:

Accurate and reliable rank tracking capabilities without any limitations on keywords or competitive comparisons.

Keyword Research: Access to a comprehensive and fresh keyword dataset that provides a detailed view of how your audience searches to help you uncover content opportunities.
Content Marketing: Integrated AI-driven content workflows to help you create relevant, authoritative content and scale processes.
SEO Reporting: Comprehensive SEO reporting capabilities that enable users to connect their efforts to key performance indicators (KPIs) and gain real-time insights into their website's performance.
Technical SEO: Advanced technical SEO capabilities that facilitate the creation of a strong site foundation and ensure an exceptional user experience through features like site audits with unlimited crawls.
Competitor Insights: Comprehensive competitor comparison capabilities, allowing users to access rankings for any domain, sub-domain, URL, and backlink index to gain valuable insights.
But when evaluating enterprise platforms in the marketplace, it's important to consider more than just basic functionality requirements on your checklist. Be sure to consider its integrations, security features, stability, support, and insights as well.
→ We created an easy-to-use platform evaluation worksheet to help you evaluate your options in the marketplace.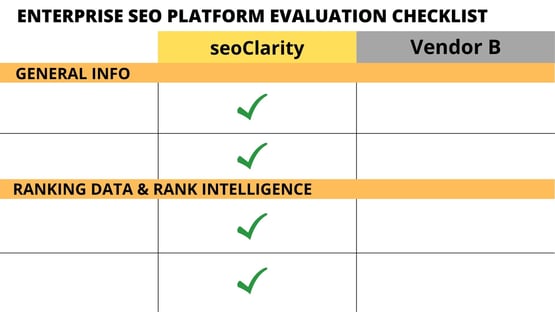 The Best SEO Platforms for Enterprises
Below, we've provided detailed insight into four of the leading enterprise platforms to help you make an educated decision on which option is right for you.
Recommended Reading: The Top 4 Enterprise SEO Platform Tools (via Search Engine Journal)
BrightEdge SEO Platform
BrightEdge helps its customers create powerful content marketing strategies, build high-performing websites, and identify SEO results and the associated return on investment plus performance versus the competition.
Features and Benefits of BrightEdge
This SEO software provides users with research, keyword rankings, and recommendations that help users:
Identify what customers are looking for on the internet
Develop an effective content strategy that targets the right customers, guides them further down the sales funnel and keeps them engaged with your brand
Boost your social media campaigns
Be visible in local searches
Put mobile consumers at the center of your SEO
BrightEdge Pricing Options and Plans
The pricing for BrightEdge is tailored to each customer and requires a quote. No pricing details are currently available on their website.
Customer Reviews and Ratings for Bright Edge
BrightEdge scores a 4.4 out of 5 on G2 based on 476 reviews, and a 4.2 on Capterra based on 43 reviews (as of July 2023).
Further Reading: Compare seoClarity to BrightEdge, or explore other BrightEdge competitors
Conductor SEO Platform
Conductor believes that SEO is as simple as connecting customers who are searching for information with your company's expertise.
They do this by providing 'beyond the platform' services that — similar to BrightEdge — uncover new customer insights, create powerful marketing content and track performance.
Features and Benefits of Conductor
By performing advanced SEO tasks, like rank tracking, the platform generates insights that inform strategic digital services like content optimization and performance measurement.
And of course, their overall aim is to maximize the ROI of your SEO and content marketing investment.
Conductor categorizes their solution into the following groups:
Know Your Customers: Gain insights into customer voice, understand your audience, and track your brand.
Identify Opportunities: Enhance site health, analyze competitors, and explore new markets.
Create Powerful Content: Generate content briefs, optimize content, and streamline workflows.
Measure Performance: Evaluate performance across channels, showcase return on investment, and boost conversions.
To learn more, check out their app which provides an instant snapshot into your customers' world.
Further Reading: Compare seoClarity to Conductor Searchlight
Conductor Pricing Options and Plans
Like BrightEgde, Conductor does not provide pricing information on their website as they operate on a quote basis.
Customer Reviews and Ratings for Conductor
Conductor scores a 4.5 out of 5 on G2 based on 354 reviews, and a 4.3 on Capterra based on 16 reviews (as of July 2023).
seoClarity: All-In-One SEO Platform
seoClarity provides clients with a single source of truth that help them simplify, structure, and scale SEO within their organization through a secure partnership and data-driven product offering.
Features and Benefits of seoClarity
Clients get access to all metrics, capabilities, and data without limitations, and our automation makes it easy to access information in any way that suits their business needs.
Our platform seamlessly combines it all:
Content optimization
Rank tracking, analytics
Backlink analysis and link management
Dashboards for executive teams
Out-of-this-world crawler capabilities
AI-driven content writing
And so much more.
Instead of chasing the never-ending algorithm updates and endless ranking factors, seoClarity focuses on delivering the best search experience for your user.
We also provide clients with the ability to access SERP rankings for any domain, sub-domain, URL and backlink index, and we're the only SEO platform to offer unlimited competitive comparisons.
Search Analytics integrates directly with Google Search Console click data with ~100% visibility. And, feel free to take that data with you with our ranking data API and custom extracts.
To help users get the most out of our platform, nearly all of our package options come with a dedicated Client Success Manager to offer support when you need it. And, if you need help forming your data-driven SEO strategies, our Professional Services Team is here to accelerate your SEO efforts.
seoClarity Pricing Options and Plans
In contrast to BrightEdge and Conductor, we prioritize transparency by offering clear pricing and plan options.
Our flexible plan options include:
Core: full capabilities needed to structure and scale your SEO. Pricing starts at $3,000 a month.

Professional

: all Core capabilities in addition to technical SEO capabilities, optimum support, and prioritized contributions to our feature roadmap. Pricing starts at $4,500 per month.

Agency

: includes all Core capabilities as well as unlimited users, automated email reporting, and dashboard access. Learn more about our agency plan option.
Essentials: must-have rank tracking and reporting capabilities. Pricing is based on the number of keyword search queries.

Learn more about our pricing and plan options.
Customer Reviews and Ratings for seoClarity
Our clients rave about the marriage of data at scale and our amazing partnership, where seoClarity acts as a true extension of your team. The proof is in the praise we've received on sites like G2 and Capterra.
seoClarity scores a 4.4 out of 5 on G2 based on 112 reviews, and a 4.8 on Capterra based on 13 reviews (as of July 2023).

For a list of accolades, awards, and articles where seoClarity is heralded, visit the seoClarity Reviews page.
Searchmetrics SEO Platform
Note: In early 2023, Searchmetrics became a part of Conductor. At last update, it was unclear how this would impact current Searchmetrics clients.
Searchmetrics offers the ability to spot global and local search opportunities, support decision-making, and connect SEO with marketing strategy all with a clear link to revenue through:
Analysis of mobile search engine rankings and traffic to optimize search specifically across mobile devices
Access to millions of data points across 30 countries
Enabling you to drill down into data for hundreds of cities in 14 countries
Optimizing URL performance with backlink analysis
Optimal site architecture to make your site attractive to search engines
Evaluating the effectiveness of paid search campaigns and comparing them to organic search results
Identifying opportunities to improve SERP rankings with keyword analysis and making web pages and content more complete
Further Reading: Compare seoClarity to Searchmetrics
A Summary of the Best SEO Platforms
If we had to sum up these enterprise SEO platforms, we'd say that they:
Provide comprehensive functionality
Have the capabilities to provide insights based on your KPIs and metrics
Create actionable roadmaps
Search Engine Land annually prepares an amazing Marketer's Guide to Enterprise SEO Platforms that takes a deeper look into the aforementioned platforms as well as many others to provide an even broader scope of the SEO tech industry.
We've also done our homework and evaluated the top solutions on the market. Visit our SEO software comparisons page to help you choose the best SEO platform solution for your organic search program.
SEO Tools: Point Solutions for Specific Tasks
Let's say you don't have a team to leverage a platform or the cost of an SEO platform doesn't fit your budget.
There's likely a niche point solution out there to assist you with improving search volume, traffic, and conversions. Different from platforms, these are the more specific or specialized SEO tools, like:
rank trackers
technical audit tools
backlink analysis tools to support your link building strategy
The Best SEO Tools for Enterprises
If you're looking for a specific SEO tool, we've compiled a list of some of the best to get your tasks done:
They start from as little as $99 a month and could make sense for your business if you don't have an SEO budget or you don't have a team to act on the insights from an SEO roadmap.
Does this sound like you? Consider the following brands to fit your business needs:
Semrush - includes a lot of different features within digital marketing, from search to social media. This works well for experienced digital marketers who can turn the data into insights for themselves.
Ahrefs - best known for their ability to analyze backlinks, they've also added a range of other features to their platform including a rank checker, other link building capabilities, and competitive analysis.
Moz/STAT - this recent merger provides a tool that combines STAT's daily, localized rankings, and SERP analytics with Moz's local SEO expertise and their keyword and link research tools.


Recommended Reading:

Compare seoClarity to STAT
Authority Labs - has a more limited list of features than some other niche tools and plans are priced by number of keywords per month. This could fit smaller businesses or those with limited SEO needs. If you want more included in your plan, you can scale up to over 5,000 keywords for $450 per month.
Screaming Frog - an SEO website crawling and auditing tool that can be combined with custom filters to provide additional insights.
Lumar (formerly DeepCrawl) - a little more expensive than some of its competitors, DeepCrawl goes further into your site and provides you with recommendations to help you prioritize your technical SEO website issues.
There are some important considerations to make if you choose to go this route, however.
Considerations When Choosing an SEO Tool: Buyers Beware
While the tools listed above all have a starting price that is less than the all-inclusive platforms, there are several drawbacks of choosing SEO tools vs an SEO platform. Namely, you will likely need multiple tools to get exactly what you want, and with that comes more time and effort to provide a unified view of the data you desire.
But if you don't have the budget to invest in SEO technology or the team in place to leverage all aspects of a platform solution, we offer a collection of FREE SEO tools and templates.
The Value of an SEO Platform
With a strong team to leverage the capabilities and insights of an enterprise SEO platform, the value you receive is unmatched.
For example, an SEO platform allows you to:
Tackle massive amounts of data by gathering, managing, and analyzing more easily and at scale using

dashboards and automated reporting

as well as additional automation ⁠⁠

View a single source of truth and uniform approach across your entire enterprise which:

Reduces inefficiencies and drives scale
Helps inter-department communication as everyone speaks the same way about SEO
Enables enterprise-level reporting as everyone's using the same metrics

Take the guesswork out of SEO by providing actionable insights to improve SERP visibility
Enhance the customer search experience throughout the entire buyer journey
Provide repeatable workflows that deliver a consistent and trackable approach to SEO
Our research from our own clients who shift to an SEO platform after using multiple point solutions shows that SEO professionals spend 77% of their working hours on analysis, data collection, and reporting.
An all-in-one SEO platform increases the time to action and generates insights faster - all of which gives you the organizational oversight that makes SEO scalable.


Next Steps to Find the Best SEO Platform for Your Business
If you're ready to truly scale your business and your SEO strategy with a comprehensive, all-in-one platform, use our evaluation template to compare and contrast the different vendors to help you reach an informed decision.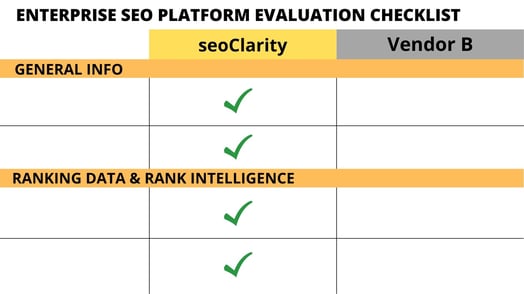 As a quick reminder, we've laid out some key differentiators between us and other top SEO software companies:
Once you gather all your research and are ready to see the power of the only all-in-one SEO platform built to scale for organic success, dive into a platform tour to see how seoClarity can work for you.