According to Sagapixel, 46% of Google searches have a local intent. That's more than 2.5 billion searches a day that start online but seek local information!

(There are more than three million searches related to "near me")
Today, the key to driving site traffic and foot traffic to your local business is gaining search visibility on the busy Google SERPs by:
Aligning your Google Business Profile to your landing pages
Excelling in customer service (e.g. responding to online reviews)
Providing the search engine with relevant information about your business so it can serve that info to end users.
To earn visibility for queries with local intent at scale, check out our list of the best local SEO tools.
We've compared their cost, capabilities, and features to help you determine which option best suits the needs of your business.
Best Local SEO Tools for Multi-Location Enterprises
Best Local SEO Tools for Small Businesses
What to Look for in a Local SEO Solution
When it comes to local SEO at the enterprise level, some features to look for include:
Listings Management Visibility: easily identify which local listings are not fully optimized on each search engine.
Listing Audit Logs: track all changes over time to understand their impact on search discovery.
Team-Based Review Management: assign customer feedback responses to the right internal teams.
Distributed Reporting: deliver the right notices and reports to stakeholders automatically, from corporate departments to individual locations.
Universal Reporting: connect local SEO data and insights with GSC local data.
Image Management: understand exactly what potential customers see when they search for your locations.
The Best Local SEO Tools for Multi-Location Enterprises
#1. LocalClarity
LocalClarity (that's us!) is a review and reputation management platform that lets you interact with your customers from all of your locations in a single control panel.
This centralized view allows for incredible scale — the company supports brands with tens of thousands of locations across the globe.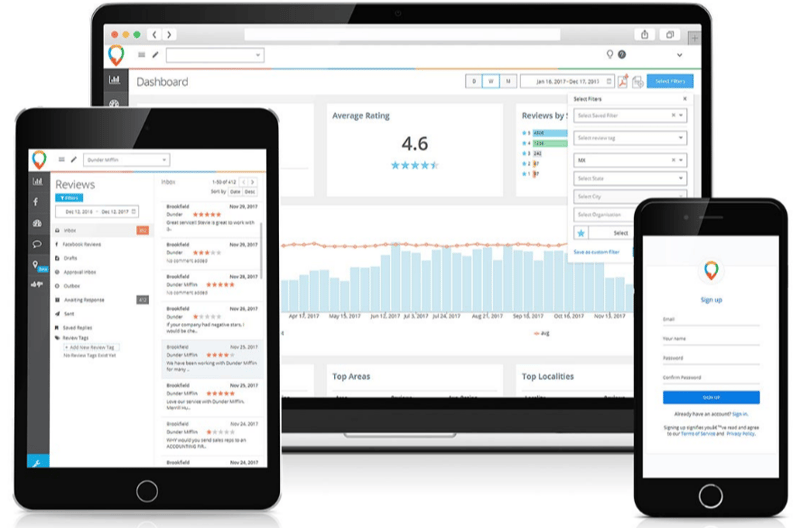 Integrate with:
Google Business Profile
Facebook
Zomato
TrustPilot
TripAdvisor
Expedia
Booking
And plenty more
The Review Inbox lets you identify and directly respond to customer reviews across all business locations.
Plus, customized dashboards show you review scores and trends by store, city, state, country, or customized regions.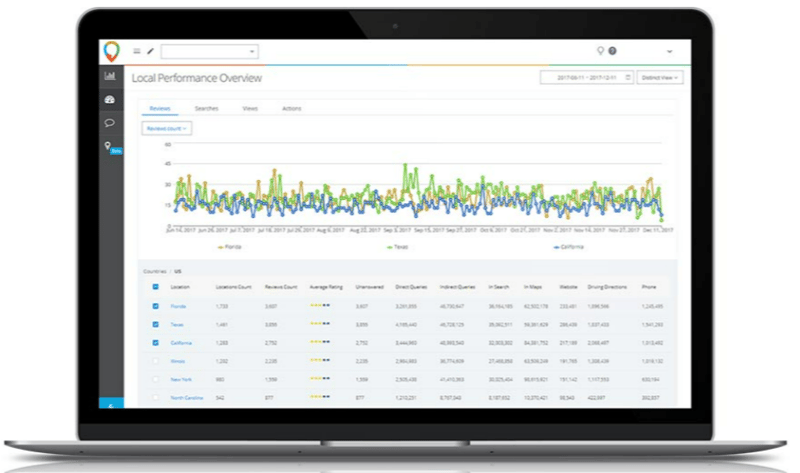 Uncover when, where, and how your customers are engaging with your local content. You can bulk upload and schedule Google and Facebook posts to stay connected with your customers.
Reply with a custom message or a saved reply that captures your brand's voice.
How Much Does LocalClarity Cost?
LocalClarity offers three no-contract monthly plans: Plus, Pro, and Enterprise/Agency.
Plus: $10 per location
Pro: $12 per location
Enterprise and Agency: Custom pricing


#2. Yext
Yext is a local SEO platform made up of six components:
Search
Listings
Knowledge Graph
Pages
Reviews
Analytics
Yext is primarily focused on responding to users' reviews and questions. The Search portion of the platform offers various tools that let you answer specific questions where your users are searching.
Third-party integrations let you publish information like NAP across different publishers.
The Reviews portion of the platform lets you monitor and respond to reviews. It also includes things like review generation, which asks customers to leave a review.
Yext can integrate with Zendesk, Salesforce, Adobe, WordPress, and others.
How Much Does Yext Cost?
Yext offers no direct pricing on their website. You can schedule a personal demo to learn more about pricing.


#3. Vendasta
Vendasta is SEO software that lets you sell digital solutions to local businesses. It has multiple offerings under its umbrella, including marketing and sales solutions — like a sales CRM.
The marketing automation portion of the platform lets you automatically deliver content to your audience and run email campaigns.
Plus, the in-platform chat allows agencies to stay connected with the local businesses that they work with.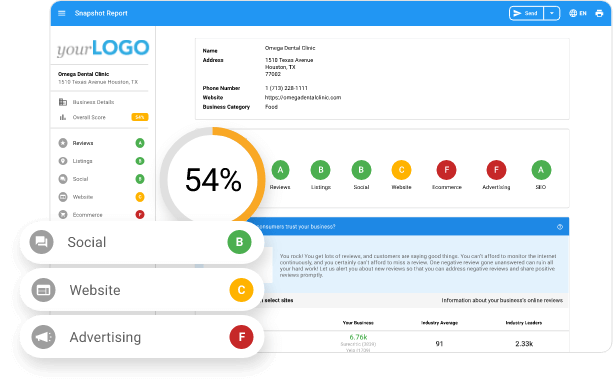 (Vendasta's Snapshot report.)
Most of the local SEO tools are found under the "Marketplace" offering. This includes things like reputation management, social marketing, and Google Business Profile optimization.
How Much Does Vendasta Cost?
The Platform, Marketplace, and Vendor offerings all have different price points.
Here's the breakdown of the Platform pricing:
Individual: $119 per month, no onboarding
Team: $579 per month, plus onboarding costs
Advance: $1,159 per month, plus onboarding costs
Custom: Quote
And here's the Vendor pricing:
Cultivate: $579 per month
Campaign: $1,159 per month
Conquer: $2,879 per month
The Marketplace pricing varies on the number of licenses you purchase. You can buy licenses across the following solutions:
Reputation Management: Starting at $5 per month
Social Marketing: Starting at $5 per month
Listing Sync Pro: Starting at $14 per month
Website Pro: Starting at $7.80 per month
Advanced Reporting: Starting at $4.32 per month
Review Responses: 10 per month: Starting at $48 per month
Social Posts: 1 per week: Starting at $66.50 per month
Google Business Profile Optimization: Starting at $30 per month

#4. Moz Local
Moz Local has four main components. The first is business listing management that lets you create local business listings across Google, Facebook, and others.
You can keep your various listings accurate and updated, and catch any duplicates.
There's also review management which includes review sentiment and trends. Alerts and notifications can be used to stay up-to-date on new reviews.
Moz Local also helps you publish new updates with a Google and Facebook integration.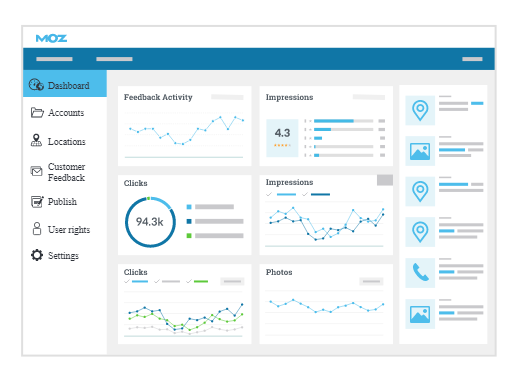 (A Moz Local reporting dashboard.)
Lastly, the solution has reporting that shows you listing scores, plus other metrics like traffic, clicks, and impressions.
How Much Does Moz Local Cost?
Moz Local has plans for the United States, Canada, and the United Kingdom.
Lite: $14 per month, per location
Preferred: $20 per month, per location
Elite: $33 per month, per location
Note: You can chat with the sales team to learn more about pricing for businesses with 100+ locations.


#5. MomentFeed
MomentFeed, now an Uberall company, is a local SEO platform that helps its customers to be found, be chosen, and drive loyalty. The two companies came together to create the Uberall CoreX platform.
It does this through its six component platform:
Mission Control: monitor five local proximity signals in a dashboard.
Locator and Local Pages: match your local pages to your local listings.
Local Social: publish local social content from the platform.
Listings: keep your listings accurate and up to date.
Reviews: monitor customer feedback across social networks.
Insights and Reporting: track local rankings and customer sentiment.
How Much Does MomentFeed Cost?
There is no specific pricing information on MomentFeed's website, but you can schedule a demo to learn more about pricing.


#6. Rio SEO
Rio SEO, now combined with Forsta, offers their Open Local Platform — a suite of local SEO tools for optimizing things like listings, pages, reviews, and ratings.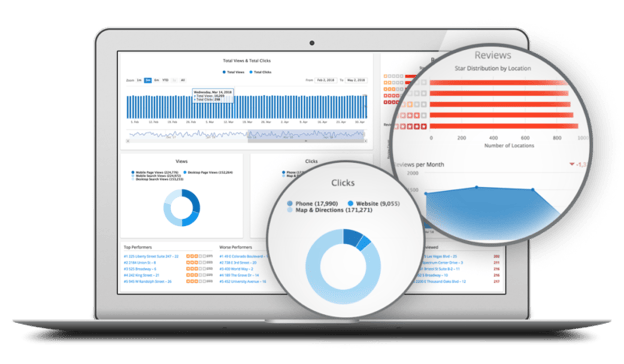 (Rio SEO's Yelp Knowledge.)
The suite is made up of seven local tools:
Local Listings: listing management to optimize and publish local business information.
Local Pages: optimizations for your local landing pages.
Local Reviews: a centralized dashboard for understanding customer sentiment.
Local Ratings: gather and publish ratings to your landing pages.
Local Reporting: report on rankings, citations, and reviews.
Local Manager: give store managers the ability to manage local data.
Local Social: monitor social media performance.
The suite has integrations with Google Business Profile, Apple Maps, Bing, Yelp, Facebook, and Nextdoor.
How Much Does Rio SEO Cost?
There is no specific pricing information on Rio SEO's website, but you can schedule a demo to learn more about the platform.


#7. Birdeye
Birdeye separates their solution into three sections of the customer's journey: attract, convert, and delight.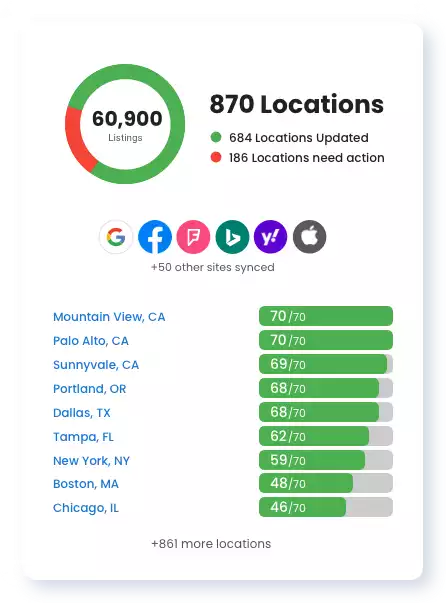 (Image from Birdeye's listings page.)
Here's what's included in the attract portion:
Listings: listing management across channels like Google, Facebook, Alexa, Snapchat, and more.
Reviews: manage and promote customers' reviews.
Referrals: create loyalty and referral programs through text, email, or Facebook.
Pages: highlight location and provider information on location-specific pages.
The convert and delight portions of the solution includes tools like messaging, webchat, survey, and insights.
How Much Does Birdeye Cost?
Birdeye offers three plans — Standard, Professional, and Premium — but specific pricing is hidden. You can fill out a pricing configurator to reveal the specific costs.


#8. Podium
Podium's local SEO solution is housed under three umbrellas: growth, communication, and payment.
Starting with growth, you can manage reviews, use text marketing, and run a website chat. You can also automate the review invitation process to save time gathering them.
Then there's communication, which lets you manage your messages in a centralized view. The platform supports text, email, video messaging, and your phone system to connect with leads.
You can also create contact profiles to monitor your customers' activity over time.
The Podium platform also manages payments, where customers can pay in whichever way is easiest for them — including over text.
How Much Does Podium Cost?
Podium offers three plans: essentials, standard, and professional. A free 14-day trial is also available.
Essentials: $289 per month
Standard: $449 per month
Professional: $649 per month


Best Local SEO Tools for Small Businesses
There are plenty of local SEO tools available on the market, but not all of them are meant for enterprises.
The tools listed below specialize in one particular aspect of local SEO or are better suited for small businesses.
#9. BrightLocal
BrighLocal is a combination of local SEO tools that help you understand local performance and reputation management that helps to generate online reviews.
A citation builder is also available.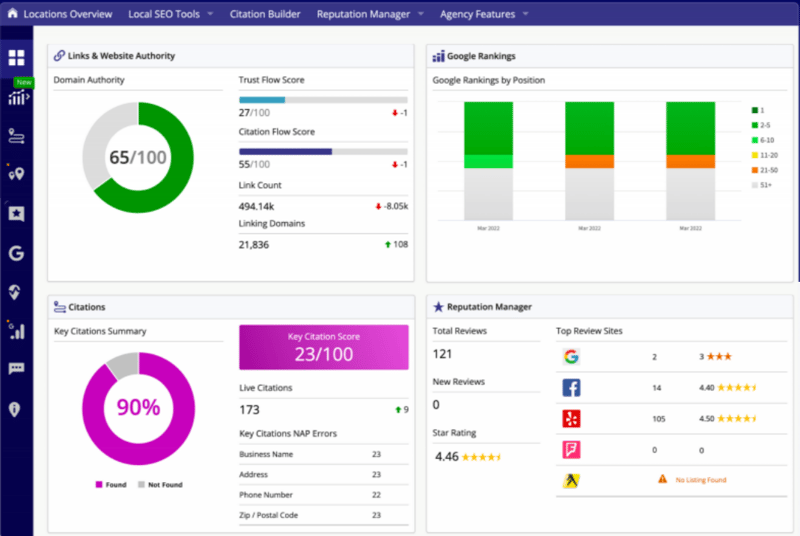 (Image source)
Users can track rankings for the local pack, organic results, and map results in both Google and Bing. Plus, audit your Google Business Profiles for any missed opportunities.
The Reputation Manager lets you get, monitor, and showcase reviews.
There are more than 80 review sites that are tracked, like:
Google
Facebook
Brown Book
Yelp
Yellow Pages
And more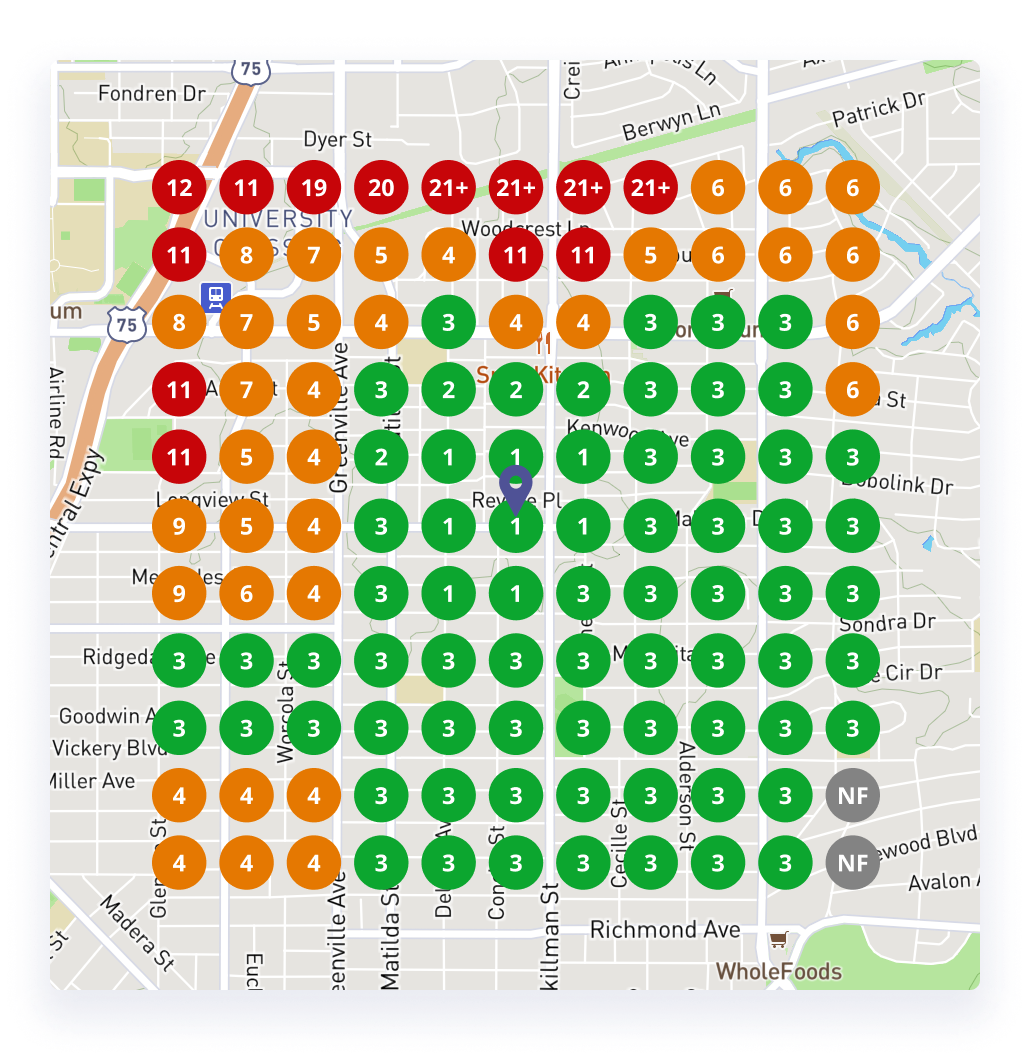 (BrightLocal's local search grid.)
How Much Does BrightLocal Cost?
BrightLocal offers a free 14-day trial. You can also create an account to start building citations at $2 per citation.
Other package options include:
Single Business: $29 per month
Multi Business: $49 per month
SEO Pro: $79 per month
Just Reviews: $8 per month, per location


#10. Surfer Local
Surfer Local offers a Google Business Profile audit, local rank tracker, Google review poster, and local citation builder.
You can see a sample report of the Business Profile audit on their site. Here's what it looks like: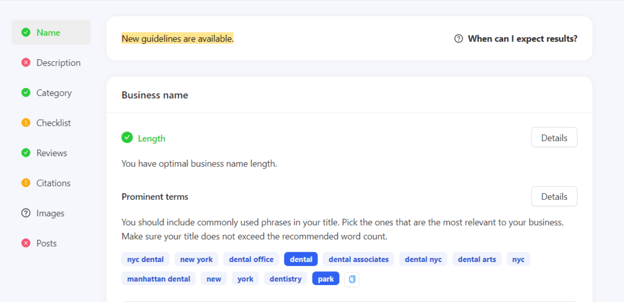 (Sample report from Surfer Local.)
The local rank tracker shows a trended view of your rankings over time, while the citation builder lets you uncover where your competitors have created citations.
How Much Does Surfer Local Cost?
Surer Local has pricing for a single location, or for businesses that operate 2+ locations.
Monthly: $29 per month, per active location
Annual: $24.17 per month, per active location
You can contact Surfer Local for more information about their plans for 2+ locations.


#11. Local Falcon
Local Falcon is a local SEO rank tracker for maps. It uses a grid system to show you multiple "scan points" that represent your business's location.
Then, you can see a local SEO score that changes based on specific location.
You can also use it if you operate a service area business.
The rank tracker shows rankings for listings in the local pack of the organic results, or from a search in Google Maps.
How Much Does Local Falcon Cost?
Local Falcon offers four pricing options. Each plan includes unlimited locations, but comes with a different number of credits per month.
Starter: $24.99 per month
Basic: $49.99 per month
Pro: $99.99 per month
Premium: $199.99 per month


#12. Semrush Listing Management Tool
Semrush's listing management tool lets you automatically share your business information with directories like Google, Yelp, Facebook, and Alexa.
(Semrush's business listings view.)
Share and edit your business's information and NAP, and upload multimedia to engage your customers.
You can also monitor reviews across multiple directories, too.
The tool is available for listings in the United States, the United Kingdom, France, Germany, and Australia.
How Much Does Semrush Cost?
Semrush has three plans, and listing management is listed as an additional fee.
Pro: $119.95 per month
Guru: $229.95 per month
Business: $449.95 per month
Listing management then starts at $20 per month for the basic location, or $40 for the premium location price.


#13. Whitespark
Whitespark is local SEO software made up of a local rank tracker, reputation builder, and a local citation finder.
The rank tracker works across Google and Bing, and can track the local pack, local finder, maps, and organic listings. With the reputation builder, you can monitor 100+ review sites to track and manage reviews, plus capture net promoter scores.
Lastly, find new citation opportunities with the citation builder, or run a competitor citation analysis.
How Much Does Whitespark Cost?
Whitespark offers no specific pricing information on their website, but they do say that you can create a free account to get started with some tools.


#14. seoClarity Local SEO
seoClarity (that's us again!) is an enterprise SEO platform, which means we cover the entire SEO lifecycle — local SEO included.
Local rank tracking lets you report on local search visibility in any country or search engine like Google and Bing. You can also dive deep into a location at the state, city, zip code, or region level.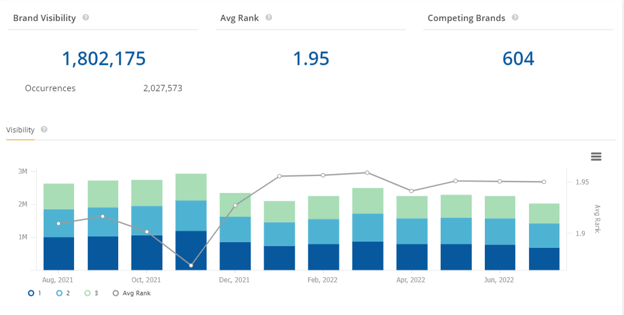 (A brand's local 3 pack performance in seoClarity's Research Grid.)
Track Google Maps rankings with our Local Business Listings. Plus, uncover performance-based insights for any local result from the local pack for any brand.
How Much Does seoClarity Cost?
seoClarity pricing starts at $3,000 per month, and is based on your number of keywords and domains.
#15. Synup
Synup is local listing and reputation management software.
The listings management portion of the software lets you list your business on Google, Facebook, Bing, Yelp and 35 other sites.
Monitor reviews and track performance to understand overall customer sentiment.
Synup also lets you create and publish content across websites and social media channels.
How Much Does Synup Cost?
Synup offers no specific pricing on their site. You can schedule a demo to learn more.


More SEO Tools