SEO rankings offer invaluable insights. By monitoring the progress of your content in the Google search results pages, you gain the opportunity to adjust your digital marketing strategy accordingly to achieve optimal results.
But with the large number of rank trackers available, picking the one that works best for your organization can be challenging.
Since ranking data is at the core of everything you do in SEO, you'll want accurate, on-time, reliable ranking data of the highest quality.
That's why this blog showcases the best keyword rank trackers.
Here's what else we'll cover in this post:
The Importance of Using a Keyword Rank Tracker
Let's be honest here: no one clicks a search result from page two of the results page. That's why you want to optimize your content to increase search visibility on the search engine results pages (SERPs).
But as an SEO or digital marketer, you know there is an enormous amount of data to deal with.
With so many keywords to track and so many keyword ranking positions, it's hard to find value and derive insights.
With constant changes to the results pages and the on-going creation of new content, a keyword rank tracker allows you to manage keyword positions at scale.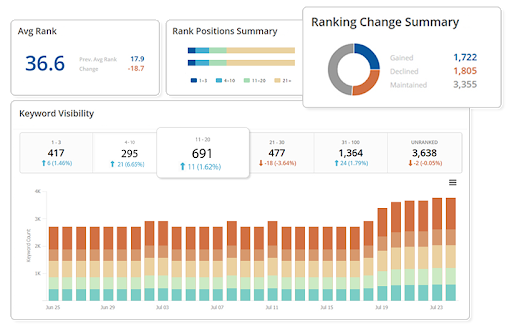 Using the right rank tracker is crucial to boost your insights and strategy. Your keyword rank tracker needs to offer quality information that you can trust.
And not only that, the data should be fresh – most rank trackers offer weekly, every three days, or daily ranking updates to present you with the most current insights possible.
Scalability is also an important factor to look out for. You need to have a rank tracker that is capable of properly tracking potentially thousands of keywords – those that are relevant to your specific industry.
What are the Top Keyword Rank Trackers?
The market is full of different solutions for tracking keyword positions, but for the most part, they can be categorized into three subsections:
Enterprise SEO platforms that offer everything in the entire SEO life-cycle—including rank tracking
We've listed the best rank tracking options for each category below. For an even deeper dive into SEO software comparisons, head over to our SEO tools comparison page.

Recommended reading: Key factors to evaluate in keyword ranking tools
Tools That Exclusively Offer Rank Tracking
The following tools are only used as rank checkers – some of which cost as little as $99 per month, but don't get caught up too much on the starting price.
Rank tracking pricing varies depending on the frequency, number of keyword queries, number of domains, and the analysis functionality that is included in the tool.
How you accelerate SEO matters. These tools are limited when it comes to scalability and reliability, especially when tracking thousands of keywords with accuracy across the volatile results pages.
#1. Authority Labs
Track keywords (250 of them) starting at $49 per month, or move up to 5,000+ for $450 per month. Daily data is available for all plans, and can work for Google, Bing, or Yahoo!.
Authority Labs is white label (depending on the plan) so you can put any company logo on the dashboards.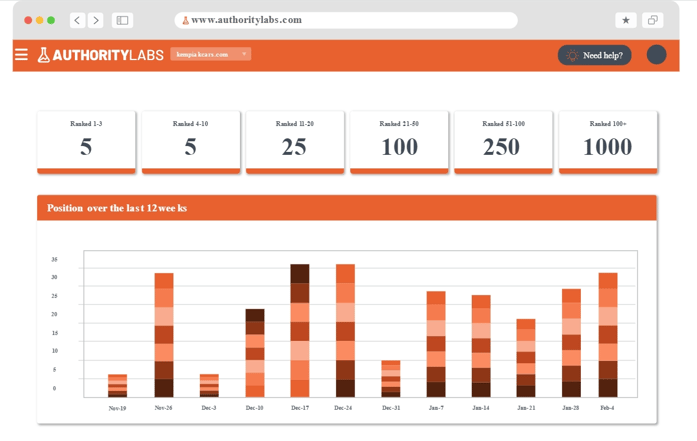 (Image from AuthorityLabs.)
If your organization has multiple people that need direct access to the information, Authority Labs grants you unlimited users – everyone receives their own log-in information.
You're also able to recover "term not provided" – a pesky road bump by Google that disrupts data accuracy.
A free trial is also available.


#2. AWR Cloud
Created in 2002, AWR is the longest-standing rank tracker. It's tailored to agencies and in-house SEOs.
Service ranges in price from $49 per month – which includes 2,000 keywords updated weekly (286 updated daily) – to $499 per month. AWR is capable of giving you localized rankings with great accuracy.
It can be used on a variety of browsers, including Google, Yandex, Baidu, etc., on desktop and mobile. Their whit label feature is also available for free on all subscriptions. See if it's the right fit for your organization with their free trial.


#3. STAT
Use STAT as a rank checker starting at $720 per month.
STAT allows for daily tracking on Google and Bing. On Google, it includes data for features like maps, images, CPC, news, etc. You can also look at results page archives and segment out the data.
You can also benefit from one-on-one training with a client success coach.
Note: Moz acquired STAT in 2018.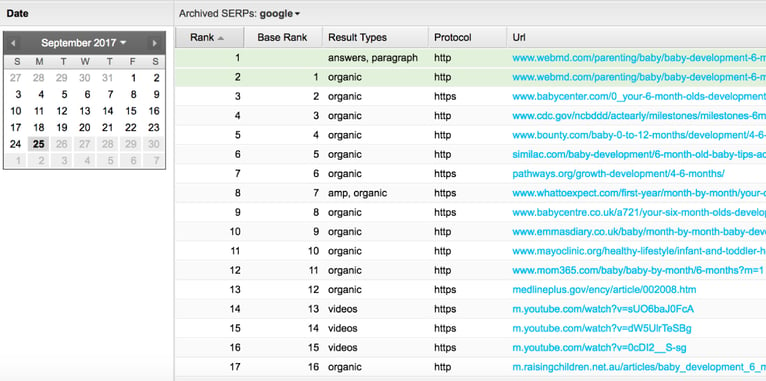 Multipurpose SEO Solutions that Offer Keyword Rank Tracking
The following companies offer more than just rank tracking, which gives you a more comprehensive understanding of data for your digital marketing strategy.


#4. Ahrefs
Ahrefs begins at $99 per month. For this, you can track 500 keywords that are updated weekly. Need more tracked keywords? You can track up to 10,000 that are updated every three days for $999 per month.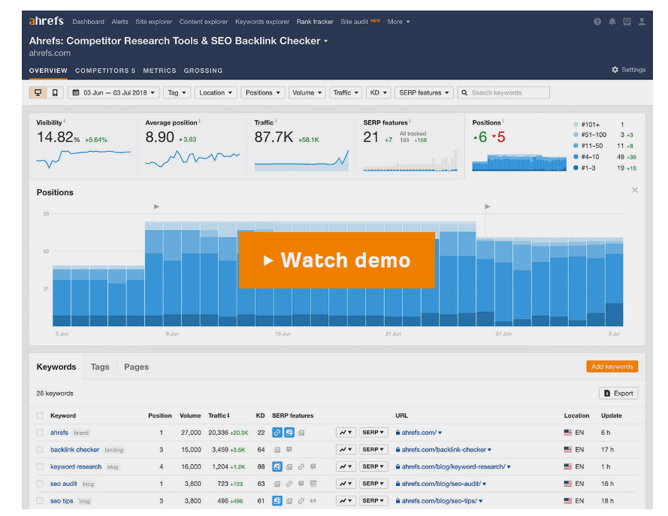 (Image from Ahrefs.)
Ahrefs allows you to track Google rankings on desktop and mobile, because as we've seen, the results page does vary between devices (and other factors as well).
You can also map out the data of up to five competitors. And, Ahrefs gives you access to data on a total of 13 different search features, including featured snippets, image pack, knowledge panels, etc.


#5. Dragon Metrics
Pricing begins at $99 per month for 1,000 keywords and 30 competitors, and goes up to $999 per month for 10,000 keywords and 2,000 competitors.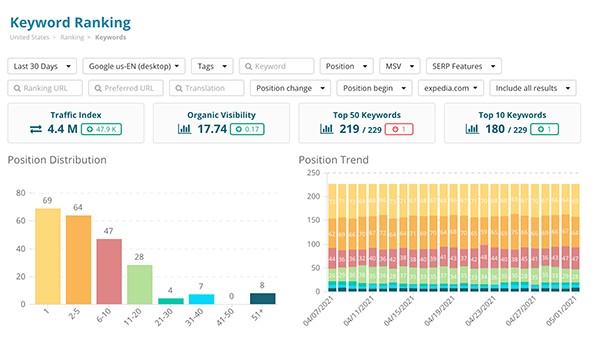 (Image from Dragon Metrics.)
Dragon Metrics allows you to track more than 25+ SERP features and integrate with Google Analytics and Search Console. You're able to check website rank on 10 search engines on both desktop and mobile at a local or global look.
You can try Dragon Metrics for free.


#6. Linkdex
$600 per month gets you access to the Starter Package, which comes with 10,000 "rank tracking credits." You can move up to their Enterprise Package, but note that no price information is available for this level.
Linkdex gives you ranking data as well as search volume, CPC, and estimated traffic per keyword. Filter information by device or location (e.g. postal code) and see when keyword cannibalization is happening.
You have the option to try it for free.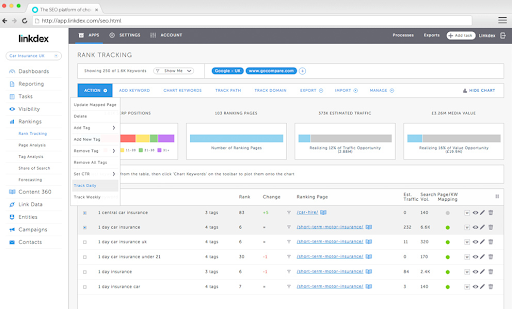 #7. Moz Pro
Moz Pro allows you to track rankings across four search engines: Google (US and International), Google Mobile, Yahoo!, and Bing.
You can track 300 keywords a month for $99 per month, with the ability to track up to 4,500 for $599 per month. In addition to tracking and crawling, these price packages have different capabilities for research, reporting, and access.
Moz Pro also comes with on-page optimization, link research, custom reports, etc. They also offer one-on-one onboarding and 24-hour online support. Free usage trial available.


#8. Semrush
The Semrush Pro package begins at $99.95 per month and is tailored to freelancers, startups, and in-house marketers. This package gives you 500 keywords to track.
Move up to the Business package at $399.95 for 5,000 keywords. An Enterprise level is available upon request.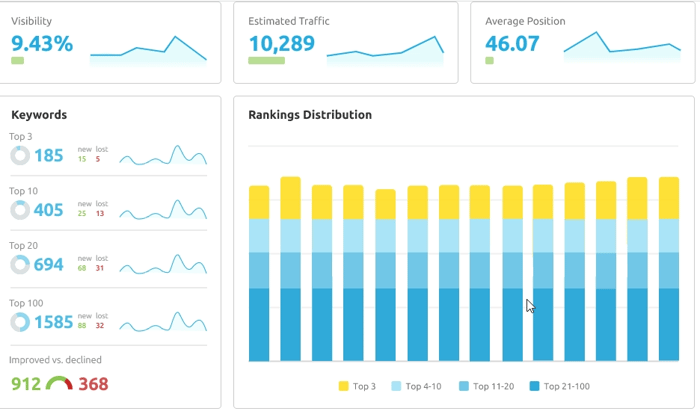 (Image from Semrush.)
Semrush's position tracking allows you to monitor your Google rankings for both desktop and mobile. Tracking is daily, and is for domain, subdomain, folder, or URL for the keywords you track. Data can be filtered by any of 16 SERP features.
Competitor analysis is also available, all with the ability to then create reports of this information to share internally and with clients. Free trial available.
Enterprise SEO Platforms that Provide Keyword Rank Tracking
Enterprise solutions are built for companies that need insights into all things SEO at scale.
From keyword research to rank tracking, strategy to execution, SEO platforms integrate all data into one holistic picture, giving you a single source of truth.
Recommended Reading: Top Enterprise SEO Platforms
#9. BrightEdge
BrightEdge offers keyword performance by desktop, smartphone, or tablet, as well as by geographical relevance. You're able to see trend graphs, measure the competition, and see insights into the results page's layout.
Focus on which keywords have high search volume to set your priorities. BrightEdge's keyword reporting also shows you which URL would be best suited to be the preferred landing page.
Visualizations also show you how things like search intent have changed over time.
Note: BrightEdge does not mention pricing on their website.


#10. Conductor
Conductor's rank tracking features are related to the others we've discussed so far: daily ranking keyword technology, competitor insights, SERP features analysis and the ability to filter by location, device, and search engine.
By performing advanced SEO tasks like rank tracking, Conductor gives its clients insights that inform strategic digital services like performance measurement.
Note: Conductor does not mention pricing on their website.


#11. seoClarity
seoClarity has fresh rankings for full search visibility. With unlimited tracking (including unlimited competitors), find out how your content is performing globally and locally – and at a granular level.
Dive into insights at the page- or folder-level, or use keyword tags to segment out your data.
With Rank Intelligence, our intelligent rank tracking, you can also view the universal ranking types that appear for your managed keywords. There are more things you can track besides standard search engines – YouTube, Amazon, Google Maps, Google Images, and Google Jobs tracking are all available.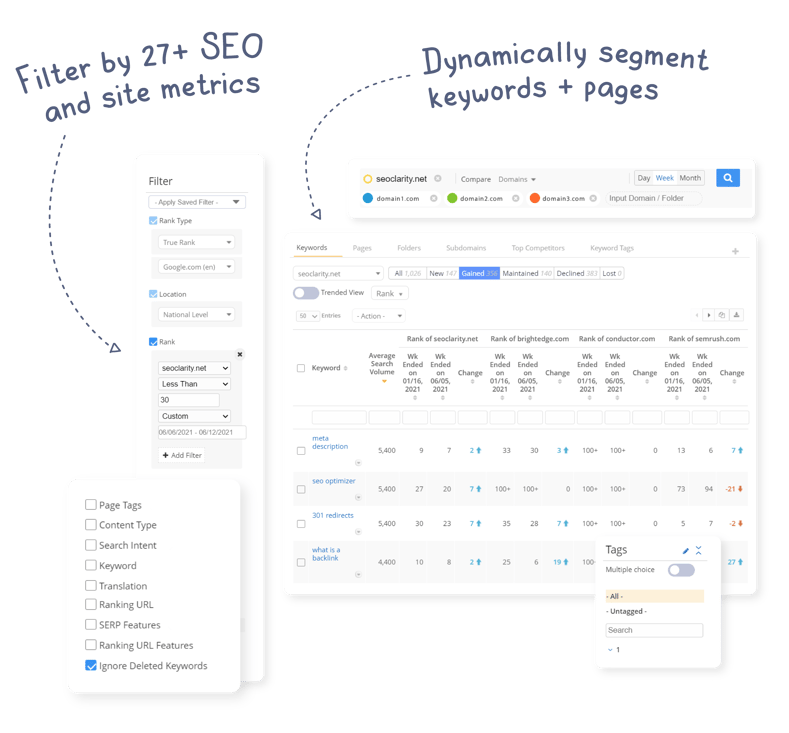 You can also integrate Google Analytics, Google Search Console, Adobe, and most custom analytics for a centralized view of your data.
Since the results pages are constantly changing and adding new schema, you are now able to see visual rankings based on pixel depth.
This is just one example of how we're leading the way when it comes to ranking analysis.
With seoClarity, you can also capitalize on the explosive growth of local search. Optimize your site for location-based searches and location-intent keywords to win at local search – see your results at the country, state, city, or zip code level.
seoClarity includes daily rankings with API and/or data extracts, dashboards for reporting, and interactive analysis to slice, dice, and analyze your ranking performance.
Are there any free keyword ranking tools?
It is possible to monitor your keywords rankings for free. All you need to do is set up a Google Analytics and Search Console account. These are just two examples of free SEO tools that offer great insights for SEOs.


The Takeaway
Rank tracking tools automate the process so you can spend your time in action, not researching and sifting through data. We can't tell you which keyword rank tracking tool is the best.
As you've seen, different tools have different price points, capabilities, etc. But we hope we've offered you a highlight of what each tool is capable of and which would be best suited for your organization.
If you're considering an enterprise SEO platform, remember that they bring everything under one roof, so it's important to consider their other features as well.
Of course, there are many other rank tracking tools out there besides those on this list, these are simply what we believe are the best to get the job done.
One thing is certain: to get actionable insights from the ranking data, your chosen rank tracking tool needs to be capable of:
Analyzing rankings for large keyword sets across two dates ranges to identify success and spot challenges
Monitoring ranking by page, folders, subdomains, and competitors
Specifying the preferred landing page and monitoring rankings
Differentiating between true rank and web rank
Understanding the changing SERP and how this affects the visual rank position
Without any of the above rankings become an arbitrary metric used to monitor progress without the ability to discern any valuable information about SEO performance — or any potential threats to search visibility.
More SEO Tools
Rank tracking is just one component of a successful SEO program. There's also things like audits, page speed, keyword research, and contnet marketing.
We've compiled lists just like this one that tackle all those areas — check them out below.