Are you stuck in choosing the right enterprise SEO platform? Wondering what features and capabilities you really need to be successful in all things SEO (or at least those which will help you achieve your company's ambitious goals)?
It's true: SEO platforms come in various shapes or sizes; yet, many of them share certain core capabilities - a daily aggregation of data, ranking reports or competitor insights, for example - making the choice difficult.
The above isn't necessarily what differentiates one enterprise SEO platform from another. The real difference is how each of them approaches the data aggregation, analysis, and insights.
If a platform places limits on what data, capabilities, or metrics you can use on a certain price plan, then you may quickly find yourself stuck with limits you didn't know you'd have.
If, however, a platform offers no artificial limitations (as is the case with seoClarity's SEO platform), then you can work freely, knowing that you will always have all the data and insights you need to be successful in SEO.
So, what then, exactly, are the must-have capabilities of an enterprise SEO platform? We offer the following list as a guideline to make the best-fit choice toward success.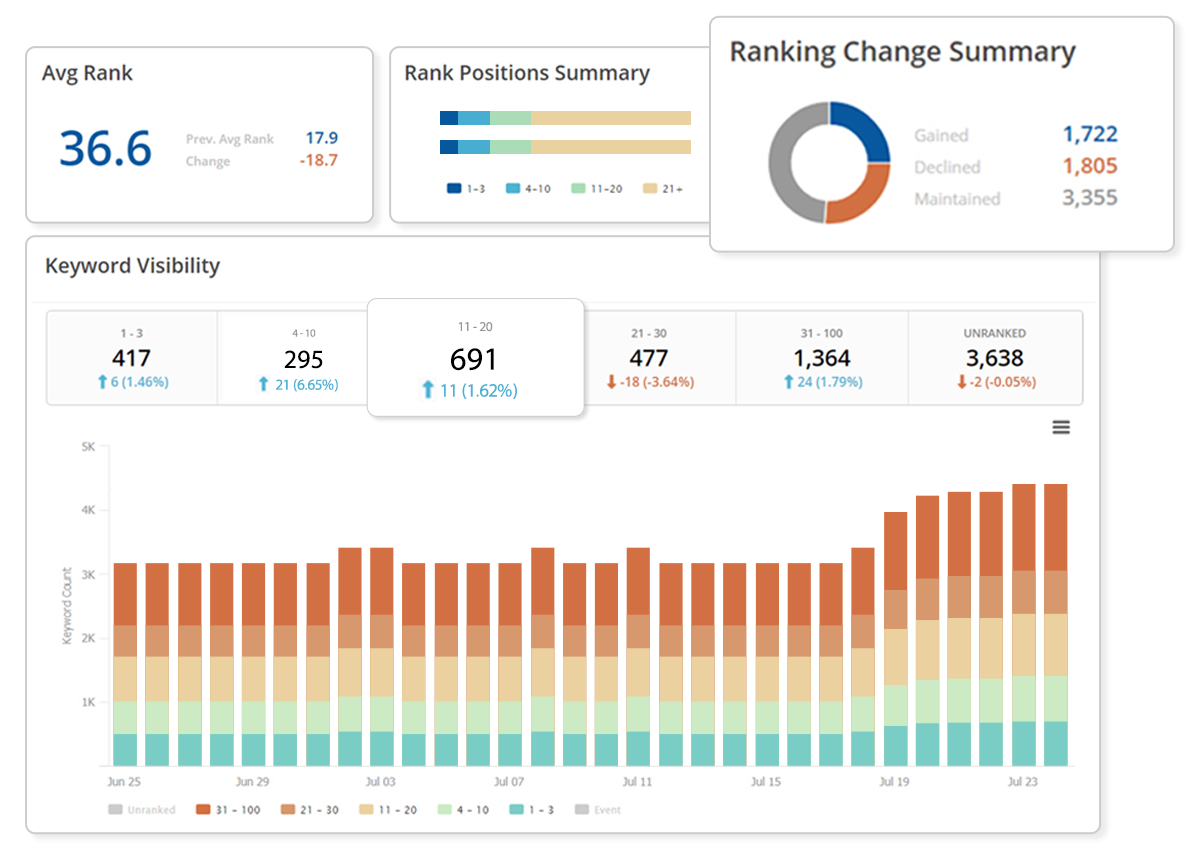 First, What Should You Expect from an Enterprise SEO Platform?
I like to start with the basics you should expect from a complete SEO software solution. It should cover the entire SEO lifecycle from usability, relevance, and authority to manage an enterprise-level website's search visibility.
Most importantly, a platform brings all of the company's data in one place - offering a single source of truth for all of your search marketing and content optimization.
You should stop working with information scattered across many tools and systems to attempt to correlate results. An SEO team bases their decisions on the complete data they need in one place.
Next, a platform should deliver this information in real-time. In doing so, it eliminates the need to update a spreadsheet or any other place the company stores the information over and over again.
But that's just the beginning - an enterprise platform does far more than the above.
Enterprise platforms help SEO teams scale their SEO results that are consistent and repeatable. An enterprise-level platform will accommodate any additional activities to boost search visibility as their organizations grow and expand.
Finally, with a platform, you get more than just the software. You get access to an SEO professional services team that can extend your SEO projects, provide strategic insight and planning, and offer technical SEO expertise to augment your team.
These experts are ready to assist you whenever you need a helping hand or want a fresh set of eyes to help solve a particular challenge.
To do it all, however, your platform must also possess certain capabilities. Below is our point of view and recommendation for the "must-haves" in an SEO platform.
How much does seoClarity cost? And what support is offered?
Find the answers to these questions and more on our FAQ page.


Top 8 SEO Platform Capabilities You Need to Consider
1. Unrestricted Access to the Data in One Place
Typically, SEOs use more than one tool to deliver results. Google Webmaster Tools, a crawling tool, a backlink checker, keyword research, ranking data are good examples of a typical SEO stack.
But there is a problem with that. Correlating and consolidating all that data takes a significant portion of your day. In fact, our research suggests that SEOs spend up to 77% of their time away from the actual execution.
The result? You don't have enough time to strategize and execute.
This is exactly what your enterprise SEO solution should do for you!
The seoClarity platform provides users with a one-stop shop to collect, analyze and report on the data.
What's more, we impose no artificial limitations on what you can do. No add on costs for the number of competitors or the number of pages you can crawl, and you can access all your data, anytime you want.
This also means your data is available for you to download right within the platform.
Having all the data in one place also means you can scale your SEO efforts across the entire organization. You don't need to train your teams on multiple platforms! Every team can go to a single, central place to get all the insights they need based on their role.
And with the data in one, central location, you can spend more time driving search visibility to accelerate the results you deliver - an increase in rankings, traffic and customers.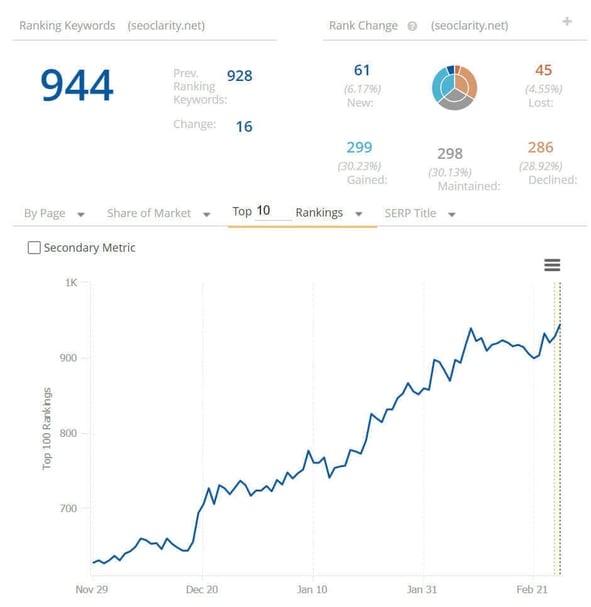 (An example seoClarity report.)


2. Repeatable Workflows
To succeed in the ever-changing search market, organizations must shift the way they think of SEO.
It is no longer a practice of simply changes to the website, adding keywords to pages, but instead it requires the efforts and collaboration between many stakeholders.
Most important an approach that focuses on delivering the best search experience for your end users - and away from chasing the search engines algorithms.
But, the focus on the end user requires a team approach across the organization, and a single, centralized source of the truth with your data first, as well as establishing the practice as part of overall business processes.
In practice, this means creating Standard Operating Procedures (SOPs) including the information on:
Processes used to deliver the many different elements of a campaign;

Standard tasks and their order of completion;

Teams and their responsibilities; and,

Collection and analysis of data.
Your platform must support this approach with the ability to create repeatable workflows and tasks.


3. Site Audits with Unlimited Crawls
Technical issues and site architecture is the number 1 stumbling block in optimizing your users' search experience and improving visibility. Running custom site audits will provide the insights and knowledge you need to optimize the site experience successfully.
Your platform must provide you with the option to run multiple custom checks:
Site health to assess its architecture and usability.

Security audit to identify website vulnerabilities and prevent breaches.

Google penalty and recovery audit to identify whether a sudden traffic drop came as a result of an algorithm or manual issue.

Competitor audit to gain insights and uncover opportunities you could implement in your digital strategy as well.

Content audit to identify issues with your pages and new opportunities to improve them.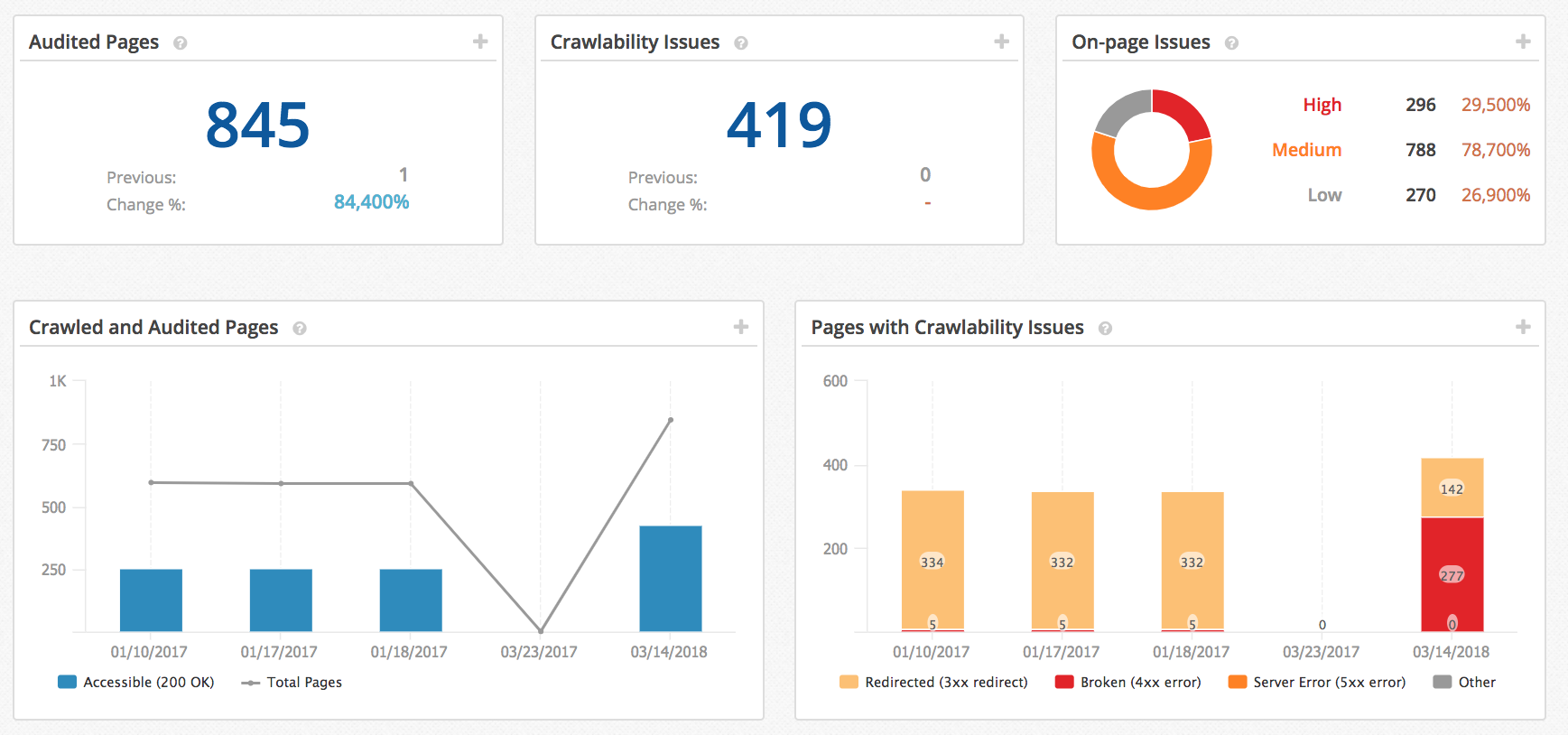 (Sample audit report in seoClarity.)


4. Actionable AI-Driven Insights
To me, going with the gut feeling is the single most dangerous approach to planning content or SEO strategy.
Unfortunately, it's also an unbelievably common one. Then again, how else could you do it with dispersed data, after all?
Well, use an enterprise SEO platform that leverages advanced machine learning to deliver dynamic insights to devise a comprehensive SEO strategy based on all the data that's available.
This enables your team to always make those data-driven decisions on what actions and tasks to prioritize. Here are a few examples of AI-driven capabilities within seoClarity.
Recommended Reading: How seoClarity Automates Your SEO
seoClarity offers Content Fusion for AI content optimization that helps teams create more relevant content that's guaranteed to be authoritative and cover your topics with exactly what your target audience expects.
It speeds up the topic research time to help the writer understand everything that needs to be covered on a given topic.
(One of the Content Fusion recommendations and reports.)
Then there's Topic Explorer, used for SEO topic research. It uses AI to improve content ideation and prioritize high-demand topics.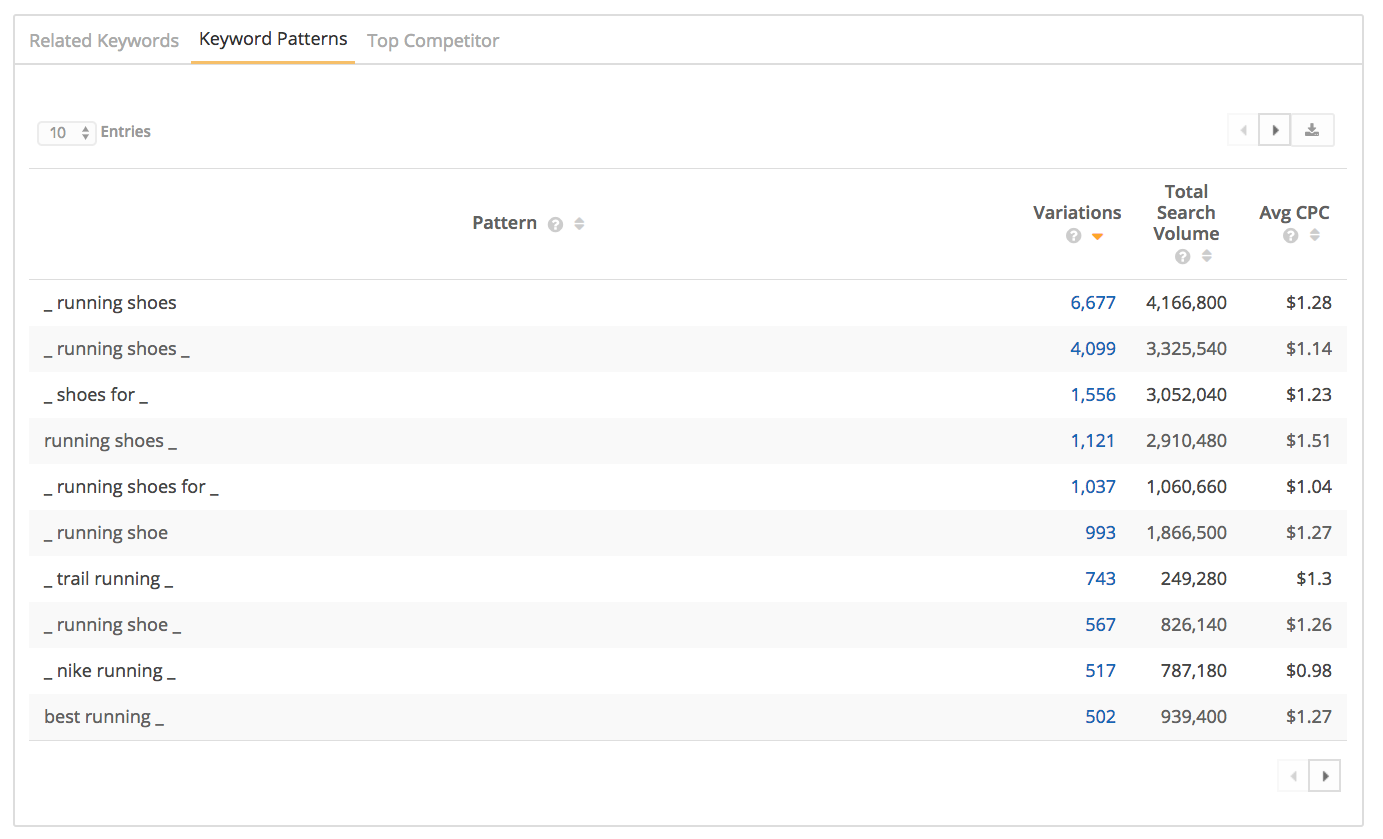 (Keyword patterns report in Topic Explorer.)


5. Technology Built Based on Real SEO Challenges
The SEO industry is changing fast, and your technology platform must adopt agile methods to keep up and scale with the fast change of the SEO landscape. That does not mean, however, that they are scaling to meet client needs.
For many, the development cycle remains long. Users have to wait to gain access to new features.
seoClarity works on a two-week development sprint. This allows us to adapt quickly to the changing landscape of SEO. Not to mention, it allows us adapt our platform to our clients' challenges as quickly as possible.
seoClarity's roadmap is prioritized 100% on client requests and feedback. In fact, if you two clients request it, we vet it and build it.


6. Platform Adoption and Live Chat
The complexities of any SEO platform are vast. Getting accustomed to new workflows and the full potential of a platform will take time, too.
Many SEOs and content marketers require a helping hand to go through this process.
You need a support team to help when needed, like live chat support to answer your ad hoc questions immediately. And your platform of choice must give you the access to a dedicated Client Success team.
These SEO professionals have the knowledge, insight, and acumen to guide you to get the most out the platform based on your workflows, priorities, and projects. They also provide proactive insights and offer suggestions to help build the repeatable and consistent SEO results.
seoClarity can avail of live chat that takes them to the Client Success Team member directly. Our extensive knowledge base includes training demonstrations of all platform capabilities, webinars, an FAQ section, and more.
Individual training sessions are also available to cover and work through any challenges users have with the platform.


7. Data Transparency and Accessibility
At times, you will want to use your data elsewhere. Use an API connection or bulk download your SEO data right from the platform (up to a million rows at a time!). No platform should be restrictive of this in any way!
What's more is that you should always know where your data came from. You should never worry about whether those ranking results you see on the dashboard are real.
You should be able to verify the actual SERP page for those rankings, or review any other source of information the platform has gathered.
In short, the platform must give you complete transparency into the data, offering a tangible way to evaluate whatever information it has collected for you.


8. AI That Remains One-Step Ahead
Today, to stand out, your content must pass incredibly high criteria. It must be relevant, for one, targeting the person's need for information exactly. Not to mention, it must exceed their expectations as to what they'll find there.
Otherwise, visitors will just turn around and leave. And your content stands little chance to rank well in Google, too.
But how can you create such content? Particularly, without being a topic expert?
Well, that's where the platform should help as well. It must provide you with access to AI-driven insights to power your content strategy.
You already know about the two capabilities seoClarity offers. We've talked about the Content Fusion and Topic Explorer.
But there's more to it than just those two. Each offers workflows to help you identify what to write about in your content to engage the readers and deliver what search engines want to promote as well.


Conclusion
All in all, when searching for an enterprise class SEO platform you must review more than the basic functionality. Look at its integrations, insights, adaptability, and support.
Check if the tool uses machine-learning to speed up insights generation. Find out what support you're going to get.
It all matters. We see many clients upgrade to seoClarity after testing, trialing and then going through a painful process of learning their current systems are unable to keep pace with the industry or their needs.
We feel a careful vetting process of your prospective SEO platform's capabilities, future road map, and Client Success orientation will yield significant rewards.
Ready for an enterprise SEO platform that helps prioritize the user experience above all other factors? Schedule a
quick demo

today.
---
Editor's Note: This post was originally published in October 2015 and has been updated for accuracy and comprehensiveness.