At seoClarity, we prioritize creating innovative solutions that address the real SEO challenges our clients face. Their insights and feedback drive our feature roadmap, ensuring we meet their specific needs.
But don't just take our word for it, see what our clients have to say:
Another aspect of seoClarity that stands out is their constant innovation. They listen to user feedback and suggestions, and have their finger on the pulse of the SEO industry, so are always one of the first tools to have new cutting-edge capabilities."
In 2023, we even went above and beyond our bi-weekly product releases by introducing our first-ever release week and AI-Day event to ensure our clients stay ahead in the ever-changing digital landscape.
In addition to these special events, here's the full list of product releases from seoClarity in 2023.
Interested in using ChatGPT to supercharge your SEO efforts? Jump down to our generative AI-powered innovations.
1. Compare SEO Performance to Other Channels With Traffic Mix Analysis
Let's kick things off with Traffic Mix Analysis, the first innovation in our release week series where we unveiled five industry-first capabilities to tackle pressing SEO challenges.
Traffic Mix Analysis helps SEO teams prove the value of SEO against other high-performing channels. It provides a comprehensive view of how organic traffic performs in relation to other traffic sources like social media or pay-per-click.
Unlike traditional site analytics tools, Traffic Mix Analysis allows users to slice and dice data by page type and view trends over various time periods, such as weekly, monthly, quarterly, or yearly. This helps enterprise SEOs gain invaluable insights to optimize their strategies and showcase the impact of their efforts.
2. Access Accurate Search Volume Data With True Demand™
True Demand™ is seoClarity's answer to the frustration of inaccurate search demand data from Google Keyword Planner.
By utilizing seoClarity's proprietary clickstream data, True Demand provides statistical modeling that calculates estimated search volume trends, fixing inaccuracies in search volume data from Keyword Planner.
True Demand offers the freshest search volume data, weeks and even months before Google and other tools.
It also uncovers the actual search demand for queries Google Keyword Planner reports as zero. In addition, it provides search volume data for singular vs. plural, trending, and new keywords.
3. Clarity 360: The First SEO Intelligence Cloud
Clarity 360 takes you from tunnel vision to full-funnel vision, ensuring you avoid any blind spots in your SEO strategy.
As the world's first SEO intelligence cloud, Clarity 360 facilitates the analysis of all metrics for every URL in one comprehensive view. No matter the data source - be it server logs, search console, site analytics, rankings, or backlinks - our comprehensive view brings it all together.
By having a holistic understanding of your SEO performance, you can seize impactful opportunities and address critical issues that might have otherwise gone unnoticed.
Recommended Reading: Connect Your Technical SEO to Organic Performance With the Fun-Fun Framework
4. Automatically Optimize Internal Links With ClarityAutomate™ Link Optimizer
Pages that get buried deep within your site's hierarchy hurt SEO by making it difficult for users and search engines to navigate and crawl the site.
But 62% of SEOs struggle to surface internal links at scale without using development team resources.
Enter ClarityAutomate™ Link Optimizer.
By pulling from multiple data sources to perform semantic AI analysis, Link Optimizer identifies the best internal linking opportunities to increase discoverability.
Then, it automatically creates and implements deep internal links across thousands of pages while still providing complete control to review, approve, and modify the changes. No dev team required!
Check out Link Optimizer's ChatGPT-powered enhancements below!
5. Research Grid API: Access the Deepest Keyword and URL Dataset
Enterprise SEOs crave richer keyword and URL data, seeking unique ways to conduct competitive research and analyze it alongside other data sources. Unfortunately, they often face challenges in justifying budgets and integrating this data seamlessly into third-party visualization tools.
Our Research Grid API grants you access to the most comprehensive and extensive keyword dataset available worldwide.
With over 500 million keywords and data retrieval spanning over 90 countries, including 6 years of historical data, you'll have the information needed to conduct in-depth competitive research and evaluate your Total Addressable Market.
What's more, you don't need to be an seoClarity client to collect, manipulate, and integrate data in our Research Grid API. It's open to anyone seeking to delve into deep competitive analysis and gain valuable insights into their market potential.
6. Gain Even More Insights When Conducting Site Audits
In response to our clients' invaluable feedback, we have implemented a chain of updates to our Site Audits capability. These latest enhancements directly tackle crucial pain points and significantly amplify the insights obtained during site audits.
These updates include:
External Links Anchor Text: During a crawl, we always capture links that point to other domains or are excluded from the crawl. Now, we've enhanced it to include anchor text for each link, offering valuable context and a comprehensive view of the linking structure.
Parent Page Anchor Text/Status Code: For every page we crawl, we now capture the location where the link was found, along with the anchor text that points to it. All this information can be conveniently downloaded within our user interface.
Extract content based on RegEx: We introduced

RegEx

as an additional method of content extraction alongside XPath, CSS, and div. This enhancement allows users to extract content from structured data and retrieve content using extraction paths that may not be accessible through XPath, CSS, or by div id or div name.
Filter updates for Site Audit widgets: We added filters to site audit widgets, allowing users to focus on specific sections of a site. This enables multiple teams to use data insights from a single crawl without having to run multiple crawls based on different subfolders.


7. Analyze, Download, and Filter ALL Internal Links With Internal Link Analysis
Having access to crawl data from all of your site's pages allows you to gain an in-depth view of your site's internal link structure.
That's why we now bring in ALL crawl data to Internal Link Analysis, rather than just indexable data. We even include pages that had been previously excluded due to canonicalization.
This means you'll have a comprehensive view of your inbound and outbound links along with the anchor text and status for each, empowering you with deeper insights. In addition, we also allow you to download all the data so you can explore millions of link relationships.

We also added filters that allow you to exclude pages that are found sitewide such as header and footer links as well as broken and blocked links so you can focus on what matters most to your SEO strategy.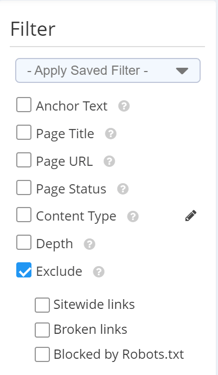 Recommended Reading: Internal Links Workflow: How to Optimize and Gain More Site Authority
8. BigQuery Integration for Search Analytics: Integrate and Analyze All Search Console Data
In February, Google unveiled the capability to download complete Google Search Console (GSC) data through a BigQuery API in Google Cloud Services.
With easy access to this immense amount of data, SEOs now face the challenge of effectively analyzing and integrating it into their current processes.
To address this obstacle, we are thrilled to offer seamless integration of this data export directly into seoClarity Search Analytics! Incorporate ALL your GSC data into Search Analytics and leverage advanced filtering options to segment, analyze, and report on it with ease.
Plus, we provide the ability to effortlessly merge profiles for a comprehensive analysis so you don't lose any historical data. Oh, and you'll never have to worry about any storage or query processing fees.
Recommended Reading: Want Your GSC Bulk Data Exports? Here's What to Do.
9. View SERP Previews for Ad Hoc Rank Checks
Imagine having the power to peek into the first page of Google for "on-the-fly" analysis of any keyword across multiple domains. Well, now you can!
Previously available in Rank Intelligence, SERP previews are now seamlessly integrated into the results of every Ad Hoc Rank Intelligence project you submit.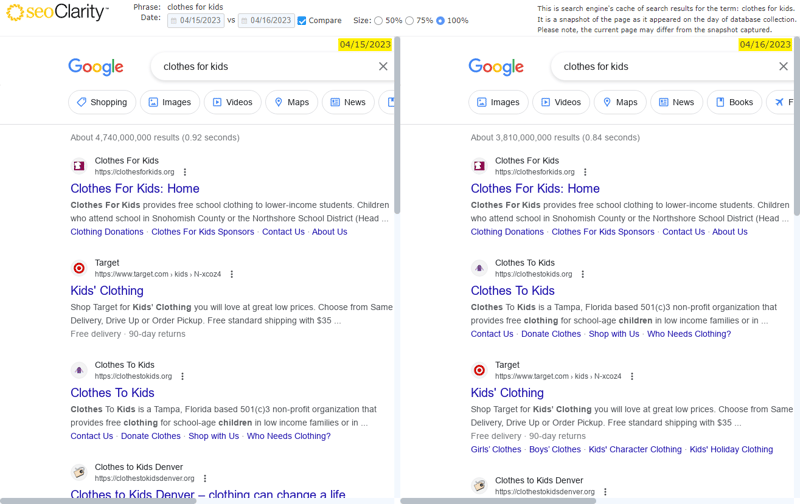 Why are SERP previews so amazing?
They allow you to dive deep into your competitors' results and discover the secret sauce behind their success. Are they winning over SERP features that you're missing out on? What visual elements are overshadowing your own listing? Our SERP previews have got you covered!
But that's not all. With the comparison view, you can also track how the SERP has evolved over time and stay ahead of the game.


10.
See User Intent Over Time for Any Keyword
Many SEO tools display keyword user intent at the time you search for it. But what if user intent for your keywords changes throughout the year?
Within Topic Explorer's keyword detail view, you now have the ability to track how user intent changes over time. Access to this information empowers SEOs to adapt content, target keywords effectively, and time campaigns for maximum impact.
For instance, "Engagement rings" primarily serves as an informational query, but experiences substantial 50% or higher shifts towards transactional intent during peak engagement seasons like September-October and early spring.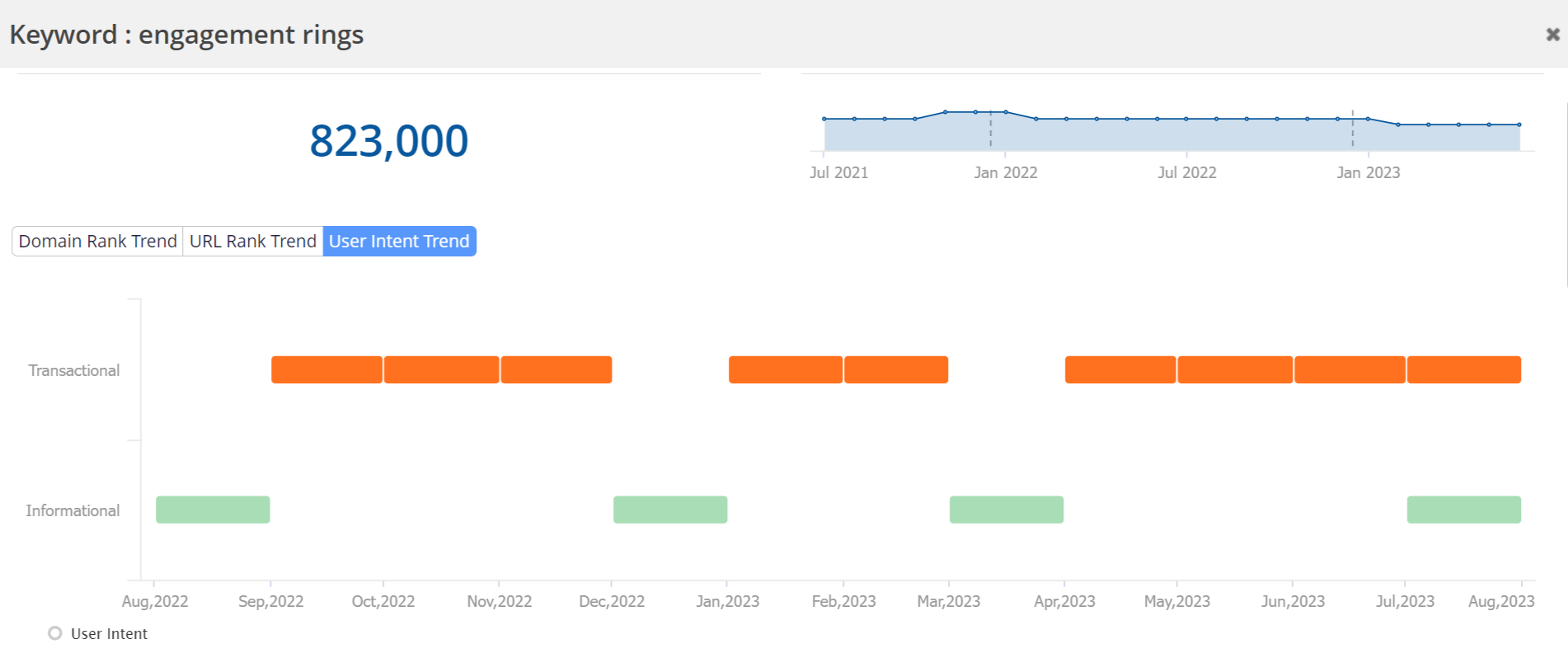 E-commerce sites specializing in ring sales can then use this insight to determine optimal periods to ramp up engagement ring campaigns.
11. Support for 3 new SERP Features
As Google's search results pages continue to evolve, it's important to keep an eye on how new features impact the SERP for your target keywords.
Now you can track three of the newest features showing up in Google Search in seoClarity:
Buying Guide
Discussion and Forums
Things to Know
You'll find filters for all three of these SERP features in the left sidebar of Rank Intelligence SERP Features. Use the filters to see how often these features show up for your keywords, and how many of them you are included in.
Let's dive into each one and potential use cases.
1) Buying Guide
A Buying Guide is like a categorized list of Featured Snippets enabling shoppers to dig deeper into a product category they are searching. Currently, they primarily show up in mobile searches.
When filtering for this SERP feature, look for categories that aren't included in your current content. These missing categories reveal opportinities to strengthen your current content or to create new interlinked content to cover that area.
2) Discussion and Forums
Discussion and Forums is a SERP feature that is part of Google's "hidden gems" initiative. The goal of the initiative is to surface more content from the experiences and opinions of real people, as expressed in public forums like Reddit and Quora.
When tracking this SERP feature, consider exploring ways to get more mentions in these forums. But be careful, many forums reject any content that appears overly promotional or from the brand itself.
Another opportinity is to consider building user forums on your own site and incentivising your customers to post there. While known forums like Reddit dominate this feature, it is possible for forums fromm other sites to show up as well (see the third listing above).
3) Things to Know
Similar to Buying Guide, Things to Know is like a categorized Featured Snippets list for the various micro-intents people have when searching for items of interest.
"Things to Know" sections that start with words like "best" or "top" or "cheapest" tend to show lists from listicles and buying guides on third-party sites. Securing this new SERP feature is yet another incentive to try to get mentioned on these sites.
Filtering for this SERP feature is a great source of content ideas, either for adding missing information to your existing content or for creating new pages to cover each intent displayed.
12. Finally, A Reliable Keyword Difficulty Score
Keyword difficulty scores provide valuable insight into how much time and effort SEOs need to invest to rank for a given keyword. This information allows them to prioritize their SEO efforts accordingly.
But most keyword difficulty checkers primarily base their scores on backlinks which Google has announced isn't even a top-three ranking signal anymore.
As a result of their outdated methods, these scores are far from accurate.
Seeing the need for a keyword difficulty tool that SEOs can actually rely on, we created a score backed by extensive research and statistical proof that considers numerous factors that influence rankings.
Using billions of data points, an innovative combination of metrics, advanced machine learning, and over six years of historical data, our keyword difficulty tool creates a score that has a proven, strong correlation to how pages rank.
Using this score, SEOs can uncover keyword opportunities and easily prioritize keywords that will be easy to rank for to achieve quick wins.
Innovations that Incorporate ChatGPT
ChatGPT and other generative AI technologies have rapidly changed the world of search engine optimization. Here's how we've incorporated ChatGPT into our platform with Sia, our AI-powered SEO assistant, to streamline, scale, and speed up the execution of SEO tasks like never before.
Want to know how we ensure safety and security while staying at the forefront of generative AI-driven advancements? Read our seoClarity AI Manifesto!
13. Keyword Research: Understand Your Audience and Gain Insight Into the Full Buyer's Journey
Search engines have access to more information than ever before. But most SEOs still rely on traditional keyword research data such as search volume or competition level to guide their strategy.
To help our clients stay ahead and create powerful keyword research strategies aligned with the information search engines use, we've integrated ChatGPT into Topic Explorer. This integration allows users to uncover elusive details and gain a deeper understanding of the data that influences search results.
Here are some key advancements:
Audience Demographics: Using the entire clickstream dataset, Sia analyzes your search term and identifies the target audience, providing valuable insights into their demographics such as age, gender, nationality, income, and interests.
Plus, Sia generates a list of related topic areas that align with the interests of your target audience.

Top Related Topics: To avoid blind spots in your keyword research process, Sia automatically generates a variety of closely related search queries that people use when exploring a particular topic.

Understand the ENTIRE Search Journey: See what people search for before and after looking up your keyword to develop a comprehensive understanding of your topic and uncover additional content opportunities.
All you have to do is click "explore with Sia" in the search bar.

See how Sia uncovers deeper insights in Topic Explorer
14. Optimize Titles and Meta Descriptions at Scale with Page Clarity
Optimized titles and meta descriptions play a crucial role in enticing users to click on search engine results. But enterprise SEOs often forgo the task of creating these on-page elements due to the considerable time investment it demands.
To address this challenge, we've integrated Sia into Page Clarity. By analyzing your competitors, target keywords, and content, Sia uses ChatGPT to automatically write unique, SEO-optimized titles and meta descriptions for thousands of pages.
It's as simple as click, review, adjust, and deploy!

Watch how Sia automatically creates titles and meta descriptions in Page Clarity
15. Overcome Top Content Writing Challenges with ChatGPT in Content Fusion
From a lack of resources and time constraints to overcoming writer's block and standing out in a sea of endless content, digital marketers face their fair share of challenges when it comes to creating quality content.
To help SEOs create relevant, authoritative content as quickly as possible, we've integrated ChatGPT into Content Fusion, our fully-integrated content marketing solution.
Now, Content Fusion allows you to generate SEO-optimized outlines, paragraphs, and rewrites tailored to the information you entered into your Content Profile.
Unlike ChatGPT alone, Content Fusion analyzes top-ranking content, implements SEO best practices, and is built with effective guardrails to prevent thin content and plagiarism.
The significant time-saving advantage Content Fusion provides enables writers to allocate their efforts toward infusing more creativity, human emotion, and domain knowledge into their work.
Watch how Sia helps overcome top content writing challenges
16. Use ChatGPT in Link Optimizer To Automatically Internally Link Thousands of Pages
Although internal linking is viewed as a top priority by over 60% of SEOs, 62% report that they can't implement internal links without their development team. As such, it is widely considered one of the most challenging aspects of optimization.
With the integration of Sia, our AI-powered SEO assistant, ClarityAutomate™ Link Optimizer leverages the capabilities of ChatGPT to provide the ONLY end-to-end automated internal linking solution.
Sia's integration connects all the valuable data within seoClarity, allowing Link Optimizer to construct an optimal internal linking structure. This involves utilizing crawl data from site crawls, building a comprehensive link graph, and identifying relevant keywords in your content.
Link Optimizer with Sia integration provides the following benefits for SEOs:
Surface the Best Linking Opportunities: It identifies the most valuable internal linking opportunities by analyzing page content, ranking data, and semantic clusters.

Identify Optimal Target Pages: The system automatically detects the best target pages and identifies pages that should link to them but currently don't, using advanced AI technology.

Instant Link Implementation: Internal links are seamlessly implemented across your entire site, saving you time and effort.

Automatic Performance Tracking: Link Optimizer automatically tracks the performance of all newly built links.
See how Sia revolutionizes internal linking for enterprise sites
17. Instantly Execute SEO Busy Work In Bulk and Reclaim Your Time
SEOs with increasingly limited time and resources often don't have the bandwidth to manually complete tedious, repetitive tasks, despite the significant impact they may have.
To allow SEOs to complete such tasks and still have time to focus on more specialized strategies, we've seamlessly connected Sia to every available data point and capability in seoClarity and created a pre-made selection of bulk actions.
SEO "busy work" tasks that Sia currently completes in bulk include:
Translate Keywords: Easily translate keywords from one language to another and automatically upload them to Rank Intelligence, providing keyword visibility for each translated keyword.

Tag Keywords: Tag keywords in an account or existing keyword tag based on specific criteria such as brand name, city name, product-related terms, or intent-specific tags.

Title Suggestions: Receive suggestions for new titles optimized for the pages' tracked keywords or for a specific page tag.

Meta Description Suggestions: Get recommendations for new meta descriptions for your account's tracked pages or for a particular page tag.
And we're just getting started. We will ultimately provide a full library of pre-made actions to serve as instantly-scalable solutions to numerous tedious SEO tasks.
See how Sia helps complete SEO busy work at scale
Conclusion
As you can see, we're constantly evolving to deliver the SEO solutions you need (check out our long list of previous product innovations from 2022 and 2021!)
If you're a current client, you have the power to shape our 2023 roadmap by submitting feature requests directly in the platform or consulting their dedicated Client Success Manager.
Not a client? No problem! Discover the power of our enterprise SEO platform with a personalized demo. Our experts will work closely with you to find the best solution for your unique challenges and goals.
Don't miss out on this opportunity to take your SEO to the next level in 2023. Request your demo today and let's make your SEO goals a reality!
---
<<Editor's Note: This blog was originally published in May 2023 and has since been updated.>>