At seoClarity, we prioritize creating innovative solutions that address the real SEO challenges our clients face. Their insights and feedback drive our feature roadmap, ensuring we meet their specific needs.
In 2023, we even went above and beyond our bi-weekly product releases by introducing our first-ever release week to ensure our clients stay ahead in the ever-changing digital landscape.
In addition to release week, here's the full product releases from seoClarity in 2023.
1. Compare SEO Performance to Other Channels With Traffic Mix Analysis
Let's kick things off with Traffic Mix Analysis, the first innovation in our release week series where we unveiled five industry-first capabilities to tackle pressing SEO challenges.
Traffic Mix Analysis helps SEO teams prove the value of SEO against other high-performing channels. It provides a comprehensive view of how organic traffic performs in relation to other traffic sources like social media or pay-per-click.
Unlike traditional site analytics tools, Traffic Mix Analysis allows users to slice and dice data by page type and view trends over various time periods, such as weekly, monthly, quarterly, or yearly. This helps enterprise SEOs gain invaluable insights to optimize their strategies and showcase the impact of their efforts.
2. Access Accurate Search Volume Data With True Demand™
True Demand™ is seoClarity's answer to the frustration of inaccurate search demand data from Google Keyword Planner.
By utilizing seoClarity's proprietary clickstream data, True Demand provides statistical modeling that calculates estimated search volume trends, fixing inaccuracies in search volume data from Keyword Planner.
True Demand offers the freshest search volume data, weeks and even months before Google and other tools.
It also uncovers the actual search demand for queries Google Keyword Planner reports as zero. In addition, it provides search volume data for singular vs. plural, trending, and new keywords.
3. Clarity 360: The First SEO Intelligence Cloud
Clarity 360 takes you from tunnel vision to full-funnel vision, ensuring you avoid any blind spots in your SEO strategy.
As the world's first SEO intelligence cloud, Clarity 360 facilitates the analysis of all metrics for every URL in one comprehensive view. No matter the data source - be it server logs, search console, site analytics, rankings, or backlinks - our comprehensive view brings it all together.
By having a holistic understanding of your SEO performance, you can seize impactful opportunities and address critical issues that might have otherwise gone unnoticed.
Recommended Reading: Connect Your Technical SEO to Organic Performance With the Fun-Fun Framework
4. Automatically Optimize Internal Links With ClarityAutomate™ Link Optimizer
Pages that get buried deep within your site's hierarchy hurt SEO by making it difficult for users and search engines to navigate and crawl the site.
But 62% of SEOs struggle to surface internal links at scale without using development team resources.
Enter ClarityAutomate™ Link Optimizer.
By pulling from multiple data sources to perform semantic AI analysis, Link Optimizer identifies the best internal linking opportunities to increase discoverability.
Then, it automatically creates and implements deep internal links across thousands of pages while still providing complete control to review, approve, and modify the changes. No dev team required!
5. Research Grid API: Access the Deepest Keyword and URL Dataset
Enterprise SEOs crave richer keyword and URL data, seeking unique ways to conduct competitive research and analyze it alongside other data sources. Unfortunately, they often face challenges in justifying budgets and integrating this data seamlessly into third-party visualization tools.
Our Research Grid API grants you access to the most comprehensive and extensive keyword dataset available worldwide.
With over 500 million keywords and data retrieval spanning over 90 countries, including 6 years of historical data, you'll have the information needed to conduct in-depth competitive research and evaluate your Total Addressable Market.
What's more, you don't need to be an seoClarity client to collect, manipulate, and integrate data in our Research Grid API. It's open to anyone seeking to delve into deep competitive analysis and gain valuable insights into their market potential.
6. Gain Even More Insights When Conducting Site Audits
In response to our clients' invaluable feedback, we have implemented a chain of updates to our Site Audits capability. These latest enhancements directly tackle crucial pain points and significantly amplify the insights obtained during site audits.
These updates include:
External Links Anchor Text: During a crawl, we always capture links that point to other domains or are excluded from the crawl. Now, we've enhanced it to include anchor text for each link, offering valuable context and a comprehensive view of the linking structure.
Parent Page Anchor Text/Status Code: For every page we crawl, we now capture the location where the link was found, along with the anchor text that points to it. All this information can be conveniently downloaded within our user interface.
Extract content based on RegEx: We introduced

RegEx

as an additional method of content extraction alongside XPath, CSS, and div. This enhancement allows users to extract content from structured data and retrieve content using extraction paths that may not be accessible through XPath, CSS, or by div id or div name.
Filter updates for Site Audit widgets: We added filters to site audit widgets, allowing users to focus on specific sections of a site. This enables multiple teams to use data insights from a single crawl without having to run multiple crawls based on different subfolders.


7. Analyze, Download, and Filter ALL Internal Links With Internal Link Analysis
Having access to crawl data from all of your site's pages allows you to gain an in-depth view of your site's internal link structure.
That's why we now bring in ALL crawl data to Internal Link Analysis, rather than just indexable data. We even include pages that had been previously excluded due to canonicalization.
This means you'll have a comprehensive view of your inbound and outbound links along with the anchor text and status for each, empowering you with deeper insights. In addition, we also allow you to download all the data so you can explore millions of link relationships.

We also added filters that allow you to exclude pages that are found sitewide such as header and footer links as well as broken and blocked links so you can focus on what matters most to your SEO strategy.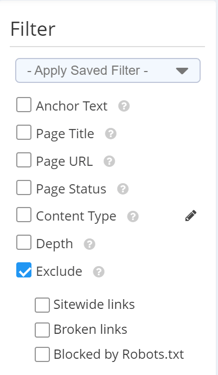 Recommended Reading: Internal Links Workflow: How to Optimize and Gain More Site Authority
8. BigQuery Integration for Search Analytics: Integrate and Analyze All Search Console Data
In February, Google unveiled the capability to download complete Google Search Console (GSC) data through a BigQuery API in Google Cloud Services.
With easy access to this immense amount of data, SEOs now face the challenge of effectively analyzing and integrating it into their current processes.
To address this obstacle, we are thrilled to offer seamless integration of this data export directly into seoClarity Search Analytics! Incorporate ALL your GSC data into Search Analytics and leverage advanced filtering options to segment, analyze, and report on it with ease.
Plus, we provide the ability to effortlessly merge profiles for a comprehensive analysis so you don't lose any historical data. Oh, and you'll never have to worry about any storage or query processing fees.
Recommended Reading: Want Your GSC Bulk Data Exports? Here's What to Do.
9. View SERP Previews for Ad Hoc Rank Checks
Imagine having the power to peek into the first page of Google for "on-the-fly" analysis of any keyword across multiple domains. Well, now you can!
Previously available in Rank Intelligence, SERP previews are now seamlessly integrated into the results of every Ad Hoc Rank Intelligence project you submit.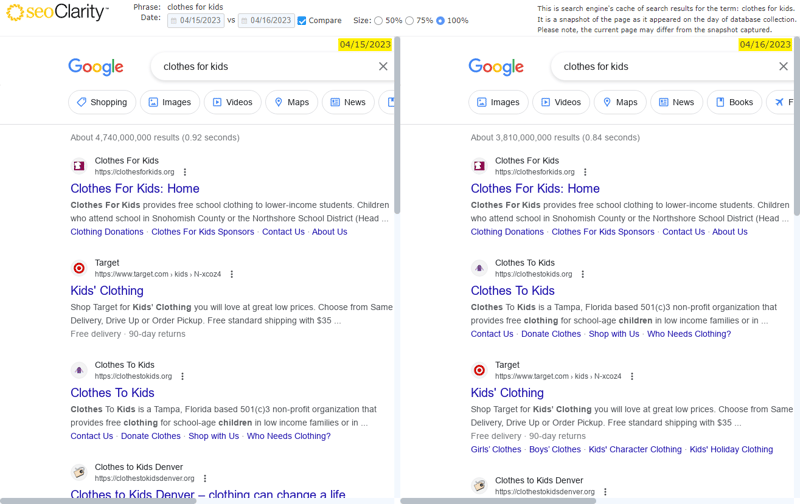 Why are SERP previews so amazing?
They allow you to dive deep into your competitors' results and discover the secret sauce behind their success. Are they winning over SERP features that you're missing out on? What visual elements are overshadowing your own listing? Our SERP previews have got you covered!
But that's not all. With the comparison view, you can also track how the SERP has evolved over time and stay ahead of the game.
Conclusion
As you can see, we're constantly evolving to deliver the SEO solutions you need (check out our long list of previous product innovations from 2022 and 2021!)
If you're a current client, you have the power to shape our 2023 roadmap by submitting feature requests directly in the platform or consulting their dedicated Client Success Manager.
Not a client? No problem! Discover the power of our enterprise SEO platform with a personalized demo. Our experts will work closely with you to find the best solution for your unique challenges and goals.
Don't miss out on this opportunity to take your SEO to the next level in 2023. Request your demo today and let's make your SEO goals a reality!