Our clients play a key role in the development of the seoClarity platform. After all, they have a direct influence on our feature roadmap.
When our development team releases new features every two weeks, they're working to make the platform more agile for enterprise SEOs like yourself.
The seoClarity platform is built to solve real SEO challenges!
So, let's dive into the list and see what's new in 2022.
What's New to seoClarity
SEO Automation
#1. No-Code Solution to Fix SEO Issues Quickly
SEO automation continues to evolve. While it was once thought of as something like rank tracking or generating insights from data, automation is now capable of helping you to execute your SEO strategy.
After all, the hardest part of SEO is getting things done.
Enterprise SEOs estimate an annual $36 million in lost revenue waiting on SEO execution.
That's where ClarityAutomate: Page Optimizer comes in.
Page Optimizer lets you get 10x more done in SEO: increase your agility to deliver results with an execution-first SEO platform.
Now you can:
Fix critical issues
Optimize on-page elements
Run SEO tests
Control internal linking
… and more
All in a few clicks, and all without having to rely on the dev team.
SpareFoot was able to accelerate their SEO projects by 6 months thanks to Page Optimizer.
#2. SEO Split Tester: Run Your Own SEO Tests
SEO is a test-and-iterate process.
If you can't implement, test, and repeat, then getting to a successful result isn't possible.
With ClarityAutomate: Split Tester, you can overcome roadblocks in testing infrastructure or a lack of data scientist or dev resources.
Use it to run tests to eliminate the guesswork around which SEO optimizations work.
It presents a correlation percentage of your test and control pages, and tells you if the end results are statistically significant.
Recommended Reading: How to Run an SEO Test with seoClarity
When you can run SEO tests on your own terms, you can gather data and bring proof of ROI to your dev team. Don't promise ROI, prove it!
#3. SEO Split Test Analysis
Running SEO tests can be hard (that is, if you're not using SEO Split Tester!) and analyzing if they were successful can be just as challenging.
Split Test Analysis does all the heavy lifting to analyze the results of any SEO tests you run or changes you make.
Whether it's a split test between two time ranges or a more advanced SEO split test between control and test groups — Split Test Analysis can handle them both.
You can run the analysis on any metric from Search or Site Analytics, including traffic, clicks, bounces, average position, impressions, conversions, and more.
It analyzes your data to show you the result of the test (positive or negative) and if the results are statistically significant.
It's like having your own personal data scientist analyze all your data and deliver the key insights!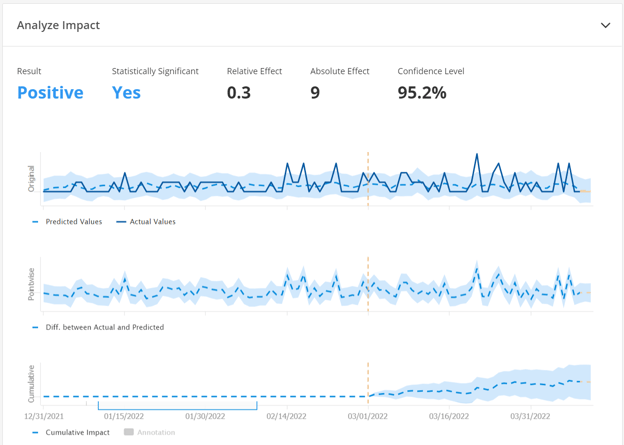 Site Audits
#4. Structured Schema Audits
Implementation of schema on your site is of tremendous value to search engines and users alike. While search engines get extra information about your site and its content, users get an enhanced experience on the SERP with rich results.
Even though there are many ways to check for schema a single page at a time, validating the implementation and existence of schema at scale is a challenge for most sites, and this is what we set out to solve.
Now, you have access to Structured Data Audits!  The audit brings you:
A summarized view of pages found with Structured Schema
The specific schema type discovered
Details of the schema formats discovered, with support for JSON-LD, RDFa, and Microdata formats
#5. Audit Hreflang Sitemaps
If you have multiple versions of pages on your site for different languages or regions, you may have hreflang implemented on the page or via sitemaps.
While this works to reduce page weight, it's only effective if the hreflang is properly set up — and with self-referencing hreflang, things can get messy.
That's where hreflang audits come in! Site Audits in the seoClarity platform now supports crawling and auditing hreflang directives within sitemaps.
This new capability works in combination with the existing on-page hreflang audit to find all the key issues:
Return Tag Errors
Invalid country or language code
Invalid order of country or language code
Hreflang Link pointing to Redirects, Broken or Blocked pages
Hreflang Link Invalid/Empty
Missing default
And a lot more …
Rankings
#6. On-Demand Geo Search Volume in Bulk
It can be challenging to get accurate search volume from data at scale to inform your keyword research — after all, search volume helps to understand demand and prioritize potential targets.
Now, the Ad Hoc Rank Intelligence feature has been upgraded to support Geo-search volume retrieval at scale on demand.
In addition to being able to rank check a million keywords at a time instantly at a national or geo-specific (city, state or address) level, you can also retrieve search volume data for up to 1 million keywords at a time from Google's Keyword Planner directly.
Keyword Research
#7. Search Volume via Clickstream
Marketers have relied on Google Adwords Keyword Planner as a source for search volume data for over a decade.
Over the last 6 years, Google has been progressively decreasing the accuracy and granularity of the search volume data they provide.
Google has stopped reporting search volume data on a large number of keywords — most noticeably for medical, health and related topics.
True Demand helps fill the gaps, fix the inaccuracies, and provides the granularity in search volume data that has been lost over the last many years from Google Adwords keyword planner.
Leveraging nearly 3 years of clickstream data, 28+ billion keywords and a sophisticated prediction model, SEOs have a much more accurate and complete replacement for Adwords search volume data.

#8. Research Grid Expansion: 25+ Million New Keywords Added
Competitive intelligence is only as relevant as the freshness of your keyword data set. Without consistent updates, you can miss out on discovering opportunities.
Having the most up-to-date keyword research data set is essential to discovering the right opportunities and keeping an eye on the competition.
This latest update reflects the newest trends in search, updates to searcher behavior, new products and service introductions, and more!
Research Grid now tracks 355+ million keywords across desktop and mobile, in 100+ countries.
All keywords are rank checked every month, so you can keep a consistent eye on the competition and dig into their strengths and weaknesses.
Bonus: We also add 1 billion new keywords to our Topic Explorer data set every month, now at 30+ billion keywords! With fresh data, you can trend out 24 months' worth of search volume to see how demand changes over time.
#9. Research Grid Hub: Centralized Keyword Research
The all new Research Grid Hub provides a one-glance view of all the data, analysis, and reports available for your target keyword or domain. That's across 30+ billion keywords and 50+ million domains.
Simply type in a keyword or domain name and instantly get a high-level overview of key metrics, competitors, related keywords, rankings, Answer Box opportunities, and more.
Then, "choose your own adventure" and drill into specific reports for greater detail.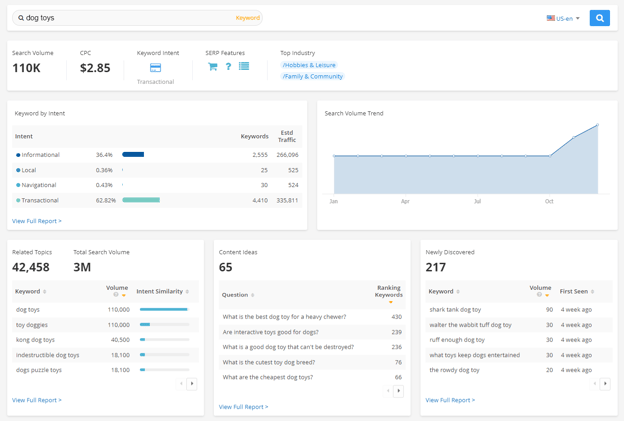 SEO Segmentation
#10. Hierarchy Roll-Up for Subcategories
Some sites have deep and complex site hierarchies, especially ecommerce sites. This can make it difficult to report on one category page as opposed to its many subcategories, for example.
Using a hierarchical structure lets you transform how you manage, report, and gain insights from your keyword groupings.
Go from a flat tag organization to a hierarchy that enables:
Easy roll-up of your performance across keywords
Better aligns reports with your site's own hierarchy
In-depth performance analysis
Quick identification of what may be dragging your performance down
#11. Dynamic Keyword or Page Groups
Keyword and page groupings are incredibly helpful in segmenting data and providing insightful reporting.
Unfortunately, it can be quite cumbersome to create these groups in the first place, and even harder to keep them updated — especially if you have a large site or a lot of managed keywords.
This is where seoClarity's Advanced Dynamic Grouping comes in: you can now leverage sophisticated rules, crawl data, third party data sources, lookup files, and more to automate the creation and maintenance of hyper-focused tags within your account.
Custom Alerts
#12. SERP Feature Alerts
SEOs know that the search landscape is constantly changing — with more than 1,200 identified SERP features, the results pages can get crowded.
SERP Feature Alerts tell you how prevalent search features are and where they appear. It's a way to alert you to the massive changes that happen in the SERPs, all at scale.
Recommended Reading: Use SEO Alerts to Stay On Top of Website Changes
This is a great way to understand your own performance levels.
For example, there may be a SERP feature pushing your organic listing down the page, so even a high organic rank position may result in a small amount of traffic. These alerts help you come to that conclusion.
Integrations
#13. Asana Integration
You may work with systems like Asana for your task management.
seoClarity clients now have the option to integrate with Asana. This simplifies your task management by leveraging your existing task system, all to reduce workflow change.
This integration joins other built-in task management systems like JIRA.
#14. Create Custom Reports with Google Sheets Integration
If you work in Google Sheets for reporting or modification, you can now get your data from the seoClarity platform and download it directly into Google Sheets! Our new Google Sheets add-on allows you to get your keywords, rankings, tag and site crawl data directly within Google Sheets.
Using a unique-to-you API key, you can now populate a Google Sheet with every available seoClarity metric for those three areas, enabling you to:
Power your own custom reports and charts
Share data more easily with other teams
Build your own custom analysis
Mash up with other data sources
Archive
… and more!
#15. Microsoft Word & Google Doc Plug-In for Content Creation
Most writers have their ideal writing conditions — and that includes where they write their content. Some prefer Google Docs, while others prefer Microsoft Word.
Then it becomes a back and forth between the content optimization tool, like Content Fusion, to evaluate the content score and view the content recommendations.
Now, you can enhance your content workflow by bringing Content Fusion data directly into the place you write your copy. Create optimized content directly from within Google Docs or Microsoft Word.
#16. More BI Integrations: Tableau
Now you can bring the three most popular seoClarity data sets into Tableau's powerful data visualization tool.
Similar to the Google Sheets plugin, the Tableau Web Data Connector provides access to the following data sets:
Tag summaries
Keyword rankings
Site Health summaries
The integration brings all of the metrics and filters for each of those sets directly into Tableau. This adds to other integrations like AWS, BigQuery, and Redshift, among others.
Miscellaneous
#17. User Adoption Reports
User adoption reports give you a data-driven way to further evangelize SEO and SEO software among your team.
Admins can now access reports on user adoption and seoClarity usage directly from the platform. This enhances the role-based user permissions available in the platform.
Use these reports to:
Track and report on the adoption of the platform
Identify users who may have fallen off in usage and identify training or support needs (we can help!)
Download the detailed login data (username, date/time stamp, IP address) for security audits
Here's a helpful blog post on how to evangelize and on-board an SEO platform among your team: Structuring Your In-House SEO Team: On-Boarding an SEO Platform.


Conclusion
The seoClarity is constantly evolving to solve for marketers' biggest challenges. If you're a current client, you can submit your feature request directly in the platform or reach out to your Client Success Manager.