SEO moves fast. Staying up-to-date on changes to your site and your pages' rankings is crucial to maintaining your SEO strategy.
SEO alerts allow you to know what optimizations need to be in place to avoid a loss in rankings on the SERP, but this proves to be a challenge for enterprise-level sites. Just think of how many pages your own site has — it could be thousands, or millions!
In this post, we'll cover two kinds of SEO alerts: content change alerts and ranking alerts. You'll learn the importance of using automation to streamline your SEO and stay ahead of the game. So, let's get started.


The Challenge of Monitoring SEO
As you know, SEO is a multifaceted field with tons of data, countless on-going analyses, and constant projects.
It's nearly impossible to manually stay on top of everything that is changing in the scope of your SEO projects. Remember, this challenge grows as your site grows — more pages means more opportunity for site changes, whether intentional or not.
Two main factors of SEO can undergo constant fluctuations and changes. Let's discuss them each in turn.
#1. Content Changes
Each page on your site has multiple on-page elements that make that page unique: title tags, meta descriptions, H1, H2, etc. Plus, each page is going to have its own response code and other technical components related to it.
With so many unique features, and so many pages in total, going through each page manually to see what changed is simply not feasible.
If you did this process manually, you'd be finding what changed long after the fact, and potentially after that change had an impact on your rankings.
#2. Rank Changes
Whether or not content changes happen, ranking fluctuations are bound to occur. (That is to say, the two can be related, but don't have to be.)
With enterprise sites, you most likely have a large managed keyword set. Plus, rank position can change daily, which just adds to the problem of trying to stay on top of these rank changes.
Spending the time to follow these rank changes manually would completely take away your time to actually optimize and execute your strategy (and we all know that SEOs are already short on time).


How Automating Alerts Helps Your SEO
It should be clear that it's a tedious process to monitor SEO the manual way.
Enter: SEO automation.
The presence of automation in search engine optimization and digital marketing is steadily on the rise as various SEO tools and software adapt to the changing times of the industry.
Recommended Reading: 10 Ways to Make SEO More Efficient with Automation
The type of automation that can solve the above monitoring problems is automated SEO alerts.
You can set up notifications to automatically go out if any web content receives any updates, or if your keyword rankings change.
The Importance of Content Change Alerts
When any of the various on-page content elements change, there can be ranking effects (either good or bad). With content change alerts, you're instantly notified that something has changed or been updated.
When you know what's changing on your site, you have more oversight over your optimization tactics and content.
Let's look at two specific examples.
Perhaps a content change was made accidentally. After all, more than one person likely has access to your content management system.
The change notification would allow you to jump in and revert any accidental changes made that could potentially plummet rankings — and yes, we have unfortunately seen this happen.
On the other side, if you do make an approved change, the alert would verify that that change did go into effect and is now live on the site. This is a great way to confirm your SEO strategy is taking effect.
Recommended Reading: Monitor Site Changes (and Protect Your SEO) with a Change Monitoring System
The great thing about SEO alerts is that they're fully programmable: set a change threshold so you're only alerted when the change matches your specific criteria so the alerts are customized to what you care about.
The Importance of Rank Change Alerts
Rankings change. Often. And those changes can be positive or negative — which will of course determine your next steps of action as an SEO.
Let's look at the negative scenario first.
Rank change alerts can notify you when your rankings drop off the top 100, or decrease in rank position.
This notification lets you know that those keywords and their respective pages need more attention in order to win search visibility in the SERP.
Dive into that specific ranking data and keyword insights to take the next steps to get those rankings back.
Conversely, get notified when your rankings are newly ranking in the top 100, or gain in rank position.
This lets you know that your optimization tactics are working, and can alert you to low hanging fruit opportunities to push your results even further up the SERP.
Both of these SEO alerts completely alleviate the need for constant manual checks — if there is nothing wrong, you can allocate your time on another project.


Content Change Alerts With seoClarity
Page Clarity Content Alerts
If you segment your data with Page tags in the seoClarity platform, those tags can be assigned Content Change Alerts.
Receive SEO alerts for the following metrics:
Title
Meta Description
H1
H2
Additional Content
Meta Robots
Canonical URL
Response Code
As we covered above, alerts are customizable.
This is based on a content threshold in characters (i.e. the amount of characters that must change to trigger the alert) and a tag threshold (i.e. the percentage of pages within the tag that must have a change to trigger the alert).
Recommended Reading: How seoClarity Automates Your SEO
Email alerts are then sent out to the specified users (which can include non-seoClarity users).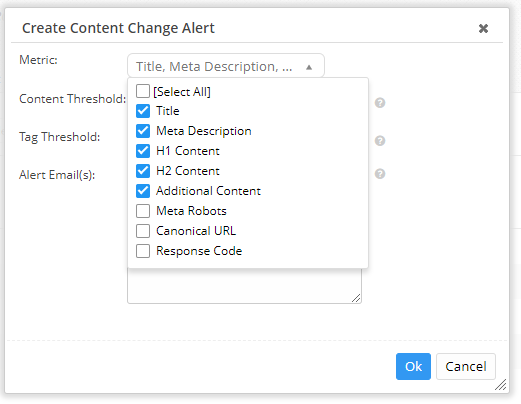 (Creating a Content Change Alert in the seoClarity platform.)
seoClarity clients can reference the Knowledge Base article on Content Change alerts for a step-by-step walkthrough on how to set them up in the platform.


Ranking Change Alerts With seoClarity
Automated Dashboard Reporting
The Rank Intelligence widget shows ranking data directly on your dashboard, and can be edited to bring in specific ranking information (i.e. new, lost, gained, declined keyword positions).
Setup a unique dashboard with variations of this widget configured to show the specified data.
Since the widget is customizable, you can pull in the keywords from the specific keyword tag that matches your criteria. This example from an ecommerce site is looking at keywords in the tag of "Blazer."

(A dashboard view of the seoClarity platform showing rank changes.)
You can then set up automated dashboard email alerts to be delivered straight to your inbox at the frequency of your choice to any email address.
Rank Intelligence Alerts
You can also set up rank change alerts without having to create a dashboard widget (although, a dashboard widget is useful for reporting purposes).
Rank Intelligence alerts consist of three alert types: ranking changes, competitor outranks, and sub-optimal page ranking.
Ranking Change: Monitor any rank change. For example, be alerted when keywords drop out of the top 10, or when new keywords begin to rank.
Competitor Outranks: For a given keyword, know when a competitor overtakes the rank position on the SERPs, regardless of ranking. Then, you can check those competitor pages to see what changes or optimizations were made.
Sub-Optimal Page Ranking: Know when a preferred landing page used to rank for a certain keyword, and no longer ranks. This will clue you in on optimization opportunities.
You can set up these alerts for any domain, not just your own. Plus, create an alert at the sub-domain and sub-folder level.
Then, simply enter in the applicable information, such as alert name and the domain information.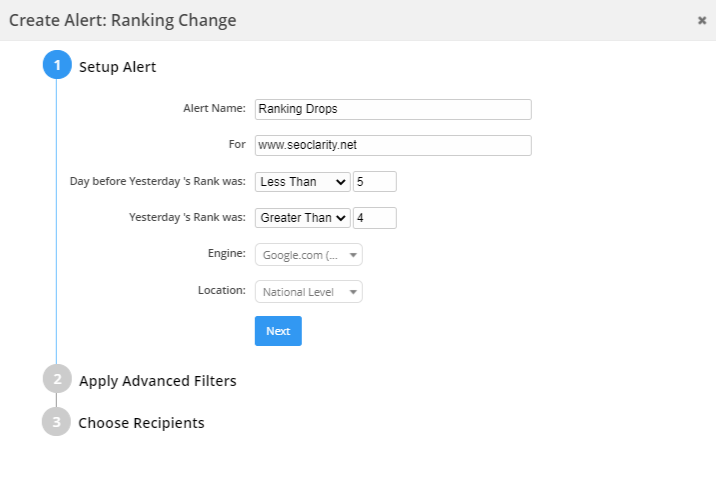 Further customize the alert by specifying the rank type (i.e. True rank versus Web rank), tags, content types, search intent, and specific keywords.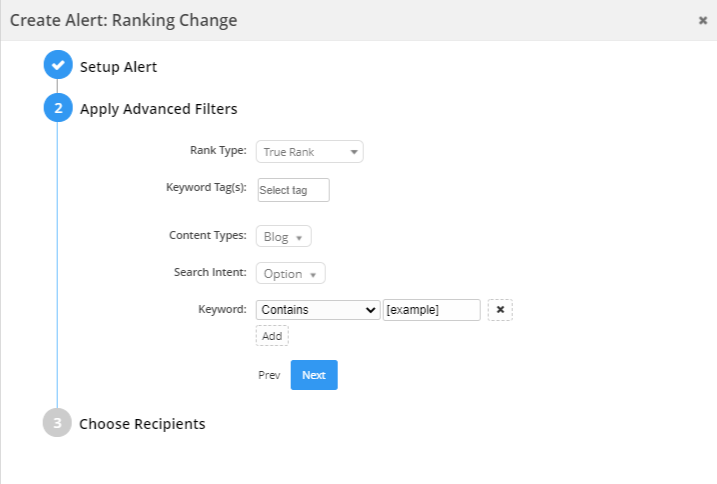 Similar to the other automated reporting options, you set your recipients, which do not need to be registered platform users. This helps to spread SEO further within your organization.
seoClarity platform users can learn more about Rank Intelligence alerts in the Knowledge Base.
Bonus: SERP Feature Change Alerts
Another alert function in Rank Intelligence is a SERP feature occurrence alert.
These alerts tell you how prevalent search features are and where they appear. It's a way to alert you to the massive changes that happen in the SERPs all at scale.
This helps to understand the overall landscape of the search results.
Perhaps you see see massive fluctuations in traffic but don't necessarily see your rankings change. Your traffic can be impacted if, for example, news stories start to show above you in the SERPs.
These customizable SERP feature alerts tell you if search features appear on the results page, which may be pushing your organic listing below the fold.


Conclusion
SEO moves fast, and unless you implement SOPs that will keep you ahead, you're going to fall behind.
Automated SEO alerts are a great way to know what is changing on your site and be aware of rank changes.
Have you benefited from automated SEO monitoring? Let me know in the comments below!