Within most organizations, there are several teams that can (and do) make updates to web pages.
Developers, UX teams, merchandising teams, marketing teams … you get the idea.
Everyone has their own priorities, so everyone makes changes to the site that they think will best help their work.
These constant page changes are an SEO's worst nightmare. The consequences of even a single change can be detrimental.
SEOs Are Left in the Dark
Unfortunately, a lot of the changes have the possibility of negatively impacting rankings (and traffic!) – yet, SEOs are often not consulted before a change takes place and receive no notification afterward.
The end result is that when big ranking declines occur, SEOs are left trying to figure out: 
What changed?   
When was the change made? 
What was it like before the change?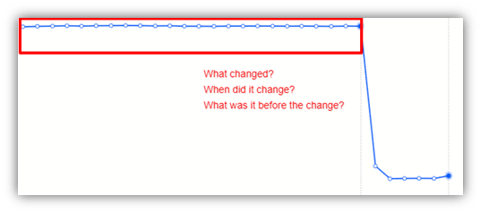 (SEOs are left wondering, "What changed?")


Content Guard: Your Website Change Detection System
Content Guard is an enterprise-grade page monitoring system that empowers SEOs to proactively respond to critical changes when they happen, as opposed to after the changes have already impacted rankings.
We built Content Guard to monitor website changes for any page (that's your own or your competitors' pages!) for every imaginable change — all with customizable elements.
Recommended Reading: How seoClarity Automates Your SEO
Create custom groups to categorize your URLs in a way that makes the most sense for you …

(Group pages into custom categories.)
… and get alerts daily or hourly that notify you of the changes. Customize the alerts by specific change type or level of severity for complete flexibility, and get alerted on:
Email,
Cliq,
SMS,
Slack,
Webhooks,
and 1,000+ other integrations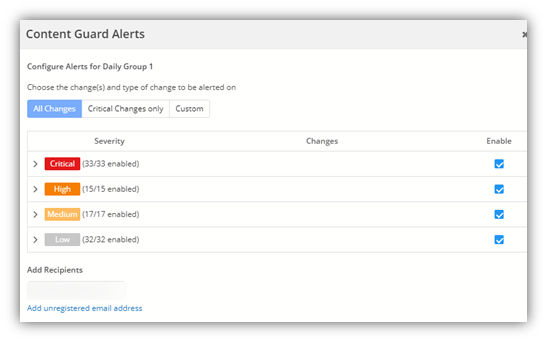 (Enable custom alerts to notify you of changes.)
So far we've seen how Content Guard shows us what changed and when the change occurred … now to answer the final question: "What was it like before the change?"
A review of the parsed content makes it easy to track changes and see exactly how the page looked before and after the change.
This also makes it easier to share internally with development teams and other stakeholders to help with root cause identification. 
Recommended Reading: How to Compare Two Pages' Content in the seoClarity Platform


When to Use Content Guard
Now that you know what Content Guard is and what it does, let's jump into some specific, real-world scenarios of its use.
#1. Monitor Website Changes
Right out of the box, there are 140+ elements that are tracked for changes, but you have the option to specify additional custom elements as well.
This allows you to monitor additions, deletions, and modifications for nearly every SEO factor, like:
Meta tags
H1s & H2s
Canonicals
Robots.txt
AMPHTML links
Hreflang
Viewport
Recommended Reading: Don't Fall Behind: SEO Alerts Help Stay On Top of Website Changes


#2. Track and Monitor Competitor Pages
Don't forget: These page changes can include your competitors, too.
Monitor competitor pages to know when their content changes, and what those changes are.
You can use Content Guard to be notified when they release a new product or service, or change on-page content like pricing, for example.
You can even use it to monitor changes in schema, which means you can know immediately when competitors add structured data. Maybe they're trying to win more real estate on the SERP with the FAQ schema? You'd know right away and would be able to form the proper strategy.

#3. Detect Infrastructure Issues
You're no stranger to the fact that enterprise sites tend to be complex and rely on multiple underlying systems working correctly in order to serve their pages' content.
Intermittent failures in a sub-system that powers a section of a page can be incredibly hard to catch without active hourly monitoring, like what Content Guard provides.
Content Guard can help monitor if technical issues are causing inconsistency in how pages are rendered and served or if there are infrastructure issues (like high server loads, intermittent failures on underlying services, etc.) that are impacting the content and pages being displayed.


#4. Monitor Tracking Tags
Using the custom content crawl feature, you can monitor not only visible content on page, but also for specific tracking tags and be notified if they go missing.
Use this to monitor:
Google Analytics
Google Tag Manager, and
Other tracking tags

The seoClarity platform is built around automation. See how else you can use various forms of automation to make your SEO more efficient.


Protect Your Pages (and Rankings)
Have we convinced you to try Content Guard?
seoClarity clients are encouraged to ask their Client Success Manager about how to leverage Content Guard in your workflows.
If you're not a current client, schedule a quick chat to see not only Content Guard, but other areas of the platform that can provide value to your organic search program.