If your business depends on driving traffic from search, Google may no longer be your friend. They likely have become your competitor …
Over the past 15 years, Google has moved to monetize different components of search.
Gone are the days of the 10 blue organic links. Even the simple text paid ads aren't so simple anymore.
The search results pages are crowded with search features including the local pack, PPC ads, knowledge panel, featured snippets, Google Flights, product listings, and plenty of others
These Google-owned properties push consumers to start and end their search journey, in part, with Google.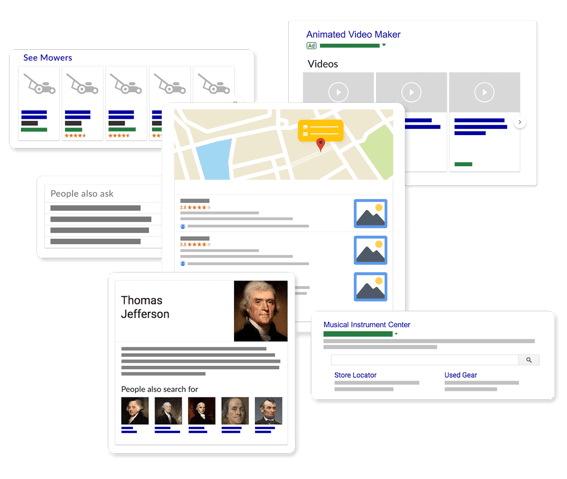 This conquest of the SERPs has even led to antitrust bills and claims of monopolization.


How Google Monetizes Search
Google has long shown its ability to enter markets and leverage their position to earn more market share.
The process usually begins with the search engine identifying high-volume terms. This reveals what kind of tools, assets, or features people are looking for in their quest to fulfill a need or get information.

(Although, according to a 2020 TechCrunch article, some companies claim that Google steals content and data.)
Then data sources are identified - either those publicly available (such as weather) or private sources that they license/acquire.
The search engine then drives adoption — usually through something like a free beta feature to encourage participation and positions a SERP feature or enhancement to encourage websites to participate.
Google doesn't just monetize search, they create an amazing user experience.
It only becomes a matter of cross-promoting among other Google-owned entities for the search engine to reach its end goal of monetization.


See how Google has monetized search over the years …
Google's relentless drive to eliminate intermediaries has a long history​.
Universal Search, first introduced in 2007, was labeled 'the most radical change' to search results ever.
It brought multiple vertical search engine results to the main search results page.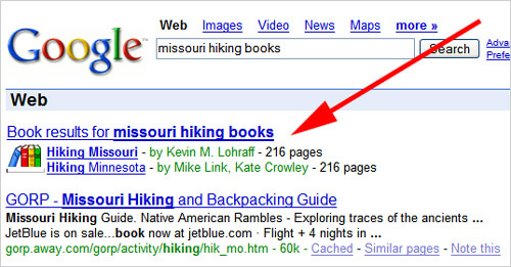 Changes since then, however, have been nothing short of amazing in increasing Google's market share.
The search engine began to leverage public data aggregators to instantly show searchers relevant results for the weather, flight tracking, sports scores, and more.
Plus, tools like calculators or currency converters also began to diversify Google results and pull more searchers in. There was no need to navigate to other sites when Google had what users looked for.
After the inclusion of paid results and local listings on the SERPs, Google continued to enhance the search results for specific industry-related queries.
The search engine has aggressively evolved the SERPs for multiple verticals over the years to become the single answer for searchers.
This includes changes to local listings, the travel industry, and customer reviews, to name a few.
Here are a few examples.


Google Takes Over the Local SERPs
Google has long-promoted local listings, which gives it more visibility on the results pages.
One of the largest changes to the local SERPs was the change from the local carousel to the local pack.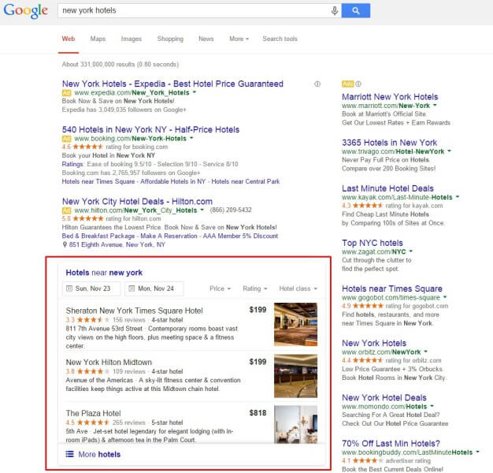 (The local pack replaced the local carousel on the results pages.)
Then the local map pack received an update that gave it more prominence: the inclusion of an actual map in the search results.
Prior to this update, there were 7 location listings instead of 3.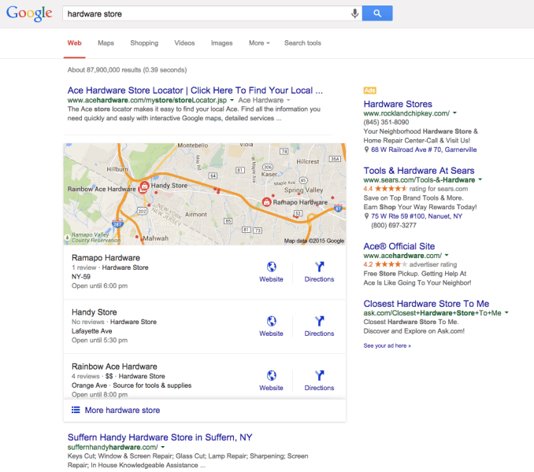 (7 blue links turned into 3 listings with a map result.)
This update changed the frequency and visibility at which local results appeared on the results page.
An analysis of rank distribution for maps and local listings after the local pack update showed that local listings rank appeared in position one nearly 4x more frequently than map results.


This means the local listings gained extreme prominence in position 1 — taking most, if not all, search visibility for the first fold.


Google Goes for Online Travel Agencies
Results pages relating to travel have perhaps seen the most changes over the years to keep users on Google properties.
One major change to the search results for travel-related queries was introducing prices for hotel searches.
Hotel prices in the maps, with paid placement, made the local feature more appealing to users since more data was available directly on Google.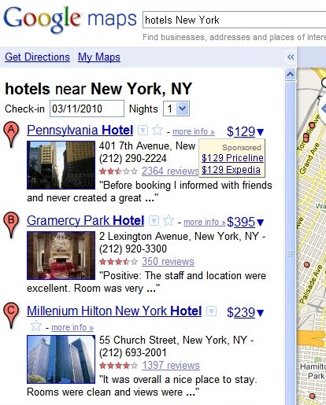 This small but powerful move told users that Google could provide them with the information they were looking for, instead of immediately navigating to sites like Expedia or Booking.
Then, a few years down the line, users were able to book hotels directly through Google, which made it unnecessary to visit travel booking sites at all.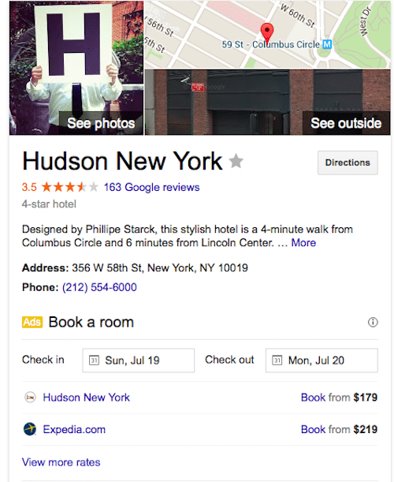 An even larger disruptor in travel though was the introduction of Google Flights.
Starting in 2011, the search engine offered users the ability to find airfare directly through the search engine with Google Flights.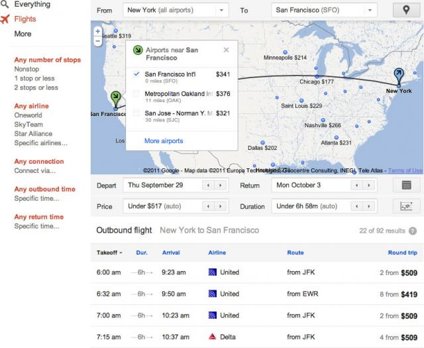 (Google Flights as it looked when launched in 2011.)
Before that, searchers would discover sites like Kayak in the top of the search listings for queries to book travel.
In the past decade, Google's dominance in this category alone shows the impact it can have. Compare the search volume for "Google Flights" compared to other flight aggregators: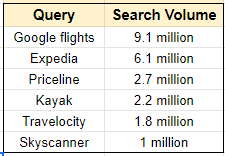 (Search volume data from Google Keyword Planner August 2022 United States.)
While these new features enhance the search experience, they also pushed organic listings further down the page and impacted other companies' revenue coming through the organic channel.
Over the years, there was continued prominence for Google travel features close to the top of the SERPs: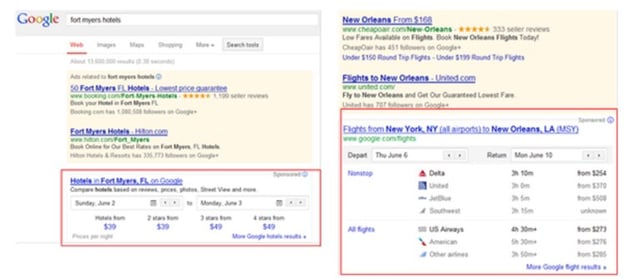 To better illustrate the point, look how the SERPs changed over a 5 year period for the query "hotels":
Then, Google started to compete with companies like Airbnb and Homeaway. The launch of "Vacation Rentals" gave users the option to find a rental directly through the search engine.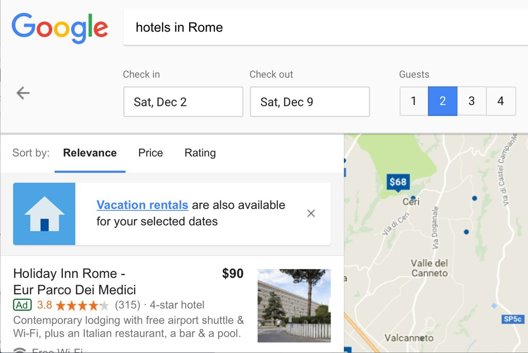 Google Monetizes Products
Google has worked to solidify its position for ecommerce- and shopping-related queries.
Free product listings, popular products, images, and more can all appear on the same SERP for an ecommerce query.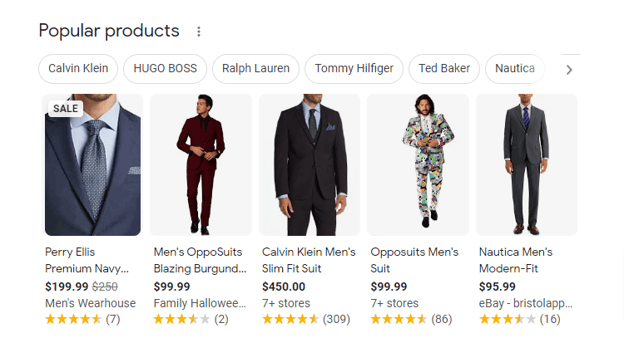 Popular Products give users the option to further refine their search, and the inclusion of actual product images works to push organic listings further down the results page.
For the apparel industry, for example, our research shows that 85% of the keywords in a study triggered a product listing, which signifies a transactional intent.
This allows Google to add various SERP features to capitalize on the users' interest in making a purchase, instead of having them go to another domain.


Google Takes Over Local Review Sites
Google's dominance doesn't end with local or travel. Business reviews are also a key element that provides value to searchers, and keeps them coming back in the future.
The launch of Google My Business (now known as Google Business Profile) gave Google yet another avenue to become a one-stop-shop for information.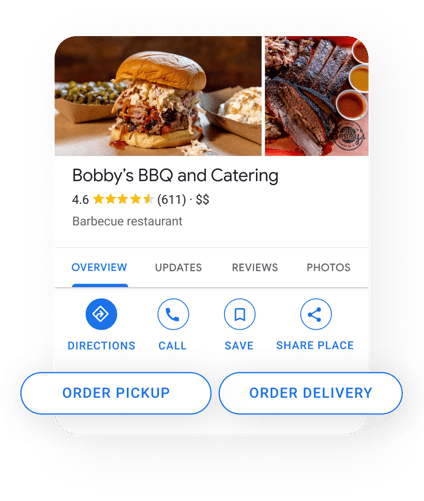 (A look at the Business Profile as it looks today, via Google.)
This follows a long history of business-oriented solutions, like the early Google Local Business Center.
Users could now find relevant business and product-related information right on Google, without the need to visit sites like Yelp.
In fact, just look at the amount of traffic Google Business Profile receives compared to other domains.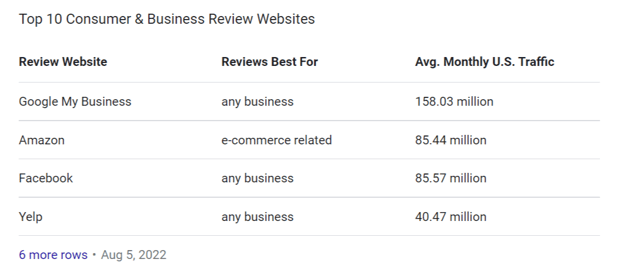 (Business review sites ranked by monthly U.S. traffic, data via Vendasta.)
Ironically, the information above is presented in a Google property, too — a featured snippet .
Then, Google Maps' "Local Guides" accelerated the collection of more verified reviews and Q&As for locations. Plus, it strengthened the Maps product overall.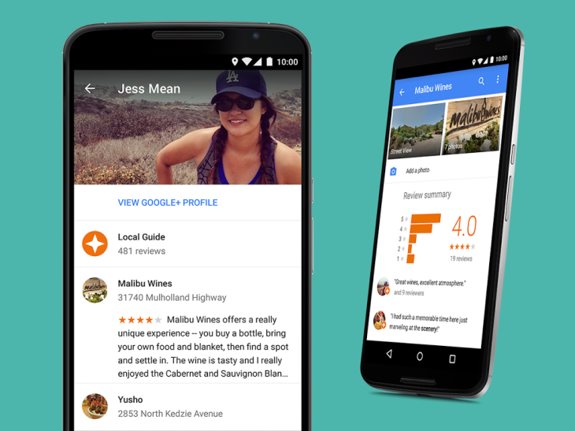 (Google becomes a central location for business reviews.)
The search engine then took the upperhand in reviews starting in 2016, beating out the likes of Facebook, Yelp, and TripAdvisor.
(Source: Search Engine Land)
And It Continues …
All of these features started as small visual changes, but they grew over time to take over more SERP real estate and change how users interact with the search engine.
Perhaps the biggest message here: Google isn't done making changes to the search engine that will further monetize other segments of search.
In fact, we're seeing them do this with other industries, like cars, apparel, electronics, and more.
If you can't beat Google, you may as well optimize to land in the various SERP features.
For properties like Google Flights and Hotels, use seoClarity to monitor and track their dominance: Google Flights: SEO Reporting on the Search Engine's Travel Brand.