Travel SEOs face a constant problem: rankings aren't dramatically changing, but traffic continues to decrease YoY.
Who's responsible? Google.
Specifically, Google Flights and Google Hotels – which have become their own recognizable brands over the years with pack results integrated directly into the Google search results, almost always at the top.
Google Flights and Hotels continue to take up space on the search engine results page (SERPs), which drives clicks and traffic to their page.
While this may be a great search experience for the end user, it presents trouble for your traffic. Worse still, it presents trouble with reporting to your executives.
This has been going on for quite some time – Google Flights was launched in September 2011 – so what can be done?
Luckily, seoClarity is the top SEO platform to address and understand travel sites' challenges in SEO. We work with most of the top travel companies and understand the challenges they face.
Here's what we'll cover in this post:
So let's get to answering your question, "What do I do about reporting on Google Flights?"


The Main Challenge with Google's Entities
Online travel agencies (OTAs) have continued to see their organic search traffic suffer as Google Flights dominates the SERP.
Look at this example of the search query "flights to new york."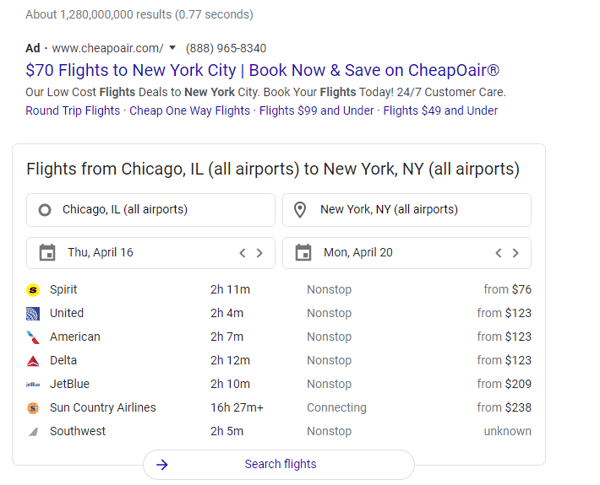 (Google Flights module at the top of the SERP.)


Google Flights' (large) listing sits at the top of the SERP, besides one paid ad that sits above.
Essentially, Google has large control of the SERP for certain travel-related queries. Because of this, SEOs see their traffic decrease – a problem that is amplified by the fact that travel sites are heavily dependent on organic performance.
There is, however, still hope for travel brands to win search visibility. Since early 2020, when this piece was originally published, we've noticed that the smaller version of the flight pack seems to be much more prevalent now.
Here's an example of the query "flights to chicago".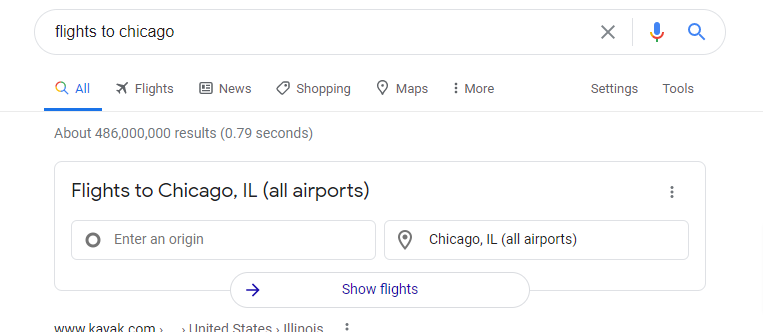 (Some flight packs are smaller in size.)


These smaller flights packs, combined with reduced PPC spend from OTAs due to the severe decrease in travel demand because of Covid-19 (CNBC reported in April 2020 that major companies like Booking.com and Expedia were cutting marketing expenditure) means that rank position #1 appears in the first fold more often than it used to.
Note: When travel demand returns, PPC ads will undoubtedly return en masse and push organic results further down the SERPs.


Why You Should Care: Impact on Traffic and Reporting
Even if you win a top organic position, you are still going to be below the fold under the Google Flight pack.
Sometimes multiple folds.
This is now a rule more often than an exception. That's just the nature of things when Google Flights' listings are so prevalent.
To make matters worse, if you capture position nine or ten, you likely aren't on page one. The number of organic listings on page one has been steadily decreasing for travel-related search terms as Google's SERP features grow in frequency.
Because of this – and Google's decision to show more advertisements at the top of the SERP – large OTAs have seen an immense loss of market value. In fact, the three largest OTAs combined for a $13 billion loss in market cap during Q3 of 2019.
Ranking poorly because of Google's own offering is something that you understand, but it can be tricky to report this information to executives.
After all, if you hold a high rank position but are seeing no traffic and revenue, they're not going to have an easy time understanding why – especially when revenue is involved.


How to Report on Google with seoClarity
A lot of stakeholders don't understand: the rankings haven't changed, so why do we have less traffic and conversions? seoClarity makes it easy to report this to executives and communicate the power Google has over the SERP.
Within Rank Intelligence, set the domain as flights.google.com. seoClarity is one of the few SEO platforms that has this capability.
Then, you can visualize the enormity of Google's presence on the SERP, and compare it to your own.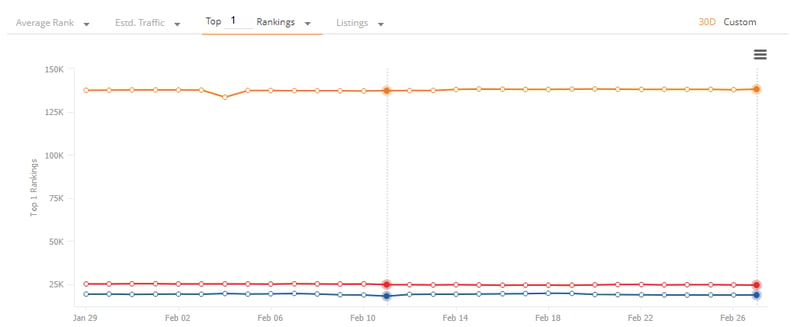 (Google Flights' position #1 keywords compared to OTAs.)


The graph above shows the number of position one rankings for three domains.
Needless to say, Google Flights is the yellow line, capturing about 140,000 position one rankings. Compare this to the two OTAs we're analyzing (red and blue lines) and you can see the extreme differential.
(You can also dive into specific pages by filtering the ranking URL, or sort by search volume to focus on high-demand queries.)
This is what you show to executives to explain why traffic has gone down. The Google Flights' widget holds the number one position for about five times as many keywords when compared to the OTAs, and remember, these listings take up a lot of space on the SERP.


The Good News for Travel SEOs
Although Google's entities rank in position one far more frequently than the OTAs' listings, things are starting to change. Google Flights is no longer considered a sponsored listing. Changes like this mean that all results will be based on how well they serve the end user in terms of relevance.
So, you can implement standard SEO best practices to rank well on the SERP – and even beat out the Google Flights or Hotel module.
Recommended Reading: Travel Industry SEO: How Travel Brands Can Increase Search Visibility
Look at this example for the search query "flights to venice" from February 26, 2020: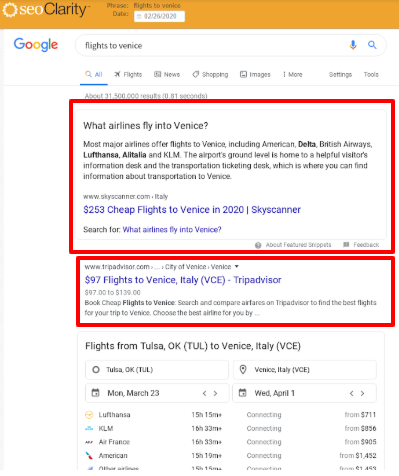 (Organic results appearing above the Google Flights module.)


An organic result from Tripadvisor shows up above the Google Flights module, and SkyScanner holds the Featured Snippet.
This is the good news for travel SEOs: it's possible to outrank Google's own entity.
How exactly do you do that? Follow standard SEO best practices to make sure your content is relevant and your page has proper usability, and be sure to be strategic with your targeting.
Plus, with the smaller flights pack starting to show more and more, organic listings in positions below the pack have a better chance to appear higher up in the SERPs.


The Return of Travel: Effects of the Covid-19 Pandemic
The ability to rank above Google properties and increase your search visibility may have seemed pointless during 2020 as the world shut down and travel came to a standstill.
Now with a potential end of the pandemic in sight, individuals are beginning to think about travel once again.
HomeToGo's whitepapers revealed exclusive insights into the travel industry for 2021. The findings — based on research focused on both the United States and Europe (with emphasis on Spain and Germany) — offer a positive relief to OTA and those in the travel industry:
… an overwhelming majority of respondents indicated they plan to travel [in 2021]."
The U.S. study found that travelers are looking for flexibility and cleanliness, and 100% of property managers have opened their booking calendars for the year.
Online travel agencies need to know this: the study found that "82% of property managers are interested in listing on another OTA."
As for the European market, cleanliness is a major decision factor for travelers, and "91% of property managers are interested in listing on another OTA."
As more people begin to travel again, you need to be ready to capture the demand!


Finding Opportunities to Rank at Position One
Now that you know Google doesn't always control the top of the SERP, you can aim to have your listing rank above Google's.
So, let me show you the best way to go along doing that.
seoClarity can tell you exactly which position Google's modules occupy on the search results page. To find keywords where Google Flights does not hold the first rank position, enter the google.flights.com domain into Rank Intelligence.
Then, use the rank filter to narrow down all the results where Google's rank is greater than one (i.e. the widget is not at the top of the SERP).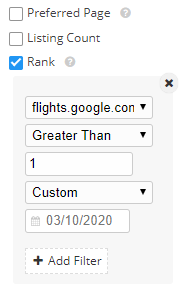 (Rank filter within Rank Intelligence.)


This filter will show you the keywords where Google isn't in position one, and gives you an opportunity to be in that rank position because you know the main competition (i.e. Google) isn't currently there.
Note: You'll also need to add a filter to show you where your site isn't currently in position one, too.


Other Things to Know: Google Hotels
The above examples highlight Google Flights specifically, but the same is true of Google Hotels — it takes up space on the SERP and causes your traffic to decrease.
Luckily, you can report on Google Hotels with seoClarity too, and the same is true for finding position one opportunities with the quick Rank Intelligence workflow.
Recommended Reading: Driving SEO Success for Hotel and Travel Brands
For individual hotel SEOs, it's also important to know that local SEO is becoming increasingly important as SERP real estate becomes more difficult to capture.
Focus on local content, optimize your Google My Business, and be sure to monitor and respond to your reviews. LocalClarity allows you to manage customer reviews and brand reputation at scale – which is becoming increasingly more important. In fact, loyalty is extremely important for hotel bookings.


Final Thoughts
It's now possible to rank organically higher than Google Flights and Hotels, but that doesn't mean it's going to happen right away. But, reporting on Google's dominance is no longer a challenge thanks to Rank Intelligence.
Plus you can identify your best potential for ranking number one, which would provide you more search visibility.
---
Editor's Note: This blog post was originally published in March 2020 and has been updated to reflect industry trends.