Travel SEO has never been without its difficulties – and it's gotten increasingly difficult lately, particularly without the right platform to help.
Millions of people search for new deals or destinations and visit travel sites every day. In fact, 2018 alone saw 463.6 million domestic business trips and 1.8 billion domestic leisure trips in the United States, according to Statista. These numbers are only expected to rise.
Needless to say, each traveler has their own set of expectations. Meeting those expectations is critical to engaging, converting, and retaining those visitors.
The above is a reason why we see more and more hotel and travel SEOs searching for more advanced solutions to deal with the industry's most critical challenges — analysis, research, and reporting — across a staggering number of managed properties.
You need an enterprise SEO platform that can solve your challenges as the industry continues to grow and evolve by providing you with valuable insights that you can present to your company's executives.
In this post, I want to show you how to solve these challenges with the most advanced SEO platform for the hotel and travel industry — seoClarity.
Before we get to that, let's see how the industry has changed over the years.


The Evolution of the Travel Industry
Have you noticed that today, there are very few individual hotel brands left? The majority of them are part of larger hotel chains or groups.
This hasn't always been the case. Almost two-thirds of all hotels in the United States were independently owned in 1990, according to Hotel News Now.
Thirty years later, the hospitality industry has seen drastic changes: independent hotels account for less than 40% of all hotels in the country.
Look at the data below to see how large hotel chains own thousands of properties.



(Major hotel brands and their number of properties, via Statista)


The leading hotel company in the Americas — Wyndham Hotel Group — has over 7,000 properties. But not all of them are the actual Wyndham brand. Sure, there's that, but also Dolce, Dazzler, Tryp, Esplendor, and many others.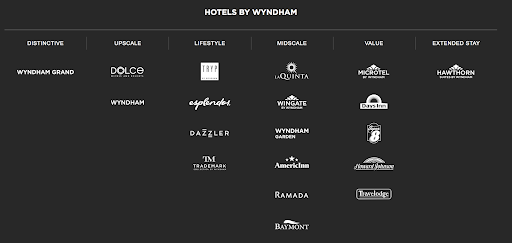 (List of Wyndham hotels from the company's website.)


Marriott International — 6,332 properties, according to the data — also includes Sheraton, Westin, St. Regis, and more.




(List of Marriott International hotels from the company's website.)


Such a drastic change in the industry has a profound effect on your work. Here's why.
Most hotel companies used to have separate websites for their various brands. Not anymore. If you look at any chain hotel website today, you'll notice that almost every one includes properties as a subfolder on the website.
Take Radisson, for example. Every one of the company's brands resides in a subfolder within the directory called "brand."
Radisson Blu: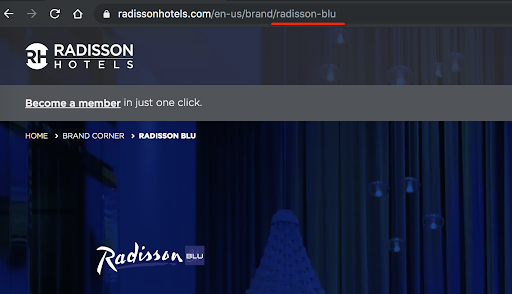 Radisson RED: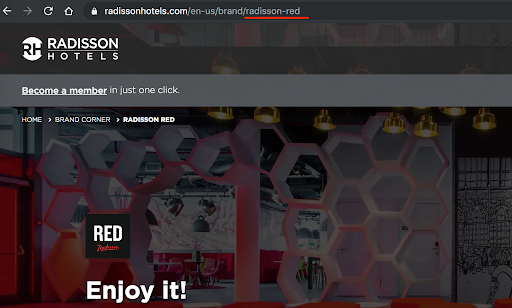 Park Inn: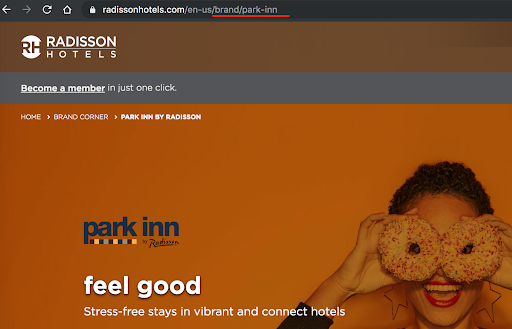 Granted, other hotel companies may structure the URL differently (i.e. use a unique hotel identifying code) but the fact remains — all have a pattern in the URL that are used across all properties.
This allows hotel companies to better segment their various properties.
The other important change in the structure of hotel brands is that many hotel properties are, in fact, franchises.
The franchises are listed on the main hotel's website, of course. The central brand.
However, these properties are independently owned by individual franchisers.
As a result, every franchise hotel has to pay for the marketing budget to the internal marketing team in the HQ. These people, in turn, act like internal agencies to support franchise businesses. The New York Times even wrote that,
One of the biggest reasons independent hotels are disappearing is that they're getting acquired by the large hotel companies or joining them as affiliates to tap into their marketing power."
And typically, for their money, the franchise property expects detailed reports. It wants to know how their hotel performs in the search and other channels, and across many locations worldwide.
That's exactly where many internal hotel SEO teams struggle.


The Primary Hotel SEO Challenges
The travel SEO challenges I'm going to share result from a simple fact: most hotel SEOs use insufficient systems to retrieve and analyze the data.
So in this post, I'll show you a system that can help overcome all those and more.
But first, let's look at the challenges.
Challenge #1. Determining the Performance of a Specific Hotel Property
Since each property has numerous pages on the brand website – both hotel pages and location-specific assets – many SEO teams find it almost impossible to track performance.
Challenge #2. Separating Relevant Data for Each Hotel
Most franchises expect detailed reports, but so many in-house SEOs have problems with separating property performance to report on every property separately.
Challenge #3. Rank Reporting
Most hotel properties rank for similar keywords across many locations. Hotels in Chicago, for example, want to appear for searches relating to "Chicago hotels" conducted from many places in the world.
The properties want to rank for such phrases in the UK, various EU countries, and well, pretty much anywhere else. And therein lies the challenge: SEOs lack the ability to track rankings irrespective of language and location.


How seoClarity Overcomes These Challenges
Part I. Performance Analysis
Monitoring performance is crucial for adjusting your SEO strategy.
Luckily, seoClarity offers a number of ways to analyze the performance of an individual hotel property.
Analyzing domain performance in the Research Grid, for example, allows you to review the performance of all pages within a specific subfolder on any domain.
You can even drill deeper into subfolders within subfolders to evaluate a specific directory you're interested in.
Other platforms lack the ability to drill down into pages, folders, subdomains, and country-level data within a single domain. With Research Grid, there is also no need to enter each subdomain or page URL separately.
Below is an example from Radisson, showing the third level within the subfolder structure.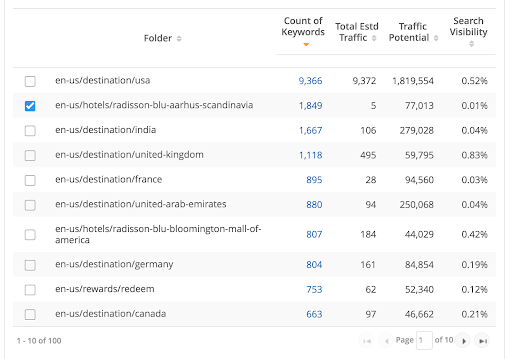 (Folder view on Research Grid within the seoClarity platform.)


You can also filter URLs by specific code, as per the URL pattern discussed above, and access specific properties on the site, too.
Recommended Reading: Segmenting Hotel Identifier Codes at Scale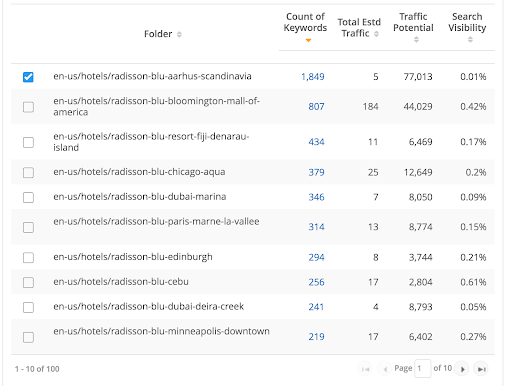 (Analyzing a specific folder in the Research Grid.)


Search Analytics offers the same functionality that allows you to filter data on the fly to a specific property and dive deep into the available information. And, most importantly, it includes more SEO data than even Google Search Console will show.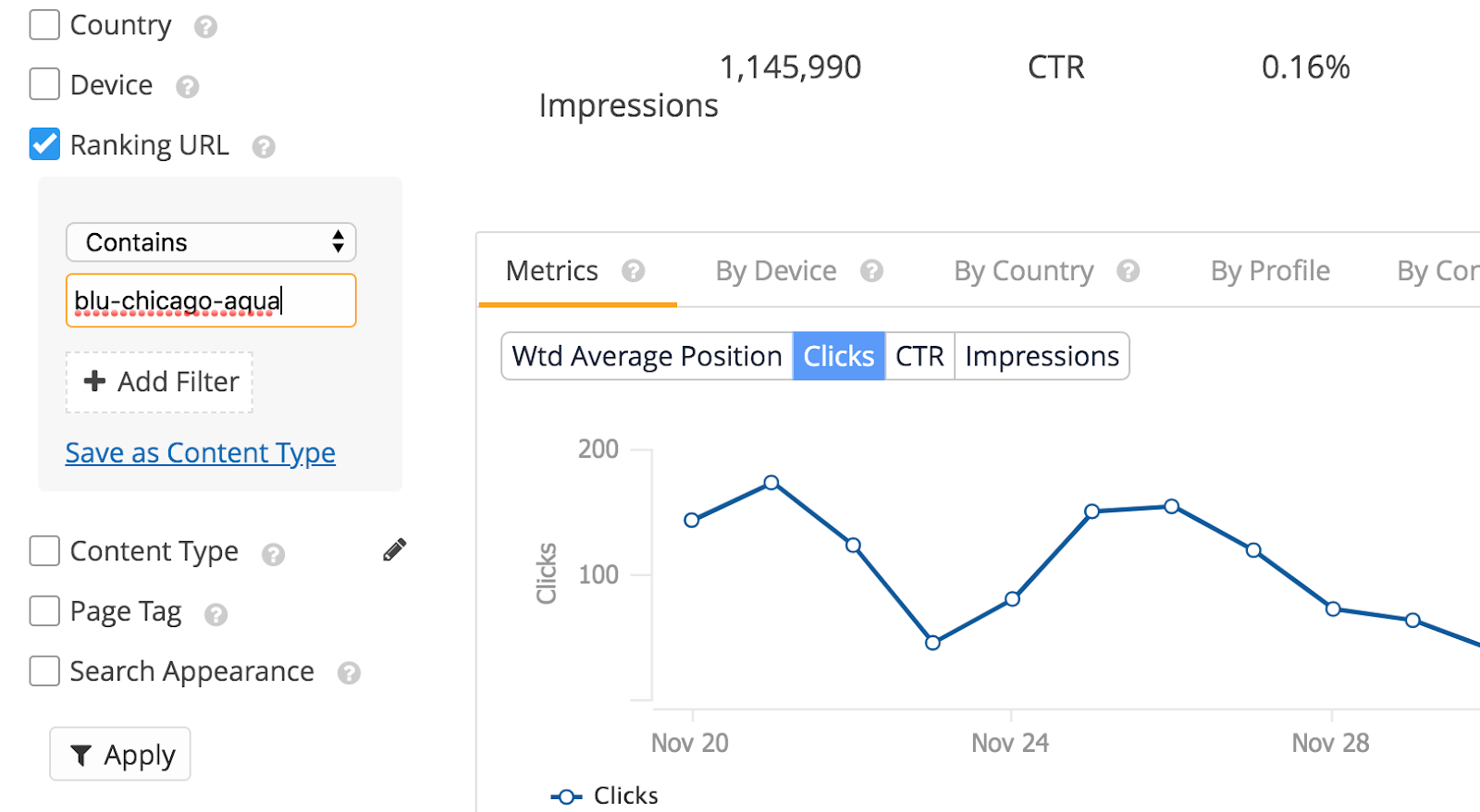 (Search Analytics filter capabilities demonstrated from demo account.)
Speaking of GSC, seoClarity allows you to connect all Google Search Console profiles for your properties to analyze their specific data – no other system allows you to connect more than one GSC profile.
Recommended reading: Global Hospitality Brand Improves YOY Traffic and CTR
Finally, Site Analytics lets you configure the data to show information for a specific hotel only. You can notify us which property you'd like to have listed there, and our team will set it up for you.


Part II. Rank Tracking
When you track thousands of pages across multiple locations, it's critical that you can track search result rankings through all those variables, too.
Recommended Reading: Google Flights: SEO Reporting on the Search Engine's Travel Brand
seoClarity offers rank tracking per location for any domain. With our infrastructure and proprietary local rank tracking capabilities, the depth of insights you receive is unprecedented in the industry.
We also have a scalable pricing model that beats most (if not all) ranking tracking tools in the marketplace.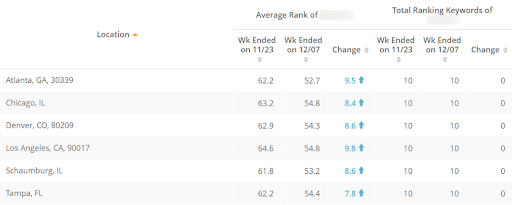 (Rank Intelligence geo-location tracking.)
But also, you can specify a subfolder to track rankings for. In such an instance, seoClarity will check rankings for any URLs that reside in the folder path, and ignore landing pages residing in other structures of the site, even though they might be ranking higher.
Local SEO tip: Optimize your Google My Business listings to reflect specific information of each property.


Part III. Reporting
Finally, almost all SEOs struggle with providing a franchise with in-depth reports to reveal the property's true performance. But every one of those hotels wants to see their performance.
What's more, you need to track different sets of keywords.
That's where custom dashboards in seoClarity come to help.
With seoClarity, you can build custom dashboards to tell the story to each franchise. You can even copy each of those dashboards to as many domains as needed to streamline reporting for each property.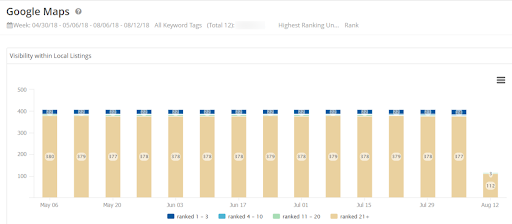 (Monitoring visibility within local listings with a sample dashboard report.)
This is just a sample of the hundreds of widgets and ways that you can create a custom dashboard report for different teams, roles, and KPIs.


Key Takeaways
Performance analysis, research, and reporting form the biggest challenges for hotel and travel SEOs, and for a good reason.
With the majority of properties being a part of a larger hotel group, and residing on that respective group's website, accessing performance data is practically impossible without a powerful tool.
In this post, you've discovered how seoClarity allows you to overcome all these problems and more, so you can monitor the performance of your digital marketing strategy and adapt accordingly.
Want to see the platform in action? Book a demo and one of my colleagues will walk you through its capabilities.