Although the Google SERPs constantly change to introduce nuanced results based on location and personalization, it's still important to track keyword rankings.
But not all rank trackers are equal — some have differentiating features that make them more suitable for different types of businesses.
In this post, I want to show you how seoClarity is leading the way when it comes to ranking analysis, and how our technology allows enterprise businesses around the world to monitor their results and win at search.


What Can seoClarity Rank Check?
We collect keyword ranking data from 190+ countries in 200+ languages and update it at a variety of intervals so you always have fresh data when you need it. Whether you're interested in weekly, daily, or even hourly rank tracking, we have a solution for you.
With our philosophy of no artificial limits, this data is yours to manipulate: there are no restrictions on metrics, tags, competitor comparisons, or reports.
Plus, this data is yours to take with you with our ranking data API.
All of this is brought to you at an incredible depth. Besides Google desktop and mobile, seoClarity has ranking data for:
Google Images Desktop - Top 100
Google Images Mobile - Top 20
Google Shopping Desktop - Top 100
Google Shopping Mobile - Top 20
Google Business Listings (Google Maps) - Top 20
Job Pack - Top 20
Bing Desktop - Top 100
Yandex (Russia)
Baidu (China)
Naver (South Korea)
Yahoo! Japan
Let's discuss in detail the key features that make seoClarity's approach to rankings different.
Recommended Reading: 6 Ways to Monitor Mobile Search Visibility with seoClarity


How seoClarity's Rank Tracking is Different
#1. On-the-Fly Analysis
Enterprise sites have a lot of data to sift through. Rank Intelligence makes your analysis easy with a variety of filters that can be applied to segment your data.
Whether you want to analyze a particular tag or add new keywords to the platform, all graphs immediately update as you add or remove filters. This on-the-fly analysis lets you dissect the data in a way that's meaningful to you, and receive instant feedback on what those new trends look like.
There's no delayed reporting that will skew your analysis and strategy execution — everything is real-time.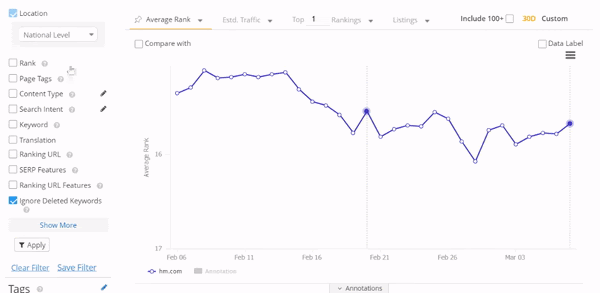 (Graphs update in real-time for on-the-fly analysis.)


#2. Dynamic Tagging and Grouping
Tags classify certain keywords and pages into categories to make sense of the data and tell the right story during your analysis.
To help automate the tagging process, seoClarity has dynamic tagging: a way to automatically assign keywords or pages to a tag based on your specified criteria.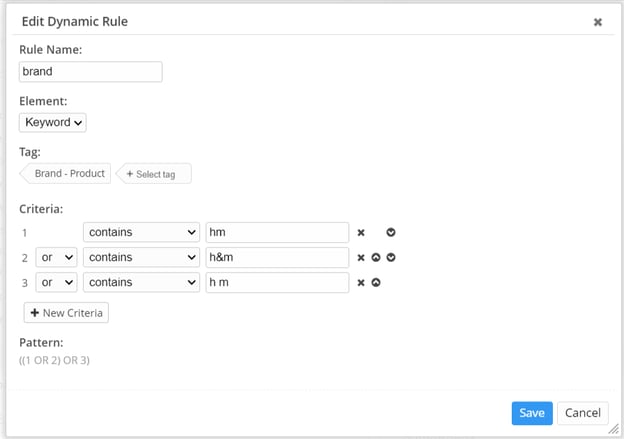 (Create and edit rules that automatically tag keywords as you add them to the platform.)


All you have to do is enter a rule name, choose the element keywords, add a tag, and specify the criteria. If any user adds a keyword that matches that criteria, the keyword will automatically be added to the tag.
This capability not only keeps your data properly categorized, it helps to form your strategy. There's criteria for keywords that trigger the Answer Box, for example, so you can immediately discover and sort a list of keywords to go after to win the SERP feature.


#3. Unlimited Metrics
seoClarity has no artificial limits, metrics included. This means you can layer your metrics to see how they compare against each other.
Take a look at metrics like:
Average Rank
Weighted Average Rank
Estimated Traffic
Top Rankings
And more


Not sure which metrics to track? I recommend 17 SEO Metrics to Monitor for the End User Experience.
Here, we look at an example that compares average rank with estimated traffic: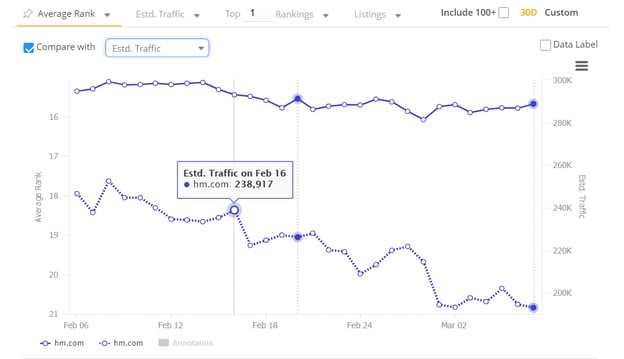 (Compare metrics to see patterns in the data.)

#4. Top Competitors
Rank Intelligence automatically pulls in your top competitors based on your managed keyword set (but you're also free to enter in any domain of your choice).
You're able to further segment out this data with metrics like estimated traffic, total ranking keywords, average rank, and plenty more.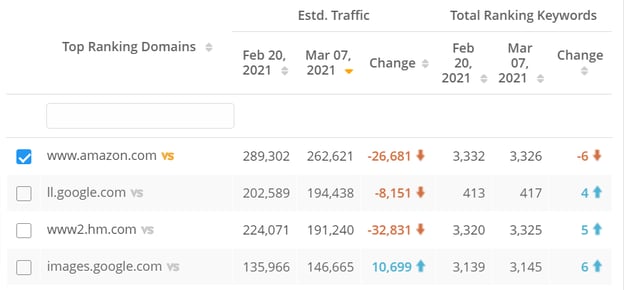 (Analyze the metrics of the competition.)


If a domain frequently shows as a top competitor, you can add it as a Universal Competitor — indicated by the highlighted "VS" next to the domain.
You can then take these Universal Competitors and compare their various metrics in a trended out graph, as we see here: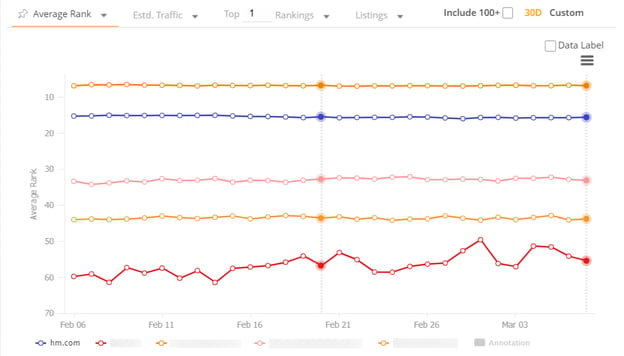 (View competitor performance at a glance with trended graphs.)


And yes, you can color code the trend lines to more easily visually identify the brands.


#5. Image Rank Tracking
Organic results go farther than Google desktop and mobile — images play a huge role in users' online search journey. In fact, across the millions of keywords that we track, more than 55% contain an image result. This is an incredible opportunity for brands in certain verticals!
To uncover the opportunities, you can add Google Images as a search engine in Rank Intelligence to track performance, reveal your competitors, understand your performance, and plenty more.
With Rank Intelligence, you can also rank track other Google entities like Google Shopping, News, and Jobs. With Google Shopping becoming free to list in, SEOs have a new avenue by which to attract relevant traffic — and we have the best way for you to monitor it.


#6. SERP Features
SERP Features within Rank Intelligence shows you a bar graph with various search features: Answer Box, Free Product Listings, Image, Knowledge Graph, Local Listing, Job Pack, News, People Also Ask, and Video.
These aren't all the search features you appear in per se, but the search features that are triggered by your managed keywords on the SERPs — which means this is a chance to discover further opportunities.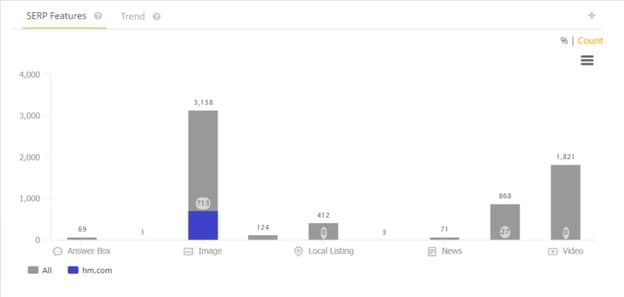 (SERP Features view in Rank Intelligence.)


You can also dive into the keyword list to see which specific queries trigger a SERP feature, along with any applicable rank positions.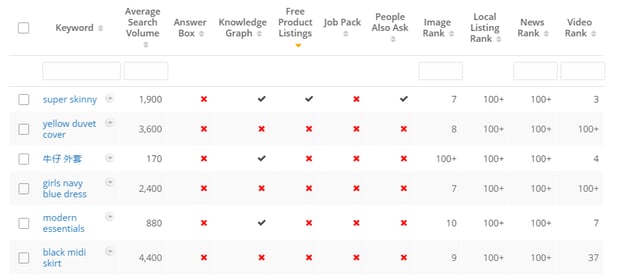 (Uncover which keywords trigger which search features on the SERP.)


#7. Visibility Share
The SERPs are ever-changing and more crowded than ever. As more SERP features and competitors fill the results page, listings are pushed further and further down the page.
To help our clients understand their true visibility on the SERP, we introduced Visibility Share.
Visibility Share measures the SERP based on pixel height instead of the standard rank positions. This allows you to understand your true position on the SERP, as actual users see it.
You can locate your pages that rank on page one, but are below the first fold, for example. These would make great opportunities for content optimizations.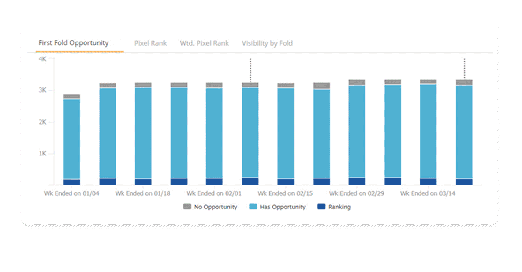 (View your rankings by pixel depth and find First Fold opportunities.)


#8. Preferred Landing Pages
To avoid the problem of keyword cannibalization, Rank Intelligence lets you set a preferred landing page (PLP). This association makes it easy to find instances where your preferred page is not the highest ranked for a specific keyword.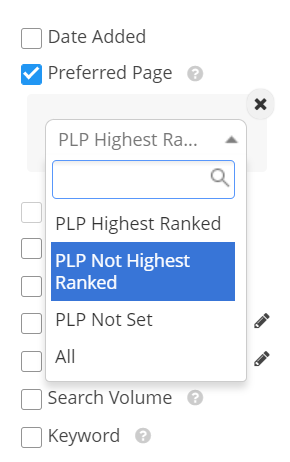 (Set a Preferred Landing Page to associate a keyword with that page.)

After this discovery, you can optimize the page for that keyword with Content Fusion — our AI-driven content optimizer.


#9. Listings
You can easily view the distribution of the number of URLs ranking per keyword with the Listings view.
In the example below, most keywords for this domain show 1-2 listings on the SERP.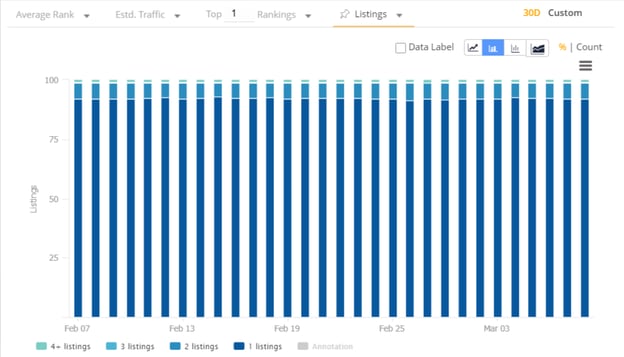 (Listing view in Rank Intelligence.)


You can filter the results to reveal how many listings you have on page one, for example. This view is invaluable as Google continues to change the presentation of the SERP and how many pages a domain is allowed to have.
Recently on Google Mobile, the search engine has presented multiple pages from a single domain in a single "mobile card" presentation, as we see here: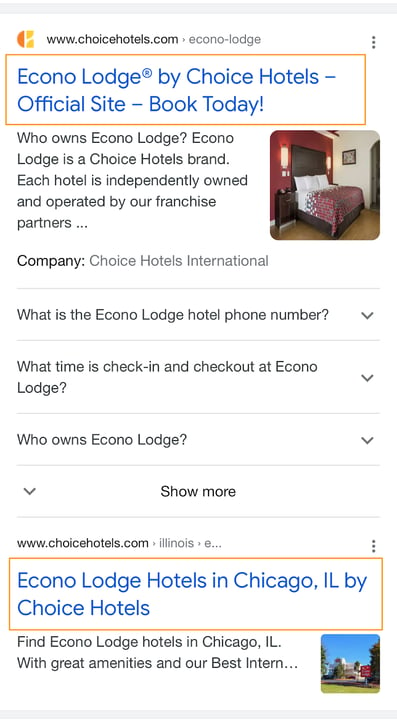 (Mobile presentation on a mobile SERP.)


Because the same domain has more than one page on the SERP (which would be uncovered in the Listings view) that push other results down, we have started to track each mobile page as its own position, even though they exist in the same "mobile card."


#10. Daily Geolocation Rankings
All of our ranking analysis capabilities extends to geolocation ranking, too. This allows for an extreme granularity. Ranking data is available at the state, city, and zip code. You can even drill down to precise GPS coordinates.
Our clients find value in this feature with uncovering demand in certain geographical areas, and comparing their location-specific performance against that of their competitors.


#11. SERP Preview
For any keyword that you manage, you can confirm the SERP and your rank position with the SERP Preview feature. It shows you an archive of the actual Google SERP for that keyword on a specific date. This lets you understand the nuances of Google and what they change over time.
You can also confirm that site changes took effect. For example, if you implement schema, you can check to see that the schema has appeared properly on the SERP. Or, confirm that you've secured a SERP feature, as we see in the example below.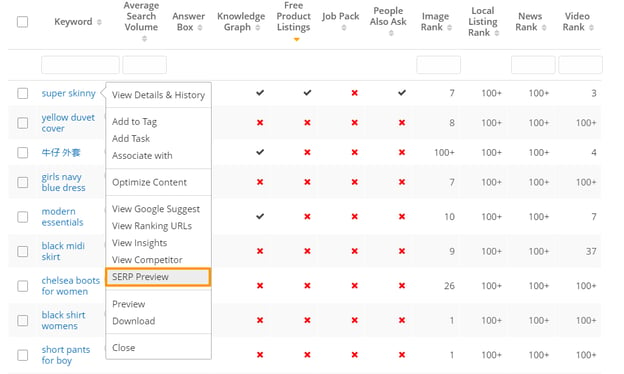 (Access archived snapshots of the real Google SERPs.)


#12. Keyword Volatility
Rankings can and do change position quite frequently. To understand these keyword ranking fluctuations, use Rank Intelligence's Trended View to see a visual heatmap of ranking changes.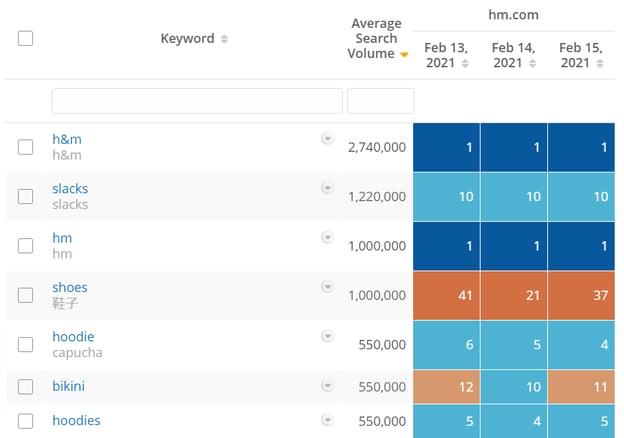 (Immediately recognize keyword volatility with a heatmap.)


This is an incredibly powerful view, especially if you have daily data. The color-code immediately reveals keyword volatility, and you're free to sort by keyword, search volume, or rank position.
If you notice that a keyword has heavy volatility, you'll want to dive deeper and optimize the ranking page to secure your position on the SERP.


Conclusion
There are a lot of keyword rank trackers on the market, but none quite like seoClarity. I hope this post has shown you the nuanced considerations we take to ensure our clients have exactly what they need to analyze data and tell the right story for SEO.