We as SEOs know that the SERP is far from what it used to be. Remember the days of the 10 blue links, where search results were completely text-based and there was a direct correlation between rank position and click-through rate?
Now, there are so many Google features — that admittedly offer a better end user experience, but make it harder for SEOs — that a rank position of one doesn't even guarantee that your listing is above the fold! Let alone earn a click.
Despite all of these changes to the SERP, rank tracking has stayed the same for countless years. It still operates on the notion that the 10 blue links still exist!
But the SERP is ever-changing. We knew that we needed to adapt to the situation at hand to allow our clients to have a true understanding of their rankings in the age of the crowded SERP.
We are constantly bringing new innovations to our platform, and we are proud to have a feature that measures the SERP based on pixel height, rather than rank position. We call it Visibility Share.
Before I tell you more about it, let me elaborate on why traditional rank tracking is broken.


The Challenge With Traditional Rank Reporting Today
To put it simply: traditional ranking reports obfuscate opportunity. This is not only because the SEO doesn't know their true visibility on the SERP today, but also because they don't know what is above their position that might be worth going after.
Where does the real, valuable opportunity lie? Who is the true competition above your listing that is worthwhile to go after? As you'll see, the competition doesn't have to be a competitor's domain …
Now think about all the new schema implementations that are taking up valuable screen real estate that traditional rank tracking simply doesn't take into account.
Schema can offer an enhanced user experience on the SERP, and they further tell search engines what a page is about.
It's no wonder that the prevalence of schema is on the rise.
Plus, at seoClarity, we've discovered more than 810 different search features — all of which can affect where a listing appears on the SERP.
The problem, though, is that traditional rank reporting just can't tell the full story.
Enter, Visibility Share …


What is Visibility Share?
Visibility Share is the true replacement of standard rank position.
It allows you to measure your pixel depth on the SERP like actual searchers see, so you have an accurate, full picture view of your search visibility and position.
This allows you to assess what SERP listings are above or below the fold, allowing for the opportunity to optimize for those positions or SERP features that will have your content seen.
So, what exactly does that look like? Let me show you.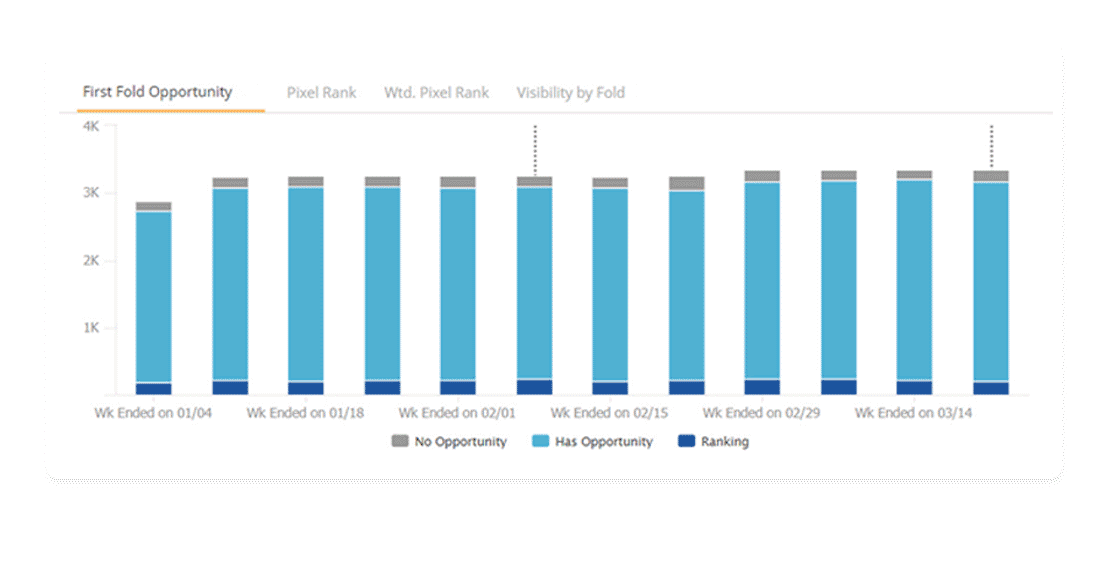 Unlike standard rank tracking, Visibility Share allows you to find your true competitors (and as I alluded to earlier, they may not always be what you'd expect).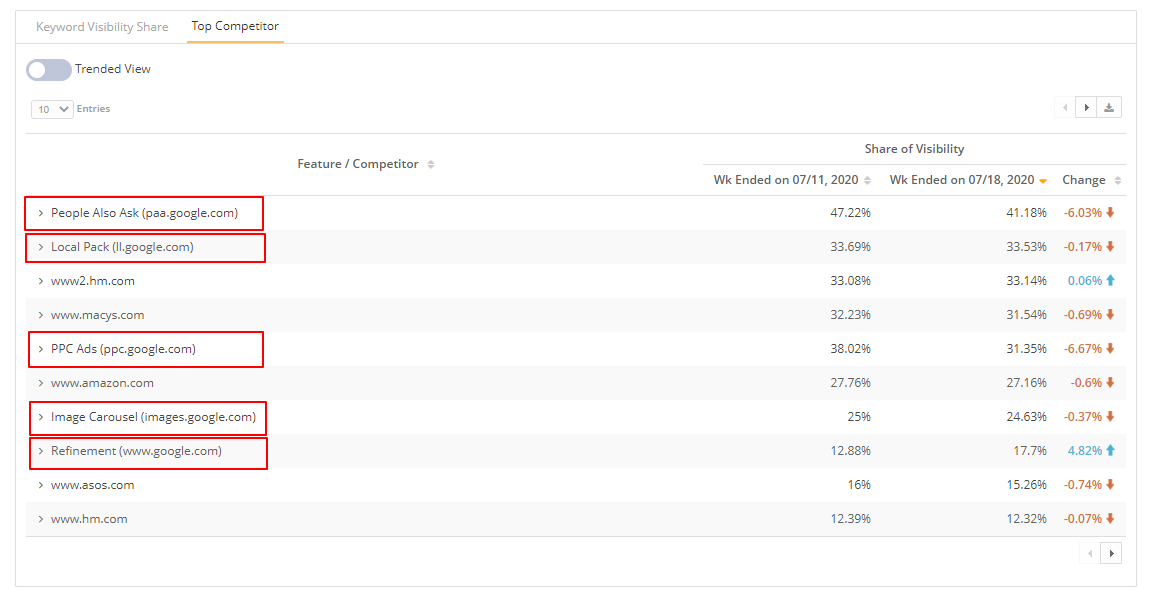 (Top Competitor view in Visibility Share.)
As you can see here, five out of the ten top competitors aren't competitor domains: they're Google-owned entities.
People Also Ask, Local Pack, PPC Ads … these are the true competitors for this search term.
Not a direct competitor. Not an organic search result. Rather, SERP features that take up space on the results page; all of which push your results further and further down.
You may be in organic position one and still appear below the fold. This was a blind spot with traditional rank tracking. And this was the challenge we set out to solve.
Why Visibility Share is the Answer to These Ranking Challenges
Visibility Share measures the actual height of every feature on the SERP, providing the true position of a domain's top rank for a query. This gives a more accurate read of the actual value of current ranking positions, as well as a more accurate comparison across keywords and between competitive domains.
Plus, Visibility Share not only tells you how far down the page your top-ranking result is, but also exactly what is taking up real estate above your position (as we saw with the Top Competitor example above).
This clear view of the SERP will lead to the discovery of new opportunities, as you'll be able to work on capturing some of those search features to increase your visibility.
The last feature I want to mention is the Visibility Rank metric.
This allows for a better assessment of potential for keywords not ranking on page one to reach the first page. Effectively, it replaces web rank as the most accurate ranking metric.


Conclusion
I encourage you to see Visibility Share in action to learn how it can give you a comprehensive look at how your company performs on the SERP.
If you're interested in a detailed walkthrough of its functionalities, one of our Account Executives can show you how Visibility Share operates within our platform. Simply schedule a demo to learn more.