With our proactive development cycle, our team provides consistent innovations to help our clients keep up with constant changes on the search engines as well as better, faster ways to achieve their goals
This post will be updated regularly alongside those product developments, keeping our readers up-to-date on the latest enhancements to the platform. With new features and updates being deployed every 2 weeks, you can be sure there will be plenty to look forward to throughout the year.
Recommended Reading: How Our Clients Drive Our Feature Roadmap
These updates and innovations are organized in three categories with the most recent additions appearing first:
Check back frequently for regular updates as we march forward through our development roadmap!

Actionable Insights Reduces the Time From Data to Action
SEOs spend over 70% of their time researching, collecting and analyzing data to identify insights they can take action on. This is exactly the challenge we set out to solve with Actionable Insights.
Actionable Insights is the newest member of your SEO Team - an A.I.-driven SEO Analyst that is constantly collecting, monitoring, analyzing and surfacing the key insights for you. Its efficiencies include:
All your data analyzed in a single click: Search Analytics, Site Analytics, Backlinks, On Page, Technical, Server logs and more!
Advanced analysis in seconds, not hours: Uncovering hidden insights by correlating multiple data sources using machine learning
Over 120 validated, verified, trustworthy insights: Extensively researched and chock full of helpful resources from across the web
... and so much more.
For those looking to deep dive into SEO and learn the variety of factors impacting search visibility, or for those who need to establish standardized processes and best practices, Actionable Insights is a true panopticon for SEO.
Recommended Reading: Next Generation Actionable Insights: AI Analysis in SEO


Visibility Share
™

: A Brand New Way to View Rankings

A true replacement for rank position, Visibility Share™ allows users to measure their actual pixel depth as humans see it to understand their true visibility in the SERP.

While other ranking tools capture position on a page, Visibility Share measures every single element that appears on the SERP. As the only metric in the industry that allows you to seamlessly replace Share of Voice, Visibility Share's Share of Visibility metric lets users measure true performance across their keyword landscape, under any domain, against any competitor.

This works by measuring the actual pixels occupied by every feature and organic listing on the SERP and provides users with the true visibility of a domain for any query. Unlike traditional rank reporting that can only understand less than a dozen Google features, Visibility Share recognizes over 810 unique features and counting.

A recent update to Visibility Share on June 30 provides even more granular data on each SERP result.

For example, you can now distinguish between the Search Visibility they have for standard web listings against listings with Site Links.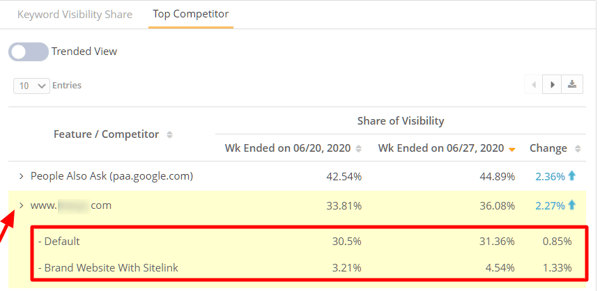 You can also filter for keywords that trigger specific SERP features. In the example below, you can distinguish between standard Answer Boxes and Video Answer Box.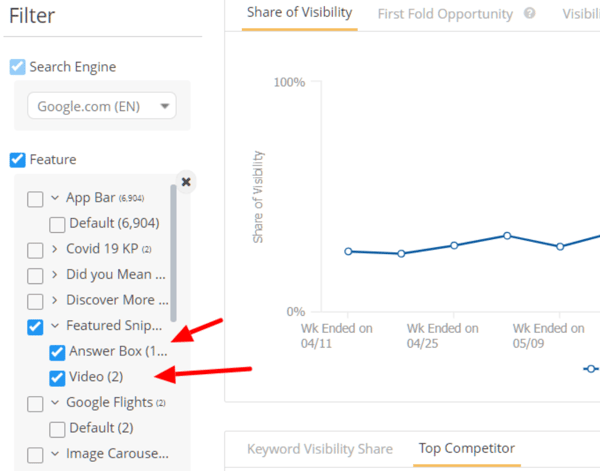 The Top Competitor trended view helps clients understand specifically what featured snippets affect visibility and how subtle changes in feature presentation are impacting search visibility overall.


New Product: Essentials by seoClarity
In a response to the unprecedented changes to business in the year 2020, we created a new product for SEOs to get started right away using the power of an SEO platform despite what resources may be currently available.
Essentials by seoClarity offers reliable, accurate rank tracking with the power to analyze your ranking data on-the-fly against unlimited competitors. This includes access to our keyword research suite, AI content optimization and analysis along with customized, automated reporting and dashboards for just $0.15 per keyword query.
There are no long-term commitments; try it for a month and start harnessing the power of seoClarity to scale your SEO performance.
Single Sign-On and SAML 2.0 for Enhanced Security
We've completely rebuilt our login process to be easier, more secure and flexible. As of January 10, the login experience has changed - complete with new single sign-on options to continue to upgrade our security features that are so important to enterprise business.
In lieu of the standard login and password, users are able to use their existing Microsoft or Google account to log into the platform. One less password to remember and less to manage for your security team!
Recommended Reading: Your Questions About seoClarity's Security, Answered


FREE Schema Builder for Structured Data Implementation Made Easy
Schema markup is the absolute must-have in today's SEO strategies, so we've released a free Chrome plug-in to help teams create the JSON-LD in a point and click interface to easily write the code for Schema. This makes it extremely easy to add structured data to any page on any site without relying on a developer.
With point-and-click simplicity, no prior knowledge of schema is necessary. Use the guided wizard to generate and the simply copy and paste the code to apply structured data for products, reviews, FAQ, aggregate rating, local business and more!
Visit schema.dev for more information and to access the plugin and associated materials to learn how you can implement structured data with ease in no time.
Recommended Reading: Schema Markup Generator: Implement Structured Data Without Developers
Conduct Research Quickly with On Demand Data
Sometimes you just need a lot of data - and you need it quickly.
Whether for a research project, gathering benchmarks for a test or for analyzing an algorithm update - the need for real-time data is critical for SEOs.
This is why we are excited to announce the immediate availability of a brand new service: On Demand Data. seoClarity's On Demand Data service gives you the ability to:
Upload millions of keywords for ad hoc data retrieval
Initiate real-time rankings for any supported engine globally
Retrieve the most updated search volume directly from Google
Receive full, detailed extracts via FTP and ability to analyze data in the platform


Geo-Ranking Made Even Easier
We've made it easier than ever to track rankings in specific locations!
As of May 22, when adding keywords, the integrated Google Maps allows you to search for and choose one or more locations quickly and easily.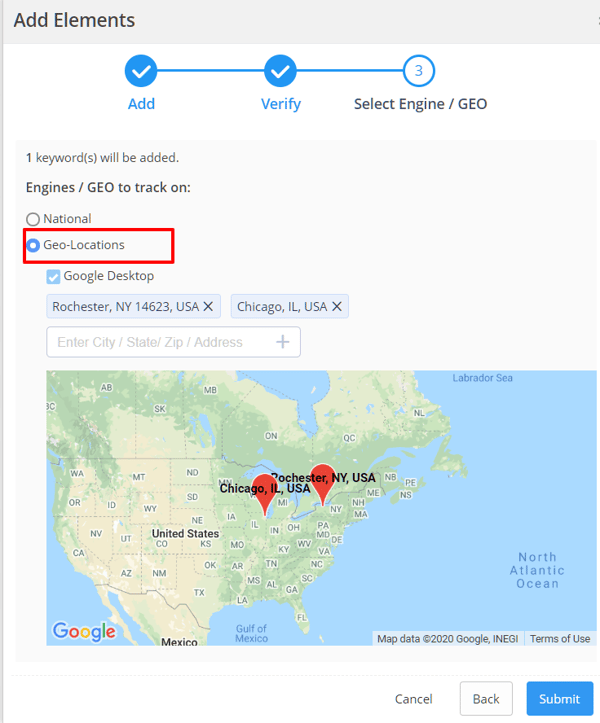 This new ability allows you to:
Choose ANY location on the map - a specific point of interest, a street address, a postal code, a city or even a state.
Avoids issues with ambiguity in location selection (i.e. when two cities share the same name) by ensuring the location is visually displayed on the map for confirmation.


Ease Into Site Migrations or Updates with Related URLs
The Related URLs setting allows users to roll up the performance metrics of one or more pages into another page, thus creating a parent-child relationship between new and old URLs.
This is especially useful when redirecting one page to another and the user would like to see the trended performance of the page before and after the redirect - without sacrificing any preexisting data.
Within the feature, you can easily define parent URLs and the child URLs (we suggest doing this in a simple Excel spreadsheet to copy-paste), and the platform merges the data for seamless reporting for before and after migration.


This setting should only be enabled if the URL structure has changed. This does not add or remove managed URLs from Page Clarity.
Recommended Reading: Site Migration Aftermath: Retrieving Historical URL Data for Reporting


Google Trends Tracking in Response to COVID-19
Due to volatility in the current marketplace due to the impact of COVID-19, we added Google Trends tracking. We added this for our clients as a temporary feature during this unprecedented time.
In response to this, we are excited to announce the most recent graduate from seoClarity Labs - The Google Trends Tracker!
What is Google Trends?
According to Google, "Google Trends analyzes a sample of Google web searches to determine how many searches were done over a certain period of time."
What makes Google Trends unique is that it provides the most up-to-date insights into search demand available anywhere!
Now you can tap into these insights using the Google Trends Tracker.
Using the new feature, you can track up to 10 of your most important keywords (or topics) and have the last 30 days of search demand data for the same retrieved and updated on a daily basis from Google Trends.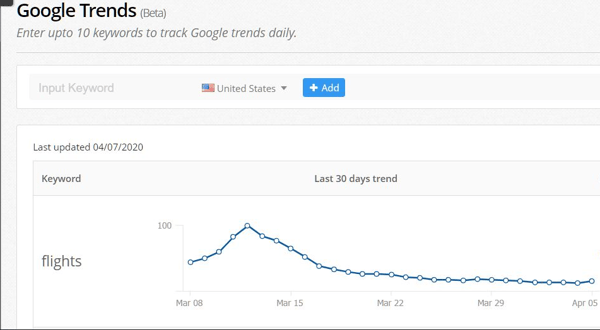 Here is a fantastic resource to learn more about Google Trends data and how to interpret it - Google Trends - Understanding the Data
What can I do with this data?
A number of clients are already using Google Trends data to:
Identify if search demand is declining, stabilizing or starting to recover
Identify new offerings and services based on new demand being created
Identify content ideas for trending topics
Keep a pulse on the market trend
... and more! This is just one of the many ways in which we are addressing the needs of our clients as they adjust to their new way of doing business in the wake of the pandemic.
Recommended Reading: Industry Insights: Coronavirus' Impact on Search


Ad Hoc Rank Tracker for Quick Projects and Fast Data
Close on the heels of the new Ad Hoc Ranking data and separate ad hoc Rank Intelligence report available for clients who request enablement of the ad hoc retrieval feature.
This is an incredible advancement for users who wish to complete quick research projects directly in the platform without impacting their tracked terms or current data.
It works by allowing for on-the-fly analysis to slice and dice ranking data for any single-standing ranking projects a client creates. This feature provides an interface to view multiple ranking metrics compared to multiple competitor domains.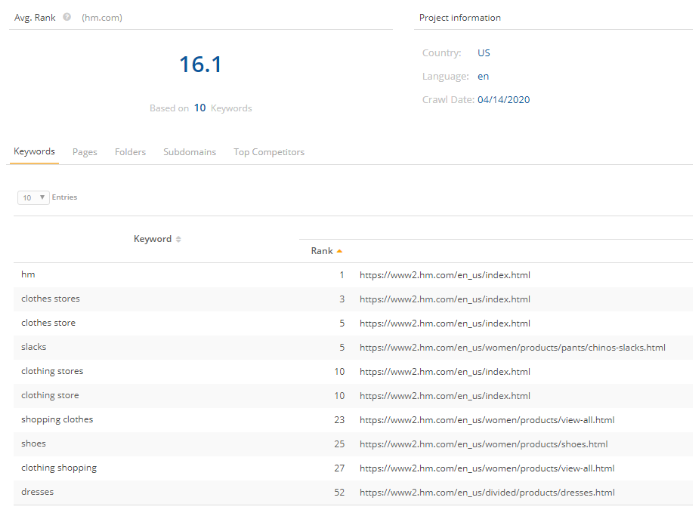 Users can also view data by page, subdomain, and subfolder and then compare with competitor domains based on a range of filters, including rank type, listing count, SERP features, and more.
Google Organic Product Listings in Rank Intelligence
On January 15, 2020, Google announced the official roll-out of "Popular Product" results. Unlike the paid Product Listing Ads, the new section is an organic listing.of products matching the search.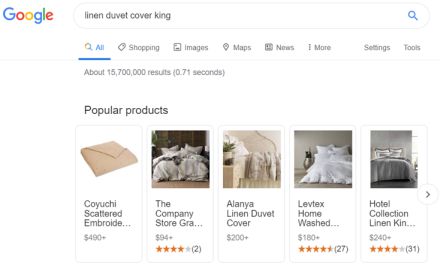 As of January 21, users can track the visibility of this new search type in Rank Intelligence. Simply add products.google.com as the domain to analyze.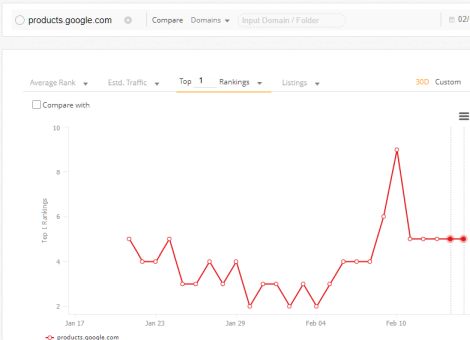 Interested in seeing other Google features supported? Here is a list of the Universal Search results we detect embedded within regular results:
products.google.com - Google Organic Product Listings
quickanswers.google.com - Quick Answer Results (Calculator, Dictionary results etc)
images.google.com - Image Carousel
videos.google.com - Video Carousel
news.google.com - News and Top Stories results
ll.google.com - Local Listings (Local map pack)
hotels.google.com - Hotel Listings (a special version of local listings)
flights.google.com - Google flight results
paa.google.com - People Also Ask results
play.google.com - Google Play Store results (mobile only)
quicklinks.google.com - Quicklinks results
Custom Metrics in Site Analytics
Missing Bounce Rate within your analytics integration? Or Pages Viewed Per Session? Or Average Order Value?
The brand new Custom Metrics functionality allows you to now define your own metrics based on any data point from your analytics integration.
Use the powerful formula builder to pick the data points you'd like and apply mathematical functions (+, - , / , *) to transform them into an insightful Custom Metric of your own.
Best of all, any Custom Metric you build becomes instantly available across all Analytics views within seoClarity. Check out how easy it is below: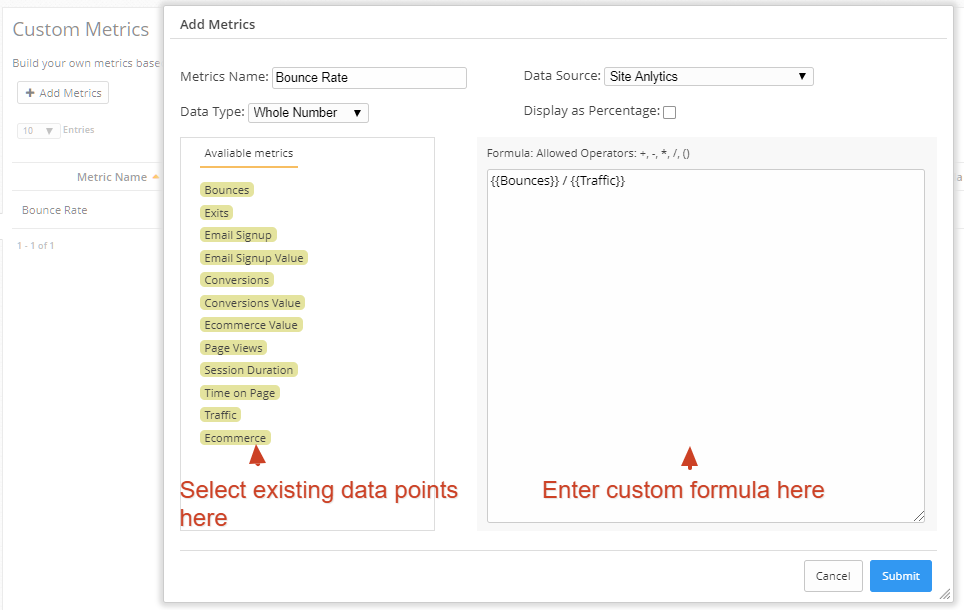 Account Admins can now navigate to the Custom Metrics option within the Settings page and start building and publishing new metrics.

Site Health 3.0 - A Brand New Version of Our Crawl Details Report
Built on top of our next gen ClarityGrid Architecture, Site Health 3.0 introduces many new exciting capabilities. Users can now:
Compare crawls effortlessly, giving them deeper insights on which pages have issues that were fixed, as well as which ones have new issues and which ones stayed the same

Slice and dice your analysis with ease - the new advanced filers support every data point collected, allowing you to segment your analysis to exactly what you need

Get insights faster with downloads that happen instandly and filters that updates right away

Dive into greater details with upgraded views (specifically for HREFLang, Redirects, Schema, Custom), showing even more details and easy to understand summaries
Most exciting of all, the new Site Health 3.0 provides a foundation for integrating crawl data with bot activity, Site Analytics, Search Console data, with more to come in the near future of our roadmap.

PPC vs. Organic Co-optimization Report
According to research from Google APIs, your click-through rates improve when both your Organic and Paid placements show up in the search results.
Tapping into such co-optimization opportunities is exactly why we built our PPC vs. Organic report, making it even easier to unlock powerful insights, such as:

Report on the True Value of Organic Search Traffic
The upgraded report automatically calculates the value of your organic traffic by using the real cost-per-click data from your paid search reports for the same keywords.

Uncover Gaps
Determine keywords where you have visibility in one channel but not in the other and see which terms you are already co-optimizing.
Optimize Spend and Investments
Determine where you are overspending on paid (high-CPC) keywords that you can redirect to support investments in organic.
Gain Incremental Share of SERP
See where you receive a strong ROI on paid that could justify investment in organic to earn incremental clicks. Alternatively, users can also see which keywords perform really well in organic that could justify an investment in paid.
Recommended Reading: How to Improve Your Site's Organic Search Click-Through Rate (CTR)
Content Fusion 3.0 - A Writer's Dream!
Content Fusion offers unparalleled content analysis and optimization. It continues to outpace other more simplified versions in the marketplace with it's updated capabilities to help you write the most authoritative, high quality article on any topic.
We're excited to announce the latest release - Content Fusion 3.0!
Developments in seoClarity's proprietary language models and Natural Language Processing now enable:
Significantly better entity detection through a brand new knowledge graph consisting of hundreds of billions of data points.
Improved topic extraction; the algorithms do a better job of highlighting obscure but important facts and details on any topic
Additional language support; Content Fusion now supports 10 languages worldwide to support your Global SEO efforts. The full list includes:


English
German
Spanish
French
Japanese
Swedish
Danish
Norwegian
Dutch
Finnish


Major Refresh to Keyword Detail
One of the top 5 most-used features in the platform received a MAJOR refresh on June 2!
The Keyword Detail page surfaces a tremendous amount of insights into each tracked keyword for your domain, and we've made it even easier to take hold of (and make decisions with) that data.
Starting at the top of the image below, we have the Summary Bar that shows the quick facts about your tracked term. We've also pulled in the data around Keyword Intent and whether or not there is a SERP Feature that appears for the keyword.

Summary Bar in Keyword Detail
At the top right of the Keyword Detail page, we've included the Keyword Difficulty scale to show the competitiveness of the target keyword. This is based off of a metric we've calculated from our Research Grid data.
Recommended Reading: Keyword Difficulty and Its Role in Prioritizing Keyword Opportunities
Finally, we have a new Action Bar which mimics Rank Intelligence, allowing users to look at their domain against any competitors.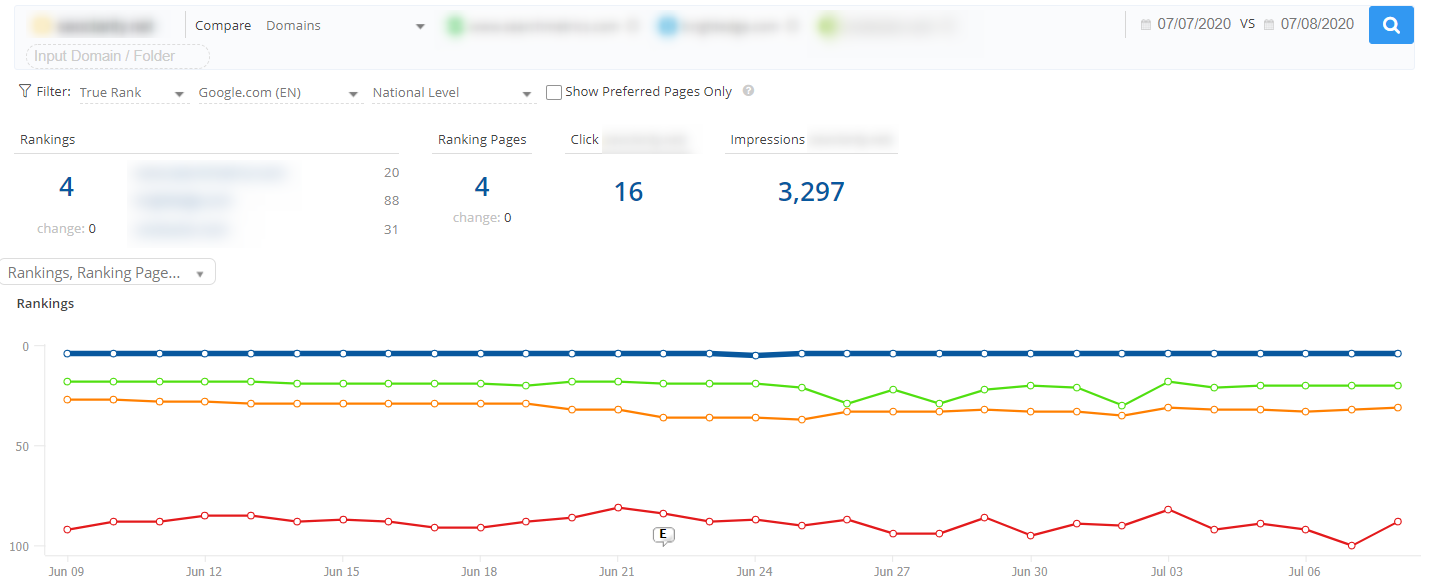 With this update, you can:
Easily understand the key insights at a glance
Quickly slice and dice keyword level rankings and competitor performance
Analyze performance of preferred pages for the keyword
See the whole picture with the new UNIFIED VIEW - Search Console Data next to your ranking data


Built-In Crawler Adds Hreflang and Canonical Audit Updates (February 2020)
Our latest crawler update involves a change to the way we crawl and store canonical and hreflang URLs.
Site Health Details
Within Site Health Details, users can see all issues found for each URL including On Page and Off Page Issues. There is also an additional download option in Site Health details for all URL + issue combinations
On Page Issues: These are Issues triggered by analyzing the source of the page. Examples of On page issues include: Heading tag <h1> empty ; Title tag <title> found outside the <head> section ; Canonical tag <link rel="canonical" contains empty url; No self-referencing hreflang tag ; etc.
Off Page Issues: These are issues found by crawling Hreflang and Canonical Urls. Some example rules are: Hreflang Url Disallowed By Robots.txt ; Canonical points to a URL that is Not Found 404.

Canonical Audit Page Updates
We have updated the canonical page to show the status Code of the crawled Canonical URLs and have added an option to show On Page Issues and Off Page Issues found in the Canonical Audit.

Note: The Canonical Status Code and Off Page issues populate only when the Canonical Audit Option is selected when setting up the crawl.
Hreflang Audit Page Updates
We have updated the Hreflang Tag side panel to include the audit details to include the blocked reason for each Hreflang tag. We also have a download available for seeing the audit for each tag.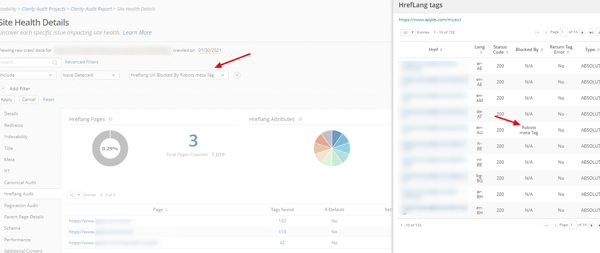 Note: The Hreflang Tag Audit and Off Page issues only show up when the Hreflang Audit Option is selected when setting up the crawl.
Support for Filters for All Off Page Issues From Site Audit Reports Page
We now have the ability to filter the URLs triggered for each issue (including Off Page Issues) from Clarity Audit Reports and show the affected URLs in Site Health. This is a major improvement from our earlier capabilities where we could show the count of URLs triggered for the Off Page Issues BUT did not allow for filtering of the same.
More on seoClarity's site audit and crawler capabilities >
New Global SEO Translations and Multi-Listings in Rank Intelligence
As part of our roadmap, we've added two new capabilities into Rank Intelligence as an upgrade to the capability. They are:
Manage SEO at a global scale more easily with Keyword Translations.
Identify which keywords trigger multiple listings for you and your competitors via the Listings filter.
Keyword Translations
Are you managing keywords in other languages and have no idea what they mean or even if they are relevant? That can be a real impediment to managing SEO at a global scale.
The new Keyword Translations option now brings you the ability to quickly see the translation of each keyword in your own native language.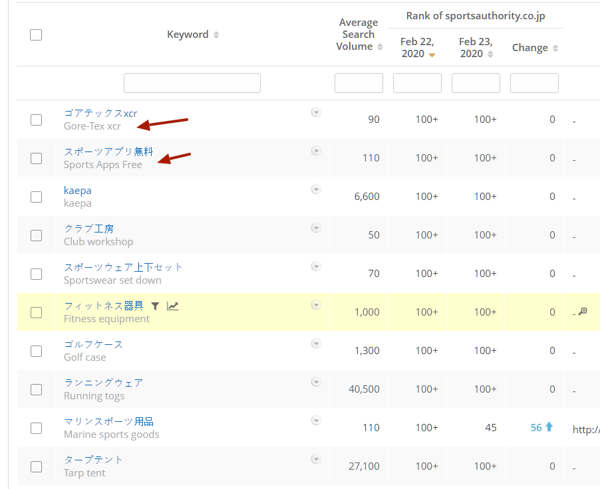 Simply use the "Add Keyword + Translations" functionality to upload both the original keyword you wish to track and its translation in any language of your choosing and seoClarity will automatically show both of them in all the ranking reports!

Listings Filter
If you've been wondering how much your results are impacted by multiple listings in the SERPs for your own or your competitor's domains, this feature is for you.
Multiple listings are a common occurrence in many competitive industries and can be hugely beneficial by allowing sites to occupy more SERP real estate in the top results.
The new "Listings" filter helps you identify exactly which keywords trigger multiple listings for your own or a competitor's domain.
Simply search for the domain in Rank Intelligence and apply the filter as shown below: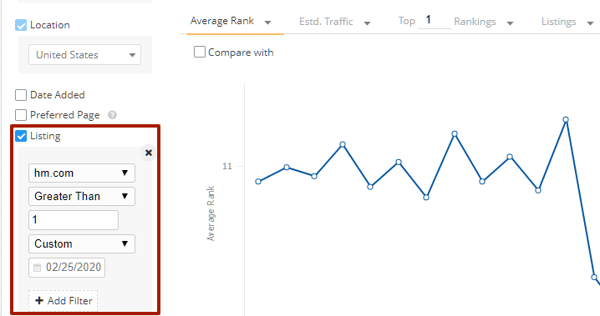 Artificial Intelligence Upgrade to Content Analysis and Optimization
Released nearly 2 years ago, Content Fusion is the #1 tool for content writers looking to write Expert, Authoritative and Trustworthy (E-A-T) content.
We're excited to announce a major upgrade to the underlying Machine Learning Algorithms that power Content Fusion!
Based on the experience of analyzing millions of pages across tens of thousands of topics, the new algorithm returns even deeper context and keyword recommendations.
Leverages a significantly larger ML model to find deeper semantic matches across all topics
Identifies a wider range of entities specific to each industry
Powered by a 25% larger Research Grid data set


Gain Deeper Insight Into Your Keyword Portfolio
Topic Explorer has a brand new ability!
You can now leverage the power of Topic Explorer to analyze your existing Managed Keywords portfolio.
Simply click the checkbox for "Managed Keywords Only" on Research Grid > Topic Explorer to get started.

Here are 4 amazing insights you can glean from this new capability:
Uncover Seasonality
Understand User Intent
Review Keyword relevance by industry categories
Analyze common keyword patterns


Richer Page Level Data for Keyword Research
Having a complete picture is important when doing SEO research. Our latest update to Research Grid > Keywords ensures you have it!
Now when you research a keyword in Research Grid > Keywords, we will show you:
The count of unique domains linking to each page
The count of total backlinks to the page
The data comes directly from Majestic's Historic Link Index and reflects the largest count of backlinks to the page.
These new metrics are in addition to insightful metrics already available for the page, such as
Total Ranking Keywords for the page
Estd. Traffic
Potential Traffic
Search Visibility
Rank Position distribution and
The User Intent the page is targeting.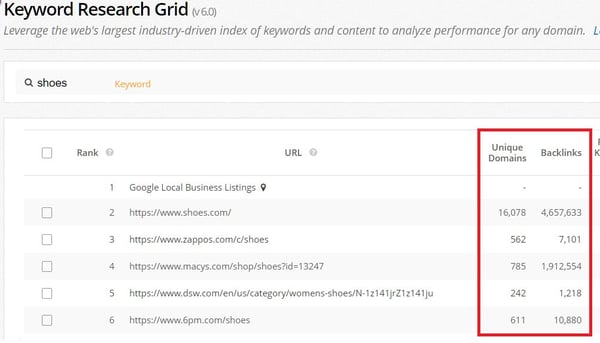 These new metrics make it easier to:
Determine how many links on average you would need to rank on page 1 or Top 3
Understand how strong or established the competitors in the top positions are (newer pages would typically have lower backlinks than well established pages that have been around for a long time)
Compare the count of backlinks with each page's count of ranking keywords in Research Grid (to see if backlinks are indeed a driving factor for rankings in that topic area)


Major Upgrade to Our Knowledge Base
The seoClarity Knowledge Base is full of articles, videos and workflows. Now it's getting additional superpowers thanks to a BIG upgrade!
A.I. Chat Bot
A 24/7 live chat bot that will automatically find and provide the best answers to your questions. Leveraging the latest in conversational A.I. and with a growing knowledge base powering it, it gets smarter over time!
Don't worry, our Technical Support team will still be available during regular business hours to help answer questions in addition to the A.I. bot.
Contextual Help for Every Feature
Over the course of the year ahead, every feature in the platform will have the most popular use cases, workflows, training videos and Frequently Asked Questions available on the page within the App itself. This will make it even easier for new users on your team to onboard and get productive faster



Case Sensitive Ranking URL Filters
If you've ever wanted to apply a filter for the same word with different letter case, this update is for you. When applying filters in Rank Intelligence for the Ranking URL, clients have the option of choosing to enable case sensitive matching if on their site /url and /Url are two different targets.
Keep Track of Your Work with Annotations
Throw away the sticky notes and spreadsheets. There is an easier way to keep track of what happened when!
Annotations provide marketers and SEOs with a way to capture any detail they may want to reference in the future, available when you need it and where you expect to find it.
Users can apply annotations in the following ways:
Add annotations at a global, page tag, keyword tag, page detail or keyword detail level

Group a

nnotations into custom groups
Color-code custom groups to easily distinguish them on charts

Easily include

/exclude

annotation

details

on

dashboard

s

,

reports

and email

ed PDFs

Annotation additions, updates and deletions are reflected in real-time

Wide

support across

key

features

built on top of

ClarityGrid

... and more!
You can be as detailed as you'd like in your annotation - all you need to provide is a date, a title, a group or category for your annottion, and an associated element (e.g. a keyword or a page tag).
Bulk On-Demand Search Volume Retrieval
While the platform automatically retrieves search volume for any tracked keywords, there are situations where you may want access to keyword search volume in bulk:
Researching a new market / service / product offering
Needing the most up to date search volume data
Reviewing search volume BEFORE you start tracking the keywords in the platform
Following up on the ability to retrieve keyword rankings on demand, we have now extended that same capability to retrieving Search Volume data, on demand and in bulk.
This upgrade was determined by our clients as part of our development cycle. On-Demand Keyword Search Volume retrieval is charged separately at $80 per 1000 keywords and must be enabled for your account before you can use it.
Embed Images into Your Dashboards
Add richer context to your dashboards and reports with the ability to embed images!
Now you can:
Bring in relevant information from industry reports, internal data sources or other sources
Guide your users with a rich visual
Make dashboards and reports more fun 😊
Using this functionality is easy. Within any Notes widget, simply copy and paste your image OR upload using the "Insert/Upload Images" icon on the toolbar. The image is automatically hosted on our side so you don't have to worry about it.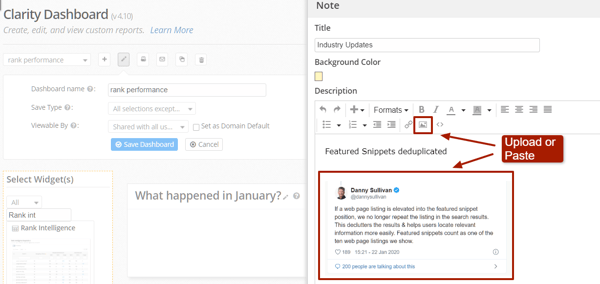 This is one terrific way to add more context to your reports and tell the story behind the numbers.


View, Segment, and Report by Date Keyword Added
A common challenge with managing a keyword portfolio is that any addition or removal of keywords can wreak havoc on your ranking reports.
The new "Date Added" feature in Rank Intelligence is built to solve for exactly that.
See a big fluctuation in your rank reporting? Now, you can quickly and easily eliminate the impact of newly added keywords on your reporting by filtering to view performance based on keywords added Before, After or On a specific date!
Here are the two places in Rank Intelligence you can use this new feature:


In the Ranking Details table, view the date a keyword was added for tracking


In the Filter section, simply filter by Date Added to view performance for only keywords added On, Before or After a certain date.

Further Flexibility with Rank Tracking
Our latest upgrade is a big one!
You can now:
Track rankings in any number of country engines within a single profile. Users can enable any number of the 90+ country engines we support within a single domain profile. For example, Google US (Desktop), Google UK (Desktop) and Google Germany (Mobile) can all be enabled in a single domain profile.

This is useful if you have a single top level domain worldwide and wish to manage your Global SEO program centrally through a single profile in seoClarity and avoid having to switch between country specific profiles.
Track different keywords on different engines within the same profile. Users have the ability to track a different set of keywords on each engine within a profile. For example, if you simply have Google US Desktop and Google US Mobile enabled currently, you can choose to track a different set of keywords on each.

This is especially useful to help maximize your budget for rank tracking. You can track most of your keywords on the engine most important to you and a different, possibly smaller, set of keywords on other engines.