Coronavirus has affected nearly every industry as people continue to adapt to new behaviors in our daily lives. We've created this article to inform you of how the pandemic is affecting the state of search and to help guide your efforts and priorities within SEO as we transition into our new routines.
This article is a compilation of insights from all areas of seoClarity, but specifically from:
Our Client Success Managers and how this pandemic is affecting our work; and,
A multi-industry survey to understand the impact of Coronavirus on search (jump to survey results)
Our anecdotal experiences combined with the data collected cover the shift changes, including data for various industries and general feedback in how businesses are reacting.
At seoClarity, our approach is to stay grounded and make decisions based on what the data tells us. This compilation was prepared to keep our industry up-to-date on what's moving up, what's moving down, and how businesses react to these insights. We hope this information allows you to further strategize as we continue to navigate through this crisis.
What We're Hearing From Our Clients About Coronavirus
PPC Spend is Being Trimmed
Across the board we are hearing clients pull back on their PPC spend. As conversion rates drop, industries that are heavily impacted (travel especially) are pulling back nearly all their PPC spend and limiting it to just the essentials or core of their business.
An interesting side effect of the pull back in PPC spend is that clients have reported cost per click (CPC) of keywords has dropped significantly. This allows an ROI where they can continue to invest in the right areas. This is an example of the free market working as it should.
Example queries: "Hotels in Chicago," "Flights to New York."
However, not all industries are equal in this insight, delivery services and even some e-commerce businesses may not see this result as swiftly.
PPC Spend Pull Back Should Help Organic CTR
The pull back in Paid Search spending has the interesting side effect of raising the organic results higher in the SERP. This should lead to better CTR despite lower demand volume for many keywords. This will be most evident for clients whose keywords do not trigger local pack and where they were already ranking in the top 3 rank positions.
Traffic is Down 4-15% Depending on Industry (But There are Bright Spots)
Looking across multiple industries, actual traffic is down 4 to 15% as Google Search Console data shows when looking at the last week vs. the week prior. This is specifically looking at clients whose traffic is predominantly from the U.S. The bottom has most certainly not fallen off – even for travel clients, though the nature of traffic may have changed. Travel sites may be getting a lot more traffic for inquiries from those with existing reservations, and local businesses are getting significantly higher call volume for inquiries related to their business hours and whether they are open.
Also, we noticed an uptick in desktop traffic which we haven't experienced in quite a few years. Our team believes with so many people at home, desktop usage is up which is driving an increase in traffic from that device.

Interestingly, traffic is not down across the board. There are glimmers of hope in various industries and even in specific sections.
Real estate clients saw a massive increase in all mortgage related pages since mortgage rates sunk to their lowest levels in 29 years in the second week of March.

Career sites saw an increase in job-related pages – likely due to more people fearing layoffs and preparing to start the job hunt.

Food and alcohol delivery companies have seen traffic skyrocket – with lock downs affecting the ability to get around and buy goods in-store.

Financial companies are seeing a surge in traffic related to investments, where to put money for safety, where to invest during a recession and more.

Retailers who sell essential prep products up are seeing a boost: toilet paper, chest freezers and hand sanitizer.

Home goods retailers are seeing a rise in home office items: desks, web cams and monitors. (Think of all the conference calls that are being done at home now.)


Self-care and beauty items are up: makeup, home fragrance, body and bath products.

Home entertainment is up. An example query: "how to play x card game."

Increase to buy in new ways: views of account pages to adjust subscriptions, savings pages, etc.
Items up that are easiest to buy online are up: dog food, anything delivery and liquor.
I'm sure you've noticed a few areas where some of these high-demand products are sold out or can't be delivered for weeks.
This is a 90-Day Crunch
Companies realize this is a 90-day issue. They are hopeful that in that period things should settle down (learning from the experience in China — things should start picking up gradually).
It's this 90-day cash flow crunch businesses have to get through. If things go beyond 90 days, there will be a lot more to worry about than just overall business.
Clients are scaling back to the key essentials and activities that have the highest ROI. Marketers are being asked to find where the demand is. Clients are cautious not to throw out the baby with the bath water and are continuing to exercise their muscle with marketing activities rather than just giving up completely.
Clients are also asking to create high impact projects with immediate payouts.
Remember that SEO is as an essential communication channel. It's key to be found for those looking and positioned as the authority for what they search for. Clients are reporting that content and call centers are overwhelmed — SEO can help there. High priority SEO projects can be highest impact earned marketing channel. It's the "always on" tactic.
Review Submissions are Shut Down for Businesses Listed on Google Maps
Google My Business has temporarily suspended all review submissions. This means that the reviews you have (good or bad) are the reviews that everyone will see. With most local businesses shut down, the important thing is to make sure location status and hours (if any) are updated. Google posts become doubly important as a way of communicating with consumers at a local level.
Google My Business Posts: Now Available for All Business
Google is responding with this huge update which they once before restricted for multi-location businesses and lifted it among the communication crisis all brick and mortar locations face. Updated on Friday, March 27, Google now allows regardless of account size, the ability to publish Google Posts to share critical updates.

LocalClarity, our local reputation and local management platform, announced on Friday it's ability through the platform to publish bulk posts to any number of locations at scale. LocalClarity is offering free 90-days to any seoClarity client to support them with their local communication needs.
Check out this LocalClarity guide on best practices and instructions for Google My Business Posts.
Local Businesses Need to Provide the Best Experience for Customers
Even though many local businesses may be closed or have reduced or changing hours in many places across the globe, the Currency of Crisis Management is so important for the long haul. Consumers want to help businesses that help them. There are many strategies to deploy leveraging Google My Business.
Update hours, descriptions of what current services or products are offered, or at least to convey empathy.

Flag locations as "temporarily closed", and use special hours.

Create Google Posts for direct engagement.
Local Clarity created a Crisis Management playbook to help multi-location brands navigate this situation.
Your reputation matters more now, maybe than ever, to inform, update, and serve your customers in whatever capacity possible. Take control of the situation.
Local Clarity is for free the next 90 days for all seoClarity clients. Contact your Client Success Manager or email support@seoclarity.net.
Reassurance and Transparency is a Must
It's important that companies have a message to reassure their customers, clients, and employees on how they are dealing with the growing threat. A number of companies are leveraging their social media, email, Google My Business listings and even their site homepages to get the message out on how the pandemic is affecting their business. These companies are also providing reassurance, if warranted, on how they are dealing with this novel crisis.
Focus on Short Term and Tactical Execution
We are hearing for so many clients about shifting their strategy to the short term tactical execution to earn some with quick results. This has shifted from some of the long term strategic projects. Here are a few ideas to keep you focused on those short-term wins.
Refresh existing content that may have once earned organic traffic, but now has slowed.

Add content to your blog posts to update what's changed or new in 2020.

Analyze what pages are gaining impressions right now within Google Search Console as it may be a indication of a shift in demand for your users. Prioritize updating those or creating new content.
More ways to dive into your site analytics data to gain SEO insights to help prioritize during the COVID-19 crisis. Bonus: it includes specific processes and workflows to leverage in seoClarity for clients.
There's Still a Lot to Do in SEO
Get a clear handle on analytics and Google Search Console trends.

Compare your

top queries in Search Analytics, look at your top traffic trends by pages in Site Analytics.

Review search analytics data for queries with highest drops in CTR, signaling a new intent for the query.

Review pages with high bounce rates and low conversion ratio (CVR). Review what is missing for people with GSC

query

data and update your content to reflect that gap.

Add FAQ schema to your home page with top-related questions.

Add a COVID-19 page if the situation is impacting business value and delivery. You can also implement Google's "special announcement" Schema

. Google is making updates every day to help businesses inform their audience about changes.

Update home page content and meta data to pull in CTR for branded queries this can help relieve call center and help communicate updates.

Create product and category meta updates to communicate how the product and/or service is being delivered, (e.g. services to virtual, extra delivery precautions).

Quick win priorities: gather what can be sold now and create projects to improve

market share

around those.

Some businesses are offering free trials or discounted specials. Work with your Client Success Manager to create a strategy to effectively promote the offering and track outcomes.
Recommended Reading: If you are an seoClarity client, we created this post, How to Determine Valuable SEO Insights in Uncertain Times, for ways to leverage seoClarity to help you quickly find your opportunities. We strongly recommend you review the step-by-step ideas to help you prioritize during these times!
Alternative Retailers Gain Opportunity Over Amazon's Shifted Focus
Before Coronavirus, Amazon appeared to be a retail black hole, swallowing competitors right and left in its seemingly infinite ability to satisfy consumer demand. What no one foresaw was how quickly the shifting demands of an unprecedented pandemic could weaken that gravitational pull.
In mid-March Amazon began restricting what brands and manufacturers could send to its warehouses. As the Washington Post put it, "more wipes, no jeans." Many categories of popular consumer goods had to give way to "canned beans, diapers, dog food, disinfecting wipes, medical supplies and various household goods."
Amazon will need to keep that focus for some time to come. However, Rand Fishkin cited evidence that "alternative retailers" in several retail niches (accessories, clothing, and home goods) are actually making recent gains in traffic over Amazon.
As this crisis settles in and consumers look for some return to normalcy, retailers who have carved out unique niche markets and developed brand loyalty may be able to make some long-term inroads that Amazon may find it difficult to grab back.
State of the Industry Survey - Results
Our Methodology
In the early weeks of the Coronavirus outbreak and consequential stay-at-home orders in the United States, we compiled a brief (8 questions) and anonymous survey with the aim of painting a better picture of who is impacted by the pandemic, how great the impact, and what simple things are being done to get through these times.
Within two weeks, we received nearly 50 responses from clients and non-clients alike. Surprisingly, while we expected that most would respond negatively about Coronavirus' impact, nearly a third of respondents were either not impacted by Coronavirus or experienced a positive impact to their business. Our overall findings are as follows.
Changes in the SERP
First and foremost, one of the biggest changes we're seeing across the industry is a change in the SERPs themselves. Nearly all of the SERPs relevant to local, travel and health industries have new features that are starting to show up as answer boxes or specific help and information related to that topic and its Covid-19 impact.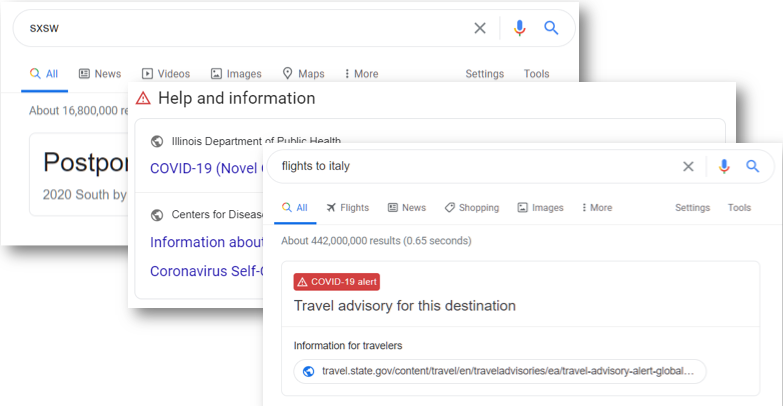 While demand, in terms of traffic, has fallen off a cliff so-to-speak for a lot of industries, these features are proving helpful for local, travel and health industries specifically.
Traffic-Related Opportunities
While traffic is down (our survey suggests that non-brand traffic is down between 10 – 50%), we're also seeing opportunities that exist for our clients, such as:
An increase in traffic (up 200%) for mortgage-related terms in the real estate industry, news-related terms for travel sites, and educational content for financial sites
An opportunity for brand-related content thanks to the ambiguity of news around some areas of Coronavirus and users looking for a trusted source on the topic.
An opportunity for educational content (how-to content, especially) as people who are at home are looking to learn new skills at this time.
Marketing Focus
Of the businesses surveyed, our results point to an increase in technical SEO and content marketing investment due to Coronavirus, which makes sense due to the amount of content opportunities we're seeing in the data.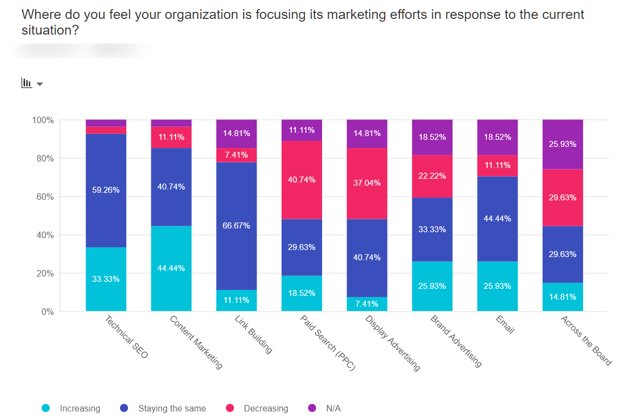 There is also an increase in focus on email marketing and brand advertising, which is the opposite of paid search and display advertising, which are down about a third across the board. While 8 out of 10 clients are changing their investment in this marketing avenue, those who have stayed consistent are seeing break-even ROI​. With lower competition, there is a lower cost-per-click. Once expensive terms are cheaper and brands are breaking even.
All of that being said, organic CTR is benefiting as well thanks to less competition with above the fold PPC.
What seoClarity is Doing to Help
There is no better time than the present to begin thinking about the economic recovery and effects of life returning to a normal (or "new normal") routine. Consumers are currently much more mindful, in most cases, around their discretionary spending and more so focused on purchasing the necessities.
Aside from making Local Clarity free for all clients for 90 days in light of the Coronavirus situation (see above for information), we have also launched seoClarity Essentials for our clients who have been adversely impacted by this global crisis. Starting at just $0.15 / keyword, clients can receive all the essentials for SEO success at the price of rank tracking alone, free for 90 days. It's our hope that our clients and their SEO remain robust in understanding their search opportunities through this uncertain time.
While we have not experienced many pandemics in our global history that can be directly connected to economic impacts, we can see similarities with wartime consumer spending. Immediately after the announcement of a war consumer discretionary spending would drop followed by, potentially, several months of uncertainty. Once life begins to normalize and after the wartime, consumer spending would increase rapidly.
People are eager to get out and get back to living their lives similarly to before the initial event occurred. You will want to make sure when that day comes that your site, target keywords, and geo-based searches are ranking as high as they possibly can because people will be eager to get out of their homes and into social environments again.