When events and external disruption begin to affect human behavior, there is usually an equal change in search behavior.
Today, the pandemic is causing a global uncertainty in a lot of industries. While this volatility can be worrisome to your SEO strategy, rest assured knowing that data-driven insights can show you opportunities that will ensure your SEO strategy and overall company operations stay solidified. We understand the stress that comes with a sudden change in behavior, both online and offline, and we want to help you make sense of the confusion that your organization is experiencing — that's why we've pooled together our team members' strengths and expertise to formulate ideas and direction for our clients.
We want the following information and workflows to be a way to better understand the change in your users' behavior and how that may or may not affect your priorities in the coming weeks and months. We want you to feel confident in your plan to ensure your SEO strategy is solid for any changes further down the road — remember, SEO is long-term. Your PPC colleagues aren't in the same position — their funding might have already been cut or will be during these uncertain times, but organic search traffic continues regardless of budget. Here's how to carry it forward and prioritize the areas that will have greater short- (or long-) term impact.
Plan, Plan, Plan
When you have an idea of how to react to situations, you're already one step ahead. If you don't have a plan based on this rapid change, we're going to show you the insights required to make one.
Find the Traffic Trends
Search Analytics has the power to show you performance data for pages and keywords on your site. And better yet, you can filter down to specific performance trends to see what has changed over a period of time, and formulate a plan of action for the future.
Here's a workflow in Search Analytics to see performance trends over time:
To start, navigate to the Search Analytics under the Analytics tab of the platform on the far left-hand side. Since we're interested in the change in search behavior, let's analyze the traffic trends over two weeks to see how the change progressed (and what specific pages were affected).
This date navigation sits at the top of Search Analytics. Let's use it to compare a two-week period to see how search behavior changed.
In this case, two weeks will show us the period of increasing panic due to the pandemic compared to a period that was relatively calm. This analysis is very effective right now.

Select the week view
Use the drop down to select "Last 2 Weeks"
Hit the "Compare" box. This will automatically set the platform to compare the data of the date range show.
Hit "Apply" to see the results
After these changes have been applied, you'll see the overall percent change for pages in terms of weighted average position, clicks, CTR, and impressions.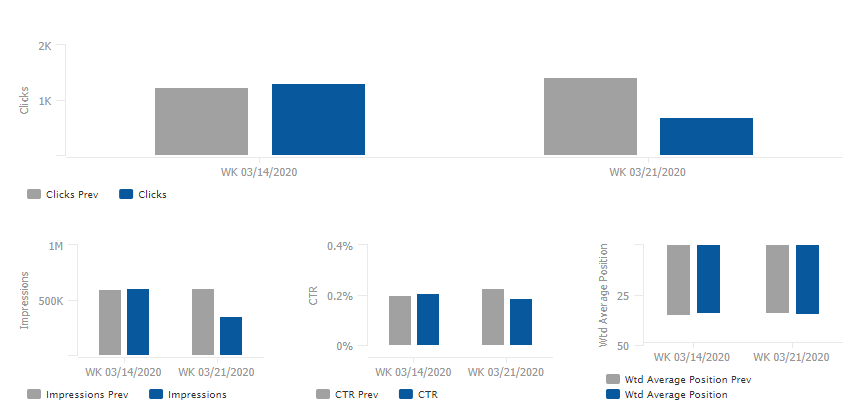 Immediately you see a substantial drop in clicks over the course of this two-week period. But this only tells part of the story. We need to dig in to see what specifically has caused this change.
To analyze your specific content and site structure, utilize Content Types — a trended view of information that is unique to seoClarity. This view makes it easy to see specifically where traffic has changed (i.e. dropped off).
This filter groups results into the Content Type categories that you've created, which shows you what groups of pages have seen a change.
If you work for a food delivery organization, for example, you may want Content Types like Delivery, Explore, Gifts, Blog, Brand, etc. You then select which pages you want to be a part of those Content Type classifications to easily sort the content together.
Note: If you don't have Content Types set up, do so now! It's a simple process and can be set-up on the fly! This grouping will show you insights that are meaningful to you based on categories that you've set up that are relevant to your industry. If you're unsure how, your Client Success Manager can assist you.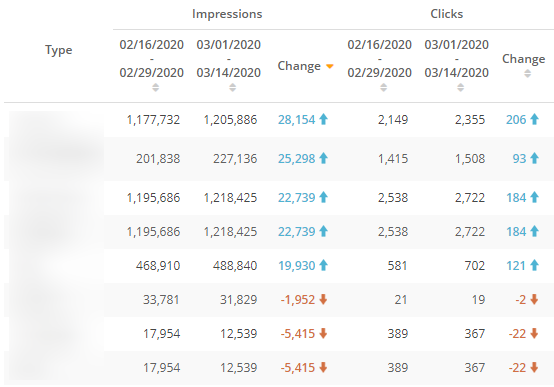 (Change in impressions and clicks in the Content Types view.)
The change we see above isn't just a change in impressions and clicks for individual types. These Content Type groupings are unique to your organization and your URL pattern, and easily sort large amounts of pages into an easily digestible data point.
From the above, we know which page types are performing well, and which have taken a hit over the designated time period. These insights should be used to formulate your SEO action plan in times like this. The traffic changes based on Content Type shows you which areas of your site your users still find useful, and which they deem no longer relevant in the current, ambiguous times.
Real-world events have a direct impact on a person's behavior and buying habits, which has a clear connection with search behavior. These insights alert you to what is top of mind for the end users, and what you should be focusing your efforts or content on now.
Tip: Content Types are dynamic, so you can add, delete, or edit them on the spot. Just find the pattern in your site's URL format. And better yet, they work retroactively, so when you create a new classification, the sorted data will be ready for your analysis instantly.
With the Unique Page view, you can narrow down to the individual pages to see the performance over time.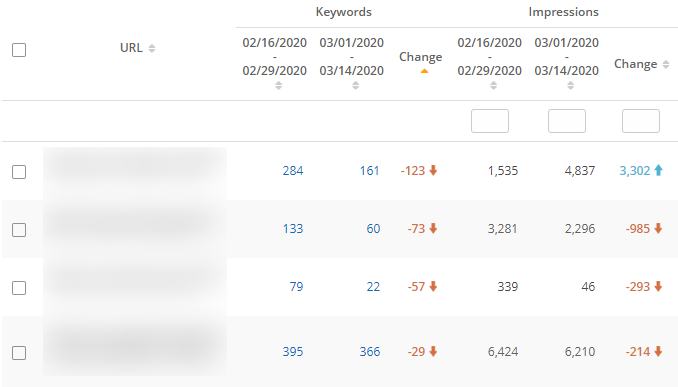 (Change in impressions for specific pages.)
Sort the URLs by change in ranking keywords or traffic to see which specific pages have had a decrease in traffic.
This process within the platform will show you how changes in search behavior are affecting your company. Use these insights to form a plan for the current state of industry change, and compose your action plan for the future as things continue to change.
Understanding human behavior via online search behavior lets you alter your SEO strategy for the current situation at hand.

— Mitul Gandhi, Co-founder and CEO
Example of a Change in User (and Search) Behavior
When we went through the above steps for a company that provides information on physicians and other types of healthcare providers, we saw data that matches the expected user behavior.
During a health crisis like the pandemic, search behavior moved from one category of pages that focused on locating a physician, and shifted to another category of pages focused on symptoms of different health conditions. Look at the data trends in the Content Type below:

(Trends in Content Types for a medical industry company.)
Traffic (and interest) in Content Types like that were focused on provider pages decreased, while the Content Type that was focused on care experienced a huge surge. Remember that Content Types are unique to each business as they determine what web pages are housed within it.
Another trend we've seen: companies' "Offer" pages have seen decreases in traffic. In a time of crisis when people don't know what the future holds, their buying behavior becomes more immediate. There's been a decrease in searcher behavior in looking for websites for offers or deals — rather, they are buying items on the spot. Price becomes inelastic in times of uncertainty, as people make decisions with no concern over price. This has a direct impact on the traffic and clicks on Offer and Deal pages.
Respond to the Trends in Search and Traffic Data
Though it may be hard to do, avoid reacting to data swings when looking at a shorter time frame like day-to-day or just comparing one week. You want the insights to be accurate, and with these types of changes it's going to take some time to see which pages were affected the most and what that means in terms of overall human behavior in uncertain times like this. Our recommendation is to look at the last two weeks and compare against the previous two weeks. This could vary by your industry if there's seasonality trends that would swing that comparison. Comparing two weeks year over year could be right for you.
Both Search and Site Analytics let you see the data over time so you can easily monitor trends, whether that's day by day, week by week, etc. without having to manually download all the data from your site analytics tool.
In fact, this trended view of data is unique to seoClarity, so be sure to leverage this powerful tool.
Once you have your dates set and the filtered view you want to review, move down to the table and move to the trended view. In a few clicks, you can see your pages individually trended week over week. You can apply the same Content Types, Page Tags, etc at this level as well to roll-up your pages traffic or impression data.
Note: This is demo data in the chart below.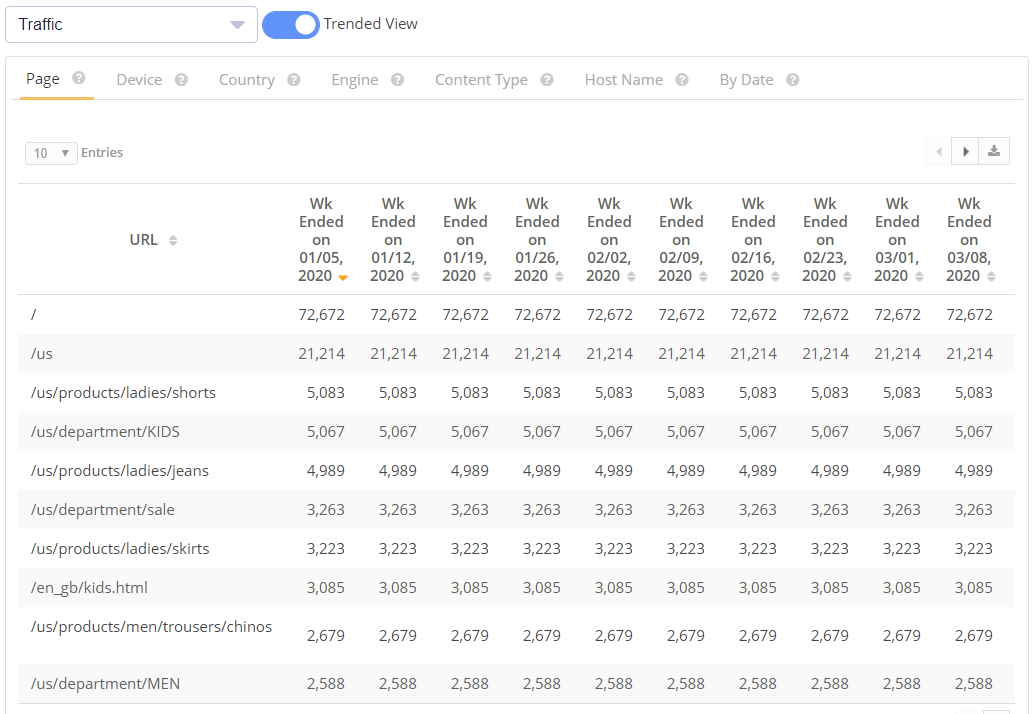 (Site Analytics: Trended View Screenshot Demonstrates the Traffic Week Over Week.)
User Behavior in SEO Brings Insights to Your Entire Organization
You already know that it can be hard to evangelize SEO throughout your organization, and in times like this you may see negative site performance — but there is a silver lining. In times like this, you have access to data that everyone will be especially interested in.
You have access to this real-time, user research data that you can present to your supervisor or executives to show them how the changing times are affecting the company's bottom line.
Here are a few ideas on how to execute:
Present this information with custom dashboards, and be sure to follow the best practices for reporting SEO. This includes tailoring the data to tell the story that your audience will be interested in hearing.
Host a virtual Lunch N' Learn with key stakeholders. Leverage the dashboards you created, focus on recent trends, and communicate the implications and opportunities presented from the data.
Share your recent trend reports along with insights with your direct manager to share more widely across your organization. Or just take this opportunity to share yourself with a wider audience than you typically do. Really great time to increase your team's visibility within your organization.
You need to be prepared to show your executives the information that's going to be of interest to them. Be ready to use the platform in a live setting to filter through the data on the fly to prove your points.

— Mark Traphagen, Vice President - Product Marketing and Training
Integrate with Other Teams
Since this is a time where inter-departmental collaboration is going to be required to get in front of the challenges and the opportunities, this is also the perfect time to break down the silos that may exist at your company.
We have heard already from our clients (and within seoClarity). There's no time like the present to be aggressive and find low-hanging fruit opportunities. We are all in the same situation where we are being asked to leave no stone un-turned, so to speak.
You realize the value of SEO and the impact that this organic search data can have for understanding overall search behavior, and now your colleagues may be open to seeing how that data can have a positive impact on their work too.
Think about your paid search team. What do you know about their PPC efforts: the terms they bid on, the words that drive conversions, the general strategies that they deploy? This is a great opportunity to educate your team about strategies for paid search.
Another low-hanging fruit opportunity is with landing pages specifically. Take this opportunity to optimize the pages' content to increase the quality score to bring more relevance which can also improve search visibility and be a win-win for both teams.
And your IT team. Your IT team could likely be looking for quick wins as well. A great time to approach that part of the organization with are sometimes simple technical fixes they may be to sneak into their release schedule. Coming armed with the right data or just re-positioning the data within the current climate may be a win-win for both teams.
Recommended Reading: 9 Ways SEOs Bring Value to Every Team in Their Organization
How SEOs Can Take the Lead In Uncertain Times
Many of you are SEOs at high-profile enterprises that deal with thousands of website visitors each day who navigate your site to find the product or services that they need or want. When global events impact the world, those needs and wants change.
When you understand the changes of online search behavior, you also begin to understand the true human behavior of those searchers. You learn their priorities, their fears, their version of non-essential, and more.
You are in a position to leverage the insights gained from seoClarity to set the conversation as you and your company continue to push forward in times of uncertainty. Those who have access to search and user behavior are in a unique position in times like this: they see how global changes are affecting their business's bottom line, whereas the competition is scrambling to figure out what has changed in the first place. At seoClarity we always want you to move forward, and we hope these insights can bring some solace in these uncertain times.
Key Takeaways
Having an understanding of the performance of your site shows you how people are changing their behaviors in times of uncertainty. Specifically, the analysis of Content Types shows how people are interacting with different areas of your site — those categories that you have grouped together to tell a story of the aggregate data.
Even though site performance may be decreasing, there is a silver lining: you have invaluable insights that will prove beneficial to the entire organization. You're now able to work with other teams to solve the challenges facing the company, with organic search data being at the forefront of strategy formation.