It's a well-known fact that SEO and SEM practitioners tend to work separately.
Even though both teams' focus is to develop keyword strategies, content, and tactics to attract more visitors and sales. They both do a pretty good job as both channels drive the majority of website traffic. According to PMDigital and ClickZLive Study, for example, SEO attracts about 30% of visitors while SEM is responsible for another 40%.
And each of them delivers high conversions too. 20% - 25% and 35% respectively, according to the same source.
But have you ever wondered what would happen if both teams combined their efforts? The total sum of both teams output would far exceed what they can achieve individually. And what's important, the resulting incremental lift would be powerful. Read on to find out how the integration of paid and organic search results in even better traffic and sales.
The Challenge with SEO and SEM Integration
You know, the challenge with integrating both teams have a lot to do with a lack of understanding of how closely both teams really are within organizations.
Usually companies have a greater focus on paid search likely because the instant gratification and one to one result. Optimize for keyword(s), receive cost per click, and see through put revenue. Just take a look at this quick comparison:

See what I mean?
But as a result, organizations fail to fully understand opportunities behind optimizing between both channels. Consider how common it is for companies to switch off paid search for keywords for which they rank no. 1?
And then, there's the issue of budget allocation.
Even though SEO attracts almost as much traffic as SEM, more organizations allocate more of their budget to the latter.
Let me show you. This graph shows a typical budget allocation for digital strategies in organizations: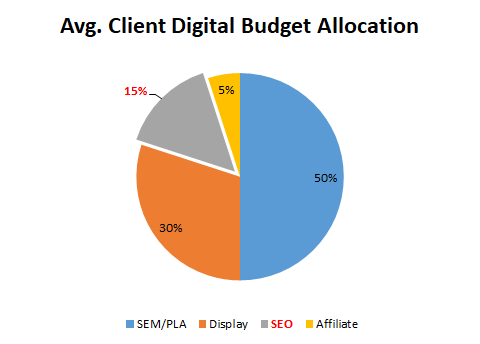 (Source: Piston Agency)
Note the huge disparity between SEO and SEM budgets, in spite of how similar results both channels deliver. At the same time, aligning both teams offers incredible opportunities to boost online visibility and achieve business objectives to optimize results for both channels.
Why Integrate SEO and SEM
#1. Improve Keyword Strategy
It's obvious that phrases that work particularly well for one channel might deliver similar results for the other.
And so, exchanging keyword data across SEO and SEM teams could quickly lead to identifying new and often, untapped opportunities.
What's more, insights from each team could reveal specific phrases that engage audiences in specific locations or markets, leading to even further boost in keyword performance. However, all this can only happen if each team shares their keyword performance data.
TIP: seoClarity's Rank Clarity report allows filtering keywords by PPC results, offering a glance into a particular phrase relevance for paid search. Naturally, it won't replace data from the SEM team. But it gives a strong indication as to what information to look for in the paid search reports.
#2. Boost Ad and SERP Listing Copies
Fact: Click-through rate is a significant factor for each channel.
It confirms the relevance between keywords targeted and the copy used in the ad or search engine listing. And needless to say, combining this insight would allow each team to build a solid picture of unique phrases that carry the strongest relevance to the target audience.
Let me illustrate the power of this by example. IT Governance uses a similar copy in their Adwords ads and meta-tags on a page targeting the same commercial keyword.
Here's their Adwords Ad:

And the SERP Listing:

As a result, they present the target audience with twice as many touch points per said keyword, both of which reference a specific customer problem (complying with the upcoming EU data protection changes) and offer a selling point (learning from the experts).
#3. Improve Landing Page Relevancy for SEM
It's no secret that quality score is a major factor contributing to Adwords ads success. And if you're not familiar with the term, let me go over it really quickly. Quality score describes the quality and relevance of PPC ads and landing pages to which you're sending the ad traffic.
And needless to say, it affects the two most important aspects of a SEM campaign:
Ad rankings

- the better the quality score, the higher positions at which your ads can appear

Cost

- similarly, better quality score means lower cost per click for those higher rankings
What's more, its impact on cost per conversion is irrefutable. The higher the quality score, the lower CPC your ads achieve.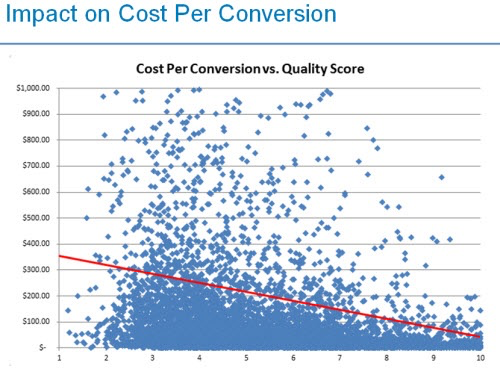 (Image Source)
A major part of the quality score relates to landing page quality, a factor that SEO can contribute a lot of insight to.
Here, take a look at the most important quality score factors: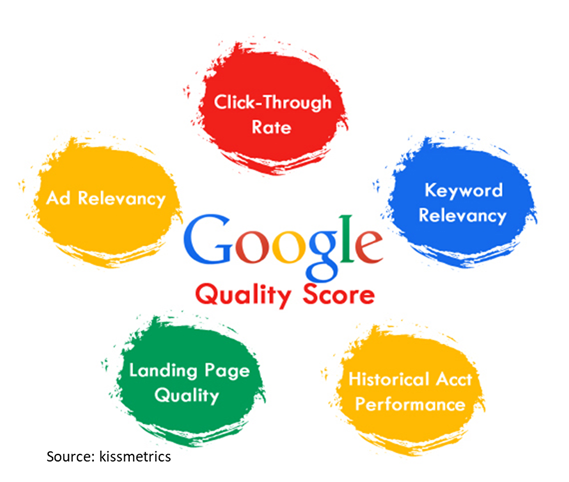 Four of them relate strictly to your ad set up; something SEOs wouldn't be able to affect much. However, the content you feature on a landing page is universal between SEO and SEM. And as it happens, the better you optimize it for SEO, the greater quality score it will help you achieve for SEM.
Here's how.
Duplicate content. Having a similar content across a number of pages can greatly affect your rankings, and for many reasons, at that. But similarly, it can make your page less relevant to the ad sending it traffic.
Correct and uniform schema markup. Properly used schema markup helps search engines better understand the content on a page. In case of SEO, it then further helps them to display more relevant information to users in SERPs. But similarly, it also helps Google to assess how closely a page matches the Adwords ad to which you assigned it.
Page load time. Page speed describes the length of time it takes a browser to display all the content on a specific page. And needless to say, it's one of the most crucial ranking factors today (particularly on mobile).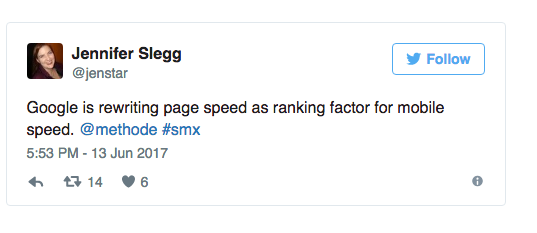 But user experience, and particularly page speed affects ad performance too. As Google points:
"Your landing page experience affects not only your Quality Score, but also your Ad Rank and advertising costs."
Furthermore, the search engine adds (cited via Search Engine Land):
"If it takes too long for your website to load when someone clicks on your ad, they're more likely to give up and leave your website. This unwelcome behavior can signal to Google that your landing page experience is poor, which could negatively impact your Ad Rank."
TIP: seoClarity's Page Speed tool allows you to analyze loading time for every page on the site, and discover potential issues that prevent them from opening faster.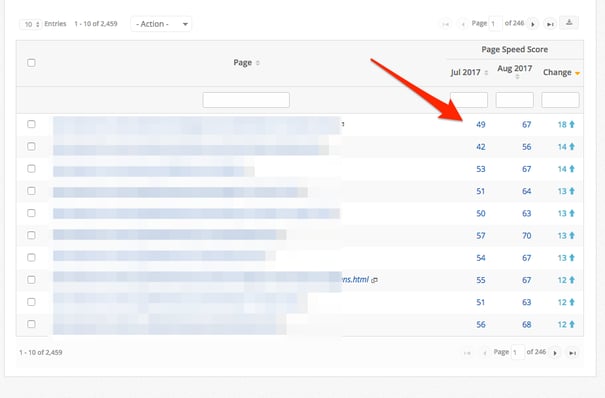 #4. Improve SEO Content's Relevancy
As SEOs, we have a serious challenge with accessing relevant data. Analytics hides most of our keywords behind the "(not provided)" label.
And although the Search Console now reports on search phrases visitors used to reach a site, the data is still far off from what we used to have. No surprise that SEOs often miss opportunities to make their content even more relevant to the searcher's intent.
With SEM data, however, they could boost content relevancy by:
Identifying the most relevant keywords to use in the content, and then,

Applying them to the core page elements (i.e., title, headings, body copy, meta-tags, etc.)
It's that simple. But like with everything else I've talked about in this post, it requires both departments to work in tandem.