If you work in SEM, you've probably had competitors bid on ad placements for your brand terms. Known as conquesting, this situation can present some problems with lost traffic and a lowered CTR.
When another company conquests your brand terms with their paid ads, what can you do?
After all, this type of competitive paid search is perfectly allowed as long as the competitor's ad copy does not include copyrighted material or your brand name.
You can reach out to the competitor and simply ask them to stop their bidding ⁠— which can prevent a back-and-forth bidding war ⁠— but if that's no good, here's what you need to do.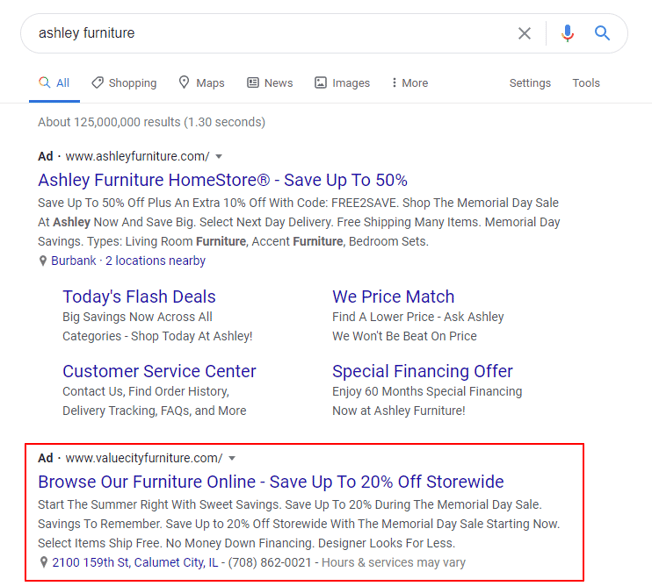 (An example of conquesting: This company has bid on the other's brand name.)


The Challenge With Conquesting
Conquesting actually happens all the time, but not all brands bring their SEM data into their respective SEO platform, so they may not be aware of it at scale.
This means the competition is constantly getting traffic off of your branded keywords (and you may not even know!).
So the first thing I'd recommend you do is bring your paid search data into your SEO platform. This will allow you to address the problem at scale, instead of stumbling upon conquesting on the SERP.
Then, you need to be able to ask the right questions of your data. How does the conquesting impact your traffic? How is your SEM and SEO approach connected?
I'll help you find answers to these questions later on in this post.


Why is This Important?
As I pointed out, it's important to ask yourself how your SEM and SEO approach are connected, if at all.
Conquesting — although a negative circumstance to deal with — gives you a valuable opportunity: You can analyze the relationship between the SEM and SEO teams within your organization.
Recommended Reading: The Benefits of SEO and PPC Integration
But the challenge is also important for another reason: When another brand conquests you, your CTR is possibly being diminished.
(Do keep in mind that there may be ad fatigue where the end users ignore the ads and click the organic results, but this possibility isn't a guarantee that the users won't click on the competitor's ads, giving them the traffic.)


Measuring the Impact of Conquesting
The first step here is to see if conquesting is happening to you. If you're a smaller company or don't track a large set up keywords, you can do a manual check by entering your brand term into Google and analyzing the ad results (if any).
If there are no ads or just your own company ad, then congratulations! You're not being conquested.
To make this process a little simpler, or if you manage multiple domains, you can extract information out of your Google Adwords account, although the process will still be a manual evaluation. Data can also be extracted from your respective rank tracking tool, or Google Search Console.
If you notice that you are being conquested, you'll want to check your Brand click-through rates within GSC in comparison to the paid search ad click-through rates.
In GSC you can see the trend of the data, and compare pre- and post-data of how the ad had an effect.


seoClarity's PPC Integration
If you're a client of seoClarity, you can complete this entire analysis at scale. All you have to do is integrate your PPC data with your SEO data.
We made this incredibly easy to do: there's PPC vs. SEO data integration built directly into the platform.
Remember, knowing your competitors are conquesting you is half the battle. When you integrate your paid and organic data into one report, you can identify the impact by looking at the two different channels through the same lens.
This analysis helps you to identify the impact on your impression and understand your CTR.
Note: A blended analysis reveals site insights, including if the competition is conquesting your brand terms. Our Professional Services team can set up a blended analysis for your domain(s).



(Integrate your PPC data into seoClarity to see the relationship between paid and organic.)


How to Combat the Conquesting
If someone is indeed conquesting your brand terms, I've put together a list of actionable steps you can take to limit the conquesting as much as possible.
Although you can't stop them from bidding on your brand terms all together you can increase your own search visibility on the SERP in an attempt to win the click and bring back any lost traffic.
Work with SEM and SEO
There can be great benefits when the SEM team and the SEO team work together. One of these benefits is perfecting ad copy. You can see what keywords have been successful in organic, and transfer that language over to SEM.
Note: You can also optimize your content with AI content optimizer Content Fusion.
Then be sure to have the ad lead to a well functioning, relevant landing page (something the SEO team is probably in charge of). This may seem like a small move, but the goal here is to increase your ad's quality score.
If your quality score is high, then you have a better chance of limiting the competition from totally conquesting you because your ad should appear higher on the SERP.
There's nothing you can do to directly get rid of conquesting, but you can work to ensure your ad is positioned above the competitor's.
Use Google's Top of Page Bid Strategy
Google has a specific bidding strategy called Target search page location bidding that allows you to automate the bidding process to land your ad at a specific location on the SERP.
According to Google, "Google Ads automatically raises or lowers your bids to show your ad on the top of the page or on the first page of Google search results."
I would recommend you bid for the top, since you want your ad to always be above your competitor's. But appearing on the first page is okay, too.
No matter which option you choose, you'll still have a good chance of a paid ad placement in addition to your organic listing which makes for a strong real estate take over.
A real estate takeover is when you acquire a combination of SERP features, organic listings, and paid ads for the same query so the end user has a higher probability of clicking through to your website.
However, placement with this bidding strategy is not guaranteed. Other factors like the ad auction itself and quality score affect the outcome of the ad placement, which is why an effective relationship between SEM and SEO is so crucial.
Win the SERP Features
Continuing on with the real estate take over, SERP features are critical for increasing search visibility.
Even though your website will appear organically for your branded search term, it may be below the fold.
After all, the SERP changes so often, and even branded terms can show SERP features like images, top stories, the local pack, etc.
Recommended Reading: Are SERP Features Taking Over Your Search Results?
Below is a glimpse of the SERP for the query "ashley furniture sectional."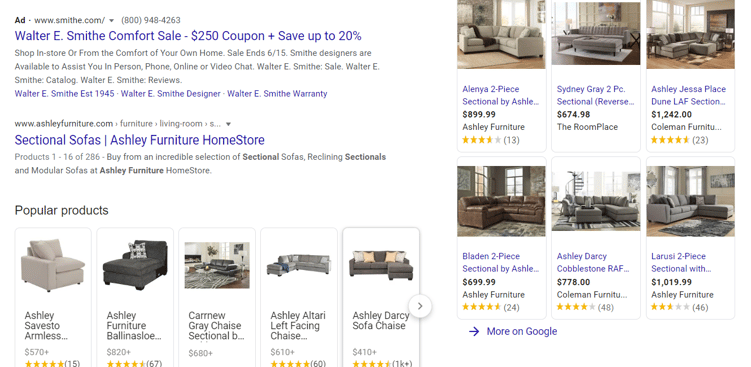 (A busy SERP for the query "ashley furniture sectional.")


This SERP is crowded. It features ads, organic, popular products … and out of view is People Also Ask, local pack, and images. Even though Ashley Furniture has an organic listing on the SERP, is that going to be enough to capture a click?
In a situation like this, it's best to try to capture those additional SERP features.
My colleague Mary Kate put together a great reference on SERP feature analysis that explains a step by step approach to capturing Google's SERP features: You Can't Beat Google's SERP Features, so Join Them!
Another way to increase your search visibility on the SERP is with schema. I'm sure you've seen a SERP result listing with commonly asked questions underneath it (separate from the People Also Ask).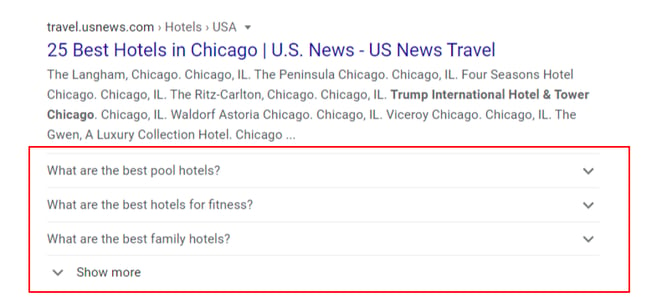 (The FAQ schema on an organic search result.)
This is the FAQ schema, and it's an incredibly easy way to provide value, increase the size of your listing on the busy SERP, and draw the user's click.
Here's a quick tutorial on how to add the FAQ schema to your pages: Looking to Capture Search Visibility? Implement the FAQ Schema.
Something you can do today to get ahead of the competition!
As a final touch, make sure you have a Google My Business profile. The GMB module that appears on the SERP gives your business credibility — and this is especially true when the information is accurate and up-to-date.
Since it appears on the SERP, it's another easy way to have a user click through to your site.


Conclusion
Conquesting may not be an ideal situation to deal with, but the good news here is that there are specific actions you can take to lessen the impact of your competitor's actions.
Recognizing that you're being conquested is half the battle, so once you have an idea of what the situation consists of, you'll be able to move forward and get that traffic back.
Don't forget that a simple solution to this problem is to reach out to the competition and ask them to stop bidding on your branded terms.
There have been situations where this has worked, as the competition didn't want to deal with a bidding war where they we're the target of conquesting (and the CPC skyrockets).
Let me know what your current situation looks like in the comments below.