SEO schema were introduced in 2011 as a way to help search engines better understand the contents of a page.
You may be familiar with some of the schema already: ratings, reviews, events, and recipe schema can all be found on the Google SERP for certain queries.
In 2018, Google introduced the FAQ schema to provide the most useful, relevant results for end users. Testing occurred until May 2019, and the schema is now open for everyone to implement.
And, more schema are to come …
I think in the future, at least in a near-term future, we will have more types of structured data markup. – John Mueller
For the purpose of this post, we're going to focus on the FAQ schema: what it is, and how to implement it.
What is the FAQ Schema?
Many web pages house a frequently asked questions page, where users can turn to for a quick Q&A style clarification to their questions. The FAQ schema takes those questions and their respective answers and turns them into structured data so that both the question and answer appear on the Google SERP as a rich snippet.
This means that users can have their specific questions answered from a certain website without actually having to leave the SERP to visit that web page.

(An example of the FAQ schema on the SERP for a travel-related query.)
You probably noticed that the FAQ schema caused the listing to be larger than normal. This feature not only allows users to have their questions answered directly on the SERP, it also increases search visibility and draws the user's eye.
Because of this, listings with an FAQ schema have a higher click-through rate (CTR) than listings without.
Voice search also comes into play here, as the FAQ schema is eligible for voice search actions — Google says this structured data can have an action on the Google Assistant.
Where to Implement the FAQ Schema
The FAQ schema can really be added to any page where you add FAQ type questions and answers. This would include blog posts, service pages, etc.
Do not, however, include the FAQ for "how to" content, as it is against the guidelines for the schema and there is a designated schema for this type of content.
Google also recommends that if you have FAQ content that is repetitive on your site (i.e. the same question and answer appears on multiple pages) that you implement that specific FAQ schema only once for the entire site. A web crawler can help spot these duplicate questions.
Also, do not use an FAQ page for advertising or promotional purposes.
As for specific industry information: we really see the aggressive nature of the FAQ schema in the travel and coupon industries.
At seoClarity, we've also tracked an increase in FAQ schema for two clients in the delivery and pharmacy industries, with an increase from 16% to 21% and 10% to 22%, respectively. Percentages represents the number of tracked keywords with an FAQ schema.
Which Questions to Answer in Your FAQ
The best place to find the FAQ type of question and answers is from your customer success department. Many times they receive the questions from customers over the phone about the specific products or services offered.
These insights from clients or prospects can be converted into the FAQ content for that specific product page.
Google's People Also Ask can serve as a source of inspiration for thinking of popular frequently asked questions. seoClarity clients can view top People Also Ask Questions collected by topic to use for this purpose ...
Recommended Reading: Testing FAQ Schema for Greater Search Visibility and CTR
FAQ Ideation at Scale
It can be tedious and time consuming to manually search Google for People Also Ask suggestions in order to generate questions. And if your organization operates in silos, then collaborating with the customer success department may not be the most efficient approach.
In order to help our clients better understand how people search for their target keywords at scale, we integrated People Also Ask into Content Fusion, our AI-Driven content writer.
Content Fusion pulls in the People Also Ask questions from the Google SERP in real-time so you can be informed as to what questions end users are asking. When you answer these questions appropriately, you've just generated FAQ content that can be turned into the FAQ schema.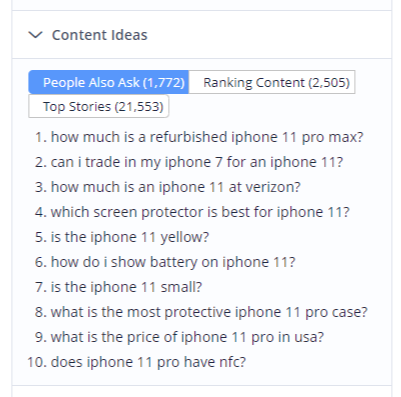 (People Also Ask for the keyword "iPhone 11" in Content Fusion.)
How to Add FAQ Schema
In order to add the FAQ schema to the SERP, you'll need to create the right code format with the questions and answers labeled accordingly.
We've created a universal FAQ schema code that you can access, edit, and implement on your own site. This FAQ schema template will house both the questions and their respective answers that the users will see, so be sure you have your content ready before you move on.
Note: There is also a Google Tag Manager method to add FAQ schema, but it is not ideal. It should be done at a template level, especially if you are looking to scale this across hundreds of pages.
Once you've copied the code and adjusted the questions/answers appropriately, load the code into the page's settings on your Content Management System. Most CMS's have an advanced setting for code snippets. In HubSpot, for example, it looks like this:

(Additional code snippet section of the HubSpot CMS.)
Testing Your Code
Implementing code on your site can be a nerve-wracking process, and you may question if you've done it correctly. There are two methods we recommend you follow in order to check your code.
TIP: Always double-check the code, even if you've done this process before. A small typo can ruin everything!
#1. Google's Structured Data Testing Tool
Test your structured data with Google's testing tool.
Click the "Code Snippet" tab.
Input your code into the box, and run the test.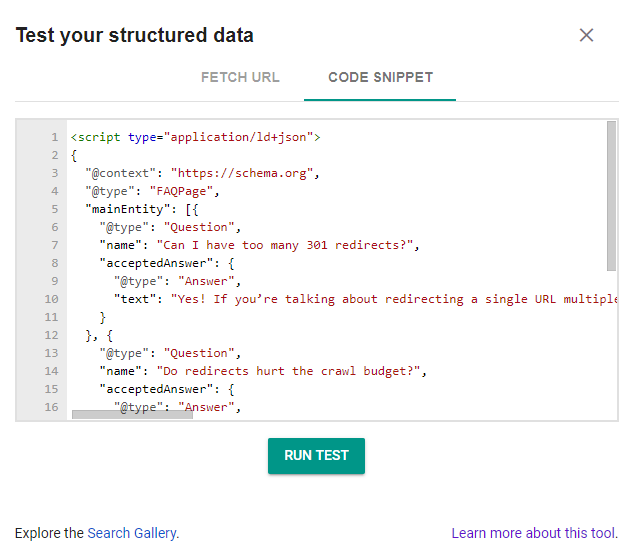 (Validate a code snippet with Google's structured data testing tool.)
The tool will present you with a side-by-side view of your code and its formatted information.
3. Check for warnings or errors.
4. If there are errors, alter the code and click the circular button in the center of the screen to validate the code.

(The testing tool can properly read the FAQ schema.)
#2. Google's Rich Results Test
A second step in the verification process is to run Google's rich results test.
Here, we're going to input a published piece of content's URL to test if that page is eligible for a rich result on the SERP. Input the content's URL in the text bar, and click "Test URL."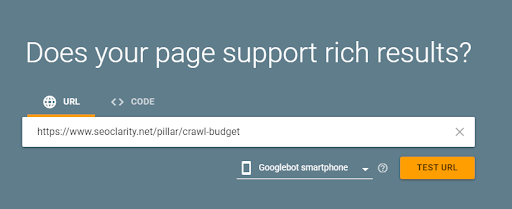 (Google's rich results test validates that a URL is eligible for a rich result.)
You'll be alerted to whether or not your page is eligible for rich results. If the test is successful, you'll see a message that reads "All structured data on the page can generate rich results," as well as the detected items (i.e. FAQ).
(Our URL is validated as being eligible for rich results.)
Conclusion
The FAQ schema is an easy-to-implement secret weapon for increasing your search visibility and CTR. The increase in the size of your listing draws the user's eye, and useful information offers a positive user experience.
Note: The SERP is always changing, and so is the way we measure search visibility. To learn more about a new way to track search visibility on the SERP, reference seoClarity's new approach to rank tracking: Visibility Share.