Spend any amount of time in Google search and you're sure to notice it: the neighborhood around your good old ten blue links is getting more crowded and diverse.
We took a look at SERP features in billions of search pages globally and found:
Results are getting more visual, with product listings, image carousels, web listing thumbnails and more.
When Image Packs are present, they rank in the #1 position 40% of the time.
40-60% of ecommerce results trigger a Top Products feature, which occupies up to 80% of the visual real estate.
Maps show up many times even when the search term isn't looking for a location.
And more…
When these features are prevalent in your results, they may be stealing visibility and clicks from your organic results no matter how high you rank.
All of this may leave you wondering:
How much are these SERP features encroaching on the visibility of my ranking keywords?
How is that changing over time?


How Many SERP Features Are You Winning?
seoClarity Rank Intelligence SERP Features can answer that question in two ways.
The default view shows the current status of SERP features for your keywords: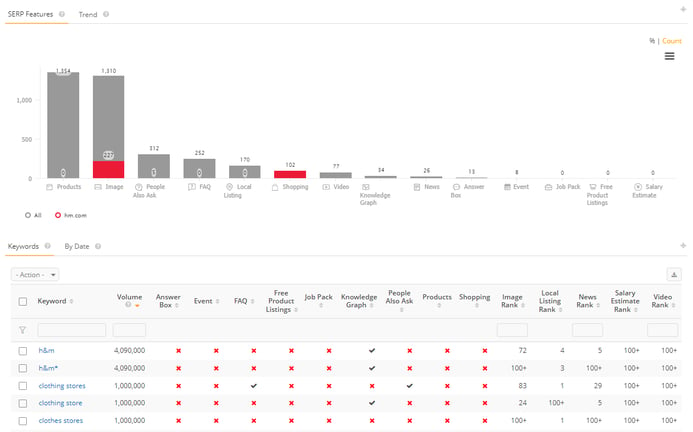 In the chart, the gray zones of each bar represent the total occurrences of each feature in the SERPs for your keywords for the date range selected. The colored area shows your share of those features.


How Are SERP Features Affecting My Visibility Over Time?
Click over to the Trend tab to see SERP feature presence for your keywords trended over time.
The default view shows your share of the various SERP features as it has changed over time.
Recommended Reading: You Can't Beat Google's SERP Features, so Join Them!
You can toggle that to show the trend of the total presence (i.e., all occurrences of the feature in the SERPs, whether owned by you or a competitor).
What Can You Learn from the Trend View of Your Share of these Features?
Here we can see that this site's presence in Shopping features has tripled since early July.
Let's filter by the Shopping feature. Scrolling down we can see the keywords where we are showing up in this feature.
We might want to investigate what (if anything) we changed about those pages in the recent past.
If we did some optimization that might have triggered us earning more Product Listing spots, then maybe we should apply that learning to more of our pages.
A quick note on SERP features classification …

SERP Features in seoClarity has a number of search features that you can analyze. A few of these Google features are quite similar, and we want to point out their differences: Free Product Listings, Products, and Shopping (Ads).
In the seoClarity platform, Free Product Listings refer to the search feature on the right-hand side of the results page, like this: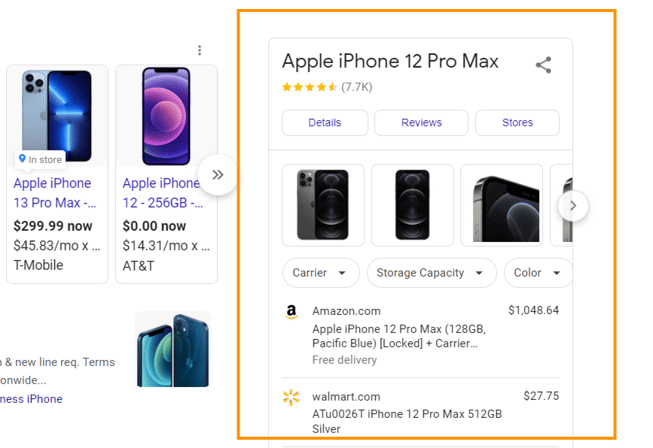 Any reference to the Products feature means the carousel that takes up the main SERP real estate, as shown here: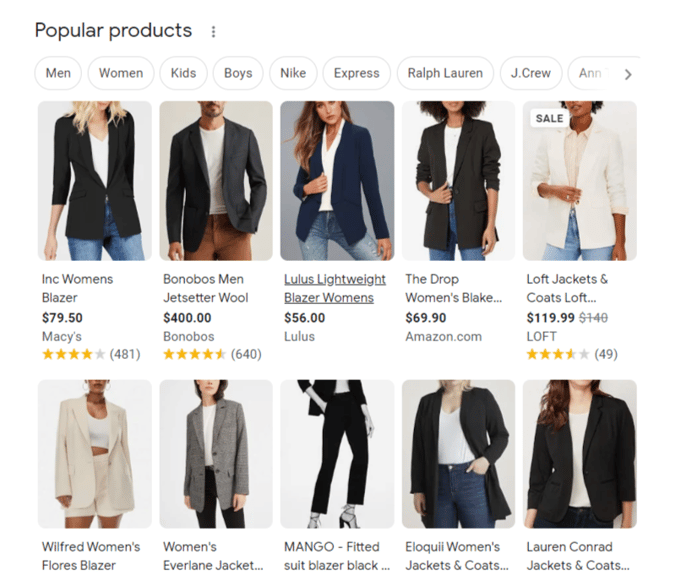 Lastly, there's the Shopping (Ads), which are your standard advertisements at the top of the SERP.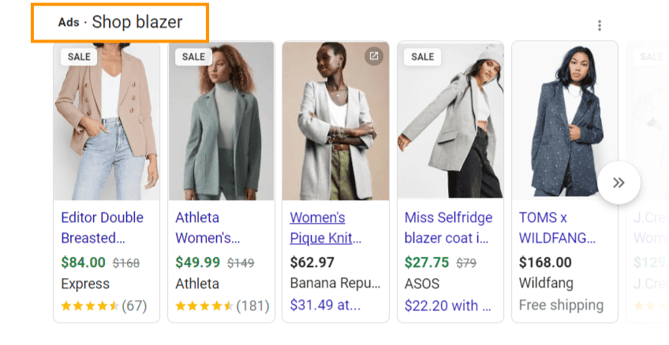 What Can You Learn from Total SERP Feature Presence?
Back in the SERP Features Trend view, switching from Your Share to Total shows us the presence of all SERP Features in search results for our keywords, whether we own them or not.
For another site, this view shows us that for their keywords, (1) FAQ results increased starting in late May, while (2) PAA results took a sharp decline in early July. This may indicate a need for a change in strategy if the trend continues.
Conclusion
SERP features are here to stay. Having a proper understanding of them allows you to strategize on how to best increase your search visibility for your brand.
See what insights you can gain from analyzing the trends of SERP features for your keywords with seoClarity.