Prioritizing keyword opportunities is about more than looking at high search demand or high cost CPC keywords in Google Keyword Planner.
When you have a large site packed with content, you need to focus on a range of metrics to improve your search visibility and gain more organic traffic than your competitors. There is one data point that can point you to new low hanging fruit opportunities - keyword difficulty.
This critical SEO measure helps you decide which target keywords or phrases to prioritize to help your business appear higher up the search engine results pages (SERP) and become more visible online.
Let's dive into the history behind effective keyword research, what keyword difficulty is, where it fits into your overall SEO keyword tactics and how it can be measured in various ways.


What Is Keyword Difficulty?
First of all, keyword difficulty has existed for about a decade, and started when SEO tools tried to help users understand how to prioritize and determine how hard it is to rank for a specific keyword.
Most tools used some range of metrics that gave each keyword a score based on a combination of metrics to determine domain authority.
This is almost always determined by the number of backlinks a site has, and the measure of the authority those that link to a site have within the context of the link.
Keyword difficulty is typically presented as a number or percent - the higher the number, the more difficult it is to rank highly for a particular keyword.
The difficulty score tells you which keywords to invest time and effort in first. It can also help you identify any low hanging fruit in your keyword set.
These are the keywords where there's an opportunity for your business to gain visibility, giving you a better shot at appearing higher up the SERP.
seoClarity Tip: If you're new to SEO, it can be easy to confuse 'keyword difficulty' with 'keyword competition'. In Google's keyword planner, 'competition' refers to paid search results whereas 'keyword difficulty' only applies to organic search results which will drive organic traffic to your site.
Usually, prioritization is decided by looking at high-demand keywords with big search volume or CPC rates. However, there are many different approaches to measuring keyword difficulty depending on which keyword research tool is used.


The Role of Keyword Difficulty in Keyword Research
No one really knows how Google determines what pages to rank high for any particular query. With more than 200 ranking factors that goes into determining which pages should rank higher. As an SEO, how do you determine what keywords to focus on from the list.
That's where keyword difficulty comes into the picture.
In the old days, SEO use to download all the variations of keywords from Google's Keyword Planner and start working on higher search volume keywords to drive more traffic to their site without thinking about how difficult it will be to rank for high search volume terms.
Of course, optimizing your content for search doesn't mean chasing endless adjustments to Google's algorithms.
Instead, create the most authoritative content and cover the appropriate intents for a topic. Before you move to create this content, you want to make sure you know what queries should be prioritized.
As your customers ask the internet increasingly complex questions, search engine algorithms have adapted to provide the answers.
Previously, people would search for keywords like "running shoes". But as search engines started to show results more closely matched to more detailed searches, people started to ask more intentional questions - like "where can I buy running shoes with high insteps?" - to find the information they wanted.
The algorithm update from Google's RankBrain changed a lot of things. Gone are the days of keyword stuffing and the focus on string match in your content.
Search engines better understand long tail keywords and semantic keywords and the context and intent behind our search queries. Which impacts the way we should approach keyword research.
Today, we don't recommend that you start with the main head terms - which traditional keyword research prioritization processes direct to highest search demand and/or the cost per click (CPC) metric as a way to prioritize creating content for a keyword.
At seoClarity, we recommend to focus on the entire topic and to create pages and content around that topic, this concept is referred to as topic clusters. It's intentional in creating content that covers all search intent before you go after the main term to become an authority on the topic.
For example, if you want to rank for the word shoes - which would be hard to do, start by creating pages and content around that topic first.
Writing and optimizing content for womens boots, womens wedding shoes, leather shoes, leather booties, Nike running shoes, etc.
All of this considered, the opportunity for a keyword or topic needs to understand how much competition is there for a topic you want to prioritize to see what chance there is to gain search visibility.
Our Five-Step Approach to Keyword Research and Prioritization
Before you can prioritize, you'll need a list of topics and keywords options to whittle down. We recommend following this five-step process for your keyword research framework:
Plant -

create a huge list of topics and keywords that help your audience understand what you do. We outlined an

in-depth keyword research process

to identify all the keywords that might be relevant for your business. Your list will include a wide range of related but irrelevant words which you'll need to get rid of in step two.
Prune -

broad topics, like "running shoes" need to be associated with

relevant keywords and categories

to answer the complex queries your customers are searching for. A keyword tool will help you eliminate unconnected phrases.

Prioritize -

you're close to your definitive list of keywords but which keywords should you invest time, money and effort in? To decide, you need to understand keyword difficulty.

Build - create content around the topics that you want to be relevant and drive authority for.
Track and Tweak - analyze and re-optimize content to bring more relevancy and authority to the page as the results and performance come in.


How Do SEO Tools Approach Keyword Difficulty Scores?
Keyword difficulty is established in different ways. The most common approach? Measuring the quality and number of backlinks that appear in the top ten SERPs for a particular keyword. The more occurrences and the better the quality, the higher the keyword difficulty score.
Keyword tools decide how competitive those pages are based on the strength of their backlinks. And they do this by looking at the domain authorities or page authorities of the indexed pages.
These three terms - keyword difficulty, page authority and domain authority - are used by SEO technology companies use to gauge how much a link impacts a page's ability to rank for a particular search term.
As there is no single defined approach, each SEO technology provider uses its own blend of metrics to assess keyword difficulty:
Moz looks at page and domain authority based on their backlink index and presents a score.
SEMRush doesn't give much away about their methods but based on online intelligence, we're putting our money on domain authority backlinks.
Ahrefs count the number of referring domains the top 10 ranking pages have for a keyword.
Here's a research study from Moz on how well these tools and others perform in predicting keyword difficulty. The main takeaway is that the research defines that correlation in the score is about 8-12% better than flipping a coin.
Other elements typically looked at by SEO agencies to determine domain authority are citation flow and trust flow.
Citation flow refers to the popularity of a link on a site. Websites with lots of links pointing to them will get a good citation flow score. But that doesn't mean they're reliable.
Trust flow is a metric that assesses how trustworthy a site is by measuring its quality based on how authoritative and qualitative it is.
Google rewards qualitative backlinks, so sites with links to good quality content will rank higher than those that don't. It's harder to get good trust flow than citation flow but sites should try to get a good balance of the two.
Why Domain and Page Authority Shouldn't Be the ONLY Measures of Keyword Difficulty
SEO keyword tools that only use domain and/or page authority to measure keyword difficulty are missing an opportunity to improve their ranking to an even greater extent.
The only known method to increase search visibility is to provide authoritative content at each stage of the buyers' journey with aligned keywords.
Even Google themselves say that PageRank includes 100's of other signals, not just links.
DYK that after 18 years we're still using PageRank (and 100s of other signals) in ranking?

Wanna know how it works?https://t.co/CfOlxGauGF pic.twitter.com/3YJeNbXLml

— Gary "鯨理" Illyes (@methode) February 9, 2017
As we know, Google looks at a range of factors including:
A

n always evolving version of the original 2006 page rank

which gives pages a quality score in comparison to other pages

Contextually accurate anchor text which is the clickable text in a hyperlink

Great on-page SEO that includes meta-data, location and font size of certain words to provide your user (and Google) clues about what the webpage is about.

And a whole lot more!
This means enterprises need to base keyword difficulty on a number of different factors and not just the strength of a domain's authority (DA) or the page authority.
In the past, domain authority had a stronger influencer or correlation of page rankings but, in part due to manipulation of Google's algorithm over the years, it's not as strong as it once was, or at least not the ONLY indication of or correlation to rankings.
Even Moz's recent DA correlation study, shows Moz's DA being .121 correlation with SERP. Although it's noted that it does have the strongest correlation than any other page authority metric.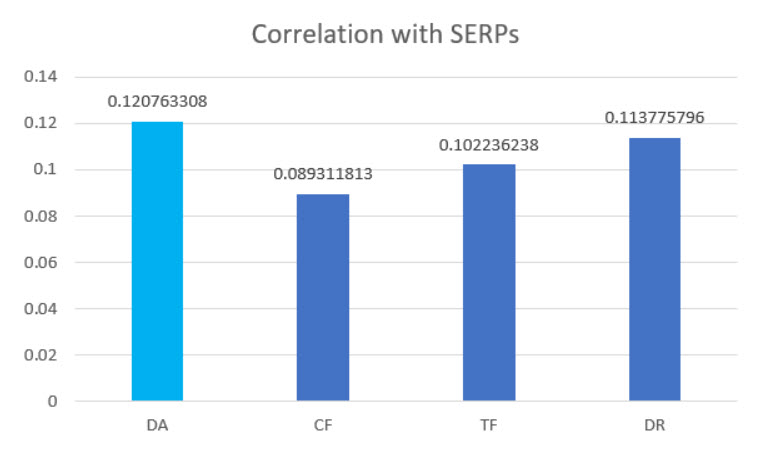 What Other Factors Should Keyword Difficulty Consider Instead?
Taking a more balanced approach will bring you closer to Google's own methods of evaluating search results.
Not that domain authority doesn't have its place: it can still be valuable in predicting page rankings, particularly when there's a strong correlation between domain authority and a particular page.
However, this doesn't always happen which is why referencing a range of other factors is smarter.
seoClarity's beta keyword difficulty metric will look at a range of factors to determine how difficult is to rank for a keyword.
This range of factors approach will include factors that include more than just backlinks. Because the fact of the matter is, the correlation between ranking and domain authority or the number of backlinks isn't as strong as it once was.
Because there isn't anything else, SEOs and agency's cling to this approach. This doesn't mean that this approach is wrong, right, good, or bad. It's just simply used because it's available.
Even this correlation analysis from Moz's Domain Authority Correlation from 2017 shows that branded search volume has more correlation with rankings than DA.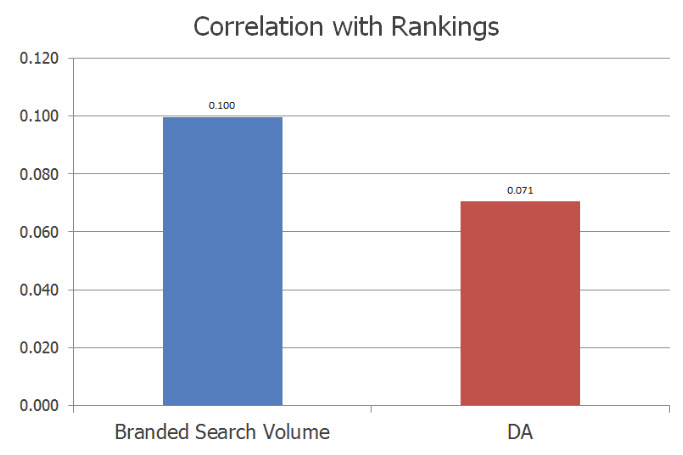 seoClarity's keyword difficulty metric approach is different. So far, in our beta-testing, we have found the correlation to rankings so much stronger than other keyword difficulty scores out there.
It includes a combination of Page Strength, Keyword Difficulty, and Keyword Opportunity. Want to learn more about this? Request a demo and we can dive in and show you the results so far.


Final Thoughts
We get it, integrating keyword difficulty scores into your keyword research can feel like a tricky job with so much to consider.
Make this task easy with a different approach in a keyword difficulty tool so you don't have to manually identify a searcher's intent and juggle topics, categories and keywords.