YouTube is far more than just a website. It's a complete search engine. In fact, it's the second largest search engine in the world behind Google.
With 3 billion searches made every month on the engine, it can be a key driver of traffic for your content marketing strategy.
Since Google owns YouTube, video content often appears on the Google search engine results pages in video carousels.
If you see 75% of your managed keywords trigger the video carousel on the Google SERPs, video should become a part of your content strategy.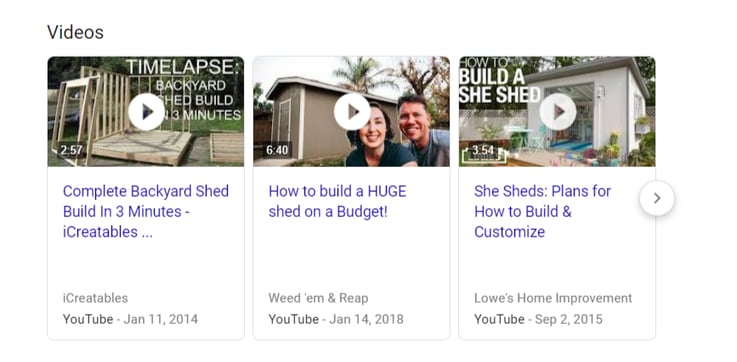 (A video carousel on the Google results page.)


What is Video Rank Tracking?
Just like any digital marketing effort, you want to track performance so you can optimize for search visibility. That's where video rank tracking comes in.
Since YouTube is a standalone search engine of its own, it has its own search results and rankings on the platform. You can get this data through API extracts, but as you've seen, YouTube videos exist on Google, too. That means your videos actually have two ranking opportunities: on YouTube itself, and on the Google SERPs.
Video rank tracking analyzes which keywords trigger those video carousel results, and which YouTube publisher ranks for a certain position.
It's crucial that brands understand these rankings to know what optimizations opportunities exist to drive more traffic to their content.
Optimizing for YouTube is essentially optimizing for the SERP results as well.


The Importance of a Video Rank Tracker
Video rank tracking allows you to know what rankings have been lost or gained over a certain period of time as the SERP moves in real-time.
Analyzing this data clues you in on what optimization tactics are working, but more importantly, what content needs to be optimized further to get more views.
You can also discover gaps where competitors have videos ranking on the SERP, but you don't. This is just one strategy to uncover evergreen video content ideas.
Plus, understanding these video rankings and sharing this information with your content or social team (or whoever is in charge of video production) creates interdepartmental synergy that further proves the value of SEO.
Your work helps others in your organization, and helps to naturally evangelize SEO and build out a Center of Excellence.


Video Rank Tracking With seoClarity
seoClarity's Video feature allows you to enter any YouTube channel's publisher name to see a breadth of information:
Keywords: The count of keywords that trigger a video pack (carousel).
Search Volume: Search Volume based on the count of keywords ranking with a video result.
Ranking Videos: The selected domain's videos that are actually ranking.
Video Rankings by Month: A trended view of ranking keywords and videos to analyze change over time.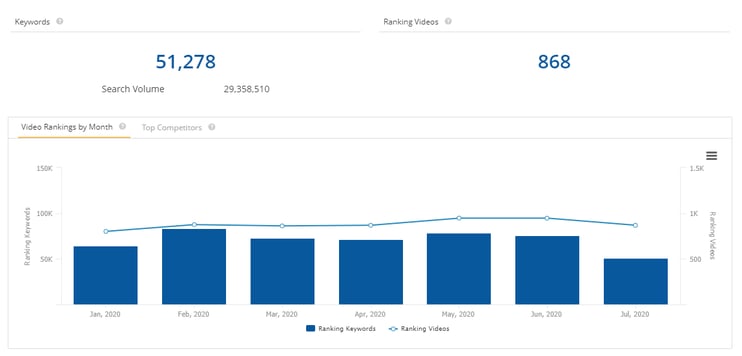 But that's not all — the gold is in the table below!


For a deeper look, you can use the tracked status filter to look at your managed keywords since those are the keywords you probably care the most about.
This keyword list tells you:
Keyword: They search query that triggers the video on the Google SERP.
Video Rank: The rank of the video carousel on the SERP.
Sub Rank: The rank of the respective video within the video carousel.
URL: Each YouTube video's unique URL.
Search Volume: The search volume for the given month selected.
(The image below shows the difference between video rank and subrank.)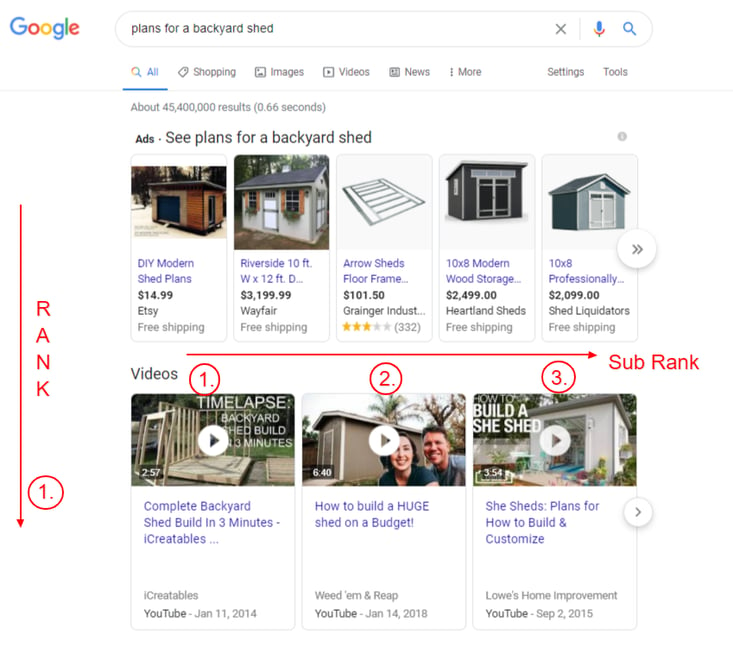 (Rank versus sub rank on the Google SERP.)
There are a few different views you can analyze to inform your video strategy. Let's take a look at them in turn.
Compare View
This view allows you to look back and compare against data from any month prior from the Research Grid — our community-driven competitive data set.
When you compare between two dates, you can see which rankings on the carousel are new (which shows you that your optimization tactics are working) and you can see which rankings have been lost.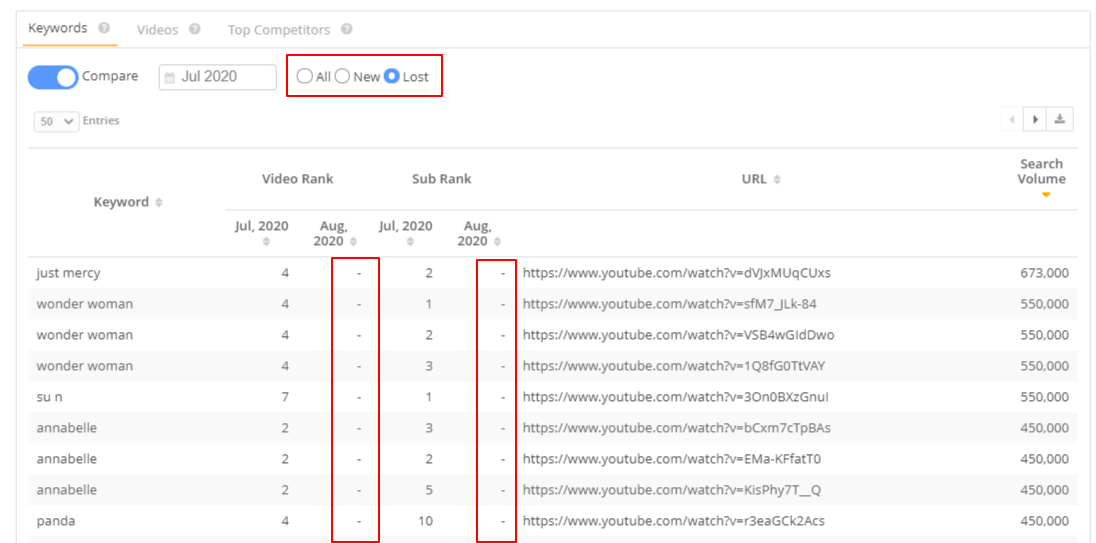 (Keywords that lost video rankings over time.)


Lost rankings means that the keywords, at one point, led to a SERP with this brand's YouTube videos ranking in the Google carousel. Now, those videos no longer rank in the carousel for those keywords.
This is a great way to find low hanging fruit opportunities and reoptimize content.
Note: To check how many keywords trigger the video carousel in general, use Rank Intelligence with the domain video.google.com. This will give you insights on how many keywords show video results for your industry. This, too, can lead to content opportunities.
If you enter the respective target keyword into Content Fusion — our AI-driven content writer — you can discover new topics and terms to include in your video copy (i.e. the video description and video title) to enhance its overall authoritativeness.
You can also filter down the keyword list to remove those that include your brand name. These could lead to really big wins. It would demonstrate that you're relevant for a query without having to mention your brand.
Top Competitors View
Another great feature is the top competitors view, which shows other YouTube publishers that you are competing with. When you locate your top competitors' names, run a new search now of that publisher name instead of yours. This will show you a lot more new keyword opportunities.
Plus, it's likely that your competitors rank in areas where you don't, so this opens the door to wider keyword targeting for your existing videos. Or, this can reveal what new video content you should make.
Pass along this information off to the team that is in charge of the video content so they can optimize all new opportunities. Not to mention that doing so once again proves that SEO is connected to other departments within your company.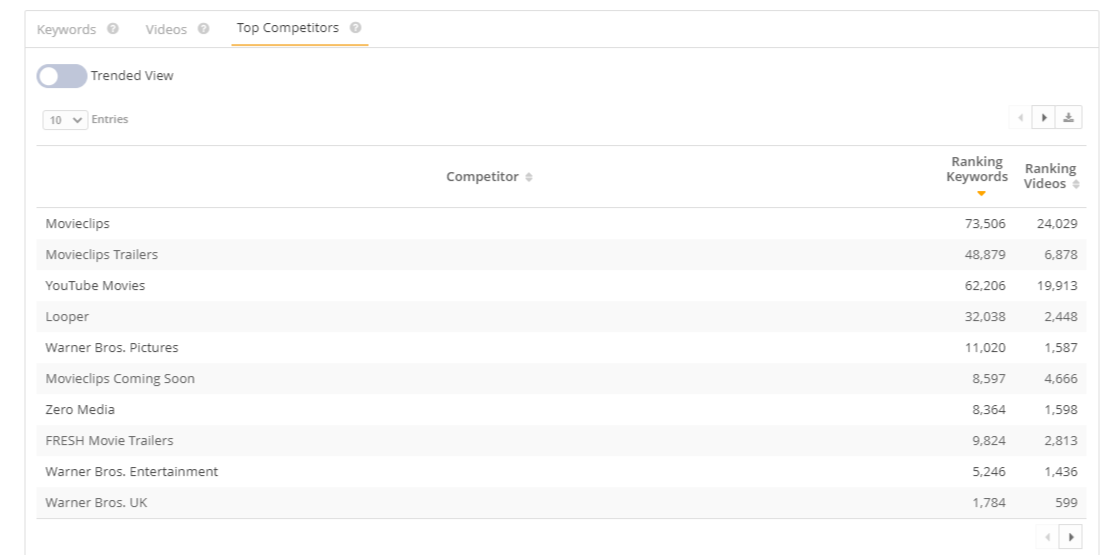 (Top Competitors view in the seoClarity platform.)


Conclusion
Understanding how your videos perform in the SERP is the first step in optimizing your video content — and offering value to other teams within your organization.
To learn more about the features of the seoClarity platform, schedule a demo to hear from one of our Account Executives.