Depending on the vertical, the desktop and mobile search results pages differ widely from each other. In fact, they're hardly the same SERPs at all.
Perhaps it's because of these differences that many SEOs focus on monitoring desktop performance — the mobile SERP is too niche, mobile is too crowded.
Or maybe it's because most keyword research tools are desktop-driven, which leaves SEOs with no visibility into the mobile SERPs at all!
In a time where more than 50% of searches are done on mobile, it's a mistake to lose sight of mobile performance.
At seoClarity, we realize the importance and power of mobile when it comes to organic search traffic, and in this post I want to show you the unique ways we approach mobile so our clients can succeed.
Interested in optimizing for mobile? Check out this post: 6 Factors That Help Improve Mobile Search Visibility.


How seoClarity Tackles Mobile
#1. Mobile Visibility for Any Brand
We've been collecting the top 100 results for Google Mobile since 2016, so our clients can stay ahead in the mobile-first world we live in. This data lives in the world's largest competitive dataset for mobile, the seoClarity Research Grid.
Compare our mobile keyword data set against the SEO tool you are using, you'll see that most have focused solely on desktop visibility which leaves a big hole in understanding your mobile performance. We've noticed up to 10x the difference in mobile keywords vs. desktop when comparing to other tools.
You can even analyze mobile.google.com as a domain, or other Google properties for that matter!
The size of the database means that your analyses aren't just limited to your own managed keyword set — you have the freedom slice, dice, and analyze this data with on-the-fly competitive analysis.
You're free to enter a keyword, domain, or URL to run the analysis. Let's say we're interested in uncovering the mobile visibility of H&M — we enter gap.com and filter to mobile, and run the analysis!

(The Research Grid can be set to desktop or mobile.)
The summary box immediately shows us hm.com's rankings, user intent based on the discovered keywords, and of course the search visibility (displayed as a percentage).

(Uncover the search visibility of any brand.)
Note: Search Visibility is calculated by dividing the Estimated Traffic by the Traffic Potential.
To understand the competition's search visibility at the keyword level, there's a full keyword list that displays all the ranking keywords for the domain or URL entered.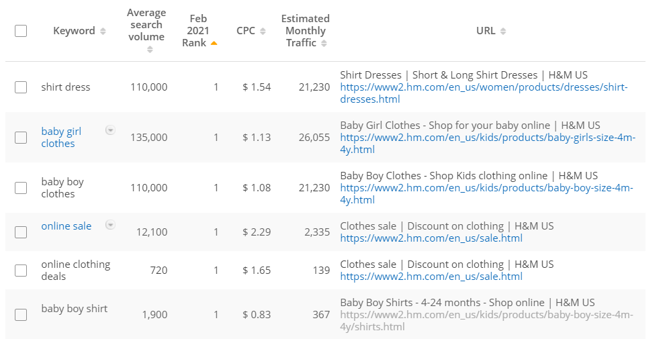 (Top ranking pages from H&M in the Research Grid.)
These results are sorted by rank position, but you can also sort by the keywords' alphabetical order, average search volume, CPC, estimated monthly traffic, or URL.


#2. Compare Desktop vs. Mobile
Wait a minute, isn't this post about the importance of mobile? Why are you talking about desktop?
Yes! You're absolutely right it is, but I want to show you the importance of mobile by comparing it directly to desktop performance.
In Rank Intelligence — the rank tracking portion of our platform — you can directly compare search engines for your own domain, or for competitor analysis.
In our case, we want to compare Google Desktop and Google Mobile, and with a few clicks we uncover this view: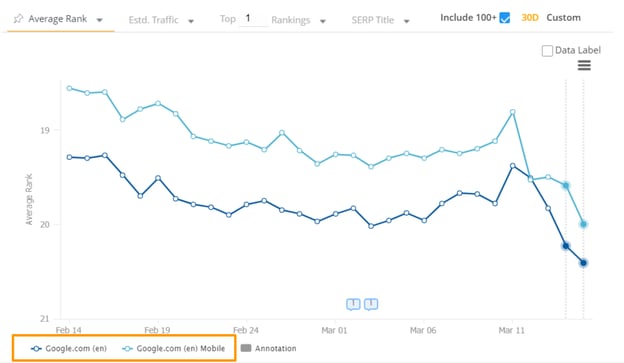 (Comparing desktop and mobile performance.)
This example uses Average Rank as the metrics, but you can also dig into:
Weighted Average Rank,
Estimated Traffic,
Top Positions,
Share of Voice,
And plenty more

Recommended Reading:
12 Ways Ranking Analysis is Better in seoClarity
#3. Competitor Comparison Analysis
Besides direct search engine comparison, Rank Intelligence also allows you to compare:
Domains,
Top Competitors,
Keyword Tags,
Page Tags, and
Content Types
Let's enter a few domains to compare their metrics in a single view.



(Compare domain against domain in Rank Intelligence.)
As you enter the competitor domains in seoClarity's Rank Intelligence, the data automatically populates in the summary tables. Here, we look at the trend graph for our a domain (H&M in this case) against three competitors: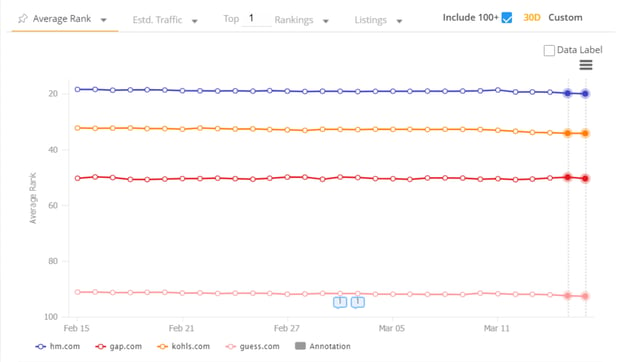 (Comparing multiple domains' average rank positions.)


#4. Visibility into Google Images and Shopping
Having a complete understanding of your brand's mobile visibility goes beyond Google Mobile. There are plenty of other Google search engines that searchers use on mobile to discover information, like Google Images and Google Shopping.
A quick filter selection in Rank Intelligence shows us performance on these search engines.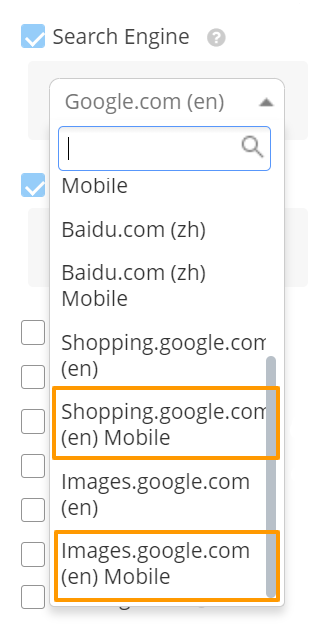 (Find insights into Google Images and Google Shopping.)


Within many industries (Clothing & Apparel, Fashion, Publishing, etc.), optimizing your presence in Google Images can be a fantastic source of increased visibility and related traffic. To help support this, we have added Google Images rank tracking directly within Rank Intelligence so you can understand your opportunities and performance.
As for Google Shopping, you can now track, manage, analyze, and report on your performance in Google Shopping just like you can within the regular Google results.


#5. Filter by AMP
AMP (accelerated mobile pages) are unique to mobile and help users have a cleaner online experience with faster page load times. This means they're extremely important to pay attention to as we approach the May 2021 Core Web Vitals update.
When you are within a highly competitive market, [AMP] is a differentiator and can assist in greater rankings.

— Susan Connelly
Note: If you're unfamiliar with the Core Web Vitals update and the importance of page speed, check out these resources:

You can filter by AMP in the seoClarity platform to confirm that the AMP has been implemented correctly. (In order for Google to show a page as AMP, it must be valid.)
Now, other tools can do this, but it's a fraction of the data because their mobile datasets are so small. It's not enough to have the feature functionality — you need access to the data in order to be able to do anything with it.
Let's say you want to discover all the keywords that trigger an AMP result for your domain — we'll continue to use H&M as an example.



Then, we simply use the filter options to narrow in on "AMP" as a SERP Feature.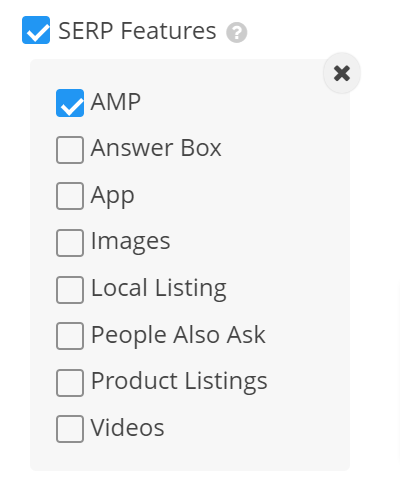 (Filtering by the AMP SERP Feature.)
This quick analysis reveals the keywords that trigger those features, which leads to great insights for mobile performance. You can, of course, do this against your competitors as well.


#6. Track Mobile SERP Features
The mobile SERPs have unique features that you won't find on desktop, including Visual Stories, Interesting Finds, and Latest From.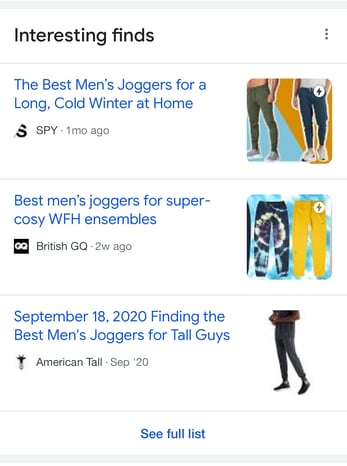 ('Interesting Finds' is popular among publishing companies.)
Publication websites seem to benefit the most from these features that show on mobile (notice how the three Interesting Finds above all lead to publication websites even though the query is "jogger for men").
Visual Stories is another SERP feature that Google is pushing heavily for publishers. So far, we've seen it only appear for travel-related queries.
In October 2020, Google introduced visual and immersive web stories to Google Discover on the Google app for Android and iOS. Currently, this feature is used by more than 800 million people each month!
The Top Stories carousel (currently available in the United States, India and, Brazil at the top of Discover) helps users find some of the best visual content from around the web.
Web Stories and Google Discover can play a role in driving traffic to your site. Take a look at the GSC data below of impressions and traffic coming from Discover and Web Stories.
Web Story Traffic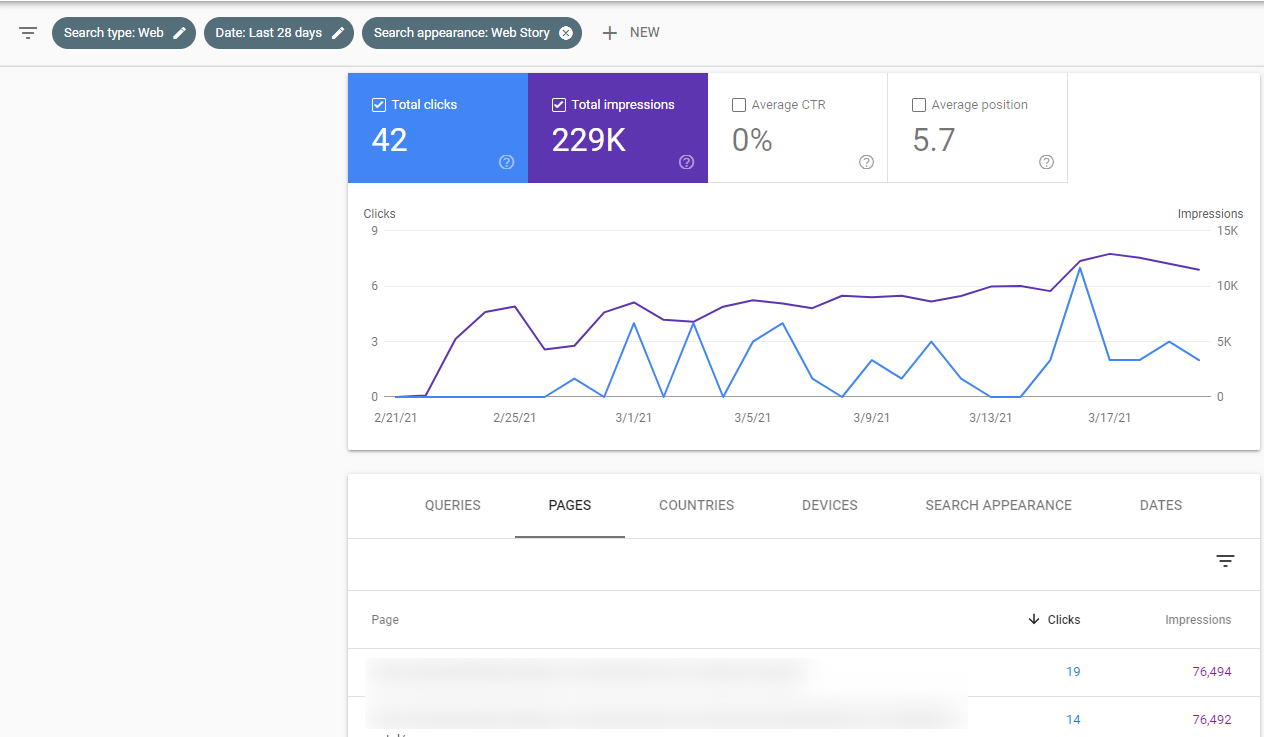 (GSC data for Google Web Stories.)
Google Discover Traffic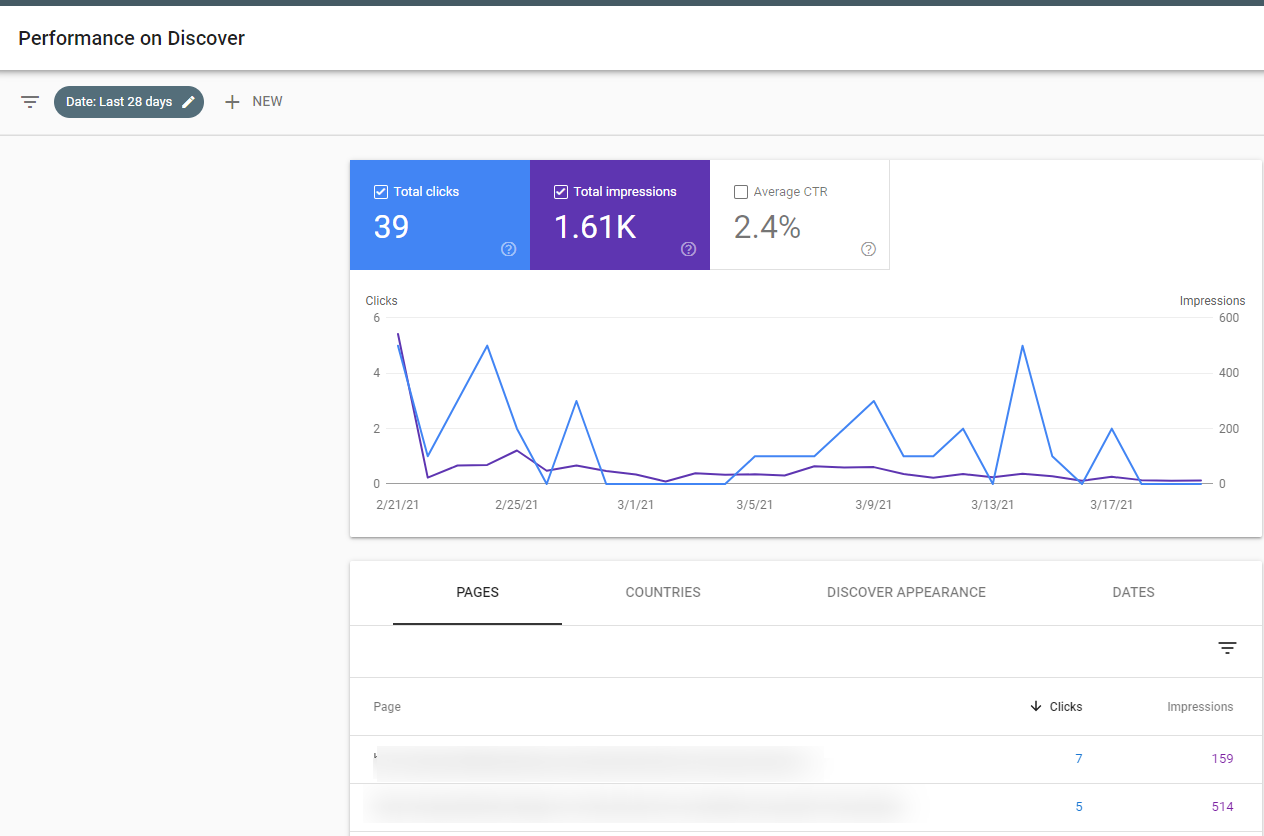 (GSC data for Google Discover.)
With the ability to track these mobile search features with Visibility Share — rank tracking based on pixel depth instead of standard rank positions — you can discover more opportunities to rank your content where actual users will see it and increase your search visibility.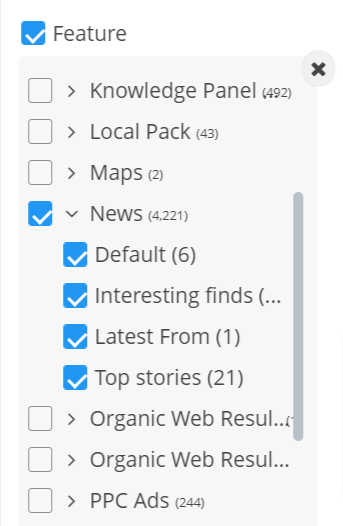 (Track mobile SERP features with Visibility Share.)
Conclusion
I get it: The mobile SERPs are crowded. But when you have a true understanding of your search performance on them, they become full of potential.
seoClarity is designed to help you succeed in a mobile-first world, so I hope you've found this post useful and have learned something new about us!