What is SEO Authorship?
Authorship refers to the inclusion of an author connected to a piece of content, and usually a picture and bio of them as well.
When applied to SEO, authorship signals authority over the topic. Simply put, authorship is a trust factor for the end user experience, and this trust can be leveraged.
Only certain content types apply for authorship, namely articles and blog posts. You wouldn't really find an author listed on a product page, for example.
So, authorship exists — but is it still relevant?
Let's dig in.


The History of Google Authorship
Google's investment in authorship as a ranking factor began in 2007 with the filing of their agent rank patent. The patent outlined Google's plans to introduce "digital signatures" — the reputation of the author for a piece of content.
Here are a few more key developments over the years:
2011: Google confirms that it supports the rel="author" markup
2011: The launch of Google+, and the ability for online authors to link the content that they've written with their Google+ account. After connecting their content to their Google+ account, authors were able to include a picture of themselves as well as a short bio that would be visible on search results pages alongside their content link.
2016: Google announces that it doesn't use authorship anymore, but the search engine still knows who the author is.
2020: Google files the Author Vectors patent that identifies authors through internet-based writing styles
Now that Google + is no longer around, some wonder if authorship is still important and relevant.
Here's what we have to say about authorship: it's another opportunity to demonstrate trust among your readers, so why skip over it?
As referenced in this SEJ article (written by seoClarity's very own Mark Traphagen a few years ago!), authorship is part of the search quality rater guidelines.
The fact that author reputation and credibility are now included in the quality rater guidelines is significant. It means that the real aims of the Google Authorship project never died, even if their explicit display in the SERPs never returns."
Why is Authorship Important?
So, authorship may not be as detailed as it was a decade ago, but it still plays an important role.
Authorship is a key indication of authority and trust that human users can use to gauge the validity of a piece of content.
Authorship is still important, it just has to be thought about in a different way — author info may no longer appear on the search engine results page, but it still works to generate trust when a user lands on your page.
After all, a blog post about your company's security protocols would be more trustworthy coming from the COO than from a Client Success manager.
Google's E-A-T
Google's quality raters look for overall expertise, authoritativeness, and trustworthiness to gauge the effectiveness of Google and the results it displays.
Associating an author with a piece of content is another way to demonstrate authority and build trust for these quality raters.
Expertise: expertise demonstrated in the content
Authoritativeness: the authoritativeness of the content creator (i.e. the author) and the content itself
Trustworthiness: the overall trust of the content creator, the content, and the website
Note: These are not ranking factors. They're instead a list of criteria that search raters evaluate when gauging the expertise, authority, and trustworthiness of search results.
E-A-T is especially important for Your Money, Your Life content — content about news, finance, people groups, etc. These topics have a direct impact on people's lives.

Demonstrating Authority to Google
Authorship is, of course, a small last step after you've created your authoritative content.
So, your first step is to create that authoritative content! This is where an AI content optimizer comes into play. One example of this is Content Fusion, which allows you to understand a topic and write about it with authority all at scale.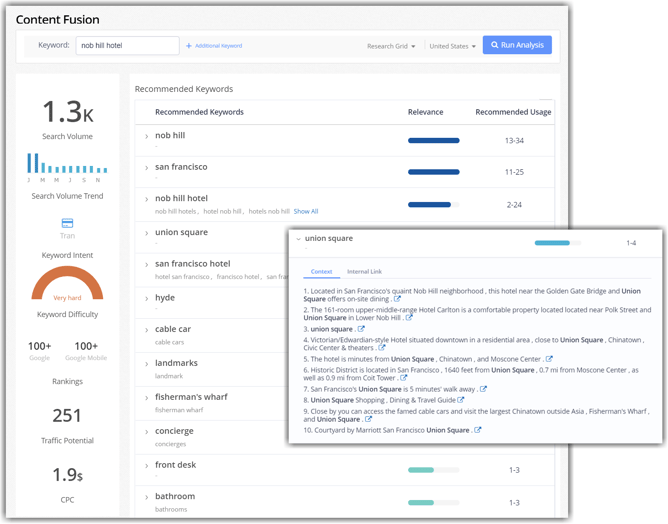 (Content Fusion tells you what you need to know to cover a topic authoritatively.)
We've also put together some helpful blog posts about how to create SEO content.
How to Add an Author
Most if not all content management systems will let you set an author.
You've taken the time to create authoritative content, so act on the additional opportunity to create trust with your audience by showing who the author is.
Again, this isn't a ranking factor, but it is something that search quality raters consider as a part of E-A-T. But, not all sites require the same level of the E-A-T criteria. Remember, it's most important for YMYL content.


Measuring the Performance of Authors' Content
If you want to segment your SEO performance by author to see how one writer's content performs compared to another, you can add your content to page tags.
In the seoClarity platform, for example, you can bundle pages into custom groups and analyze the organic performance of the content within those specific groupings.
This is a great way to drill into organic performance in a view that's meaningful to you. This can be especially useful for publishers who create a lot of content with a number of authors.


Finding an Author's Work on Your Site, At Scale
If you need to locate all pages on your site that were authored by someone in particular, you can turn to your website crawler.
A powerful site crawler will let you crawl your site based on custom criteria. You can set up your crawler to extract the author name from the XPath — many websites build author names into their templates for blog or article pages.
This allows you to quickly find the content where a particular author has the byline.


Conclusion
Authorship in SEO may have had a rocky past, but it isn't completely obsolete.
Sure, the author name will no longer appear on the SERPs, and Google+ is defunct, but adding an author to your blog content is still a way to enhance the user experience and build trust.
It's a small step that can do a lot!