Most businesses understand the importance of delivering quality evergreen content on a consistent basis. Many of them, however, face challenges along the way about what type of content and topics their writers should be covering.
This is where artificial intelligence, or AI, plays a crucial role in helping companies generate click-worthy content that their target market wants to see. With limited time and resources, your content marketing team can leverage the speed and power of AI within the seoClarity platform to give you the results you want faster.
Our team at seoClarity can provide you with the tools you need to truly create data-driven web content in a matter of a few clicks and workflows. First, it's important to consider the types of content your team is likely creating as part of their content strategy - content that our workflow sets out to help you create.
Three Types of Content Every Writer Creates
Your content can typically be divided into these three categories:
Evergreen. These topics and the keywords surrounding them remain fairly consistent and are of prolonged interest to readers. Topics create a constant flow of traffic, since the core of the topics does not change. Building topic clusters helps build authority in a topic and ultimately makes way for greater search visibility.
Sparks of Genius. These are newsworthy, trending topics that typically surround current events in the marketplace. This type of content will usually create a brief spike in traffic to your site, but it comes with a higher risk. For example, it's likely that your content will be in competition with thousands of others like it, and the overall payoff in traffic can't compare to the traffic from evergreen content.
Problem-Solution. This type of content is nearly always evergreen, but it is not necessarily universal in the way that evergreen content is universal. It often answers a question with subsequent step-by-step instructions.
If you are an seoClarity user, this post will walk you through the quick and easy workflow for creating each of the above types of content. Artificial Intelligence is important in helping our users generate content consistently to drive the best results for their marketing needs.
AI Content Marketing Workflows Within the Platform
Workflow 1: Content Ideas
Let's begin with the trendy topics that your content team is after. Content Ideas helps enterprise brands stay on top of exactly what is happening on a daily basis for any keyword they choose in the marketing place. Not only does this include the company's interests, but it also includes what others have already written about the topic.
Consider the search term used cars. A quick workflow would be to search this term in Content Ideas and select Top Stories, which lists the currently ranking top stories with data from Google News. You can organize these results by date, filter by news site, and view search volume and relevant keywords - among many other details.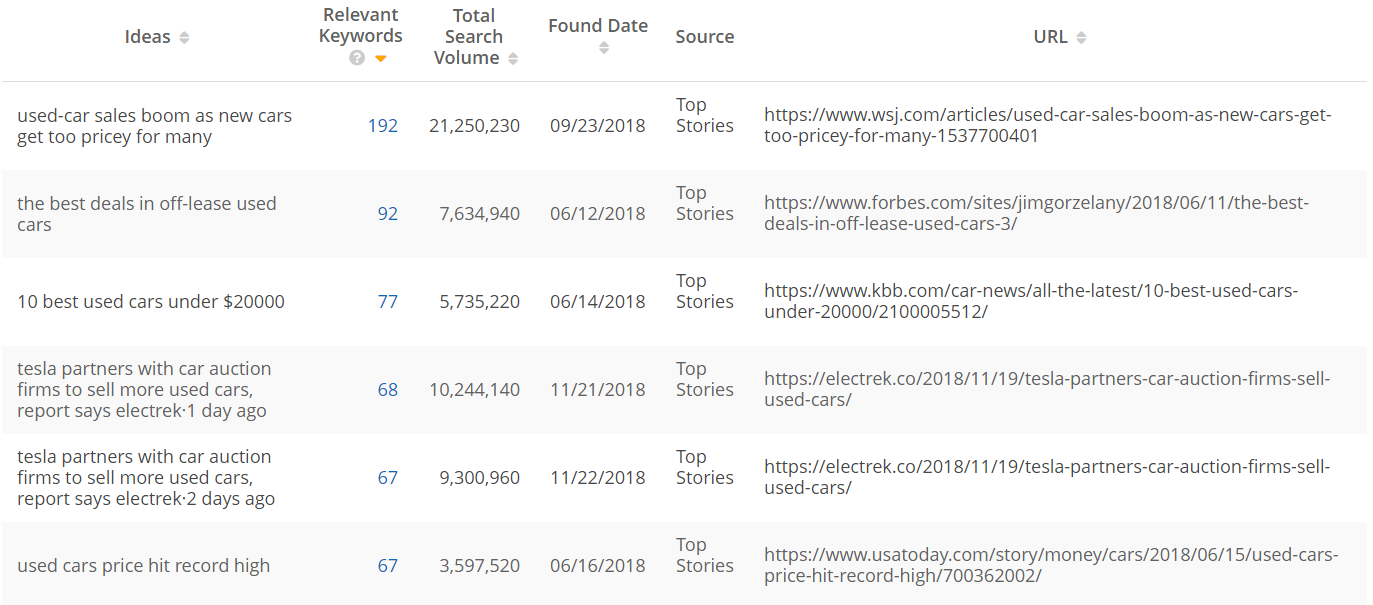 One filter that our clients frequently use is isolating the idea around a certain topic. For instance, say you want to only see the stories about used cars that involve Tesla cars. You can filter content ideas around a specific term (in this case, "Tesla") and use the results to inspire new content creation.
It is tremendously easy to train your content writers to use Content Ideas to conduct relevant research and write a unique version of content that's both newsworthy and trendy for your audience. This workflow is especially relevant for publishing houses and content teams that churn out a large amount of daily content.
Workflow 2: Answer Box Opportunity
The first step for any brand hoping to own Google's featured snippet or aka as the answer box is to assess the opportunity that exists to do so. This is super simple for brands to do within the platform. Let's continue to assume that your brand is in the automotive industry. Using the Answer Box Opportunity within our Research Grid, you can type in your URL and view all of the opportunities available for your brand to capture the answer box.

Above, you see that there are nearly 160,000 keywords for this brand that already rank in the top 100 and trigger an answer box in the SERP. But, which one of these are truly opportunities? How can you determine what to prioritize when you have 160,000 terms to consider?
The real opportunity here is for where your brand is ranking in the top 3. Our research on voice search shows that 95 - 98% of all results in the answer box come from the top 3 ranking results.

By applying the filter, we're able to see that there are over 6,700 keywords for the brand that rank in the top 3. We also see that currently, about 1,200 terms appear in the answer box for this brand.
Just below the report, we are able to see the terms where the brand does not appear in the answer box by applying a filter to exclude the brand URL in the answer box. This is the net opportunity for the brand's content team to tackle. They can do so by reformatting existing content where they rank by making changes that affect visibility (adding related keywords, bulleted lists, and internal links are a few common - and quick - changes).
Workflow 3: Topic Explorer
Keyword research has not evolved. This is where seoClarity has innovated how to do keyword research through the application of artificial intelligence to help take vast lists of keywords and group them into their root topics the same way that Google does. By understanding the user intent behind these groups of terms, the platform significantly reduces the human intervention to filter these massive lists of keywords with a single click to gather only the core, unique topics.
It sounds too good to be true; but, rest assured, Topic Explorer is the real deal and is quickly becoming one of our clients' favorite workflows for their content marketing.
As a content writer, you want the ability to know the entire search landscape for your topic and be able to build a path to topic authority. seoClarity provides content teams with a landscape view within Topic Explorer - the industry's first and only visual keyword research methodology.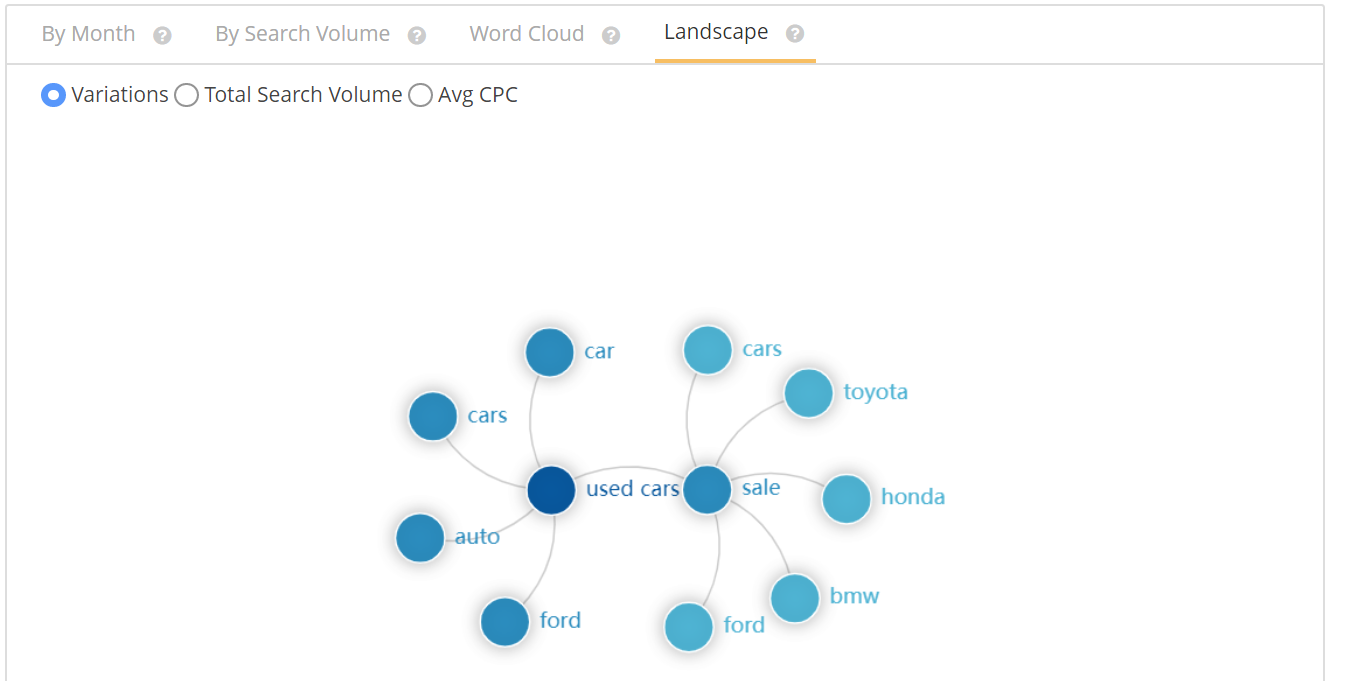 Using the same term, used cars, users can click through to see all of the topics and subtopic clusters that center around the topic. The visual above tells us that the topic of used cars is most commonly related to used car sales, which, by clicking through, we see is related to Ford used car sales, Honda used car sales, BMW used car sales, and so on.
To be an authority on the topic, content teams must create content that targets as many subtopics that are relevant to a brand. Instead of navigating lists of tens of thousands of keywords, you can navigate a visual display to understand the topic and subtopics you need to win. We recommend you go three levels deep in this display to build a breadth of content for every one of the third subtopics. From there, you can apply other strategies (like the ones mentioned above) to build authority and overall search visibility.
Workflow 4: Content Fusion
As we work our way through Topic Explorer's topic suggestions, we begin to see related keywords listed within the topics.

Here, I've chosen to focus on craigslist cars. By clicking the Content Fusion icon, I'm taken to seoClarity's AI-enabled content writer. From there, I see what to write about when covering the topic I've chosen, the user intent behind that term, and associated topics to include in what I write.

In the background, seoClarity's machine learning determines what makes any site (competitors or otherwise) an authority in the topic you've chosen. This process reverse engineers all of the data on what we should write about, and lists the topics you should cover (as you can see below).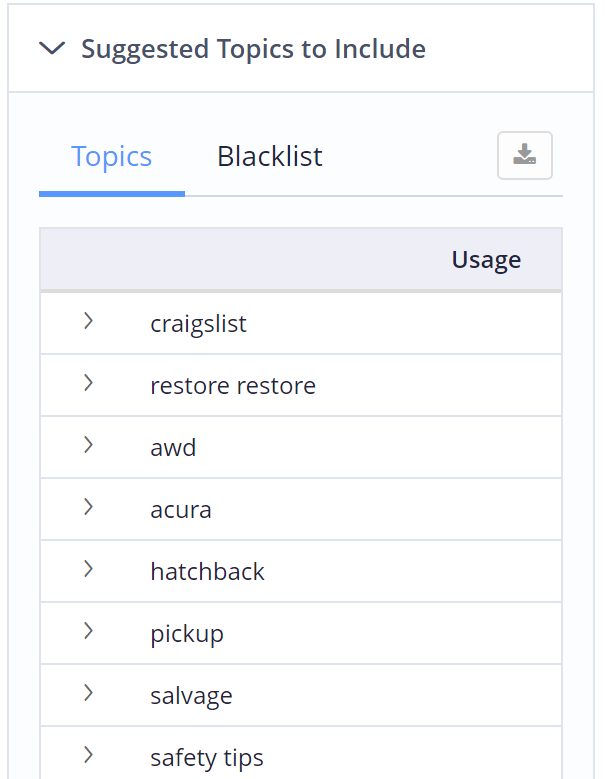 Incredible, isn't it? Now your content writers can understand how to cover a topic to the fullest without having to hunt and gather the required information. All the data they need to create their content is right in front of them!
Final Thoughts
Every enterprise comes with its own nuances and challenges as well as its own workflows for how to create content that drives business. What we are finding, however, is that little to no structure exists when it comes to content creation with a goal of full topic authority. Many still focus on creating content based on a list of keywords where their brand doesn't rank well, which isn't necessarily a bad workflow!
But, without the use of AI in your content marketing workflow, brands are missing out on the clear understanding of the entire landscape. Every marketing needs a full view of the landscape as it keeps changing for clear guidance on how to effectively capture the audience they desire to drive the business they deserve.
---
Editor's Note: This series is designed to provide SEOs and content marketers with consistent and repeatable SEO workflows, showcasing the power of our platform and the solutions our clients are raving about, according to our extremely knowledgeable Client Success Team. If you're not a client yet, book a demo with us today to see our platform in action!