Now more than ever, searchers expect more: more relevant results, accuracy, quality content, and definitive answers to their queries.
As a result, creating well-thought-out content that is optimized for the end user has never been more important. (In fact, offering the end user a good experience should always be your goal in SEO; we call it search experience optimization.)
The SEO content writing tips below will help content writers create relevant, meaningful content to improve search visibility on the SERP and create a trustworthy relationship with searchers in the process.
Table of Contents:
What Is SEO Content Writing?
SEO writing is a branch of copywriting that focuses on prioritizing the experience of an organic visitor. To achieve this, the copy must be relevant to the keywords or search phrases a person has searched for and matches their search intent appropriately.
But SEO writing involves more than just adding a handful of keywords to the copy. In fact, the work on SEO content begins far before any words have been written. SEO writers must consider who is searching for this information and why, and leverage that in the writing process.
It doesn't even consider the latest updates to the search algorithms, because those factors will catch up to quality SEO writing, not the other way around. Overall, quality SEO content writing is built for the long term and focuses on the searchers' experience.
These tips cover 19 ways SEO copywriting is different than how a traditional copywriter might approach the content.
Challenges When Creating SEO Content
With so much content and the rise of content chaos — an overwhelming quantity of content that every content creator tries to break through — the competition to capture the user's click has skyrocketed as the end users are more careful in their choice.
Recommended Reading: 8 Tricks to Creating Engaging Content
Search queries have also become increasingly more complex, and meeting those queries with well-optimized, thought-out content is the only way to attract users to your site.
But human search behavior isn't the only thing that has evolved — search engines are smart. Look at Google's RankBrain and BERT updates which allow the search engine to have a semantic understanding of search queries instead of simply the explicit phrase match.
And with the rise of generative AI, search engines are becoming even more intelligent and personalized as they roll out chat-style search such as Google's Search Generative Experience (SGE) or Bing's recent integration with OpenAI.
Recommended Reading: 4 Ways ChatGPT Impacts Enterprise SEO
Essential SEO Content Writing Tips and Techniques By Category
We created this list largely based on our own content creation and optimization process at seoClarity. You'll notice that all the tips have been categorized into four categories: research, authority, optimization, and analysis.
Think of this list as the "must-do's" in order to provide value to your users and demonstrate your authority — it's what you can do to one-up your content from that which already ranks on the SERP.
Conduct Thorough Research
#1. Target a Keyword / Topic
The first tip to create SEO content is to conduct proper keyword research. It's okay to brainstorm general keywords and ideas, but be sure to settle on at least one specific keyword before you write your content.
As we've seen, the SERP and search engines are smart and specific, so a slight variance in the search query can completely change the results page.
It's amazing how the intent of a query may change in the search engine's ranking results even with a simple change of the plural version of the word. Test balloon vs. balloons to see what I mean. See tip #6 below for more on this.
Also, pay attention to the topic cluster you're writing for. When you create a piece of content to cover a topic from all angles (and interlink those assets) it boosts your topical authority. (More on this in tip #7: Topic Clusters.)
#2. Know Who Your Audience Is
Before creating content, content writers should have a strong understanding of their audience.
Your content should always relate to your target audience in some way — address and appeal to their worries, passions, interests, etc. If you can't show that you know what your audience wants, they won't read your content.
#3. Review Top Ranked Content on the SERP
Known as the "skyscraper" technique, this research method involves reading other top ranked content for the topic that you want to cover. This process allows you to discover what other people are saying, and fill in the blanks for your own content.
This is in no way an excuse to plagiarize content, but rather ensure you're covering the topic from all angles. When you move on to the actual content writing, you'll want to make your content better than this existing top ranked content. Maybe you can give newer information, or you have more relevant statistics to offer.
When you create a piece of content that covers everything that ranking content does and then some, you'll be seen as an authority. This means you have a better chance of earning backlinks to your content, too.
Recommended Reading: SEO Content Writing Guide to Creating Authoritative Content
#4. Build Credibility
Strengthen your content by adding statistics, research or credible quotes. These features back up your idea and show that you've worked hard to offer the reader a relevant, positive experience.
They also show the concept you've written about is based in fact and authority. Essentially, you want to prove value and show why someone should read this piece of content.
#5. Build on the Content You Already Have
Be sure you're familiar with your existing content — there's no need to reinvent the wheel and create separate content for a topic that you've already covered. If you do, you can get caught up in "keyword cannibalization."
Keyword cannibalization is where you have multiple pieces of content that are all optimized for the same keyword. This not only confuses Google and the end user, but it also damages your rankings, as you're essentially combating against yourself for a position on the SERP.
For any search query, Google now only includes two listings from one site. Because of this, we recommend that content marketers build upon the content they already have to strengthen it even further. By updating existing content, you don't have to start new content from scratch which saves time and prevents unintentional keyword cannibalization.
Cover the Topic with Authority
#6. Target the Right Intent
As mentioned above, Google has become increasingly advanced in its ability to decipher a search query. This also means that the search engine understands the user intent behind a searcher's query, and tailors the SERP to the appropriate intent.
There are four kinds of intent that all searchers can be categorized as: informational, transactional, navigational, and local. The layout of the SERP can alert you of the type of intent behind a search.
The reason this is so important for your SEO content writing is because Google wants to present the end users with relevant information (i.e. information that matches their intent).
If, for example, a query has an underlying informational but you've created a transactional page around that keyword, you simply won't rank. That content doesn't give the user the information they're seeking, and Google's only concern is pleasing the end user.
#7. Topic Clusters
Topic clusters strengthen your topical authority on a subject because they ensure that you cover a topic from all angles. This doesn't mean that a single page can't cover multiple topics, but it's to say that the more varying content you have centered around that topic, the stronger your authority will be.
Content marketers really need to cover a topic from different angles.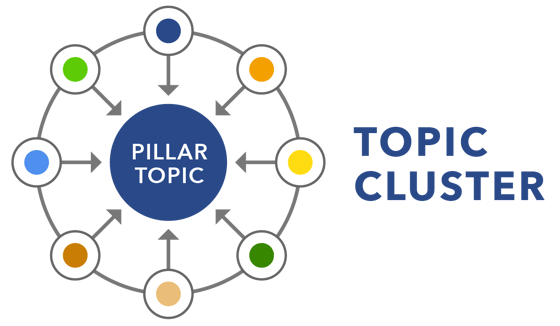 (Cover a subject from multiple angles to demonstrate your authority on the topic.)
#8. Content Type
Be sure to create the right content type for the right type of message. This is again in reference to the search intent, but also creating the right type of content for your specific messages.
While a blog post is great for informational purposes, a product page is better suited for listing actual products that users can buy. And although written text may seem the most well-suited, consider creating video-based content to attract users as well.
#9. Focus on Semantically Related Keywords
Long gone are the days of keyword stuffing in an attempt to move to the top of the SERP. This practice doesn't offer a positive user experience as it offers little chance for the user to really pull meaningful insights from the content.
Instead of this outdated practice, focus on including semantically related keywords in your connect that relate to the concept of your target keyword.
For example, if you write a piece of content on engagement rings, you want to talk about things like diamonds, heart-cut, carats, etc. All of these keywords relate to that central idea of engagement rings.
This also brings more authority to your content from the users perspective as you will likely introduce new concepts or other ideas that haven't yet been considered.
#10. Consider What Makes Your Content Link-Worthy
Exceptional content won't only give your readers a good user experience, it will also cause other websites to link to your site as a reference. Receiving backlinks is a huge indicator of a website's authority, and a ranking factor for the Google SERP.
Consider content ideas that attract links naturally. This may include original research, unique infographics, proprietary or owned concepts or unique approach that your company created to address your target audience's pains or needs.
#11. Write in an Active, Actionable Voice
The way in which you write can be just as important as the content that you create. You want to demonstrate your authority on the topic, and the active (not passive) voice strengths your writing ten fold.
It may seem like a trivial tip, but you want your audience to know that you have a good understanding of the topic at hand, and that's accomplished with strong writing!
Bonus: AI-Driven Content Insights
We know that all of the work involved in this process to create a single piece of well-optimized content isn't always feasible. Time and resources are scarce, and you likely have many other projects on your plate.
That's why seoClarity created Content Fusion for AI content optimization.
Content Fusion allows you to create authoritative content at scale and drive authority in your copy faster than ever before.
It applies a deep-learning algorithm to present users with a list of must-use topics to use in the copy to optimize for a keyword. (We operate the world's largest competitive data set so it's likely that we have keywords that relate to your industry.)
It's the key to writing high-quality content at scale, all on-the-fly in real time.
Here is part of the must-use topics for our example of "engagement rings":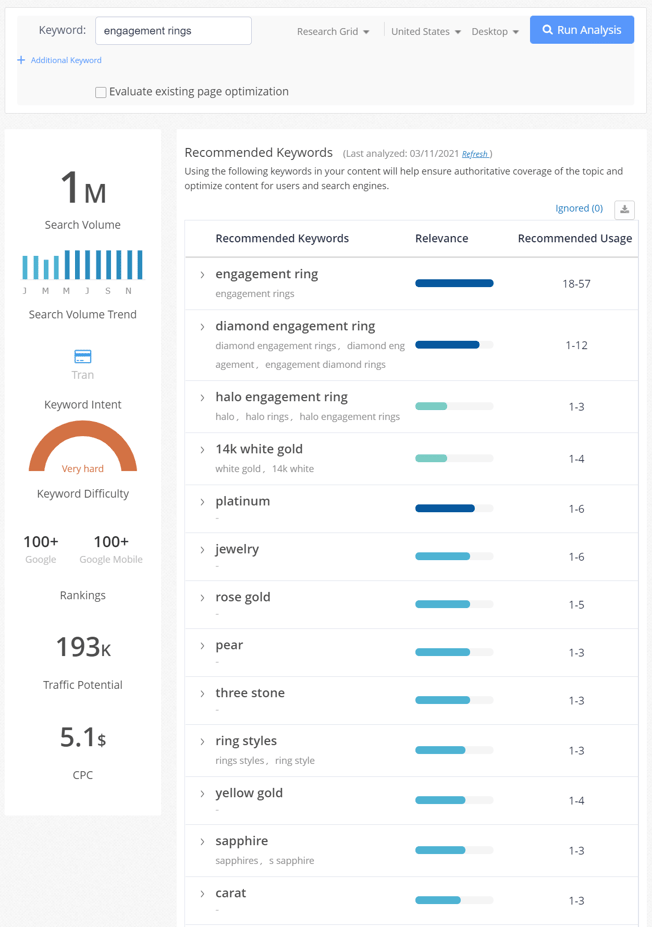 (A portion of the must-use topics for the keyword "engagement rings.")
Notice how Content Fusion also alleviates the need to manually search for the correct user intent. Here, it alerts us that this keyword has a transactional user intent, so a product page would be the correct content type to create in this case.
Another extension of our Research Grid, Topic Explorer allows you to create your topic clusters appropriately, while taking into account the semantic match of a keyword.
This expands potential keyword ideas far beyond the standard phrase match of a keyword. Google and other search engines now have a semantic understanding of information, so you need to show users that you have a holistic understanding as well.
Looking for a way to overcome writer's block? Content Fusion has been recently integrated with Sia, our AI-driven SEO assistant.
By clicking Sia's lightning bolt icon, users can effortlessly generate outlines, draft paragraphs, or rewrite existing content. Sia utilizes its extensive knowledge to personalize each task based on the topic and individual preferences.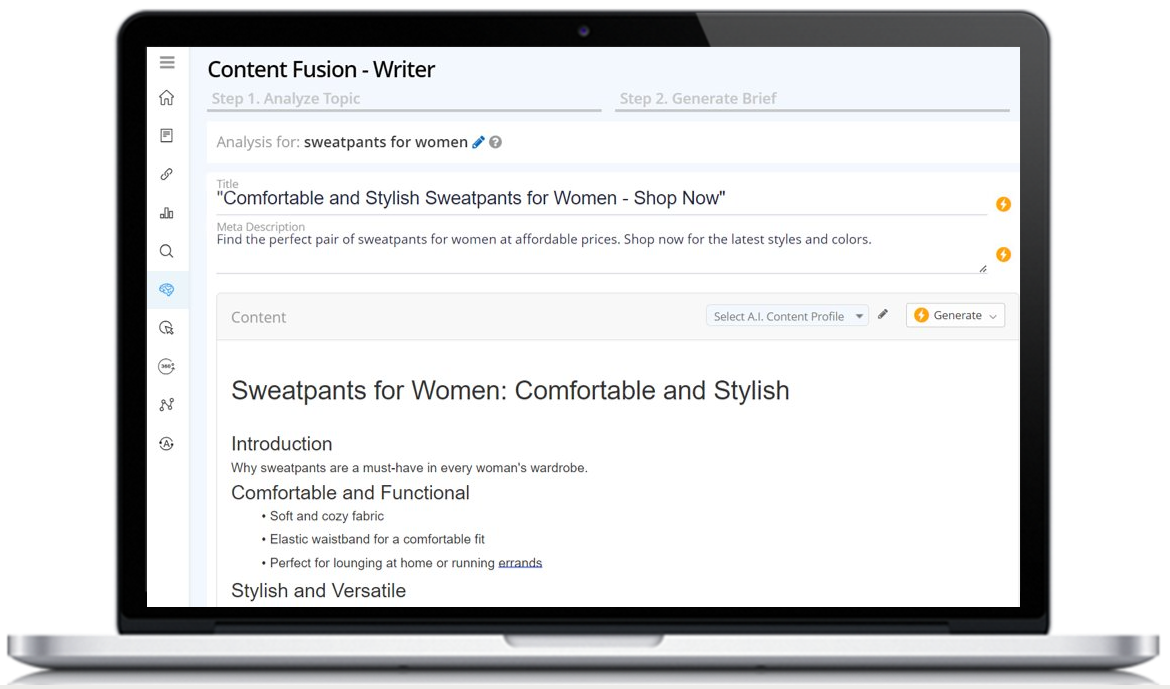 Additionally, the new "Content Profiles" feature allows users to specify audience, tone, language, and content type for each piece of content. Sia ensures adherence to these specifications, providing tailored and optimized content.
Remember that Sia's outputs are only suggestions to serve as a starting point. They should always be reviewed and edited by a member of your content team.
Tired of creating content that doesn't rank? Request a customized demo to strategize how our platform can bring success to your SEO content writing.

Implement Optimization Tweaks
After you've completed your research and have created your copy, there are a few extra steps you can take to really enhance the presentation of your content.
Think of these steps as the icing on the cake. These small but mighty steps will serve as that extra push to outperform current ranked content, and give readers a seamless user experience.
For more optimization tweaks, reference the article 14 Quick SEO Tweaks That Help Increase Search Visibility.
#12. Meta Data
The presentation of your content on the SERP has a large impact on click-through rate. Be sure to craft proper meta descriptions (think of them as mini ad space) and title tags. This meta data can be the factor that sways a user's choice of what to click.
For more information on both the meta description and the meta title, refer to these blog posts:
Note: When you craft a title tag (or headline) avoid click bait. Make your headlines align with what the content actually is; after all, you don't want to deceive your readers.
#13. Leave the Reader with Something Extra
When you give the searcher the information they were looking for, you've done your job! To exceed expectations though, leave the reader with something else. You can add multimedia elements or quotes from your executives to demonstrate thought leadership.
The way in which you format your content can also be that added bonus. For example, summarize the page's contents into a TL;DR section (too long; didn't read) that the user can easily skim and understand.
Another idea that seoClarity started adding to our content is downloadable templates or quick hit checklists. This is the reverse of when you publish the shorter version and then ask the reader to download the full guide or longer content version.
When you provide these additional elements, you entice the reader to come back to your site again in the future, or visit another page on your site.
#14. Structure Your Content Appropriately
The way in which you lay out your content affects the overall user experience. Be sure to properly incorporate H1, H2, and H3 titles (and so on) to create a sense of flow and structure for your content.
Structure also matters if you want to optimize your content for the Answer Box/Featured Snippet. If the current Answer Box/Featured Snippet is a numbered list, then consider that the ideal setup for your content. Add numbers to each listing so Google can easily understand and pull the information.
If the current Answer Box is a quick definition, be sure your content includes a precise and succinct definition of the concept at hand so it can easily be pulled.
#15. Include the Keyword in the Title, URL, and Content
Be sure to use the keyword or its variation in the title. This will make it obvious for the reader that your content can solve their problem. The same applies for the URL — many users will look at it to discern the topic of the page.
And of course, the keyword needs to be included in the bulk of the content itself! This should happen naturally. You're writing on a topic, and so, any mentions of it should happen organically anyway. And don't forget those semantically related topics!
#16. Describe Images in the IMG Alt Tag
This will help users with visual difficulties to absorb your content in full, particularly when using a screen reader to read the copy to them. Make sure that you end each alt tag with a full stop. This way, the reader will pause for a second after reading it, providing a natural flow to the experience.
#17. Ask the Reader for a Next Step
What do you want your readers to do after they've read the content? Ideally, you want them to convert. This doesn't mean they have to make a purchase; a conversion can also be a sign-up for an email newsletter, the download of an ebook, etc.
Ask your readers (with action-oriented, persuasive text) to convert somewhere on your page. If your content is relevant, optimized, and follows the tips mentioned so far then the likelihood of conversion is high.
Analyze, Track, and Report
#18. What are Your Metrics?
Different organizations will have different metrics and key performance indicators (KPIs) for their content. Maybe yours is the bounce rate, time on page, or the overall traffic. Regardless, you need to track those which are important and relevant to you.
If you're unsure of what your KPIs should be, ask yourself: "Why did I write this piece of content?" When you discover your KPIs, you can track content to see if goals are being met, and what has to change if the numbers aren't what you need them to be.
#19. Use Google Search Console
Google Search Console (GSC) is a great tool for marketers and SEOs to leverage. Not only is it free, it's also easy to use to help you understand user demand. It includes average rank, impressions, clicks, and more.
For instance, if you notice a decrease in impressions for a certain page, this may signal that the content is approaching the content decay and is in need of a content refresh. For more information on how to overcome the decay, follow this workflow: Content Refresh: Overcoming the Content Decay.


Conclusion
With so much content and competition online today, it's not enough to write content and hope it performs well to rank higher. SEO content writing is at the heart of any organic search strategy, and these tips can push your writing forward to offer the end user the most positive experience possible.
Adopt these 19 tips into your content writing process and you'll be sure to see an improvement in your search performance for higher visibility in the search results.
Read more on the SEO content writing strategy and process to level up your search engine optimization strategy.
---
Editor's Note: This post was originally published in September 2019 and has been updated for accuracy and comprehensiveness.