It's an indisputable fact that the internet is full of content. So much so that it's increasingly challenging for your content to break through the noise, reach your target audience, and earn quality backlinks from other sites.
All in all, it's hard to break through the content chaos.
One solution that digital marketers implement to overcome this challenge sits at the intersection of content marketing and link management: the skyscraper technique.
Not only does this methodology let you create great, competitive content that earns traffic, it also lets you boost your authority by earning numerous backlinks.
If you're interested in how you can integrate this strategy into your content creation process, you've come to the right place.


What is the Skyscraper Technique?
The skyscraper technique is a content marketing method that involves finding relevant, top ranking content with multiple backlinks, building off of that content with additional elements that provide further value to readers, and performing outreach efforts to have others link to your fresh content rather than the original content.
It can be summarized in three steps:
Step 1: Find content that has a high number of backlinks (referring domains).
Step 2: One-up the existing content with new information, research, or visuals.
Step 3: Perform email outreach to secure backlinks to your new content.
We'll cover each step in detail down below, but first we want to say this: the skyscraper technique is not an excuse to plagiarize content!
That's not what this is about. Rather, it's a technique used to ensure that you cover a topic from every angle imaginable, all to create the most authoritative content possible and provide value to the end users.





Find Relevant Content Make Something Better Perform Outreach for Links

The Benefits of Skyscraper Content
The skyscraper technique lets you save time in your content creation process by crowd-sourcing certain content to uncover how intents are addressed and how the content is presented.
Remember that a key component of the skyscraper method is out-doing the existing content, which means that another benefit of this technique is that you provide extreme value to users.
This is another push away from search engine optimization, and toward search experience optimization. If you can optimize for the end users' search experiences, you can earn organic search traffic (and push prospects down the sales funnel).
And of course, this methodology works to earn a high number of backlinks to your authoritative content (hopefully the most authoritative content there is on the topic!) which increases your site's overall authority.
Does the Skyscraper Technique Work?
We've discussed the three simple steps that comprise the skyscraper technique, and the associated benefits.
For such a simple approach to content marketing, some people may wonder: Does the skyscraper technique work?
According to a case study from HubSpot, the skyscraper technique brought in more than 70,000 page views for a single post.
We should throw in the disclaimer that individual results may vary, but the skyscraper content looks promising to SEO content efforts!
Let's dissect each of the three steps associated with the content technique so you can work toward increased search traffic and quality backlinks.


How to Create Skyscraper Content
Step #1. Find Relevant Content That Has a High Number of Backlinks
Since the main goal of the skyscraper technique is to generate backlinks, your first step is to find relevant content that has a lot of backlinks.
What do we mean by relevant content? You want to cover a topic that's related to your industry that has demand.
To do this, you can stay up-to-date with influencers in your industry and see which content they post and link to. This would check the box for relevancy (not to mention it will also allow you to stay up-to-date with industry trends and news that you can cover) but it limits your understanding of how many backlinks that content has.
In order to uncover the amount of backlinks a piece of content has, you'll need to use some SEO technology.
Finding content with a good amount of backlinks in a data-driven way lets you be confident in your approach, and lets you accomplish this process at scale.
Let's assume we work in the real estate/brokerage industry and need to create a blog post that explains how to buy a house. A lot goes into the process, after all, and the space is highly competitive.
In Research Grid, we can enter "how to buy a home". We immediately see the top 10 ranking URLs, along with their total backlinks and unique domains.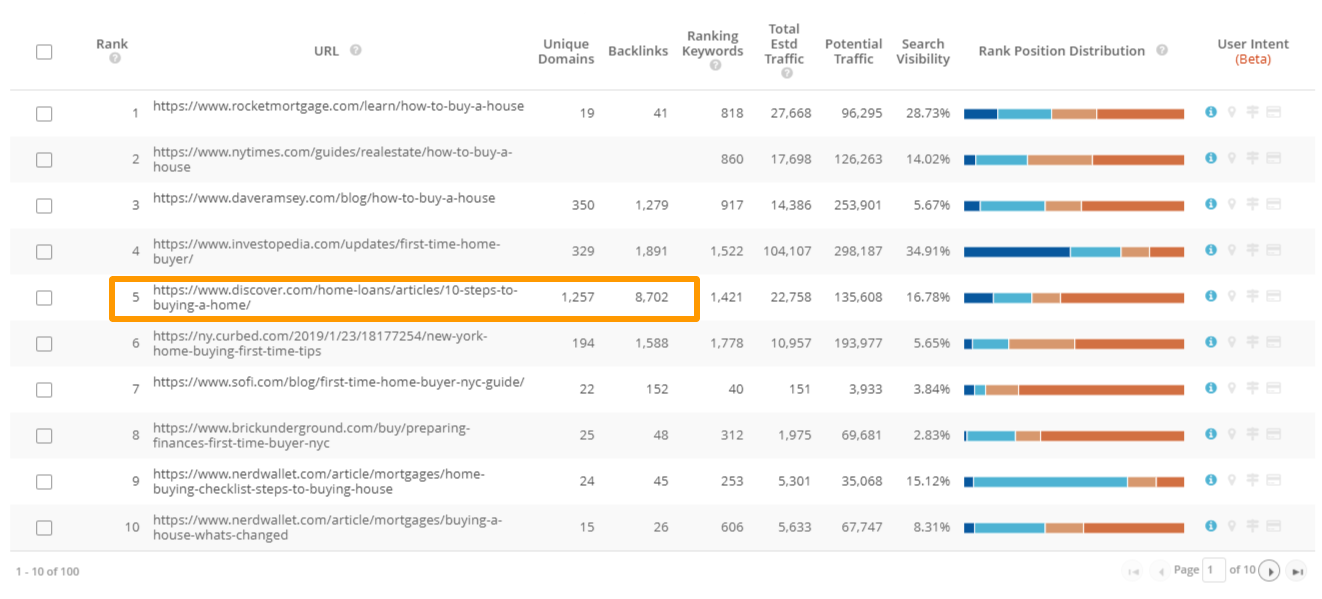 (Finding content with a high number of unique backlinks in Research Grid.)


This specific URL has 8,702 backlinks from 1,257 unique domains. This can be a great content piece to read, replicate, and out-perform.
Of course, this approach works when you know what keyword or topic you want to cover. Let's still assume you work in the real estate industry, but don't know what topic you want to cover.
With the Backlinks feature within Research Grid, we can start with a domain at large, and apply a variety of filters to find the pages with the most backlinks.
Let's take a look at apartments.com. We know that besides property listings, they have a blog (apartments.com/blog) to serve their inbound marketing efforts.

(Backlinks in seoClarity lets you analyze the backlink profile for any domain, sub-domain, or URL.)


With a quick filter, we can drill down into those blog pages and run a backlink analysis on them.
And just like that, we've isolated a variety of content ideas from their, all of which have backlinks point at them.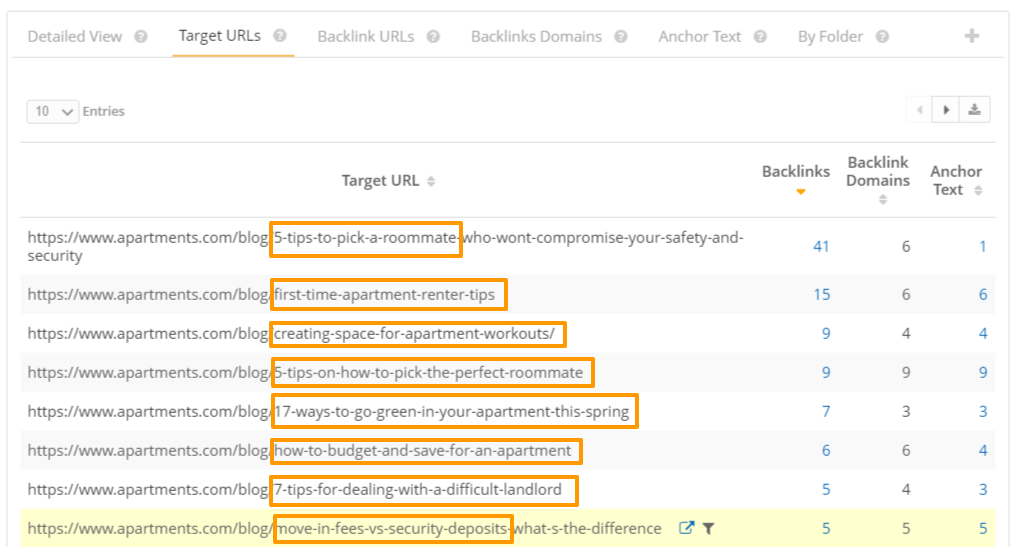 (Content that receive a good amount of backlinks.)


Now, you can create content around these topics to bolster your own content marketing efforts as well (and rest assured knowing that your subsequent outreach efforts can make an impact).
Tip: In this case, we'd want to first create content on picking a roommate, since that topic has the most backlink domains.
Step #2: One-Up the Content
After you identify the content that you want to challenge, you need to replicate the content so that you cover everything it does, and then some.
Remember that you should not be copying the copy! You can cover the main subjects that are included in the existing content (after all, that's the information that users are looking for) but you have to present it in your own words.
Perhaps you have fresh data, a case study, original research, or a POV from an industry expert that adds a unique spin to your content. Whatever it is, you need to stand out from the existing content with something of value.
You can also add various multimedia elements that enhance your page and allow the content to be digested in different ways. This may include video, infographics, audio recording, etc.
These multimedia elements also work to make your content more engaging — which can keep users on your page for longer periods of time.
We also recommend that you offer a follow-along/takeaway like a template or download so the reader can have a useful resource from your company even after they leave your site.
Recommended Reading: 19 SEO Content Writing Tips: Create Copy That Both Google and Users Love
Step #3. Outreach
The final step of the skyscraper technique is to earn backlinks with your new content.
How exactly do you get high authority backlinks?
To earn high authority backlinks with the skyscraper method, you have to conduct email outreach to tell influencers and publishers in your industry about your content.
Earning backlinks in this way is all about reaching out to the right people and telling them about your content — why it's valuable and why it's a resource they should link to.
Remember that a key component of the technique is to win the backlinks from the existing content that you out-did.
Let's go back to our example from apartments.com in the seoClarity platform.
Assuming that we created a new piece of content on the topic of choosing a roommate, we know that there are 41 backlinks pointing to the now outdated content of the competition.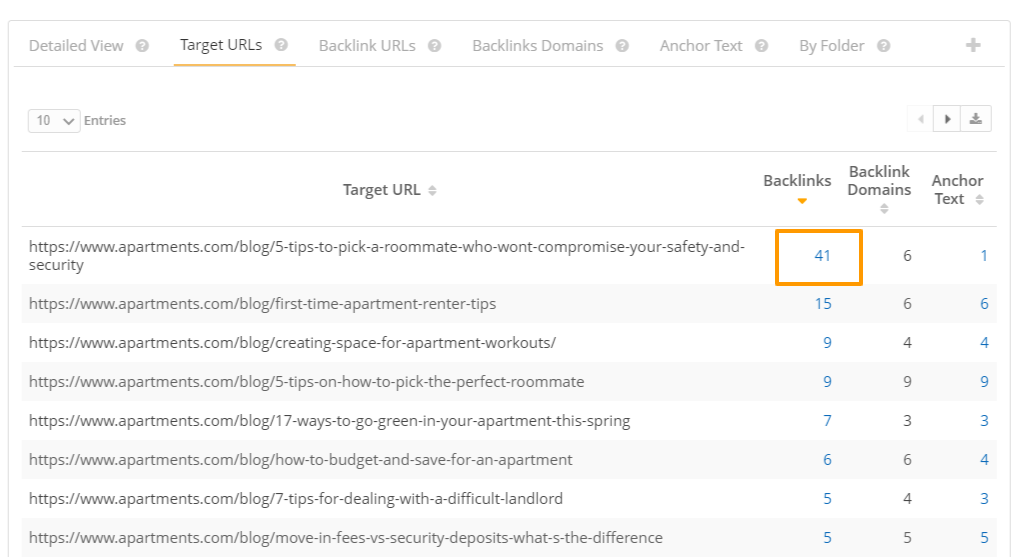 (An important part of the strategy is to secure the backlinks that point to the original content.)


To find out which websites specifically link to that content, we simply click in for the full list of referring URLs.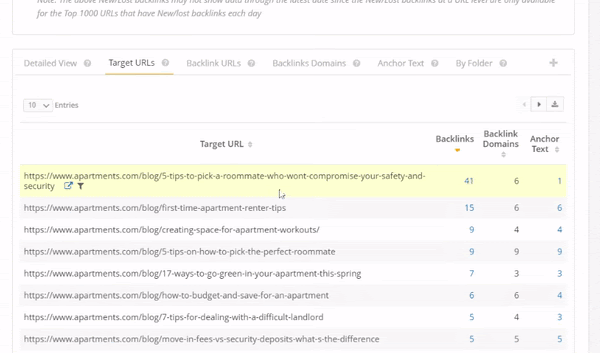 (Click in to see whish sites and pages those various backlinks come from.)


The first referring URL is from Professional Woman's Magazine. Let's navigate to that web page and see what information we can find.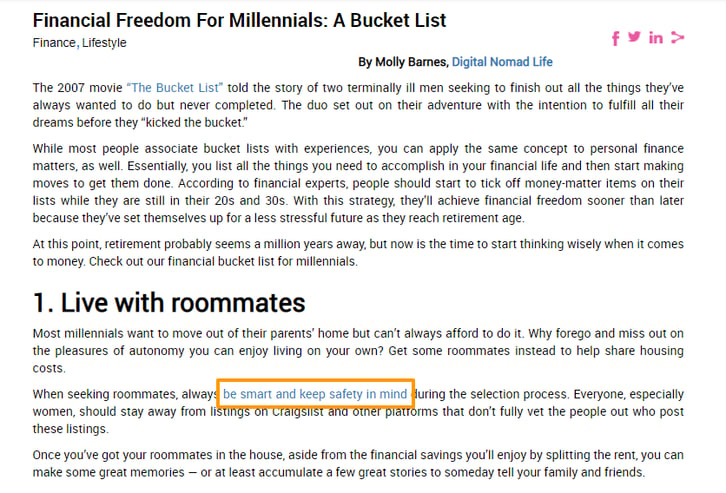 (Find the author's contact information to carry out your outreach efforts.)


There's the backlink we're after! And now we've discovered the author's name and social media channels.
Your next step is to send a brief, actionable email or message to the author and ask them to link to your website instead.
These authors' and editors' inboxes are full of requests asking for the same thing, so be sure to have your message stand out. Mention a specific point from the article, and highlight the value you received from the piece. Then, mention how your new content goes a step further, and that it's something that readers will enjoy.


Conclusion
You've done it! You successfully implemented the SEO skyscraper technique to create great content and build links. The three simple steps of the process can bring great results to your site in terms of traffic and authority.
Don't forget: your main objective is to provide value. The best content always wins in the end.