Key Points
The way you present information on a web page is equally important as the information itself.
Pay attention to metrics like time on page, scroll depth, and shares to see how well optimized your content is for engagement.
Run A/B tests to see which template or format is the best approach for certain types of content.
Content. It's the bedrock of practically all your SEO efforts.
You've found the ideal content idea to cover, assigned the task to your content writer, and are awaiting the engagement that this new piece of content is going to drive. That is, a long time on page, a second click on your site, etc.
After all, traffic is nice, but it means nothing if users immediately bounce back to the SERP to choose another search result — probably one from your competitor! Yikes.
The first step in ensuring that users stay on your page after clicking through is having your content type match the appropriate user intent.
Someone seeking information most likely doesn't want to land on a product page, for example.
(Keyword mapping can help you visualize the different stages of the buyers' journey.)
But then, things get even more nuanced. You have to pay attention to how you present the information on the page to hook your readers and give them what they want … and more.
So, let's start at the beginning: creating engaging content.

How to Write Engaging Content
As the SEO continues to grow and change everyday, new positions arise that give you the opportunity to have a dedicated team member tackle certain projects and responsibilities.
One of these positions is the content writer.
If you've hired an SEO content writer, you're one step closer to having great content on your site.
If you haven't hired a content writer, fear not! The writing and publication process can still be done successfully without a dedicated full-time staffer.
Once you've landed on your topic idea, you can begin to conduct your keyword research. Not only does this give you appropriate terms to target, it also clues you in on the intent behind that query.
Check the SERP to see what kinds of listings appear. Are they blog posts? Or is the query more appropriate for product pages? This is all a part of the initial research in creating engaging content.
Note: Remember that a user is likely to bounce if the page they land on targets the wrong keyword intent. For further information on intent, reference the following article: User Intent Uncovered: What You Need to Know to Scale.
Now, you can start to create your content and format it on its respective page. This is where you want to pay attention to key page elements that have the ability to retain your readers, or send them back to the SERP…
Here are our 8 tricks to creating engaging content.
Recommended Reading: 19 SEO Content Writing Tips: Create Copy That Both Google and Users Love


Engaging Content Ideas
#1. Add a Key Points Section Upfront
This may seem familiar — we included one at the beginning of this post!
This small but useful addition offers something of value upfront to draw the reader in. They'll instantly be able to see if the page that they landed on is right for them.
It should only be a quick reader, and then they'll have to scroll further down for the full-picture.
A similar approach is to create a brief outline of what the reader can expect based on the H1 headings. List these at the top of the page along with anchor text to the respective H1 to give users a quick way to navigate to the part of the page that is relevant to them.
(A positive side effect of this anchor text approach is that it makes it easier for users to navigate down the page, which has a positive effect for your scroll depth metric.)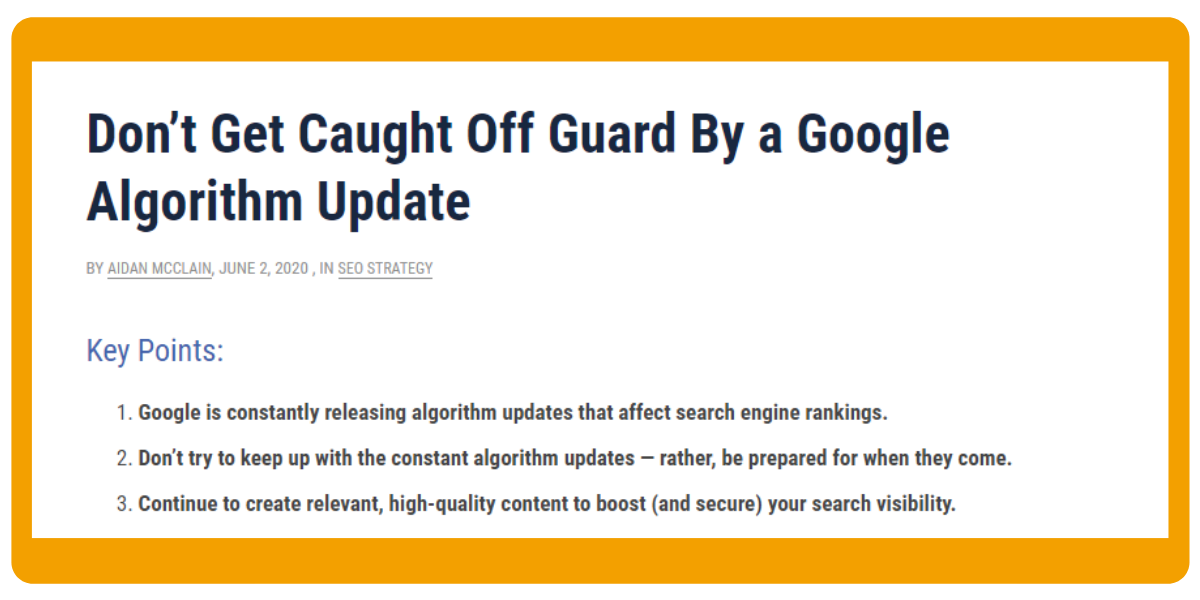 (Add a key points section upfront to let your readers know what the page will cover.)


#2. Include Different Content Types to Your Post
Text-based pages are good, but the integration of other content types like video, audio, images, etc. can take you from good to great!
Multimedia helps to break up the content, and offers a visually engaging (and/or auditory) element.
Let's focus on video for a moment. You may be weary to experiment with video because it can take more time to organize the content versus writing text. The approach here is to write and publish your piece with any appropriate images and then begin your video project.
The logic here is that the sooner you publish, the sooner your page will be indexed.
You just have to promise to go back and work on the video — and you should! Video drives 1200% more shares than both text and image content.
(Video makes a great accompaniment to predominantly text-based pages.)


#3. Make the Content Easy to Find
Content makes the page, but it needs to be easily accessible to your readers.
Think of the content as the gift, and the presentation of that content as the gift wrap. Wouldn't you want a gift with a pretty box instead of something tossed to you wrapped in newspaper?
Your readers expect the same!
Integrate elements headings, subheadings, bullet points, and bold text to make the content skimmable. The Nielsen Norman Group found that 79% of readers scan a new webpage that they come across.
Experiment with your content management system to see how the different headings and styles can work to make your content more presentable. It may take some time, but you'll be able to find the elements that you know work well for presenting your information in an intuitive way.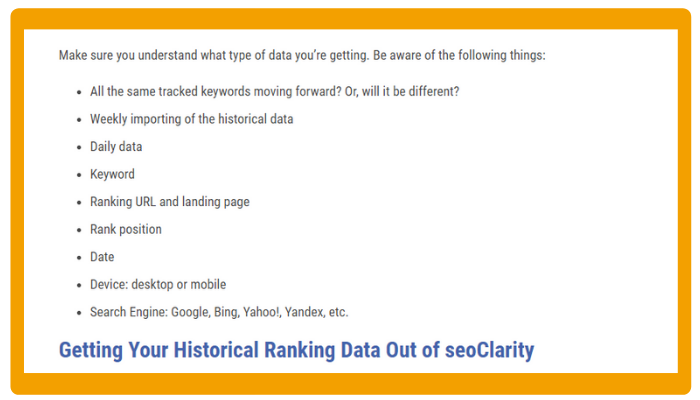 (Readers are bound to skim — so make your content easy to find!)


#4. Make the Content Easy to Read
Proper line spacing, font size, and font type can make or break your content.
But it's not just the desktop presentation that you have to be cognizant of — pay attention to how your page translates over to mobile.
Even if you've followed the content-specific tips mentioned so far, there is still another factor at play: the presentation of the page itself.
You'll probably notice that our blog has white space on either side of the content to act as a buffer and keep the content condensed.
Again, work with your CMS and the various themes/layouts until you find one that's pleasing to the eye that doesn't make the page look cramped and cluttered
Recommended Reading: What, Why, & How: Write Authoritative Content to Win Traffic
#5. Keep It Short
It's widely known that the average human has an attention span of just eight seconds. A few more lines of text in this paragraph and I've likely lost your focus, too.
With information as accessible as it is these days (thank you, smart phones), it's important that content writers keep their copy short and skimmable. This makes it easy for both the desktop user and the mobile device user to read your content.
Short paragraphs and broken-out sections of text or images — such as bulleted lists, block quotes, headings, or charts - keep the reader focused on what you have to say.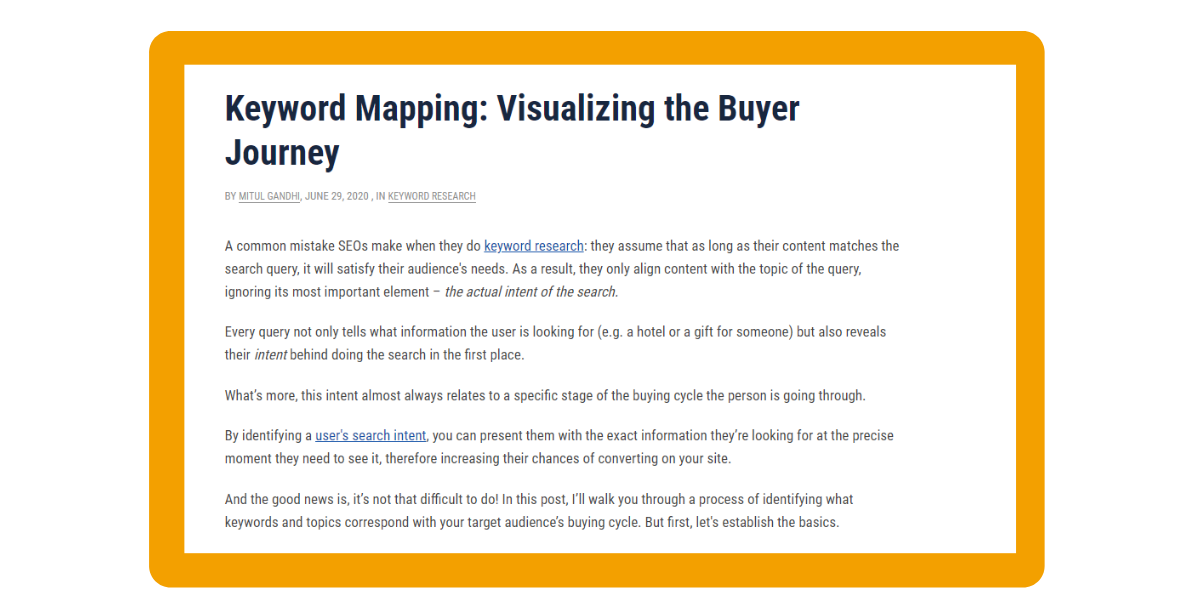 (Short paragraphs quickly deliver the information that users are looking for.)


#6. Be Concise
In the same vein, content that is to-the-point while making the right point is also useful in keeping readers engaged.
A topic should be covered with authority, not verbosity!
Readers visit your site to find the information they're searching for in the first place. Your job is to cover the topic from all angles to be seen as the topic authority, but that doesn't mean that everything needs to be covered in one piece of content.
If your content can be broken out into multiple pieces of content, do it. The more work you do to cover the topic to the fullest, the more signals you send to the search engine and the user that you are the authority on a subject matter.
It's better to cover a topic across different pieces of content than it is to cover a topic in a long, drawn-out piece of content if it isn't warranted.
#7. Create a Checklist or Shortened Copy Takeaway
Your audience lands on your content because they want something from you — whether it's a product, service, or education about the two. Providing them everything they want up front — or with nothing at all — defeats the purpose of your content in the first place.
Throughout your content, include calls-to-action that provide additional value or digital tangibility. This can look like a white-label document, spreadsheet, or template that helps your user beyond your piece of content.

(A content takeaway offers another piece of value to your readers.)


#8. Have a Conclusion
Conclusions remind the reader of the content's key points, and, for readers who skim the content altogether, that conclusion is an opportunity for the writer to hit home what matters.
Your conclusion doesn't have to be long-winded and formulaic, either (e.g. "In conclusion, …") You can list out key takeaways, summarize with a downloadable or a template, or even ask your readers to share their thoughts, possibly opening the door for a new piece of content in the future (see below).
No matter how you seal the deal, a great conclusion is the final piece of engagement that leaves a lasting impression on your reader and opens the door to future interactions.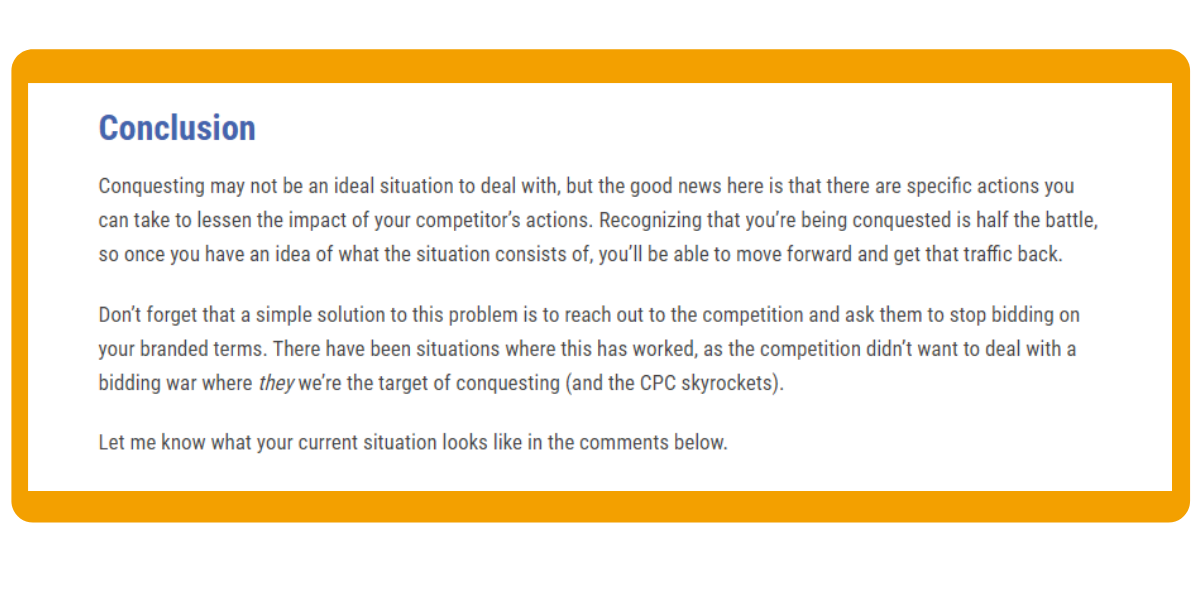 (A conclusion offers a lasting impression to your readers.)


Tracking Engagement Levels
There are a few metrics to monitor to determine level of engagement. Namely, click-through rate, time on page, and social shares.
But besides these KPIs, it's also valuable to know how far down a page a user scrolled. Essentially, did these optimizations keep them engaged long enough to reach close to the bottom of the page.
Use your site analytics tool to monitor your scroll analysis — that is, how far down the page your users got.
Tracking this will inform your strategy on how you present your web pages in an effort to boost engagement, have users scroll, and spend more time on the page.


Conclusion
After you conduct keyword research and create content, you need to take the time to present that content in a way that's going to drive engagement.
Different factors are going to give a more positive user experience, which will be reflected in certain metrics.
Then, use the data and A/B testing to see which approach is the most effective for your content and track and change appropriately.
Do you have any other tips on how to create engaging content? Leave them in the comments below!