Site crawls and audits are vital components of SEO. They allow you to evaluate and assess the architecture and usability of your site, giving you a clear understanding of your site's health.
Without proper usability, all other SEO efforts fall short.
Yet, so many technical SEO tools don't have the full functionality required for an in-depth audit — especially at the enterprise level.
It's no wonder that so many SEO teams struggle with technical SEO, and find it difficult to connect the dots between data and impact.

What's more? SEOs expect specialized technical SEO tools to have the full capabilities, but then you end up with disparate data points. This takes more time on the SEO analyst to realize the impact.


What to Expect From the Right Site Crawler Tool
Site audit tools work great — some allow you to crawl directly from your desktop and there is a ton of functionality.
But point solutions also lack the ability to scale, automate, and connect data points. Essentially, your crawl data lives apart from your other metrics and analyses, which makes for decentralized reporting.
For enterprise companies, the functionality of point solutions can get the job done, but at the cost of other capabilities.
When you have a built-in crawler and site audit technology as a part of an SEO platform, you give yourself the opportunity to simplify, structure, and scale your SEO across the organization.
When you check all the boxes for crawler capabilities, you're able to align your work with company goals and evangelize organic search — something that can be achieved by working from a single source of truth.


SEO Site Audits: The Right Way to Approach Usability
seoClarity's Clarity Audits has everything you would expect to have in technical capabilities, and the integration and connected data points that allow for a single source of truth.
Along with existing capabilities like unlimited and customizable crawls, these are the most important updates:
Compare Site Crawls
For more efficiency and speed, you can now compare crawls directly in the platform. There's no need to download the data and match in Excel.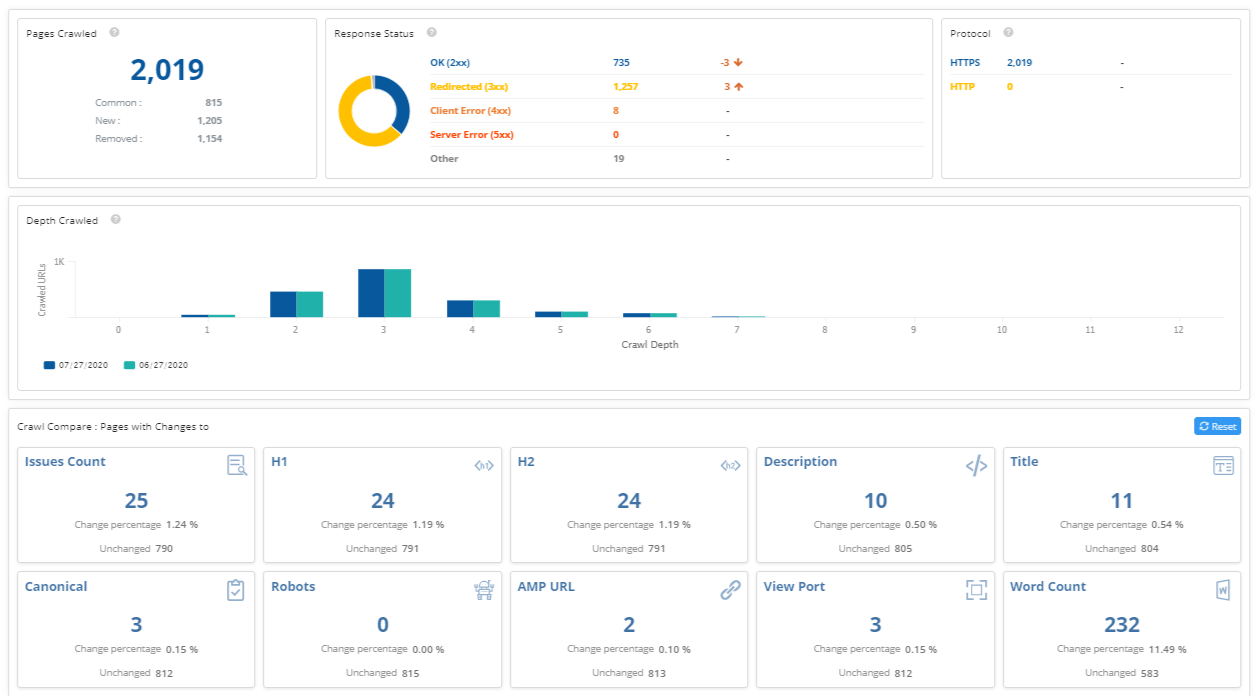 Along with allowing you to follow the updates on your site over time, the capability for crawl comparisons can be leveraged in the following ways:
Check for improvements and issues
Identify all common, new, or removed URLs (detect missing/orphaned pages)
View changes in site architecture (depth)
Monitor editorial changes to your title, meta description, H1, H2, etc.
Compare all SEO elements that are changed/unchanged
And a lot more
Fully Customizable Crawlability
With the ability to filter for crawl data related to any date and switch between AND/OR operations between multiple filters, you're able to get very nuanced and specific in your analysis.

New filter options include:
Additional Content/Custom Search: Filter by pages that do/do not have a particular search text.
Additional Content/Custom Details: Filter by pages that match specific content in a predefined Div/CSS/Xpath
Page Tags: Use your existing page tags set up in the platform to zero in on specific page groups.
Content Types: Common nested filtering content types let you group pages based on advanced criteria.
All of these filter types allow you to easily segment out data across millions of pages with a few clicks.
Want to see how our SEO crawler can revitalize your approach to technical SEO? Schedule a demo today to see it in action.
Further Upgrades to our Site Audit and Crawler
There have also been enhancements made to most of the existing reports and audits. From indexability, to our audits for duplicate content, canonical, and hreflang, there are many upgrades to look out for. Almost every report has been enhanced based on feedback and use cases to help with your site audit needs.
Built on the Clarity Grid™ Infrastructure
Based on our Clarity Grid, this update is a big step forward in bringing all the SEO related data we gather in a single platform. This allows us to enhance our technical audit and reporting capabilities.
Because of this seamless integration, there is more opportunity for integration of all three major elements of SEO: usability, relevance, and authority.
It also allows you to identify the technical issues and need for partnership with other departments, like your IT team.
This collaboration and goal-setting opens the door for creating a Center of Excellence at your company. That is, SEO becomes a company-wide, team effort.
You'll be able to focus on what the business wants and how to support other teams, not what Google or its algorithm wants.
Plus, with multiple download options of the data, it's easy to share the reports with your company.
To summarize the above: Point solutions can get the job done, but only that individual job. The seoClarity platform allows you to have powerful capabilities throughout, which makes interdepartmental projects faster and stronger.


Conclusion
As you probably guessed, there are a lot more tools out there, but it's important to be an educated buyer.
We've put together a list of the best site audit and crawler tools to help you find the solution that works for you.
Take time to find the solution that is best for your company, but keep in mind the ability to have a centralized hub for all of your SEO needs. Decentralized data points never allow a company to scale.
To see the platform in action, schedule a demo and one of my colleagues will walk you through the advanced functionalities.