How SpareFoot Uses Visibility Share to Quantify the Impact of SERP Features at Scale
About SpareFoot
SpareFoot is an online moving and storage marketplace that facilitates various types of storage rentals between consumers and storage facilities. They list facilities in various locations for consumers to view storage availability, cost, and size of space.
Senior SEO Manager Meredith Raico is the only SEO at SpareFoot but reports organic trends to the larger marketing team. She gathers insights based on the data from seoClarity's Visibility Share to explain why and how organic SERPs have become so competitive.
Recommended Reading: Traditional Rank Tracking is Broken: The New Way to Track Rankings With Visibility Share


The Challenge: Overpopulated SERPs and Low CTR
Like many businesses studying uncertainties around the impact of the COVID-19 crisis, the team at SpareFoot needed to focus on areas that would have an immediate impact on performance and revenue.
They set out to monitor and track performance based on pages and search queries that drive the most value for the business overall. The main goal was to increase CTR to drive more traffic specifically by obtaining more visibility through rich results in the SERPs, but they were unsure how to approach it to measure the impact and demonstrate success.
Recommended Reading: The Full Search Picture: Driving Value With Visibility Share


The Hypothesis: How to Get More Real Estate in the SERP
In analyzing competitive data, Meredith found that one competitor that implemented FAQ markup had a 7% higher Share of Visibility, the calculation of search volume and competitor pixel rank, due to the pixel depth of their results in the SERP.
"Our competitors have more real estate in the SERP. We wanted to test our Share of Visibility to see if we noticed an improvement in our CTR," Meredith said.
Their hypothesis stated that taking up more vertical real estate in the SERPs would not only drive up CTR but would push competitors further down the results page and possibly out of the viewport.
Recommended Reading: Schema SEO: A Guide to Incorporating Schema Markup to Boost Your SEO


The Process: How SpareFoot Quantified the Impact of SERP Features at Scale
Using a variety of data and metrics from Visibility Share, Meredith decided to test her hypothesis and utilize the data to quantify the impact of all of the added SERP features on SpareFoot's rankings and CTR to paint a better picture of how the landscape changed in the last year.
Not only that, Meredith determined she could compare organic results against the brand's competition to illustrate a true picture of the opportunity that exists to increase their Share of Visibility, leveraging structured data and rich results.
To do this, she looked at the average pixel depth compared to SpareFoot's competitors to find new opportunities to implement structured data to earn rich results. The taller the SERP feature, the more likely the competitor would be pushed below the fold.
Based on SpareFoot's rankings, the data showed that some competitors are barely in the same fold as their results, so even just an incremental increase could easily push SpareFoot past the competition in the SERP.
Analyzing by SERP Feature in Visibility Share, SpareFoot discovered which features are present and potentially stealing visibility from organic results. This information created a compelling argument to implement new strategies with the marketing team and create content to obtain spots in features like People Also Ask and Image Carousels.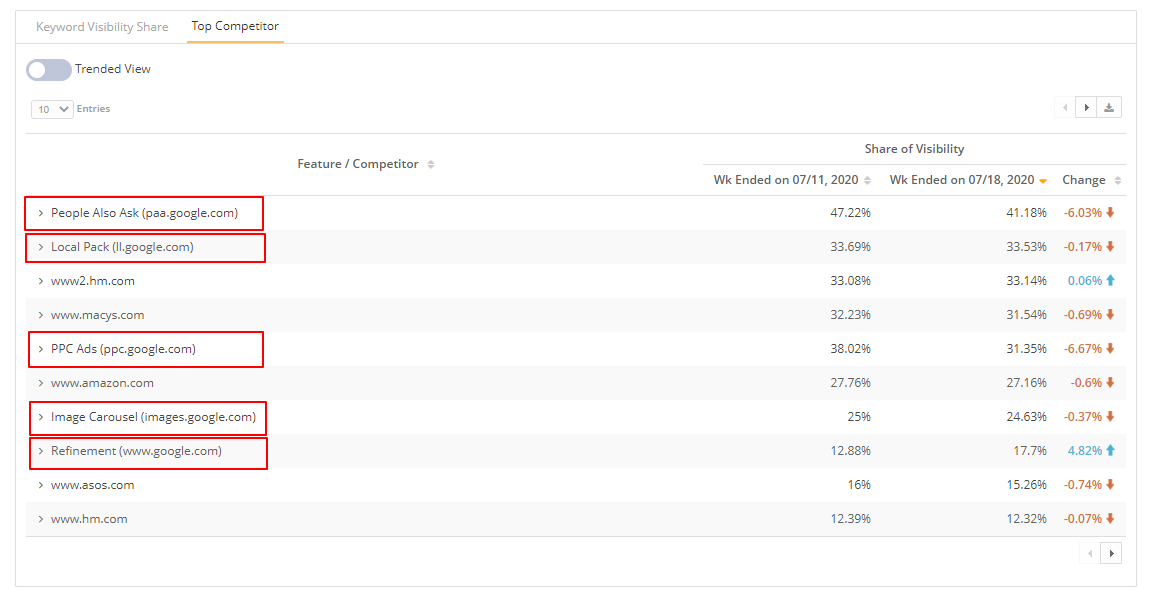 Top Competitor view in Visibility Share


The Results: Significant Improvements in Organic CTR
SpareFoot also prioritized adding FAQ schema markup into their pages to evaluate organic traffic to see if this had an impact on their hold in the SERP.
Since implementing FAQ schema markup on their site, SpareFoot has seen:
a

20.8% increase

in organic CTR for pages with FAQ schema compared to the previous period without FAQ schema markup
an

8.6% improvement

in organic rankings for pages where FAQ schema was added
a

decrease of -7.9%

in competitors' Fold Visibility in organic results with the implementation of FAQ schema (competitors fell further down the SERP)
a

10.1% increase

in top competitors' Average Pixel Depth after implementation of FAQ schema in organic results (further proving that competitors appeared further down the SERP than the previous period)


Conclusion
Prior to using Visibility Share, Meredith was using basic screenshots of the SERP for her reporting. Now, she leverages metrics like Visual Rank and Fold Visibility to communicate with her team what SpareFoot is up against when it comes to optimizing for organic traffic growth.
In turn, this gives her the ability to set better expectations based on quantifiable data and make the case for why SpareFoot must devote product and engineering resources to things like structured data.
In addition to Visibility Share, SpareFoot uses Clarity Audits, Internal Link Analysis, Competitor Reports, and SERP Feature Reports within the seoClarity platform.
Visibility Share is the only rank tracking tool that allows brands translate rank position to a true VISUAL rank. Schedule a demo with us today to see how you can make your ranking data come to life.