For years, Bing has been overshadowed by Google, with SEO professionals primarily focusing their efforts on optimizing for the search giant.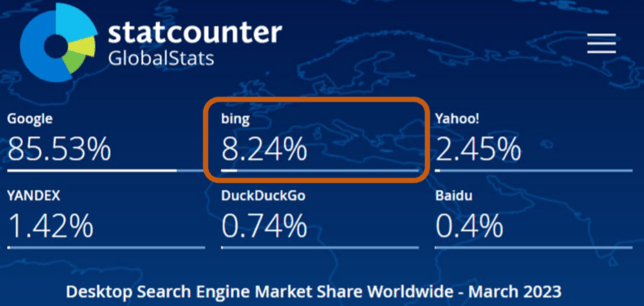 But Bing's recent integration with OpenAI has catapulted it into the limelight, capturing the attention of industry experts and making waves like never before.
It's time to reassess the overlooked contender and answer the question: Is Bing truly worth another look?
We dug into the data which includes real YoY traffic numbers from nearly 500 enterprise sites in our research panel.
Table of Contents:
Unveiling the Impact: Analyzing Bing's Rising Interest and Traffic
To determine what the increasing interest in Bing means for SEOs in real terms, we conducted research to address two key questions:
Has interest in Bing increased?​
Has traffic from Bing increased?​
Has Interest in Bing Increased?
On February 7, 2023, Microsoft launched its new AI-powered Bing search engine and Edge browser.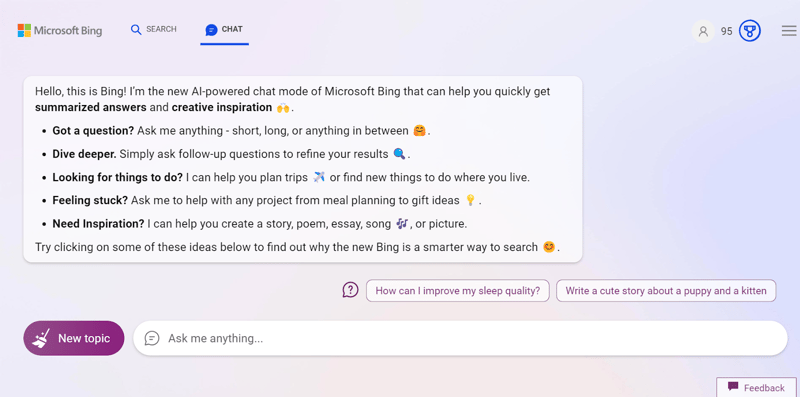 To assess the increased interest in Bing following the release of its new search experience, we compared the average searches from March 2022 through February 2023 to the average searches from March 2023 through April 2023 using data from Google Trends.
The results?
We found that searches for Bing increased by 23 percent which reveals a marked increase in interest for the Microsoft search engine.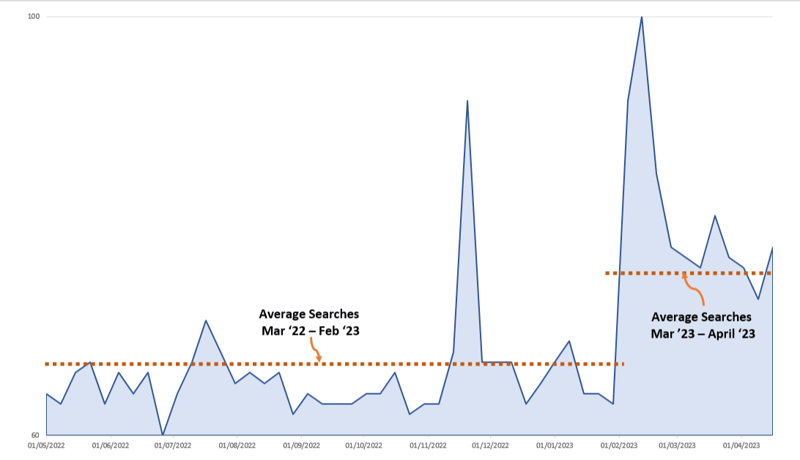 Has Organic Search Traffic From Bing Increased?
In a sample of 487 enterprise sites, we compared their organic search traffic from Bing for March 2023 vs March 2022.
Results showed that YoY March traffic from Bing grew by 11.8 percent.
And this may just be the start. There is potential for even greater growth.
For example, Samsung, which sells hundreds of millions of smartphones each year has considered switching from Google to Bing as the default search engine on their devices.
The recent advancement of Bing searches, fueled by OpenAI's GPT-4, is the suspected driving force behind this switch.

That being said, Samsung has not and may never finalize the move depending on how well Google integrates AI into its existing search.
Update: as reported by The Wall Street Journal, Samsung has announced its decision not to switch from Google to Bing as the default search engine on its smartphones.
Pros and Cons of Using Edge and Bing
Despite the rising interest, many SEOs are still skeptical about switching to Bing due to the belief that its search results still aren't a match for Google's.
To address this, I undertook a casual experiment where I switched to using Edge and Bing exclusively for a period of time.
Here are the main pros and cons that I determined.
Pros of Switching to Bing and Edge
1. Experience the Power of the Microsoft Ecosystem with Edge
When it comes to leveraging the full potential of the Microsoft ecosystem, Edge stands out as a fantastic choice, especially for Office 365 users.

The seamless integration between Edge and Microsoft's suite of productivity tools offers a cohesive and efficient experience.
Its features and functionalities are designed to enhance your productivity and streamline your workflow, making it a compelling option for users deeply embedded in the Microsoft ecosystem.
2. Bing: Surprisingly Good for Everyday Queries
When it comes to everyday queries, Bing holds its ground and offers a user-friendly search experience.
Whether you're searching for products, places, things, news, or stocks, Bing delivers relevant results and an intuitive interface.
Give it a chance, and you might be pleasantly surprised by its performance in catering to your everyday search needs.
2. OpenAI Integration: A Game-Changer for Research
Bing's recent integration with OpenAI opens up a world of possibilities, particularly for those seeking quick and reliable answers to their research queries.
With Bing's OpenAI integration, you can now obtain comprehensive insights on various topics without having to read multiple articles.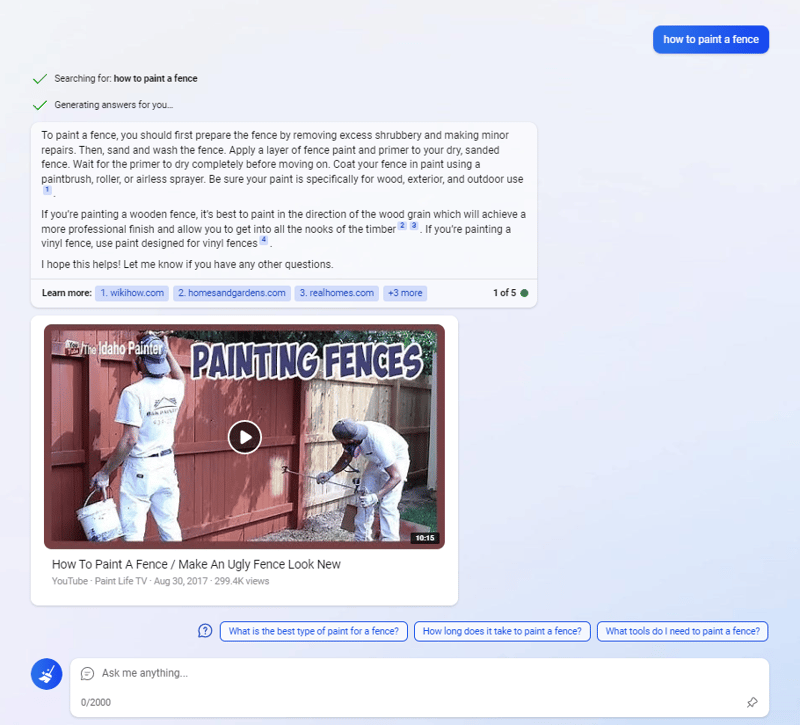 From learning how to paint a fence to delving into complex research subjects, Bing's OpenAI integration provides a significant boost in efficiency, saving you time and effort.
Cons of Switching to Bing and Edge
1. Limited Result Diversity for Ambiguous Terms
One drawback of using Bing as your search engine is its approach to ambiguous terms.
For instance, when searching for a term like "bloom," Bing tends to focus on a single meaning it deems most relevant, providing results solely based on that interpretation.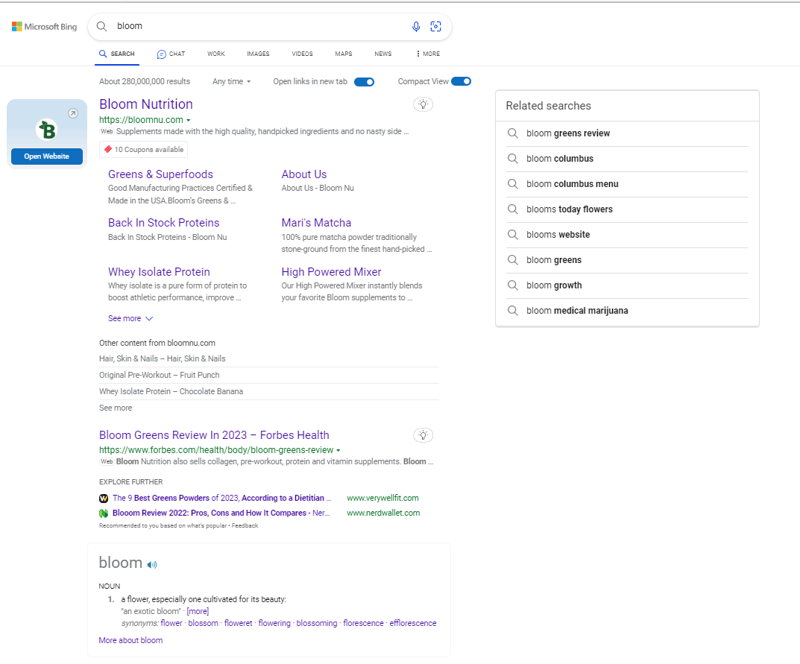 This limited result diversity can be frustrating if you're seeking information related to a different meaning or context of the term.
Ultimately, users who require a broader range of options may find themselves unsatisfied with Bing's singular perspective on ambiguous queries.
2. Lagging Behind in Technical Searches and Trending Topics
While Bing has made notable strides in improving its search capabilities, it still falls behind Google when it comes to technical searches and trending or new topics.
When searching for intricate technical information or the latest developments in specific industries, Bing's search results may not be as comprehensive or up-to-date as Google's.
Additionally, relevant and straightforward results for popular queries can sometimes be buried amidst less relevant content, making it harder to quickly find the desired information. This disparity may leave users feeling that Bing's search results lack the depth and immediacy offered by Google.
3. The Inclination to Switch Back to Google for Verification
Despite the progress Bing has made, I found myself frequently switching back to Google for a "sanity check."
Users may still perceive Google as the benchmark for search quality and reliability, leading them to also seek validation from Google's search results when uncertain about Bing's offerings.
This dependence on Google for verification can disrupt the user experience and raise doubts about Bing's ability to serve as a standalone search engine.
This brings me to what I believe will be Bing's biggest challenge…
Bing's Biggest Challenge: Winning Trust
For years, Bing has lived under the immense shadow of Google, struggling to convince users that it possesses the same depth of web knowledge and consistently delivers the best search results.
While the integration of OpenAI may not completely resolve the trust issue, it does serve as a stepping stone for Bing to gain recognition.
But the real challenge for Bing will lie in capturing the attention and trust of users who are willing to give it another chance.