It's no secret that SEO and content are heavily intertwined – after all, you need to create content that reaches your target audience along their respective search journey in an effort to have them convert.
With so many content topics to cover, Content Marketers typically scramble to create as much new content as possible to stay up to par with the changing user demand and have their content remain relevant in the changing SERP landscape.
Here's what we'll cover in this post:
But with so much effort given toward new content, SEOs forget about the content that they already have and how it can be utilized to help with the overall content strategy.
What you may not realize is that historical content is advantageous because it shows how things have changed over time. For example, the historic content can show you feature changes in the technology industry, or reveal how perceptions changed in the automotive industry.
But, irrelevant content does not serve you well. Therefore, reviewing old content is a critical step in delivering what the customer wants and driving traffic to your site.
The process is really simple, here's how to do it.


The Challenge With Refreshing Content
Content overload is a real problem. You've invested your time and resources into all of this content for your website, and now after years of sitting idle the pages don't drive any notable organic traffic. And this isn't your fault -- decay is natural for all content. Interests dies and relevancy changes. This chart shows the typical content life-cycle: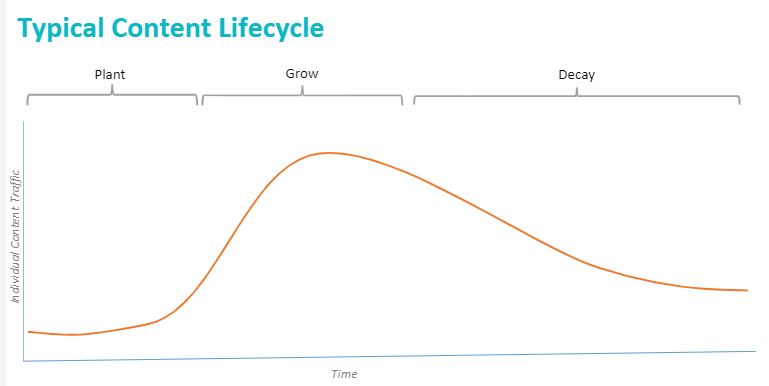 (Typical content life-cycle with natural decay.)
As you can see, new content drives hardly any traffic for some time, but then it sees a surge, which is followed by a long tail of decay that occurs over time until traffic is low again.
So now the question is: What do you do with this old content? Should you update it to revive it, or create new content to try again to have it rank? Both options can be solutions to the content chaos problem.
But before you go and refresh the old content, you first have to prioritize what content is going to get an update. And herein lies the main challenge.
You don't have to optimize all old content, only those pages that are worth it. You want to make sure the refresh is going to be beneficial to your users and not overload your site. Consider these factors to determine which content to prioritize:
Content that used to get traffic, but lost its ranking, and
Content that is shared and appreciated on social media, but doesn't rank.
And it's not just the prioritization of content refreshes that matters. Once you decide what needs a revival, you need to create authoritative content to provide value to your user and push through other existing content.


The Importance of a Content Refresh
As stated above, while historical content has its uses, irrelevant content doesn't serve you well. For enterprise sites especially, you don't want the crawl budget to be wasted when Googlebot crawls your site by spending time on out-of-date pages. It's better to have less, more authoritative content so you can be seen as a leading figure in your industry. This is something that every SEO and Content Writer who's trying to work more efficiently should think about.
When you go back to refresh content that is beginning to decay, we can change the chart above to this one: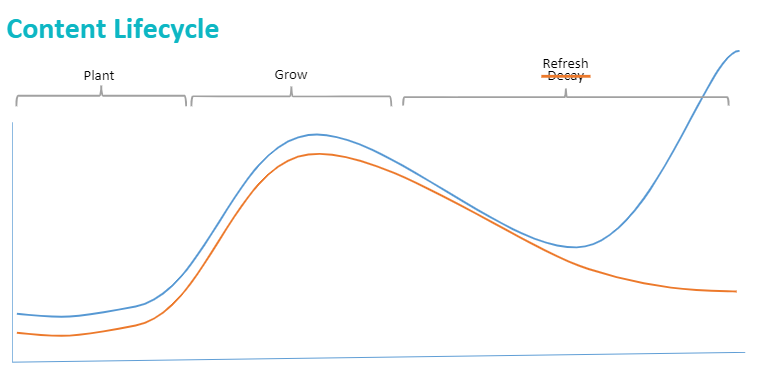 (The content life-cycle with a refresh.)
The goal here is to catch the decay before the traffic hits zero.
If you choose to not refresh some older content, this doesn't mean that it has no value – so don't delete it. You can leverage it to help with your overall authority on a topic with a topic cluster approach. Use the old content to interlink to the newer content in that topic cluster to reinforce your authority. Remember, authority is about how well you cover every angle of a topic.
From a user experience perspective, updating old content creates a better user experience because your users know they are receiving new information. With that being said, it's good to inform the reader somehow that the content has been updated (i.e. you can add an editor's note or update the publish date).
Google also appreciates fresh content because it tends to be more relevant to the end user. Google has stated that freshness is something that is taken into consideration in their ranking algorithm, and this impacts 35% of searches.
Now that you realize the value of refreshed content (and even old content that doesn't receive a refresh) let's see how you actually do it.


How to Choose Which Content to Update
In order to determine which content can use a refresh, utilize Google Search Console and Google Analytics.
(seoClarity integrates with Google Search Console data, and gives you the ability to filter the data within Search Analytics in ways that are meaningful to you to pull insights.)
Look at GSC for content and pages that are within striking distance. This means the content that is just within reach of ranking well but never made it onto page one, and requires just a few tweaks and optimization efforts. Look at content that has slipped from high rankings to the second or third page of Google (rank positions 11-40).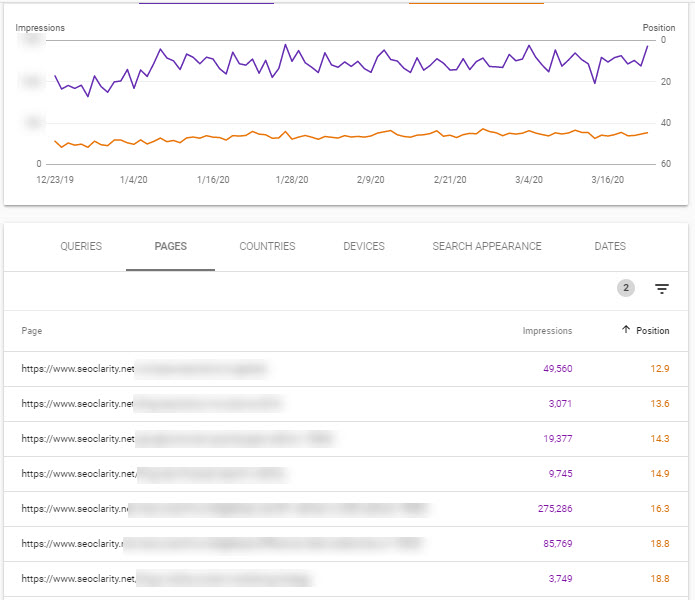 (Google Search Console data.)
Also pay attention to those pages with high impressions but a low click-through rate. You'll want to optimize that content so it starts to receive clicks. If a page has low impressions but a high CTR, you should do further keyword research to optimize the content to make it relevant for other terms, therefore boosting impressions.
Now that you know which pages need a refresh, you can go ahead and optimize accordingly, or look to see what's changed since the content's original publication date. There could be a content gap.
You can also use the topic clusters approach to determine what content exists, what needs a refresh, and what topic has yet to be covered on your site.
Sometimes the best way to determine how to refresh content is by analyzing your own business priorities. Based on your individual profile, what best aligns with your current initiatives? Do you have a seasonal product or service and a corresponding content page that can use an update? Consider what products or launches you have coming up and make sure to optimize any relevant content centered around that topic. If you know your company, you'll have an idea of which pages are relevant to get an update.
While a content refresh is possible without an SEO platform, the use of a platform really allows you to do these updates at scale.


How to Refresh Old Content with seoClarity
A content refresh is essentially a two-step process: identify the pages that need a refresh, and optimize those pages with our AI content writer and analysis tool, Content Fusion.
#1. Identify the Pages to Refresh
There are different approaches you can take to identify content that needs a refresh with seoClarity. With Site Analytics, you're able to uncover which keywords drive traffic to your site, and how pages are performing on Google. With that information, you can sort out which content is in need of an update.

1. Within Site Analytics, use the compare feature to see two sets of data side-by-side with each other.



This allows you to see how traffic has changed over time, and will be a great indicator for you to know what to focus on. For this example, we'll analyze changes over the previous year.

Do note that this same data can be found within Google Analytics as well.

(Compare page performance data over a course of time with Site Analytics.)
2. Scroll down to the data chart to see the traffic your pages drive now compared to the traffic they used to drive.
3. To see which specific pages have suffered a decrease in traffic over your set time period, sort the list by change in traffic. This lets you know what has taken a big hit.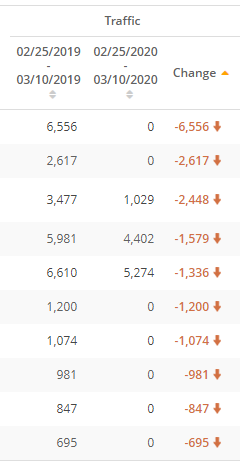 (Pages' change in traffic within Site Analytics.)
Take a look at the example above. Those pages were driving quite a bit of traffic, and now they're driving nearly nothing. Why? Consider what your business priorities are, and if that page is important for your overall business (i.e. messaging, conversions, etc.) you need to update it.
You can also identify pages in need of a refresh with Search Analytics. As mentioned, seoClarity can integrate with GSC. Having Google Search Console data in our platform means you're able to slice, dice, and analyze in a way that GSC isn't capable of. See trends in the data to locate what you should prioritize.
Just like with our Site Analytics example above, you can compare the data of two dates, so select which time frame you're concerned with. Following the steps above, sort the data chart by change in impressions, clicks, CTR, or average position.
Search Analytics shows which keywords took a huge hit over our specified time period, and this is all the more knowledge that can determine what action you should take from here. Analyze these keywords and check to see which is their set landing page to know what to refresh.
Another way to see pages in need of a boost is the Research Grid.
1. Within the Research Grid, select the "Pages" view to see overall page data.

2. Compare a date range to see how the count of keywords and estimated traffic to the pages has changed. Remember, we're still interested in seeing change over time.

3. Scroll down to see the pages' performance over the set time period, and sort by change in estimated traffic.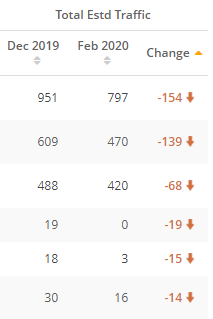 (Total estimated traffic within the Research Grid.)
Now, you know which specific pages have had a drop in traffic, and you can refresh those pages so that they see no further decay.
Now that you know what content is in need of a refresh, complete the following workflow.
#2. Content Fusion Workflow
To update content at the page-level, utilize Content Fusion, our AI-powered content writer. Within Content Fusion, you see content recommendations that let you create authoritative content.
1. Since we want to update existing content, we'll optimize a page.

(Content Fusion gives you the option to optimize for a keyword or a page.)
Note: Content recommendations for keywords is a great option if you're starting new content. We're optimizing for a page because the page and its content already exist.
2. Enter the target page's URL and your target keyword, and run the analysis.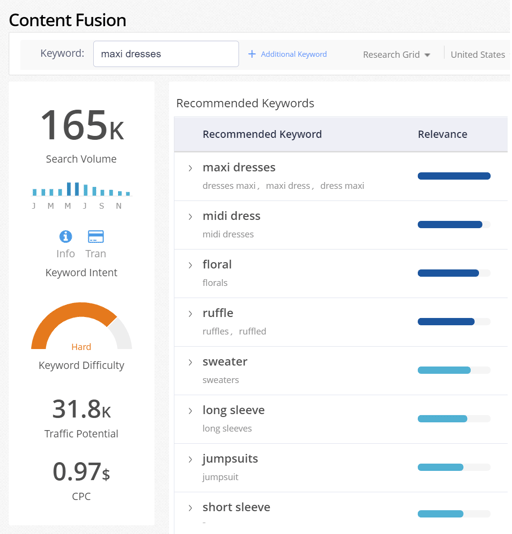 (Enter in a target URL and keyword into Content Fusion to see the search intent.)
Content Fusion will crawl the page in real-time and tell you what the search intent is for that page. The intent chart and other metrics reveal insights into how to approach the content.
In this case, we know that the intent is informational and transactional, which means the searcher is looking to educate themselves on the topic, or possibly buy.
Note: Over the years, Google has seen the intent behind queries change. So, for example, content that was created two years ago may not be in line with what the intent is today. Be aware of this as you update your content to ensure you're writing the right content in the right form.
3. Use the recommended keywords in your content to cover the topic completely.
These must-use words are semantically related words of the target keyword. Since Content Fusion ran a live crawl of your site, it knows how many times your page already includes those must-use phrases.
Recommended Reading: 7 Content Fusion Success Stories of Increased Search Visibility
4. Follow interlink recommendations.
Also be sure to follow the interlinking recommendations that Content Fusion provides. Some must-use keywords are presented with a link symbol. When you click on that icon, you'll see the link from your site that you should link to with that keyword being the anchor text.


Still Not Seeing Results?
If you've followed the above workflow and still aren't seeing your content perform well, make sure other aspects of your site are optimized too.
At seoClarity, we focus on the URA framework of usability, relevance, and authority.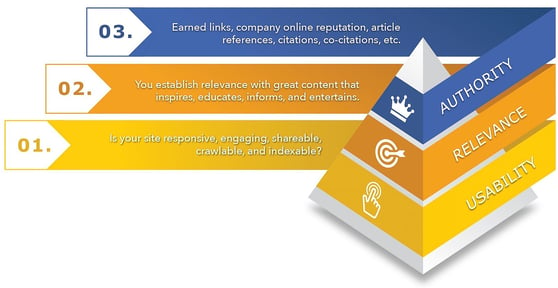 This means you need to prioritize your technical SEO tasks first — if your site does not function properly, users will not stay on it long enough to read and appreciate the content. Pay attention to your interlink strategy and page speed, too. Page Clarity lets you view and manage the list of URLs from your site that you wish to focus on for search optimization.
Once you begin your content refresh process and your business continues to grow, keep things organized and meaningful to the overall user experience. You can do this by a.) repeating the above workflow and b.) creating a tag in the platform to track all updated content to see how it performs over time.


Conclusion
Having a lot of content is a good problem to have! Don't feel stressed as you approach your content refresh.
There are simple ways to identify the opportunities on a page-level and a keyword-level and from there seoClarity allows you to optimize your content to ensure its relevance.
The process saves you so much time as opposed to having to start over and create new content for each topic. Essentially, don't be overwhelmed. You can either refresh old content or you can leverage it (i.e. interlinks and topic cluster).