Every winning SEO strategy needs a solid blueprint — an SEO roadmap — in order to scale.
You can develop this roadmap one of two ways:
A

ssess your search visibility, audit the site and links, identify quick wins based on the data, and start implementing them one by one.

Align your overall strategy with the company's goals first. Then, create processes to maximize your time and effort in achieving those objectives.
Both approaches work, but only one of them allows you to consistently create the best search experience for users at scale. In this post, I'll show you how to create and implement an SEO roadmap that aligns your SEO strategy with the goals of your company.
Plan and execute your winning SEO strategy with this free SEO roadmap template.
Table of Contents:
Watch a 5-minute summary of this article here!
What Is an SEO Roadmap?
An SEO roadmap is a strategic document an organization uses to keep all SEO-related activities on track, eliminate errors, and streamline decision-making. It outlines details about every tactic the company uses or intends to introduce to its SEO efforts.
An SEO roadmap also defines key responsibilities, various workflows, and standard operating procedures when performing each tactic.
Why Should You Create an SEO Roadmap For Your SEO Strategy?
You know how to deliver the strategy, after all. You also know how to work on each of its elements, what to do and when. Why create an SEO roadmap, then?
There are two important reasons to create an SEO roadmap:
To help answer questions from other project stakeholders regarding the strategy.

To future-proof the strategy. Any major change within the organization — hiring new people to expand the SEO team or losing key stakeholders — will affect the strategy.
The roadmap will provide guidance and a reference point in both situations. It will either help explain the reasoning behind some of your decisions or help new people familiarize themselves with how you execute the strategy.

Essentially, a roadmap helps keep everyone on track and eliminates the risk of potential errors. It informs every stakeholder interested in SEO progress about your actions, plans, and procedures to meet them.
How to Create an SEO Roadmap in Three Steps
There are three main steps to creating an effective SEO roadmap:
Let's dive into each step in the process.
Step 1: Define the Day-to-Day Components of Your SEO Strategy
The first step in creating an SEO action plan is to define the components of your SEO strategy that you will need to complete on a daily basis.
What Should Be Included In An SEO Strategy?
A typical SEO roadmap will focus on the following aspects of your work:
The current state of your SEO efforts (current KPIs/metrics, your current state of effort, and your approach)

Quick wins that you could implement with little effort to achieve significant results

Upcoming SEO initiatives
Once you have defined the core components of your SEO strategy, you can then break them into standard operating procedures (SOPS) and workflows.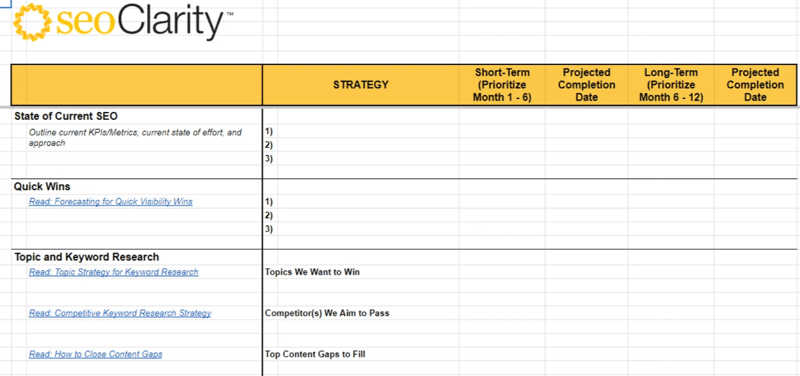 (An image from our template that you can download below!)
Step 2: Break Core SEO Tactics into SOPs and Workflows
Both SOPs and workflows are critical for an SEO roadmap since search visibility rarely depends on the work of a single department.
Link building involves outreach, creating quality content that is worthy of backlinks, and more. And many technical SEO issues can be fixed by the IT team only.
Good results only happen if all SEO stakeholders understand their roles and responsibilities, and always complete tasks to the same standard — which is exactly what SOPs and workflows help ensure.
Standard Operating Procedures for SEO
A standard operating procedure is a set of step-by-step instructions that define how to carry out a specific, often routine task. They typically involve tangible tasks and are almost never used to define the process of completing a specific objective.
It's also important to know that SOPs are set in stone; once an organization defines how employees should go about a specific task, they should complete it the same way each time. Think of them like checklists.
While many people don't like SOPs for this reason, their unchanging quality allows them to consistently improve SEO strategy. As our co-founder, Mitul, pointed out in an earlier post:
Replacing inconsistency with purposeful, measured and directed effort is CRITICAL to an enterprise's ability to be successful.
It's only when all teams, often scattered across the globe, approach SEO tasks in the same way that an organization can achieve the scale needed to achieve its SEO goals.
Examples of Common SEO Standard Operating Procedures
Common search engine optimization SOPs include:
Optimizing new blog posts

Adding a new page

Removing old content
Example #1: Optimizing New Blog Posts
Many digital marketers never optimize their articles for SEO. And so, before any blog posts go live, another person, perhaps an SEO expert, should review the target keyword and identify semantic terms to enrich in the copy further.
This ensures the content marketing strategy matches SEO best practices.
A sole reliance on Google Search Console will only provide you with a list of keywords driving organic traffic — not strategic semantic terms. As an alternative, you can use Content Fusion, our AI-powered content writing tool, to uncover semantic insight automatically, based on a deep-learning algorithm.
Here's a look at the must-use topics for the keyword "things to do in Florida":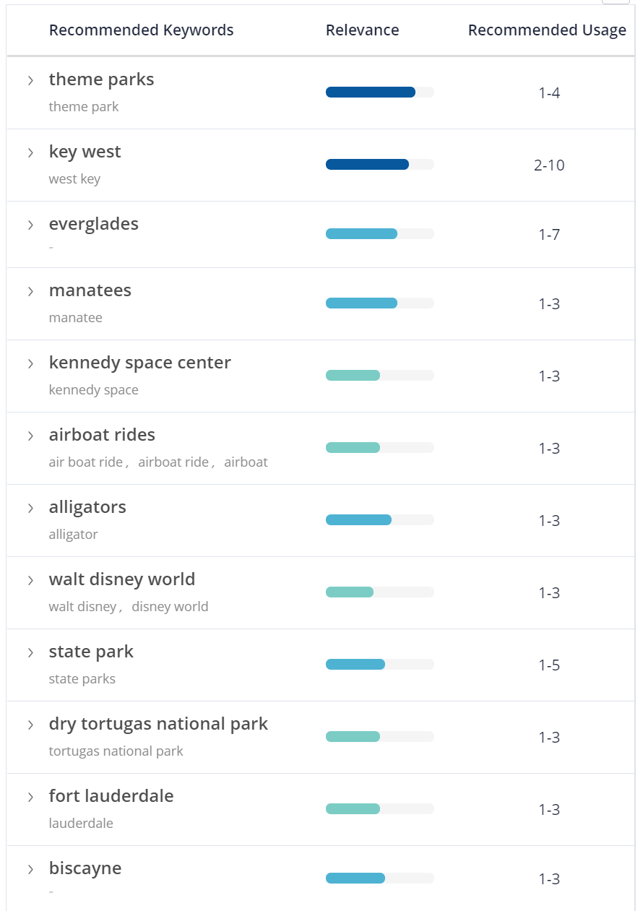 (Terms to use in content with the keyword "things to do in Florida".)
The SEO should also identify potential interlinking opportunities. Again, you can do this manually or you can use a dedicated platform to reveal such insight.

Recommended Reading: Internal Links Workflow: How to Optimize and Gain More Site Authority
The last step for optimizing new blog posts is to ensure correct keyword placement in title tag, meta descriptions, and other on-page elements.
This process should be repeated for every piece of content.
Example #2: Adding a New Page
If your team is working to create content (new content, that is) they should follow this simple procedure:
Identify and analyze the target keyword using relevant keyword and search volume research tools. This allows them to identify the target audience and discover any long tail keywords.

Optimize meta tags, ensuring correct optimization and length.

Ensure correct canonical tag and schema are being used.

Add a page to the sitemap.
Example #3. Removing Old Content
In an opposite situation, when taking down existing content, an SEO should always:
Review target keywords for the content.

Decide whether to redirect the URL to a similar page or point it to the 404 page.

Remove the page from the sitemap.

Remove any internal links pointing to the removed URL.
As you can see, none of these SOPs are long. However, they guarantee that regardless of who works on a specific task, they always complete all relevant actions.
SEO Workflows
A workflow defines all stakeholders in the project, their responsibilities, and timelines for completion. In short, it gives structure to a combination of SOPs and helps achieve a specific objective.
Recommended Reading: How to Create SEO Workflows for Consistent, Scalable Results
Examples of Common SEO Workflows
Example #1. Analyzing SEO Performance
Data analysis is key to any marketing strategy. When assessing a site's analytics and performance, an SEO team should:
Extract traffic by various criteria (i.e. most popular page or source). This could be done by a junior team member.

Similarly, they could access and download data on metrics such as clicks and impressions from Google Search Console or their enterprise SEO solution of choice.

They could use a rank tracking tool to analyze current search positions in search engine result pages (SERPs) by various criteria.

All this data could go to an SEO analyst next, who would analyze and compare the performance with the competition.

Finally, an SEO strategist would use their insight to identify next actions to take.
Example #2. Fixing Crawlability Issues
This workflow would begin with an SEO analyst evaluating crawling and indexation errors.
From there, the next step is making a list of top priorities. Start by defining an end goal for your organization. What do you hope to accomplish when addressing these errors?
Consider the most important pages to address if you're concerned about conversions.
Then, determine which issues will require the least effort and have the biggest value for your SEO. Those tasks should be top priority for your IT team, so they can attack and eliminate the technical issues on your site and enhance the overall user experience.
Example #3. Updating the Content
This workflow could involve several individuals within your organization – an SEO analyst, an SEO manager, a content writer, and an editor.
This example features the following:
SEO Analyst – identifies underperforming content and content gaps; makes recommendations for improvements that will positively impact performance metrics.
SEO Manager – evaluates on-page optimization, approves the process, and implements the content changes on the live site.
Content Writer – utilizes various tools, identifies specific ways to improve the content and writes new copy.
Editor – evaluates the new copy.
Once approved, the SEO manager will verify if the requirements have been fulfilled with this workflow and push the content to go live.
For each of the above workflows, it's important to define your timeline before getting started. So, in the case of that last example, the workflow could look like this:
| | | |
| --- | --- | --- |
| Task | Responsibility | Timeline |
| Identify underperforming content to improve, and create a project report. | SEO Analyst | 1 day |
| Approve the project. | SEO Manager | 2 days |
| Identify ways to optimize the content, and write new copy. | Content Writer | 3 days |
| Evaluate new copy. | Editor | 1 day |
| Update the content on a page. | SEO Manager | 1 day |
| Evaluate on-page optimization and publish on live site. | SEO Manager | 1 day |
Step 3: Monitor SOPs and Workflows to Assess Output Quality
Identifying and implementing SOPs and workflows is just the beginning. Once they are complete, they have to be constantly monitored to assess the quality of outputs.
After all, any process that doesn't boost organic traffic and deliver desired results is ultimately nothing more than a distraction.
So, continuously review and improve your SOPs and workflows, paying particular attention to:
The impact they have on your work.

Identify and correct processes that slow down or even hinder your strategies.

The timing of delivery, particularly for workflows.

Some steps might need more time than you've allocated to them in the workflow. Measure and adjust them to find the most optimum solution.

Role relevancy. Sometimes a division of responsibilities in a workflow might look great in theory but work poorly in practice. Monitor and interview everyone involved to see if there's role mismatch, or if their tasks come in wrong order.


How to Use an SEO Roadmap in an Enterprise Organization
Having a fully defined SEO roadmap can be a game-changer for any organization, as long as you use it.
I always recommend making the roadmap accessible and easy to understand to all stakeholders, not just the SEOs.
This way, you'll reduce the friction your non-SEO colleagues may have from having to understand complex search engine optimization procedures.
A simple spreadsheet detailing all the aspects of the SEO strategy, and listing planned activities per month is, in most cases, the most accessible format to use.
Most of the stakeholders will have no problems with using it, and reporting on it will be easy, too.


Conclusion
Building a strong SEO roadmap requires identifying and consistent application of standard operating procedures and workflows. We want to make it easier for you with our free template:
Remember: an organization can only achieve the highest search visibility at scale when all teams involved in delivering specific SEO projects know what to do, when to do it, and how to be successful.
What's left for you to do is to start defining and implementing SOPs and workflows in your organization — digital marketing efforts are related to all teams!
---
<<Editor's note: this blog was originally published in 2020 and has been updated.>>