A content audit is a dreaded (yet crucial!) part of SEO.
I get it: You'd prefer to avoid this at all cost. Content audits consume so much time, after all. Not to mention that analyzing content performance often feels like trying to make sense out of seemingly disconnected information.
The thing is, a content audit is a real life-saver for any content marketing strategy. Even a quick glance at Google Analytics data will reveal enough insights to fuel the strategy for months … that is, if you know what to look for!
I want to show you how to do a content audit that can identify the biggest opportunities to boost the content's performance.
Here's what we'll cover:
Recommended Reading: The Best SEO Audit Checklist to Boost Search Visibility and Rankings


What is a Content Audit?
A content audit is the process of evaluating your existing content for its strengths and weaknesses, and identifying how overall performance is affected.
An SEO content audit will also help you spot opportunities to strengthen the content even further.
Note that a content audit is a qualitative process. Your goal isn't to list every piece of content on your site or organize them into categories (although a thorough content inventory is part of the process). Your goal is to uncover insights about performance to date and determine what actions to take to improve rankings and conversion rates.
So, as a quick overview, a solid content audit will reveal:
What your most successful pages are

Which topics and ideas

resonate with your audience

Which pages have failed to perform as expected (both in terms of rankings and organic traffic)

Whether there are any blog posts or other content types that you should update to increase their performance


The Benefits Of Auditing Content
If you're an SEO or digital marketer, you may be wondering "why do the content audit in the first place?" — what's the key benefit of spending so much time analyzing the content's performance?
Well, there are three main advantages:
Improve the overall SEO performance of the site content.

A content audit will reveal which pages generate little to no traffic or conversion, which tells you that they need an update to improve their performance. It will also reveal which content assets you may need to prune as well.


Boost engagement.

The audit will also uncover pages that deliver the highest audience engagement. Analyzing them deeper will signal what factors make those pages so popular, and how to update the other blog posts and other assets to achieve a similar effect.


Identify low-hanging SEO fruit.

Finally, during the process, you will discover many opportunities to improve organic search performance. Many of your pages will need nothing more than a quick update to the page title or meta description to rank higher. That's what you can discover with a content audit, too.


The Goals of a Content Audit
What specific outcomes can you expect from a content audit?
I typically tell clients about these five goals of the content audit:
The audit will deliver quick wins to improve search visibility, as I illustrated above. It will signal pages with high impressions and low clicks, for example. Or content that's just about to break into the first page of SERPs.
It will also reveal what your best-performing topics are, and what you should focus on moving forward.
During the process, you will

discover

content gaps, too. These are topics or keywords that relate to your customers' buying cycle that you don't cover or rank for, yet.
The audit will reveal redundant pages.
Finally, you will discover ideas for future content and fill in your marketing strategy.
With those questions answered, let's talk about how to do a content audit.


How to Conduct a Content Audit
Here is a simple, 7-step content audit process you can follow easily.
You can read the steps in order, or use the list below to jump to a certain section:
Step 1: Take Content Inventory.
An SEO content audit isn't a simple taking of inventory. However, before you can dive into the data, you must identify all the assets your organization has published.
So, as the first step, create a spreadsheet template with all your content assets.
You have a number of ways to do it:
Manually enter all the content into the spreadsheet. You can use your sitemaps as a reference to know what content assets exist on the site. Another option is to use Google Search Console or Google Analytics to identify pages that attract traffic to the site.
Use a crawler to build the list of all the URLs on your site. Many crawling tools allow data exports, like a list exported as a CSV file. These downloads can later be incorporated into your spreadsheet.
However, if you're using an SEO platform like seoClarity, you have a number of other ways to do it.
First, you can do this by going to the Managed Pages section of the Page Clarity report. It lists all content assets you've added to your site. Since you can also organize all those pages with tags, you can find and analyze them more easily.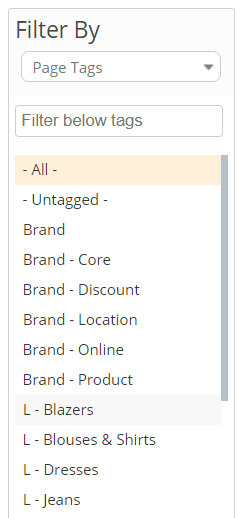 The only challenge with the above method is that it includes pages you have added to the platform yourself.
If you want to discover every page on the site, however, not just the ones you manage, you need to use two other methods:
Export pages from your Google Search Console data.
Do the same for the Analytics data.
seoClarity helps with each method through our analytics reports.
You can also filter by Content Type to hone in on pages that fall into specific classifications: blogs, product pages, categories, etc.


Step 2: Gather the Data
The purpose of the audit is to evaluate your content and the best way to do it is with data, of course.
So, as a next step, gather additional data about each page to help you audit and evaluate your assets.
The SEO points I recommend you collect for each page are:
Page title and meta description
Target keyword
H1 tag
Number of backlinks
Date last updated
Traffic for the last 3, 6, and 12 months
Bounce rate
Average time on page
Organic click-through rate (CTR)
Aside from the above, I would also recommend including the following data points:
Content's length — to help you evaluate how the page compares to the top-ranking content.
Content type — again, to assess whether the format matches the user intent for the search phrase.
Content's age — this will help establish whether the information is still valid or perhaps may have gone out-of-date and needs to be refreshed.
Social shares — to assess how the audience has responded to the piece.
Much of the performance data above you can get from Google Analytics and Google Search Console. On-page SEO data, on the other hand, you may have to import into the spreadsheet manually.
If you use the seoClarity platform, you can extract all the GSC data for my URLs. But unlike the search engine's platform, I can also filter and correlate it with other insights to gain a deeper understanding of each page's performance.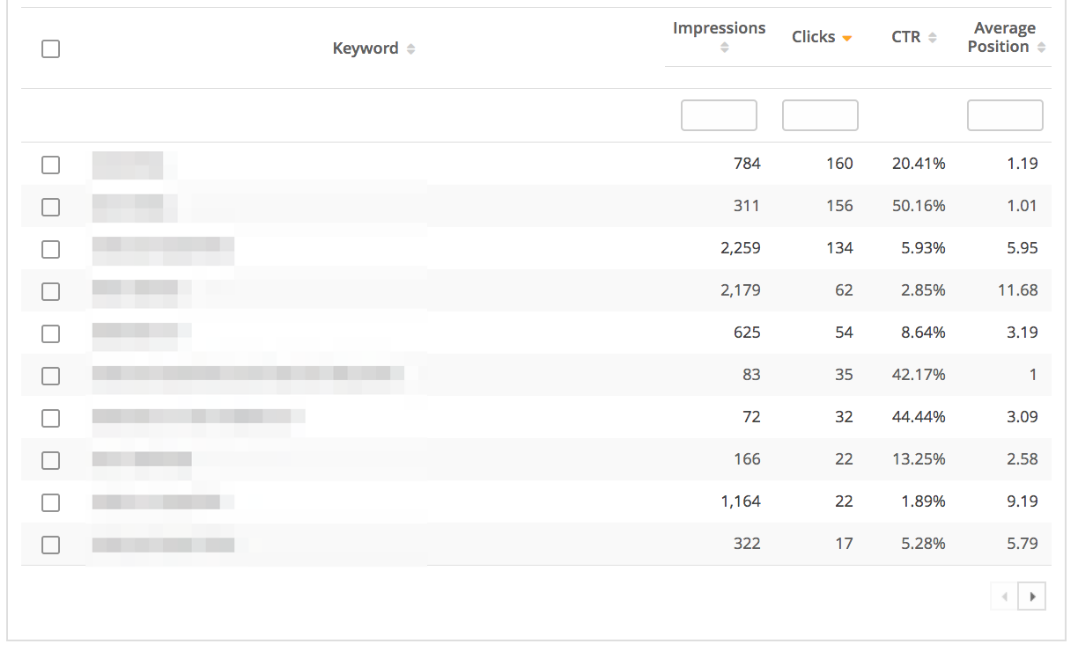 (The Search Analytics report.)


The On-Page Data
Information like meta tags, the publication and last update date, and performance metrics (bounce rate, time on page, etc.) will help you establish:
What keywords the page was optimized for, originally.
How well they work and engage the audience.
How interesting the audience finds the content.
Once again, you can go through the process manually. However, I'd imagine it would take too long to complete.
Alternatively, you can export all that data from the SEO platform. The Page Clarity report in seoClarity includes all those data points and lets you export the information to process further.



(Page Clarity report with page-level data.)


Advanced Content Metrics
Depending on how deep a content audit you perform, you might need to collect some advanced metrics — content's length or content types.
Each will help with evaluating a different aspect of your strategy.
Reviewing the content's length will help compare it with the top-ranking content. This will help assess whether you deliver the full breadth of information Google wants to see there.
Breaking the content by type will confirm whether you match the right user intent.


Step 3: Crawl the Content
You've collected all the necessary information. As the next step, you should also audit the content on the whole.
This will help you identify site-wide issues with pages, as well as individual content assets that may have missed the mark regarding on-page SEO.
Crawl the site using your crawler tool of choice. Most crawlers will include at least the basic on-page SEO checks. They will find pages with titles that are too long, duplicate content, or pages where you've included more than a single instance of the same tag.



(Clarity Audits report.)


If you are an seoClarity user, you can use the Page Clarity capability that provides all sorts of on-page data to help you evaluate each asset thoroughly.



(On-page issues report in Page Clarity.)


You go even deeper, though. For example, you can analyze content for specific terms you've mentioned. These could be references to a product the company no longer offers, or pages mentioning specific categories, phrases, or any other information, at that.
Why, because, for various reasons, you may have to remove or update them.
seoClarity's site crawler allows you to perform such searches at a scale.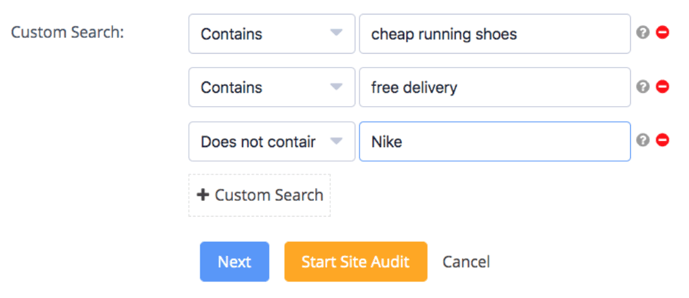 (Clarity Audits projects setup.)


Recommended Reading:
Want Improved Conversions? Try a Site Audit.
Step 4: Analyze Your Content Data
At this stage, you have all the data you need to conduct the audit. What's next, is to put all that information to use.
Here's how I recommend you do it:
First, decide on the type of next actions you want to take on the content. Most commonly, you'll be looking at updating, removing, consolidating the content, or leaving it as is.
Note: If you remove content, consider adding a URL redirect so users aren't taken to a 404 page.
Next, add a column in the spreadsheet, ideally to the right of the URL so you can spot it easily.
Then, go through each URL, and evaluate the content in turn. Look at the performance metrics to assess whether these are satisfactory or you feel the content could be performing better. Then, go deeper, and evaluate how well optimized the piece of content is, and whether it matches the user intent for its target keyword.
Add the desired next action beside each URL. Mark pages that you've identified to need updates, content you feel isn't necessary anymore, and assets you may consolidate with other pages, potentially.
Don't worry if this feels like a lot of work — it is!
It's not uncommon for such audits to take weeks, depending on the site size. However, as you've learned above, the benefits of completing the process far outweigh the time you must invest into it.
The last three steps of the process relate to updating the content and finding new ways to improve its performance.


Step 5: Improve How You Target the User Intent
We wrote about the idea of the user intent and micro-moments already but to reiterate:
Google describes the concept of micro-moments as:
… intent-driven moments of decision-making and preference-shaping that occur throughout the entire consumer journey.
These are the situations when you intentionally use smartphones and mobile devices to research information that helps you:
Learn or discover something,

Watch something,

Find new places to go to, or

Purchase something.
Google refers to them as the four main user intents: do, go, know, and buy, and as they point further …
They are intent-rich moments when decisions are made and preferences shaped. In these moments, consumers' expectations are higher than ever.
What's also important is that the search engine serves different search results based on that keyword's intent. Just take a look at these search results for a mobile query that might indicate an intent to GO somewhere.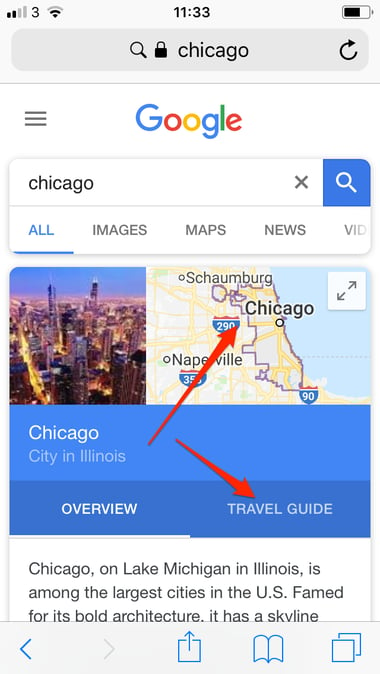 Now compare that with the first thing you'd see if you use a query that might suggest a transactional intent: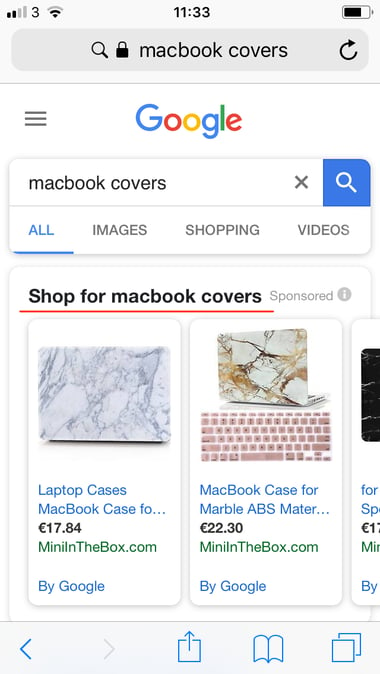 See what I mean?
For queries that indicate the intent to obtain information, the search engine displays various rank types — a knowledge graph, a list of recent news, the Answer Box, and many others. If you've searched for local information, a local business recommendation, for example, it would show you the local pack. To satisfy a buying intent, the search engine serves ads and product recommendations.
So, as the next step in your audit, map your content to keywords to buyers' intent. I recommend you do this by splitting your target keywords into two groups:
High-intent keywords

that include phrases searchers would typically use with the intent to buy or at least learn more about a product or service.

Examples of high intent keywords would include: "buy Lenovo laptop", "Toyota garage near me", "MacBook cover".

Low-intent keywords

, on the other hand, are queries customers use to find any non-transactional information. For example: "Lenovo laptop reviews," "Protecting your Macbook," etc.
We've previously shared about how to leverage keyword intent to optimize your site to convert users at all stages of the buying cycle. Those opportunities include:
Optimize the blog and top of the funnel content for the low-intent keywords that you've researched.

Create dedicated landing pages to target high-intent, non-transactional terms.

Use transactional terms on your key bottom of the funnel pages.
Doing this can help convert users at every stage of the buying cycle and is a very important step to every content audit and analysis.


Step 6: Add More Keywords
As I've shared above, it's crucial to your content's success that every page helps your users satisfy multiple intents — to learn, discover, and buy.
Similarly, to increase a page's chances of appearing for various unique queries searchers might use, you need to enhance it with semantic phrases. The easiest way to do this is by offering information and content relevant to both — intents and semantic terms.
Here are some of the ideas I've discovered working particularly well for various content types:
Ratings – Category or Product Pages
The idea behind a category page is simple — they aim to attract users who look for a particular type of products. And then, give them easy access to all relevant items offered.
However, depending on the number of products within a category, customers might find that making the final choice is difficult. Including star ratings or number of reviews on category pages simplifies choice for users, and helps steer them towards a product to buy.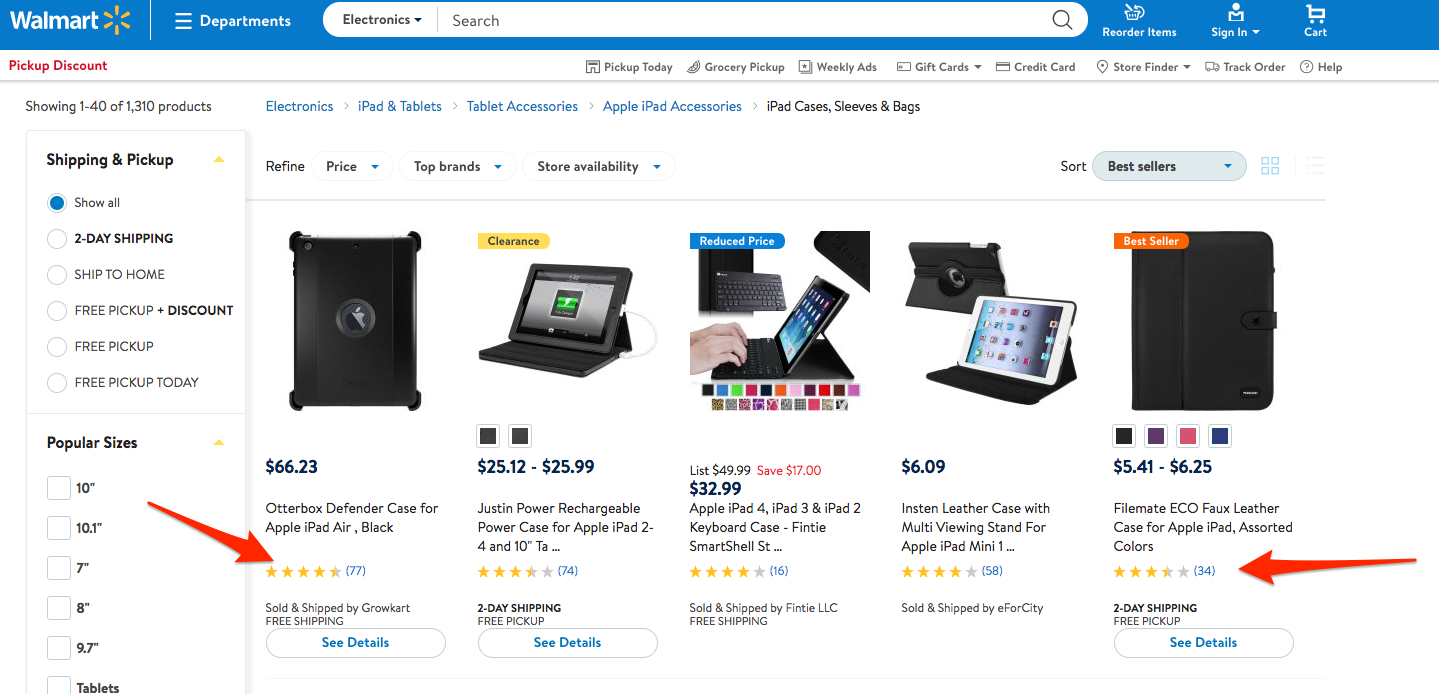 Product Sheets and List of Benefits
Customers often select products on emotion. But then, they justify their choice with logic. And for the most part, elements like meta-tags focus on targeting the buyers' emotions.
But once they're on a product page, you need to provide them with all the information to convince them that a particular item is for them.
That's where product information comes into play. However, instead of just listing product specification, highlight benefits and show how a product can help improve a person's life, overcome certain challenges, or have any other positive effect on them.
Visuals and Layout
It's hard to believe, but product images can affect conversion rates in so many ways. Then again, we rarely buy anything without seeing it first. And so, it only makes sense that we're more likely to purchase items on pages that feature engaging images, product videos, and have a clean layout that makes absorbing all the information much easier.
Here's an example of a product page from Made.com boasting high quality, engaging visuals.



Semantic Keywords
Today, for a page to rank well, it must be relevant to the most current audience's needs.
Unfortunately, making it so sounds only simple in practice.
For one, the audience's requirements change. And what goes with it, Google often updates what pages it deems the most relevant in SERPs.
So, how do you keep up? By analyzing the top 10 results for a keyword continuously to identify the most up-to-date trends and semantic keywords that engage the audience.
That's exactly what Content Fusion helps you achieve. This AI-powered content optimizer analyzes countless data sources about the keyword and content ranking for it to deliver insights to help improve your page.
One of its capabilities is the ability to identify terms and phrases Google emphasizes for the keyword. Here, we see the must-use topics for the keywords "things to do in Chicago".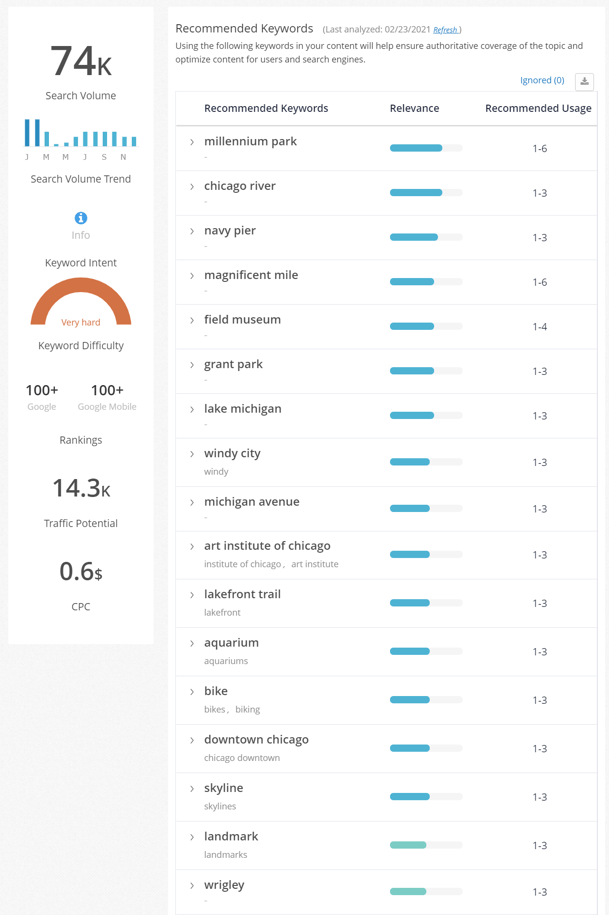 (Content Fusion must-use topics.)


Include these must-use topics on your page to increase its relevance and topic authority for your target keyword.
But a couple of weeks or months after you've done that, go back and re-test your copy with Content Fusion again.
I cannot emphasize this step enough.
You see, SERPs are constantly changing. As the Google's algorithm evolves, the search engine becomes better and better at analyzing context and identifying the most relevant content to the query.
And what goes with it, the search engine's expectations for content change as well.
Re-testing your pages with Content Fusion gives you the opportunity to update them for what's relevant for the query right now. As a result, you ensure the highest possible rankings for your content.
Recommended Reading: 7 Content Fusion Success Stories of Increased Search Visibility
Analyze Competitors
Finally, it's always a good idea to take a peek at other websites ranking for your terms, paying particular attention to the ways they enrich the user experience.
This electronics retailer, for example, uses a variety of unusual elements on their product pages: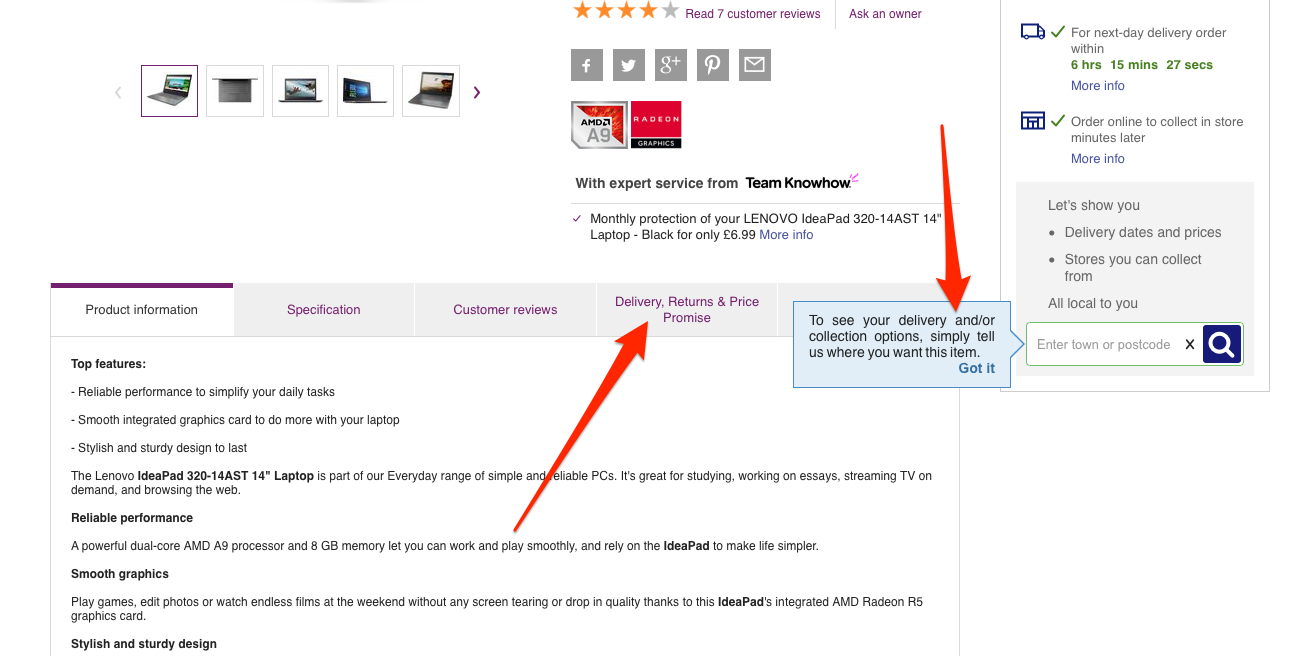 Notice a tool tip that explains how buyers could learn more about delivery options and a dedicated T&Cs tab. It's worth identifying, and then, implementing similar initiatives your competitors might be doing on their pages.


Step 7: Set up KPIs to Monitor Progress
I'm sure this goes without saying: the only way to ensure that any changes you've made to the site have delivered the desired result is by monitoring their performance.
As part of the content audit, I always recommend updating the set of KPIs you've been using to track and monitor.
Often, the original metrics might seem inadequate to capture the full breadth of your new strategy. Or they might be failing to reveal the insights you seek, simply.
With all content updated, amend your reporting dashboards to track all the information you seek.
The data of your content marketing dashboards might include traffic to pages that share certain common characteristics:
They cover a similar topic or idea,

You published them as part of a specific SEO campaign,

They target a specific keyword group, or

Relate to your organization's specific service or product, etc.
Here's an example of such a dashboard, created with our platform, seoClarity.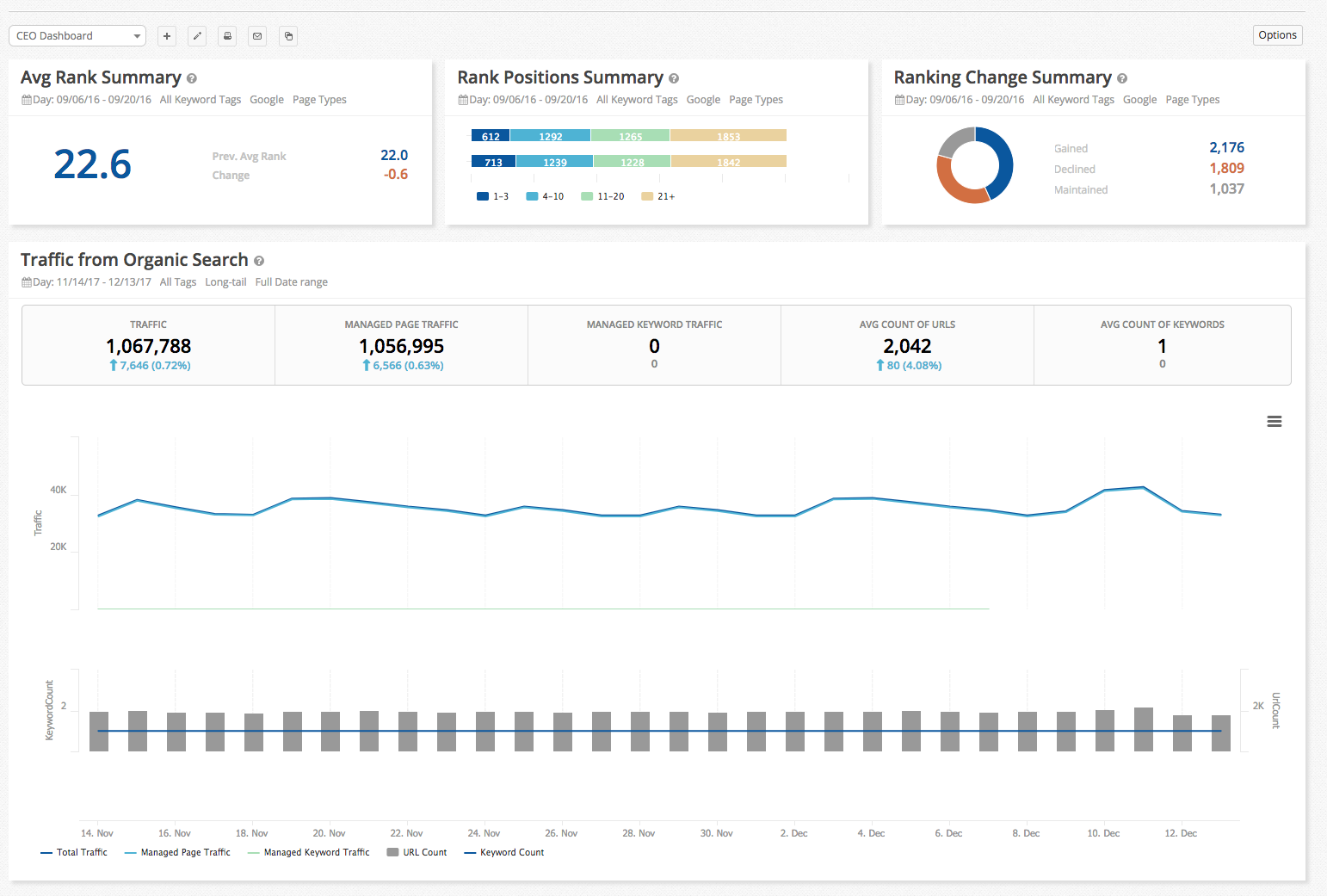 (A customized dashboard on the seoClarity platform.)

Similarly, you could measure content performance in additional channels, social media (e.g. social shares), for example, to broaden the insight you receive about it.

Recommended Reading: 17 SEO Metrics to Monitor for the End User Experience


Final Advice: Conduct Ongoing Audits of Your Content
Fact: a single content audit can empower your strategy for a long time into the future.
But analyzing its performance on a regular basis will help you gain an unmatched insight into how your content works throughout the year or your market's seasonality.
When asked about the ideal content audit frequency, I always recommend conducting them at least once a year. Twice is even better.
This way, you can react to any changes or capitalize on new trends much quicker.


Key Takeaways
An SEO content audit is the most effective way to identify problems with the content's performance and work toward content optimization and quality content.
A high quality, specific audit will uncover even the smallest issues that prevent pages from ranking well on Google, driving ideal traffic and conversions.
And from this guide, you already know how to do it well. You've learned the importance of conducting the audit, its key elements and how to utilize a platform to speed up the process.
All that's left to do is to actually conduct the audit so you can push your content strategy forward.


Want to take your content to the next level? See how an enterprise SEO platform speeds up the process and delivers the results you seek. Request a demo now!


---
Editor's Note: This post was originally published in August 2018 and has been updated for accuracy and comprehensiveness.