At the start of 2018, there is one trend that is sticking with me. It came from a Google study where they found smart phone users were 50% more likely to purchase on their first visit than they were the year before. This means that customer friction continues to drop as mobile content and performance improves.
However it is also true, according to Hubspot, that 81% of buyers conduct online research before making a purchase.
This to me, supports the need to target all phases of a customers buying cycle; to be both the educator and supplier to the customer.
In fact, to generate more organic sales, your brand must provide visitors with the right information that matches ALL their intents.
In practice, this means:
Creating content that can rank high for keywords that correspond to every

micro-moment

person experiences during their buying journey, and

Showing them the key information that would help them decide to buy.
This post will cover how to audit and then, improve your content to help you achieve attracting buyers at all stages of the buyer's journey.
A Simple Content Audit Process
Step 1. Identify Keywords That Target Customer's Micro-Moments
Google describes the concept of micro-moments as:
"[...] intent-driven moments of decision-making and preference-shaping that occur throughout the entire consumer journey."
These are the situations when you intentionally use smartphones and mobile devices to research information that helps you:
Learn or discover something,

Watch something,

Find new places to go to,

Purchase something.
Google refers to them as the four main intents, I want to do, go, know, and buy, and as they point further:
"They are intent-rich moments when decisions are made and preferences shaped. In these moments, consumers' expectations are higher than ever."
What's also important is that the search engine serves different search results based on that keyword's intent.
Just take a look at what search results for a mobile query that might indicate an intent to GO somewhere.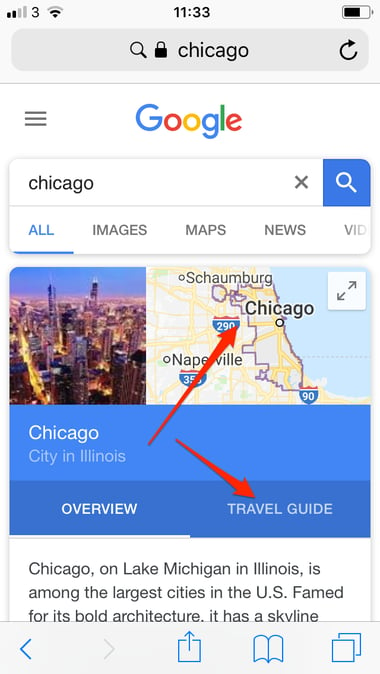 Now compare that with the first thing you'd see if you use a query that might suggest a transactional intent: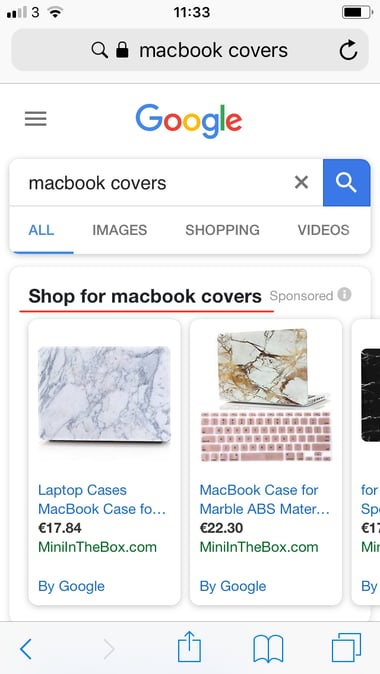 See what I mean?
For queries indicating the intent to obtain information, the search engine displays various rank types - a knowledge graph, list of recent news, the answer box, and many others. If you've searched for local information, a local business recommendation, for example, it would show you the local pack. To satisfy a buying intent, however, the search engine serves ads and product recommendations.
To increase organic conversions, map your content to keywords to buyers' intent.
We wrote an extensive guide to leveraging keyword intents to drive more sales. You can read the article on match keyword intent to drive sales.
However, to summarize quickly:
Firstly, you need to split your target keywords into two groups:
High intent keywords

that include phrases searchers would typically use with the intention to buy or at least learn more about a product or service.




Examples of high intent keywords would include: "

buy Lenovo laptop

," "

Toyota garage near me

," "

Macbook cover

."

Low intent keywords

, on the other hand, are queries customers use to find any non-transactional information. For example: "

Lenovo laptop reviews

," "

Protecting your macbook

," etc.
Step 2. Enhance Product and Category Pages
A conventional approach to product and category pages is to optimize them for transactional queries. But given that buyers are now more likely to purchase on the first visit, it's crucial that those pages help them satisfy other intents as well - to learn and discover, not just buy. Optimizing them with content to rank for keywords with high and low purchase intent.
And you do this by offering information and content relevant to those various intents. Here are some of the ideas I've discovered working particularly well:
Ratings on Category Pages.
The idea behind a category page is simple - they aim to attract users who look for a particular type of products. And then, give them easy access to all relevant items offered.
However, depending on the number of products within a category, customers might find making the final choice difficult. Including star ratings or number of reviews on category pages simplifies choice for users, and helps steer them towards a product to buy.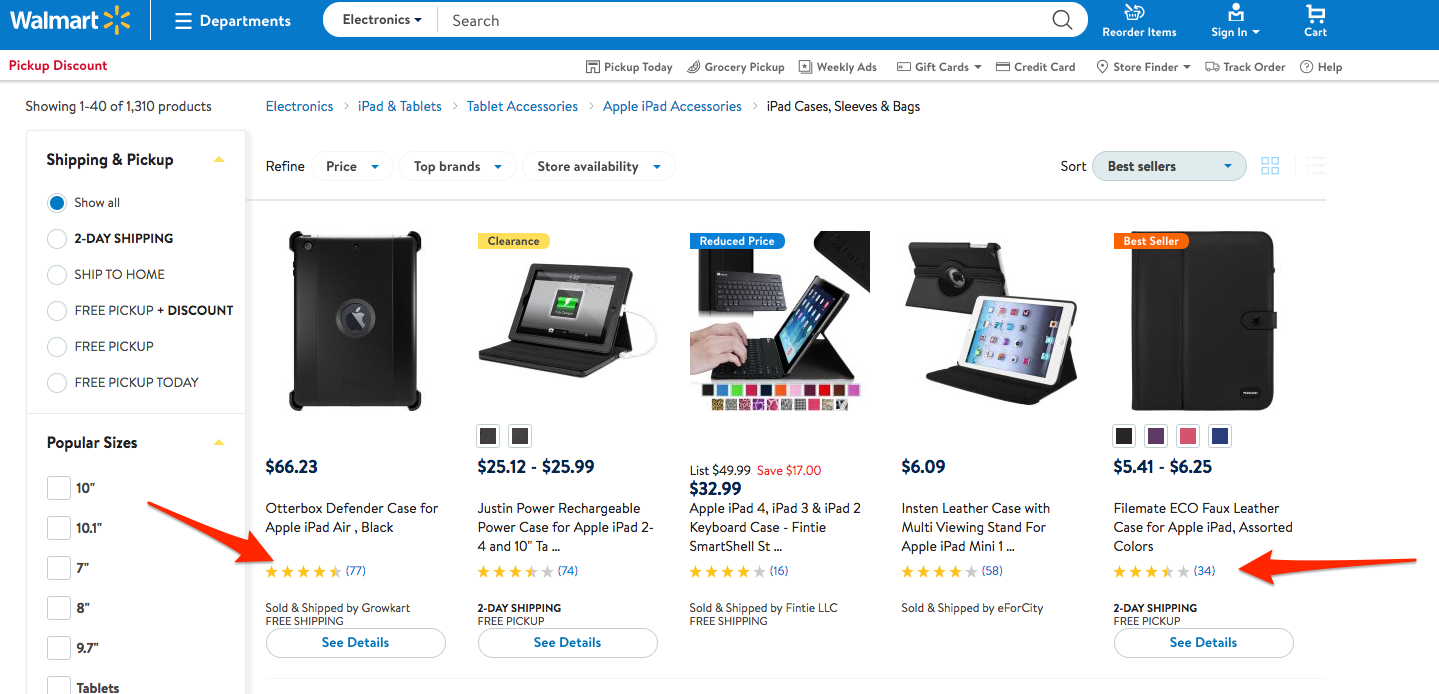 Reviews.
The effect of reviews and other user-generated content on rankings and sales is irrefutable.
In fact, at the last year's Clarity conference, we featured a fantastic talk by Michael DeHaven, the Senior Manager of product and SEO at Bazaarvoice. In his talk, Michael discussed how his team use user-generated content to target various buyer's intents.
I won't recap the entire talk here (you can watch it on this page). But let me show you the effect of first, removing, and then, bringing back reviews.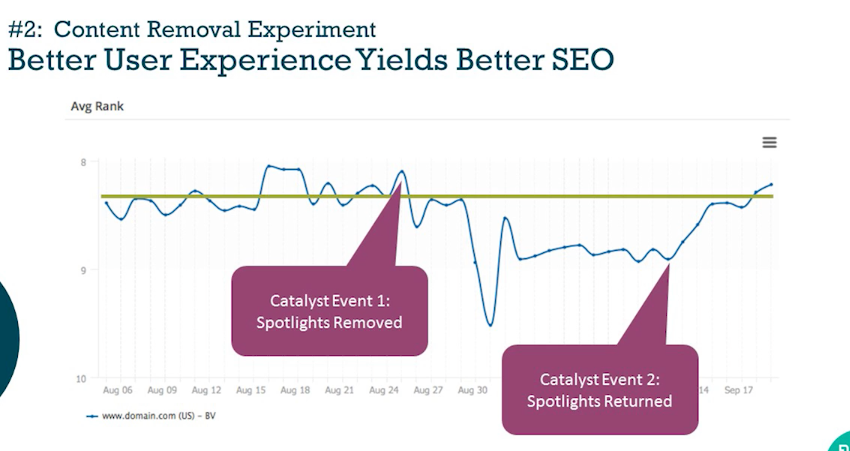 Incredible, right?
Product Sheets and List of Benefits.
Customers often select products on emotion. But then, they justify their choice with logic. And for the most part, elements like meta-tags focus on targeting the buyer's emotions.
But once they're on a product page, you need to provide them with all the information to convince them that a particular item is for them.
That's where product information comes into play. However, instead just listing product specification, highlight benefits and show how a product can help improve a person's life, overcome certain challenges or have any other, positive effect on them.
Visuals and Layout.
It's hard to believe, but product images can affect conversion rates in so many ways. Then again, we rarely buy anything without seeing it first. And so, it only makes sense that we're more likely to purchase items on pages that feature engaging images, product videos, and have a clean layout that makes absorbing all the information much easier.
Here's an example of a product page from Made.com boasting big and engaging visuals.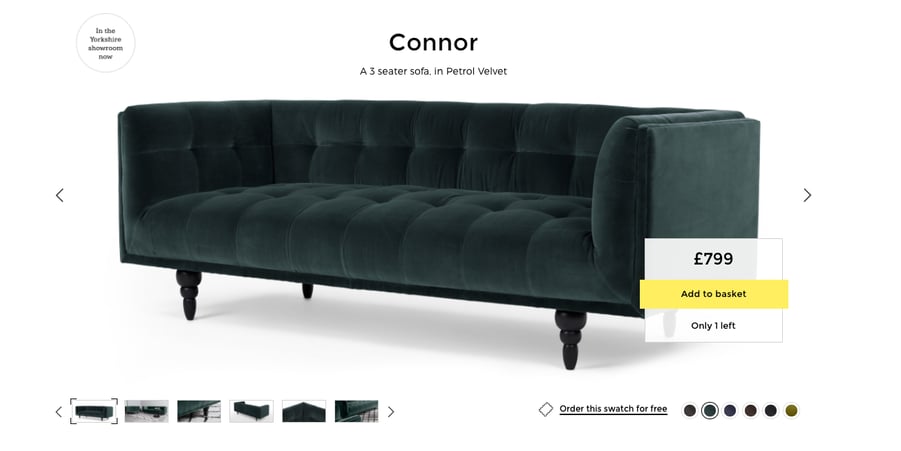 Analyze Competitors.
Finally, it's always a good idea to take a peek at other websites ranking for your terms, paying particular attention to ways they enrich the user experience.
This electronics retailer, for example, uses a variety of unusual elements on their product pages:
Notice a tool tip that explains how buyers could learn more about delivery options, and a dedicated T&Cs tab. It's worth identifying, and then, implementing similar initiatives your competitors might be doing on their pages.
Step 3. Set up KPIs to Monitor Progress
The only way to ensure that any changes you've made to the site have delivered the desired result is by monitoring their performance.
In more practical terms this means deciding on a set of KPIs (key performance indicators) you will be tracking. And then, creating reporting dashboards to track all this information.
Here's an example of such a dashboard, created in our platform, seoClarity.
Notice how it gives instant access to various metrics that are normally scattered across different tools. My another advice is to define traffic and other KPI benchmarks.
These will provide you with a reference, and context in which you can analyze the effect of content changes on your pages' performance.
Closing Thoughts
Today's buyers are more and more likely to buy on the first visit. However, given that they go through an extensive research phase before purchase means that brands today face two objectives. First, to appear for all searches a person is going to conduct throughout their journey. And then, to provide enough information to help them to buy.