Search engine optimization often looks a lot like a tangled web of intertwined tasks, responsibilities, and theories, doesn't it?
In most organizations, positioning a website in search engines involves multiple departments working together.
Some of them conduct keyword research and guide the SEO strategy. Others provide the content necessary for an SEO campaign, or review the Google Analytics data about its performance. And many work solely on design, development, and implementation.
However, many of those companies lack the most critical element that helps make it all come together – a solid SEO workflow.
As a result, they struggle to scale their efforts, and creates a tug of war between departments and doesn't really achieve the maximum results.
In this post, I'll help you overcome this essential SEO workflow challenge.
You'll learn how to develop a scalable SEO process to help maximize your efforts and prioritize the workload between different teams.
Intrigued? Then, let's begin.


Workflows and Their Impact on SEO
I've always considered the benefits of having clear and defined workflows to be obvious.
After all, streamlined processes, reduced errors, and increased productivity allow organizations to move through projects quickly and effortlessly.
Even this Harvard Business Review report reveals that only 5% of companies have a rigorous process for focusing on the most important issues.
It suggests that the rest have no means to allow them to prioritize, and, in turn, complete projects fast.
Now, I admit, the HBR data is a bit old. But from my experience helping our digital marketing clients boost their search visibility, we've experienced many similar challenges.
So, let's define a workflow and see how you could implement it in your organization to boost SEO efforts.


What is an SEO Workflow?
The simplest way to define a workflow is as a set of scalable, repeatable activities you need to carry out to complete a task.
Note that it says, task, not a goal. That's because, unlike a process, a workflow doesn't focus on organizational objectives, like increasing online sales, for example. Rather, it aims to help you complete a specific project.
A good example of a task that workflow could complete is "to build pages for the main category keywords" to aid content marketing efforts.
A workflow defines the stakeholders in the project, their responsibilities, and timelines for completion.
In the case of our example task, a workflow would include:
SEO manager to uncover actionable insights and devise the strategy. They will conduct necessary keyword research to gather target keywords and provide guidance to the other stakeholders. Also, the SEO manager would run a final on-page optimization to audit the content and ensure everything is ready for publication.
A content writer to create copy for those pages and tackle content optimization for relevant semantic phrases for the target content they are writing about.
Editorial team to review the copy and ensure it passes the brand and stylistic guidelines.
The IT/Dev department to develop the page.
Here's an overview of those roles with their designated responsibilities:


| | | | | |
| --- | --- | --- | --- | --- |
| Title: | SEO Manager | Content Writer | Editorial Team | IT/Development |
| Responsibilities: | Devise the strategy and manage the project. | Create and optimize the copy. | Copy Review. | Build and launch web pages. |
The workflow would also define the order and timeline for each stage of the process, from inception to completion.


Benefits of Using Workflows
The benefits of building workflows within your organization are vast. For example, a solid SEO workflow will allow you to:
Identify and remove unnecessary steps in your processes.
Make the process more efficient.
Identify the best people to perform specific tasks, which improves the overall quality of the output.
Free SEO managers to focus on strategic aspects of the campaign, rather than managing a task delivery.
Ensure consistency across an organization that might be working on SEO tasks in different countries, regions, or sites.
Improve and speed up decision-making by outlining responsibilities for each task.
Reduce errors and omissions in the process.
Boost visibility for every stakeholder in the process.


Looking for a pre-defined workflow?
Click the images

below to follow along.

Creating SEO Workflows
In one of his earlier posts, our co-founder, Mitul, wrote:
Replacing inconsistency with purposeful, measured, and directed effort is CRITICAL to an enterprise's ability to be successful.
This pretty much means that in order to scale SEO efforts, you need to create a Center of Excellence that will establish a foundation for all employees to boost SEO efforts.
And the below 3-step process to create a workflow to allow you to do just that.


Step #1. Define Your SEO Structure
The most crucial element of building a workflow isn't identifying a set of actions to perform and in which order.
It's ensuring that every stakeholder understands the purpose of what you're doing and realizes how their actions help achieve the end result, too.
Also, anyone unfamiliar with SEO should grasp the concept behind it and how the channel helps achieve broader organizational goals.
Only with such a buy-in can you begin mapping out people and responsibilities in a campaign.


Step #2. Outline Typical Workflow for Most Common Projects
Most SEO departments deliver similar projects on a regular basis.
Improving on-page SEO on existing pages, creating content for new keywords, or link building campaigns are just some of the examples.
Those tasks require multiple actions completed by departments and teams, often scattered across the globe.
And needless to say, unless everyone involved works in a standardized way, their efforts will lack consistency, and the results will vary.
At the same time, since these projects happen regularly, they are ideal for creating workflows around.
As a next step, after ensuring buy-in for SEO across an organization, list the most common projects your team delivers.
Look at your typical projects throughout the year and mark the ones you deliver regularly. For example:
Managing on-page optimization,
Building new landing pages,
Creating visual content,
Auditing the site or its elements,
Conversion to a secure site
Optimizing for Mobile-First index
With that list in mind, map out how you typically deliver each of those projects. In particular, list:
A standard set of tasks that takes a project from start to finish,
Where you collect the data necessary to complete each task,
What tools do you use, and where teams typically access them.


Step #3. Match the Above with Teams and Responsibilities
Most likely, your in-house SEO team delivers only some of the tasks in a project. With others, you need help from other departments.
Your workflow should identify who those people are, where they work (i.e. in-house or external vendors) and how you could reach them.
This helps avoid projects getting stalled at actions you have no control over. For example, delays in getting necessary sign-offs or approvals might hold a project up and disrupt your timelines - in which case may have consequences for time-sensitive projects.
So, as the final step, match all actions in the project with teams and people responsible for its delivery.
A sample work for a small- to medium-size team would be as follows:
SEO Director: Research targets for the next year and implement strategy to improve rankings for content and key pages using the seoClarity Research Grid to pinpoint opportunities. Pinpoint top 20 Answer Box terms to optimize for in the next 90 days using Answer Box Opportunities within the Research Grid.
Content Writer: Utilize Content Fusion for current content to boost rankings and uncover must-use semantic keywords to add to that content. Create a list of target content opportunities to drive product page ranking and increase sales.
Editorial Team: Use Content Fusion to write content using the most up-to-date terms based on the top five ranking URLs for a given topic.
IT/Development Team: Utilize seoClarity's new Page Speed tool to optimize problem pages that could be hindering your user experience. Run JS crawls to pinpoint and tackle key issues affecting your site.


Looking for a pre-defined workflow?
Click the images

below to follow along.
How to Implement an SEO Workflow
Ultimately, you want to turn SEO into a well-oiled machine utilizing each team member to deliver results at scale without any disruptions in the process.
In short, you want everyone to follow the same, prescriptive workflow, no matter the SEO campaign or tactic they are implementing.
And the only way to do this is by enforcing it every time you start a new project.


Strategic SEO Framework
Our strategic framework aligns to a 10-step process aligned to the Search Experience Optimization and follows Usability, Relevance, and Authority for many SEO workflows that can be applied at any organization.
While you can create workflow templates to send to various team members, this decentralizes the process and diminishes scalability. Instead, you want to implement tasks for everyone involved in the workflow process directly where they'll be doing the work – in the SEO platform you use.
This is another benefit of using an SEO platform versus multiple SEO tools — centralized data so everyone works from a single source of truth.
For seoClarity clients, this means leveraging the task management functionality to create and assign tasks to various team members to eliminate any confusion with task assignment and responsibilities.
With the ability to integrate with task management systems like Jira, you know that task assignments won't be lost in email or spread across multiple digital ecosystems.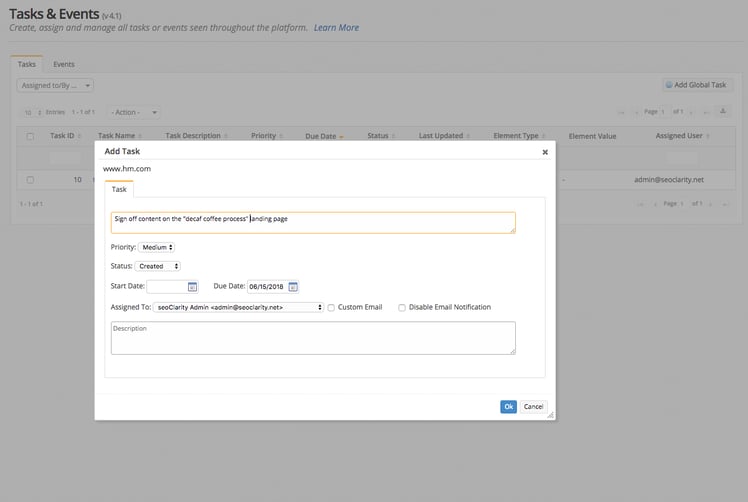 (Creating a new task in the seoClarity platform.)


To create a task for a team member, simply hit the shortcut + sign on the top right menu bar and create a Global Task under Tasks & Events. (If you're looking in a keyword or URL detail page, you can add a task to that specific keyword or URL you're viewing.)

In the Add Task window that pops up you can give the task a title, set it's priority level from Normal, Low, Medium, High or Urgent. Then select its status, start date, due date and assign it to anyone on your team.
From there, you can add any further details to the task via a description box. Finalize the task, and it will be sent to you and the task recipient(s). They will receive an email with a link that leads them right to their task in the seoClarity platform.
(You can also manage assigned tasks if you'd like to edit or assign tasks to new users.)


Final Thoughts
In many organizations, SEO is often scattered, with multiple departments working on every project but in ways of their own.
And for most, this leads to challenges with project delivery, and issues with scaling SEO efforts.
So, what's the most effective way to overcome this? Building dedicated SEO workflows to streamline project management.
All that's left is to start implementing this advice in practice. Good luck!