According to a study by National Association of REALTORS, home buyers use website property listings 95% of the time in their buyer process, and 44% said they start their home buying process online. What's more? 49% of buyers said they found the home they purchased from their internet search.
The importance of website optimization and traffic is so critical. And, if you run a national listing database with millions of homes and apartments across the whole country, how do you manage all of those pages? The sheer number home addresses tops 140 million and around five million homes are sold each year! The number of keywords to track and pages to optimize suddenly becomes overwhelming.
The good news is that there are ways to get greater visibility to all those listings at scale.


Challenges and Opportunities for Enterprise Real Estate SEO
The biggest challenge in real estate is that for most people, buying a home is the largest purchase decision they'll ever make. Presenting useful content to inform their buying decisions is a critical part of your real estate SEO and content strategy.
Our VP of Client Success, Chris Sachs, explains, "When buying a house, it often requires an army of resources to make it happen—an attorney, a realtor, a home inspector, the bank, title, and all that. What real estate aggregators want to do is to provide all the necessary resources that a buyer needs to make an educated decision."
Another common challenge with SEO is duplicate content. If you have the same content on different pages optimized for the same keyword, you're essentially competing against yourself.
Our Solutions Engineer Dustin Duncan adds, "Most companies have multiple brands that they compete against. They need to ensure that they don't have duplicate content for each page."
Other challenges include technical SEO, delivering seamless user experiences, and monitoring rank performance in thousands of markets across the country — or even globally.


Strategies and Tactics for Scaling Real Estate SEO
To overcome most real estate SEO challenges, there are a number of strategies that create opportunities for higher CTRs through improved search visibility and user experience.
#2. Content Strategy for Real Estate SEO
#4. Implement Schema
#5. Technical SEO
#6. SEO Reporting and Segmentation


#1. Monitoring Rank Performance
Statistical Keyword Sampling
By optimizing for geo-located keywords (such as "homes for sale in chicago il"), your listings have a better chance for improved search visibility in those locations.
But, as noted above, this leads to millions of location-specific keywords to keep track of. In fact, there are over 140 million addresses in the U.S. and nearly 6 million homes sold last year.
So how do you keep track of your search visibility across millions of keywords, with addresses that are constantly moving in and out of the market?
The answer is — you don't. There's a better way.
You can take small samples of your entire keyword set and track the SEO performance of those samples over time. Because, let's face it, it's impossible to track every keyword when the large inventories and volumes are always changing.
To prevent stale or incorrect data, however, it's important to regularly change out these samples in your managed keyword sets, as Chris further expands on in his post on statistical sampling in SEO.
This approach lets you monitor the keywords that matter to you, with a guaranteed freshness to the data.
Rank Intelligence, our SEO platform's rank tracking functionality, allows you to track, monitor and execute this statistical sampling approach quickly and at scale.
The platform provides the flexibility to rotate keywords on a recurring basis. It enables our clients to do this every week if they want to refresh their tracked keywords and leverage the trend reports to see an aggregate of their ranking performance.
Track Geolocation Performance
You also need to know how your listings perform compared to your competitors on a market-by-market basis. In some cases, real estate sites may perform better in one market compared to another.
We see this all the time where more geo-targeted real estate businesses outrank the larger ones in specific markets or geo-areas.
To tackle this head-on, you need to create location-specific campaigns, since users in different locations will naturally have different wants, needs, and ideas in mind.
Then, for each location-specific campaign, and for every location you need to monitor, it's crucial that you use geo ranking to monitor your keywords' performance. That is, rank tracking of a certain location (e.g. region, city, zip code).
There are a number of considerations to keep in mind when you track keywords for geo rankings. For example, we recommend you set up tracking for geo-targeted keywords at the national level in addition to zip code-specific targeting.
This shows you how your location-specific terms perform at that wider national level with no designated location.
Read our article about geolocation rank tracking to learn more about forming a strategy on how to track keyword rankings by location.
Again, with Rank Intelligence, you can track your rankings, traffic, and conversions by city or zip code using custom filters to narrow in on the geolocations that are relevant to your campaigns.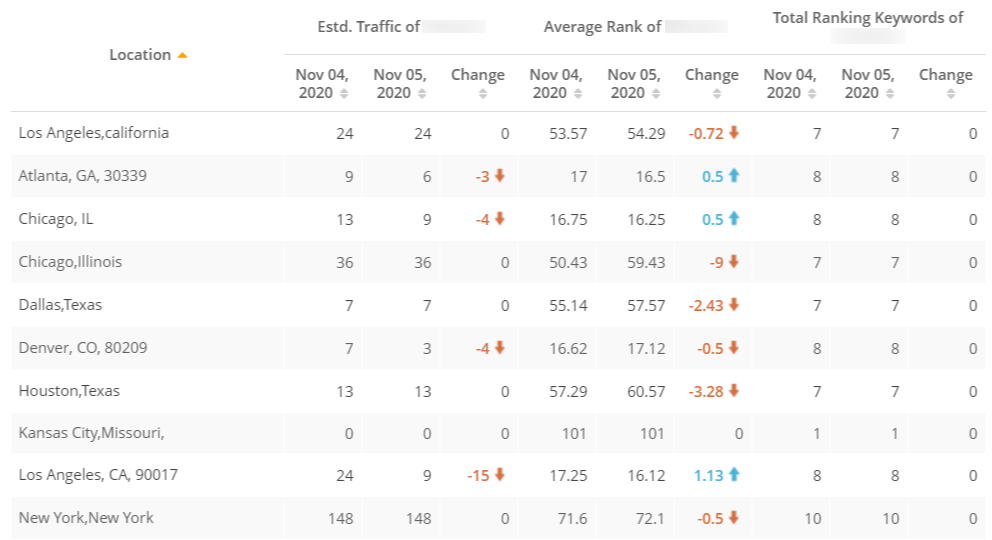 (Table view of geo-location reporting in Rank Intelligence.)


Test Updates to Listing Page Templates
Different types of real estate need different types of listings. Some search for apartments to rent, while others search for homes for sale.
Since templates can be used for each type of listing, we can see whether any changes in each template and its content affects rank performance. You could A/B test to see which tweaks increased visibility and conversions, or decreased bounce rates.
The main advantage is it allows you to optimize your listing pages at scale. Once you find a tweak that works, you can copy it and apply to all pages.
"Because of the vast number of pages and templates to track, the aggregate performance over all of your locations, test to see which page's template is performing better or worse than the previous template. We have to be very templatized in this approach. Otherwise it's just not scalable," says Duncan.


#2. Content Strategy for Real Estate SEO
Before creating content, it's useful to assess what demographic your content is for. In real estate, different demographics within the home buyers group may have different intents.
In his experience, Chris has found that the younger demographic is more apt to make a purchase online (they don't necessarily want a realtor) while the older demographic has a realtor, and they come online to affirm the information that they need.
You can see in their online behavior that these two demographics have completely different intentions as to why they're searching for the keyword to land at a specific address.
Create Informational Content to Match the Searcher's Intent
When going online to look at houses, some may not be researching for the purpose of actually buying a house. They may either be researching how to buy houses, or as Chris has seen they may actually be looking for the estimated value of their own house. You need to create content to meet that other need as well.
Therefore, online real estate content needs to match the true intent of the searcher.
Instead of selling a house, it needs to show the "what" through available listings and the "how" by explaining the home buying process. When content matches the searcher's intent, it will have a better chance to rank.
First time buyers and sellers have so many questions about the buying and selling process itself, let alone the various listings. Leverage Google's People Also Ask for informational content ideas for every stage of their journey.
Manually monitoring the SERP is a way to formulate content ideas, but it unfortunately lacks scalability.
With Content Ideas in seoClarity, you can find every question by search volume and relevant keywords.
This example expands on the topic for "buying a home":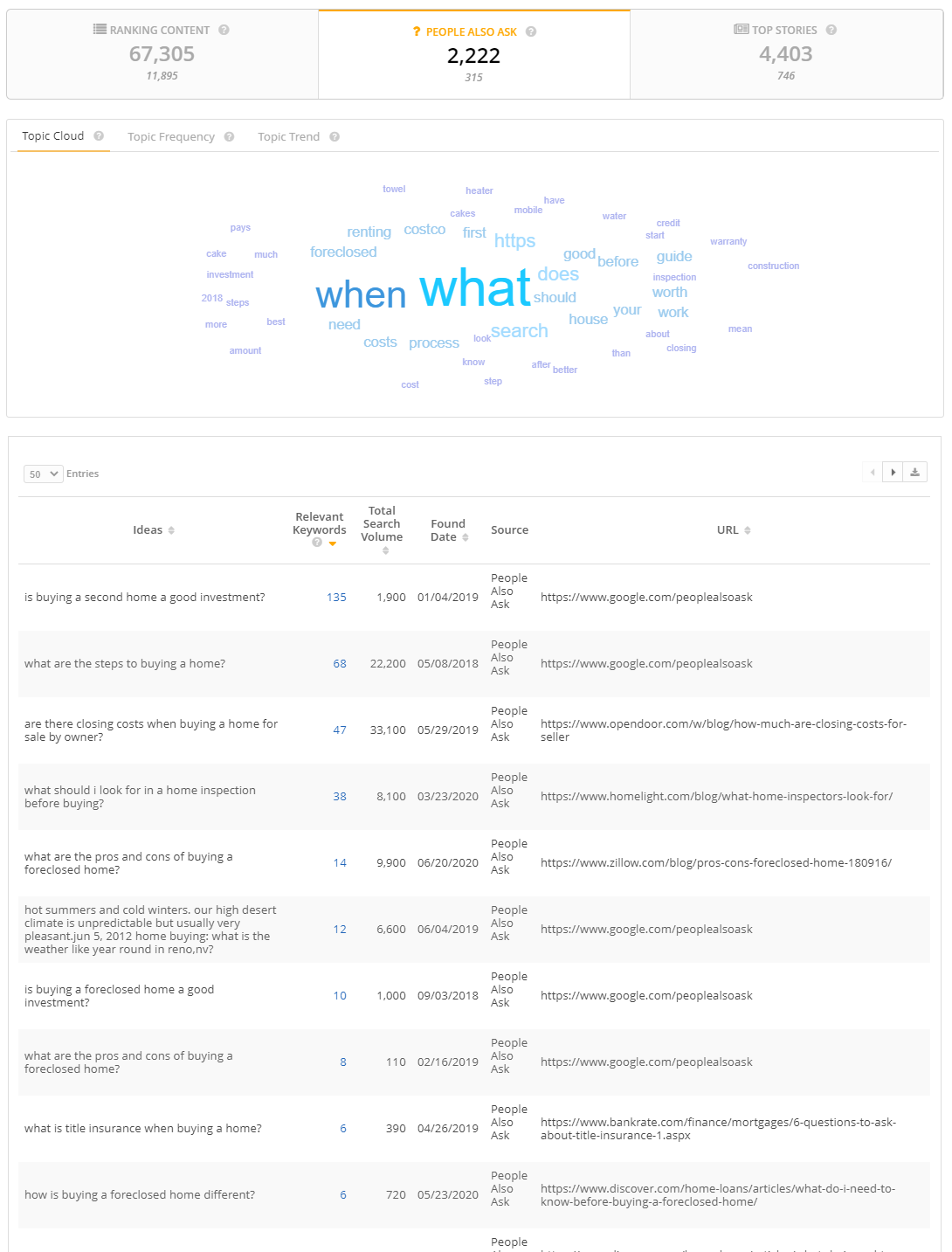 (Content Ideas in the seoClarity platform.)


Aim for Featured Snippets
Other than getting your page to rank organically, there are additional opportunities to get more visibility within the SERP.
Featured snippets are an opportunity to own more real estate on the page. These can include answer boxes for question-based queries, videos containing virtual home tours, and many other types.
Check out this query, "who pays closing costs?"
It holds a lot of real estate at the top of the search results page and demonstrates very quickly the expertise that helps the buyer along their journey of buying (or selling) a home.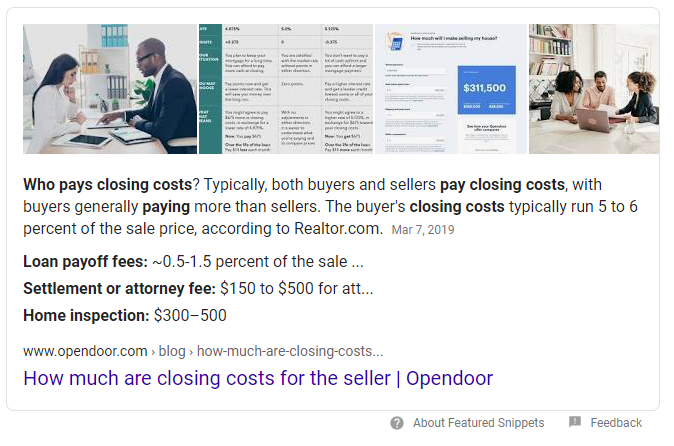 (A featured snippet for a real estate industry website.)


Featured snippets for the real estate industry appear in close to 6.1% of industry-related searches. The chart below demonstrates the opportunity in real estate with the number of queries in the past year that are relevant to the industry.
There is a huge opportunity to gain brand recognition by providing quick answers that could appear in the SERP.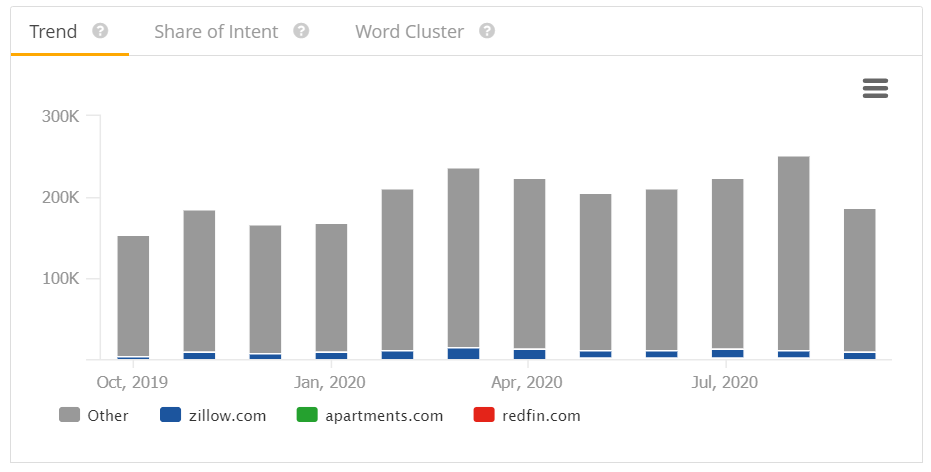 (Finding opportunities to target the featured snippets in the real estate industry.)


This screenshot shows top sites that earned the featured snippet within the real estate-relevant keywords.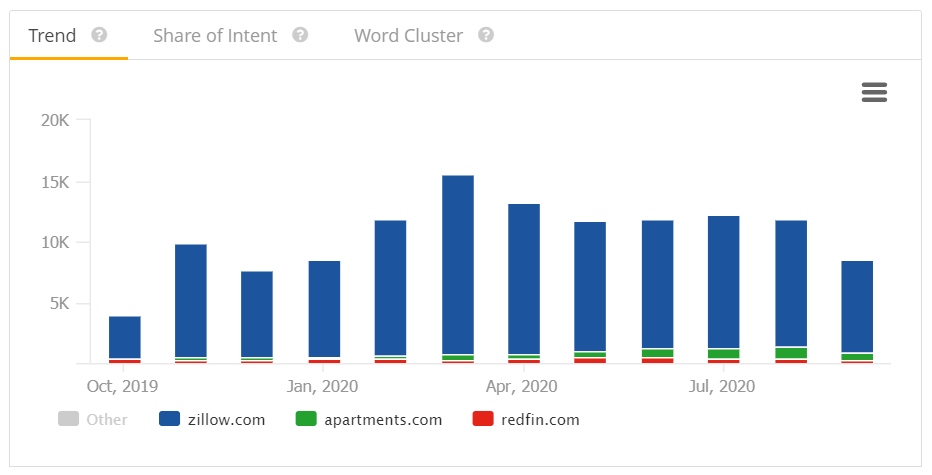 (Real estate websites that earned the featured snippet.)


To earn a featured snippet, we recommend creating FAQs and authoritative content by answering the what and how questions people are asking. We provide 14 tips on how to do this in optimizing content for Google Answer Boxes.


#3. Improve User Experience to Drive Conversions and Reduce Bounce Rate
When buying real estate, people want all the information they need at hand. Real estate listing sites "have to be really good at understanding the consumer's needs on buying decisions. They need to pull in the right data, build the right content, and engage with the right third-party vendors to be the single source of truth for any property people are researching," Chris says.
More than 80% off website traffic comes from a mobile device. To make your site perform the best possible, you need to create a one-stop shop that delivers an extraordinary user experience, and that all begins with a site that loads fast.
Improve Page Speed
Many industry studies, including those from Google and Chromium, show how page speed affects conversions, bounce rates, and number of searches.
The results are clear: even a two-second delay in page load times may cut conversions by half. A four-second delay increases bounce rates by 90%!
seoClarity enables you to monitor your page speed, and provides historical trends and provides insights in how to make your pages load faster.
Recommended Reading: 7 Page Speed Common Issues and How to Improve
Follow Best Practices for Site Navigation
Besides making sure your sites load quickly, your site's navigation should also be optimized — both on desktop and mobile. This is true for any site, really. The users' experience should always be a priority.
An example of this in real estate specifically would be making it easy for users to find listings in their locations of choice.
It's also crucial to keep in mind the user experience for those who search on mobile. Remember that for the real estate industry, 80% of real estate web traffic comes from a mobile device.
If you use a mobile-first responsive design, you want to make your top and left side menu bars easy-to-use on any type of device, for example.
Optimizing your site's navigability not only leads to a great user experience that makes them want to return, but also makes your site easier to crawl.
We'll cover crawl efficiency in #5 on Technical SEO.


#4: Use Schema to Improve SERP Visibility and User Search Experience
Because SERPs are more crowded than ever, schema markups give you a chance to increase pixel visibility.
There are many types of schema that a real estate listing site can implement. Here are a few examples.
Event schema to display Open Houses like this example from Realtor.com:



(Event schema enhances this SERP listing, and increases its pixel height.)


Display video content as virtual tours in your listings on your SERP, as Zillow does here:



(Virtual tours allow you to provide information when in-person interactions are limited.)


The availability of virtual tours offers further value to the end user, since they can collect more information about a certain property from the comfort of their home. This value is unmatched in a time when in-person tours are frequently unavailable because of Covid-19.
Not only does the virtual tour option itself hold value, but its call-out on the SERP listing does as well. The additional pixel space allows you to compete with more authoritative domains.
If you can't beat their SERP position-wise, schema is one tactic you could do to help give more visibility to your listing. — Dustin Duncan
Besides, the more space your page takes up on SERP, the more your competitors get pushed down — potentially onto the second page.
The other implementation for schema to give Google the best information about your pages is to use SingleFamilyResidence or RealEstateListing schema. Although not currently supported as a rich result, it can be used in voice search and other machine learning from Google.
seoClarity offers a free point-and-click Schema builder tool, schema.dev.
Download the free Schema Builder Chrome plug-in >
Another challenge large sites have with many different types of schema is to validate and organize what has been implemented. Site audits in seoClarity validates and audits schema and provides insights by on the types, pages it's on, errors, and warnings.
Recommended Reading: Check Structured Data at Scale to Ensure Its Implementation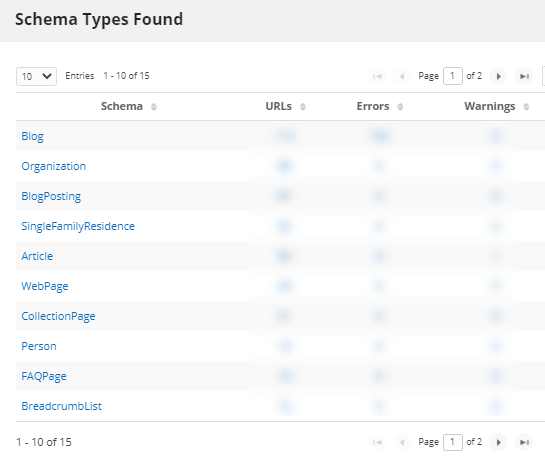 (Audit and validate your schema at scale in the seoClarity platform.)


#5. Technical SEO for Large Real Estate Listing Sites
It's not only necessary to give users a positive search experience, as we discussed in point #3 — search engine bots also need to be able to easily navigate your site.
When your site consists of thousands or millions of pages, it's vital that you stay on top of your technical SEO optimizations to ensure these bots can crawl efficiently, all in an effort to preserve your crawl budget.
Giving bots the easiest crawl experience possible also means prioritizing which pages are most important to your site, so those pages have crawl priority.
This is another reason why optimizing page load speeds and navigability is critical to your SEO.
To ensure your most important pages are crawled, you can silo the most important parts of your site for crawling. For example, you can make sure the broker pages are not indexed if you don't want them competing against your main pages.
In our crawl budget guide, we also recommend improving your internal linking structure and making sure all links work properly.


#6. Reporting Using SEO Segmentation
Let's say you've optimized for user experience, featured snippets, and geolocation targeting.
How do you report the ranking performance of your listings at scale? Reporting helps the entire organization understand where you've made gains and where you can locate more opportunities. Not to mention the importance of reporting to your executive team.
Leverage dashboards and segmentation to cut your site down into bite-sized pieces, so you can make sense of your ranking performance on a market by market basis.
Customized Dashboards
In the seoClarity platform, customizable SEO dashboards allow you to hone in on specific data points to analyze data (and tell the appropriate story) that is applicable to your campaign.
Or, with a quick glance at the dashboard, you'll get a 30,000-foot view of how your SEO strategy is performing. Plus, you can see what to optimize next, what to test, and where to audit.
Not only do these custom views highlight your performance for your behalf, but automated reporting helps to share the reports with different teams and spread SEO awareness to others in your company.
Segmentation
If you want to dig even deeper into your top performing markets by tracking geolocation performance daily, you can do this through segmentation in the platform.
Keyword or page tagging or grouping of different segments plus using various filters on-the-fly allow you to strategize and categorize data points so you can zoom in on these groups and analyze them in detail.
What does segmentation look like in the real estate industry?
Assume a new competitor enters the space in a localized market. You wouldn't be able to see that from that top level. With segmentation, however, you would be able to see this in your reporting.
In seoClarity, every iteration of any type of offering can be broken down in an effort to scale. And with daily georanking, you have a constant intake of new data to inform your strategies — something that other SEO platforms don't offer.


Key Takeaways
On large real estate sites, there are millions of listings to track and optimize in terms of ranking performance and search visibility. To do this at scale, these strategies can be used:
Statistical keyword sampling
Tracking geolocation performance
Testing and optimize listing templates
Creating content and featured snippets to meet searcher intent
Using schema markup to improve search visibility and CTR
Optimize page load speeds and site navigability to deliver the best search experience
With these in place, you can use reporting dashboards to look for what to test and optimize next, and continually iterate your way to improved rankings.