Any SEO working on a multi-location site faces the same problem: you need to monitor the unique search experience across all markets where their business is present.
Undeniably, each location's user will have slightly different needs, expectations and ways they conduct their search.
How do you report on all that, then? How do you monitor the progress, and draw necessary conclusions from the data to move the strategy forward in every market?


What is Multi-Location SEO?
Multi-location SEO describes traffic that comes in from local intent within markets where the brand is present.
In short, multi-location SEO combines all of the brand's local SEO efforts to further increase its visibility in search engines. For businesses with multiple locations, SEO is crucial for driving foot traffic.
For an SEO, managing a multi-location campaign means creating location-relevant landing pages and monitoring keyword rankings with GeoTracking – rank tracking by a specific location or a zip code.
Each location needs its own campaign that focuses on its specific geo-location separate from the company's larger SEO strategy.
Before we discuss the best ways to manage a multi-location SEO campaign, let's briefly run through some of the most required elements of such a campaign.


How to Optimize SEO for Multiple Locations
#1. Clear URL Structure That Helps with Reporting
One of the most critical aspects of a successful SEO strategy for multiple locations is a clear URL structure that helps you organize location-specific pages and makes it easy for the user to identify which location the page corresponds to.
For example, if a business is located in Portland, is it the city of Portland in Oregon, Maine, or Indiana? Let the visitors know with a quick glance at the URL.

(CubeSmart shows users the city and state of the property they are viewing in the URL.)


CubeSmart, for example, includes the location in the URL slug for every property. This way users can confirm that they are on the correct business location page, and the business can more easily monitor the performance of their properties for their multiple locations.

#2. A Location Page for Each Area
Each specific location needs to have its own page that highlights its unique information.
This includes the location's name, address and phone number (known as NAP).
An embedded Google Map is also required to provide searchers with a point of reference, and descriptions of how to get to the business are important too.
The description should also include mentions of local landmarks that the search engine can piece together.
To further highlight the location's uniqueness, the page should contain location-specific content like staff information and testimonials – and each page needs to have unique title tags and meta descriptions to further differentiate them to users (and search engines).
Lastly, apply a local business schema markup to each page so your business hours and other important information appear in the SERP.
Look at the Chicago location for CubeSmart. The sidebar shows all information relevant to that unique location:

(Be sure to include unique information on the location page.)


#3. Location-Relevant Content
You might not need to create long-form assets for every keyword you target, however, the content you publish must be relevant to the local audience. Content is what helps pages rank in Google, after all.
There is something special to be said about every location of the business. What would make for the best search experience? Think inventory and services, or remove uncertainty associated with the location the customer may have.
Leverage tools like Search Analytics to identify unique long-tail keywords, along with Google My Business data and semantic keywords to tailor the content to the local user.
Our AI-driven content optimizer allows you to include all relevant keywords about a certain topic – like a unique location – so you can create authoritative content at scale.
For example, someone not located in Chicago can run the target keyword "storage facilities in chicago" and receive a list of must-use keywords for their content – including specific Chicago-based locations (that we highlighted below).
Essentially, Content Fusion allows you to create location-relevant content whether you're personally familiar with the location or not.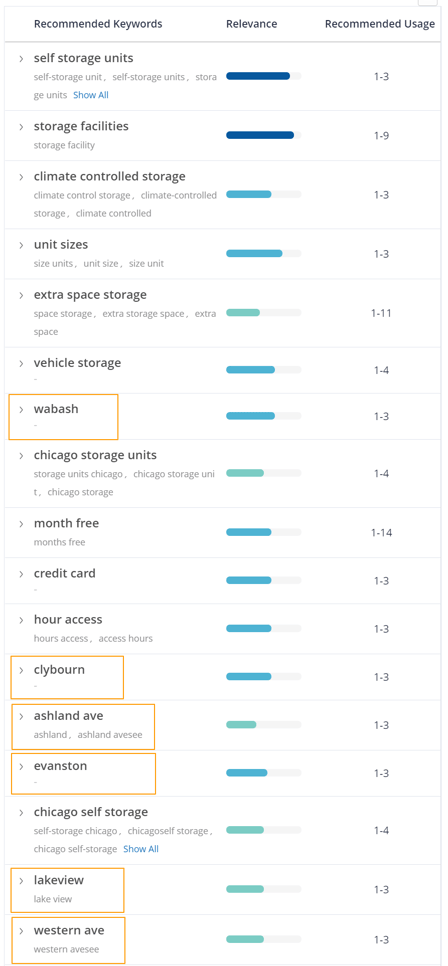 (Content Fusion must-use words for the keyword "storage facilities in Chicago".)


#4. Optimized Google Local Business Listing
With the above out of the way, claim and optimize Google My Business (GMB) listings for every location or market your company targets. This involves filling in all the profile details per location, adding relevant images, product information and more.
Plus, you'll need to manage your Google My Business posts, answer questions, and respond to comments.
Also, publish content to Google My Business posts to pull in users to the listing. It will help drive traffic and conversions from the channel, regardless of the current local rankings.
Tip: You'll also want to be added into other online local directories, such as Yelp.
This hotel's GMB listing features all the information a traveler might require to book a hotel room with them.

(Google My Business listings make it easy for users to find important information directly on the SERP.)


#5. Local Links
Finally, much of local rankings depend on relevant and local links as well as citations.
Ideally, you want to build links from sites that have influence in the local market. A good example is local business communities or events. Even sponsoring a local sports team might generate a highly relevant local link to boost rankings. Consider the places in your community where you make an impact or where you can provide information.

Geo Rank Tracking: How to Monitor Rankings for a Multi-Location Brand
When you have the basics covered, it's time to begin monitoring the campaign's performance. Unfortunately, as mentioned earlier, doing so often can prove to be difficult – but not impossible!
Think about it; at its core, tracking rankings is ridiculously simple. You select the phrases you want to monitor, set them up in a rank tracking tool and let the software do the rest.
However, the situation is much different when you add multiple locations to the mix, and how users search for information in every market.
That's why our team has compiled a list of tips to help you track multi-location SEO rankings and performance.
When tracking keyword rankings:
Set up tracking for geo-targeted terms (e.g. "storage facility in chicago") at a national level.

Do not specify any particular locations (by zip code or city name). This way, you'll be able to see how you appear in search results at a national level for location-specific terms. However, when doing so, specify the location-specific page as the preferred landing page.
Then, track a set of 5-15 keywords at a local zip code level.

Use broad terms that have local intent (e.g. "storage facility near me," etc.) to see how you rank for those local searches.


Quick Tip: In general, geo-tracking revolves around setting up a tracking location by either city or zip code. Some companies may want to go beyond this to create custom regions that match up with their current reporting on other metrics (census regions, multi-state regions, designated marketing areas, etc). Rank Intelligence allows you to create and save custom filters – you can create groupings of either zip codes or cities to create your own segments for tracking and reporting.
When setting up additional tracking, break down the services you provide into separate categories and add location modifiers to the query (e.g. "dog walking Chicago" or "dog walking Austin").
Finally, monitor SERP features at the GEO as well. We continuously see an increase of PPC/PLA's at a localized SERP that could impede the organic performance.
When measuring multi-location SEO performance:
Organize your pages by the content type (e.g. product pages, blog content) but also, location-specific preferred pages to track traffic and conversions by region.
Break down your top markets for each service based on revenue (Top 10, 11-50, etc.) and monitor the performance separately.

Analyzing what works for those markets can help identify factors to improve among the laggards, for example.
Finally, track your performance in desktop and mobile but also, create a separate dashboard to compare it with the competition.

Evaluating the traffic this way will help identify the biggest wins in each local market. For example:


The company's traffic:


Comparison with the competition:


Note: For distribution industries (e.g. food delivery services) it's a good tactic to review inventory levels with the sales team to get new customers.


How to Track Multi-Location SEO KPIs
So far, we've shared tips and advice on setting up and monitoring an SEO campaign for a multi-location brand. However, we didn't tell you how to actually do it.
It's simple, really. You must create multi-location SEO dashboards. Here are some that we typically recommend to clients:
1. Year on Year Traffic, Conversions and CVR to all Local Pages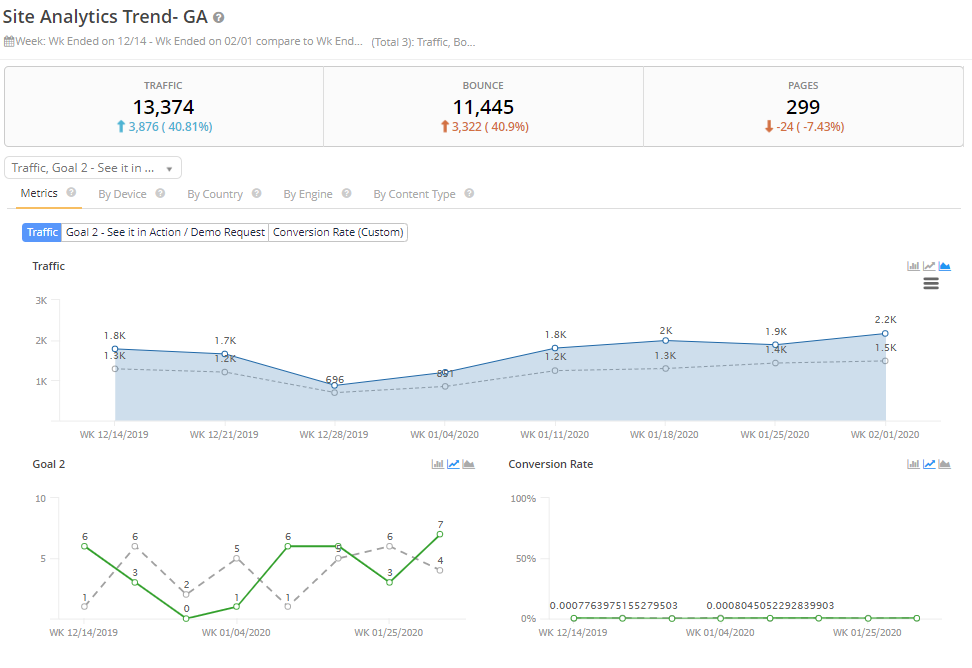 2. Website Health – Crawl Data by Local Pages:

LocalClarity
In addition to seoClarity's platform, you can also utilize LocalClarity for your multi-location business performance.
LocalClarity lets businesses take control of their brand management and performance for their various locations – whether its a national chain or an international brand with thousands of locations and daily reviews.
It serves as a review management system, and allows you to monitor your GMB performance (plus many other platforms like TripAdvisor, Booking, Facebook, etc.)


Conclusion
If you operate a business in multiple locations, you need to take a different approach to your SEO strategy and optimization efforts. While there are some extra steps required, it's far from impossible, and will greatly help your overall success in the varying markets you are located in.


Want to See How seoClarity Will Help You Manage Multi-Location SEO? Book a Demo and See the Platform in Action.
---
Editor's Note: This article was originally published in March 2020, and has been updated for comprehensiveness.