For most brands, content marketing is more than just a way to build authority online but a channel holding their entire promotional efforts together.
Content helps them build brand awareness, introduce products, connect and develop relationships with potential buyers, acquire more links and fuel all efforts to increase search visibility.
But having published so much content already, many content marketers can find it difficult to know what topics to cover next.
As a result, they start creating pages on a whim hoping that some of it will manage to attract new traffic.
In this post, I'll show you how to overcome this challenge in your organization with a tactic I refer to as content mapping.

Content Mapping helps you align both the production of your content and the distribution channel to reach your audience at every stage of the customer journey. While this aligns your SEO efforts, it also makes your overall marketing efforts more efficient.
You'll learn how to map out your existing content to discover what information you're missing, and also, what insights your audience seeks.
In short, you'll discover how to plug holes in your content marketing strategy.
Why Map Your Content
Today's customers are informed. And this goes well beyond knowing a lot about the products they want.
For one, they can now self-qualify themselves and go through almost the entire buying process on their own. In fact, according to SiriusDecisions (quoted via Salesforce):
"70% of the buyer's journey is complete before a buyer even reaches out to sales." --Source
Customers now turn to Google or other search engines to learn more about their problem and available solutions. Then, they evaluate their choices on review sites and social media further. And only when they're certain that they want to engage with a particular brand, they make the inquiry.
What's important here is they use content in every step of the process above.
Throughout their journey, they discover blog posts, guides and many other content types that help answer questions and provide insights they currently seek.
And, here's the catch – if you don't have assets that provide those answers, they'll likely find it on your competitor's site.
The good news is that you can prevent it by identifying where in the buyer's journey you're missing content. And then, you can work at plugging those holes by either creating additional assets or expanding what you already have.
How to Map Current Content to Identify New Topics and Opportunities
What follows is a two-step process that will help you:
Assess how your current content supports a person in their buying journey first. In turn, you'll discover what information you're missing and need to create, and then,

Discover what topics or insights would enrich your content even further.
Part I. Creating a Topic Authority Map
If there's one thing that's characteristic to every stage of the buying journey, it's this:
In the early stages, they inquire about their problem and wonder why it is actually important to solve it.
Later, when they've discovered more about it, they become curious about different ways to solve it.
And in the final stages of the process, they ponder how to implement a specific solution.
Of course, these questions will also vary depending on the buyer persona and other factors. In general, however, you can assume that they'll inquire about relevant information at every stage of the buying cycle.
Cycle stage

Awareness

Evaluation

Purchase

Questions

What is it?

Why is it important?

Why should I care?

How to use it?

What steps do I take?

How to implement it?

Has anyone else used this?

Your content, therefore, should aim to answer specific questions, relevant to the person's particular stage of the cycle.
So, as the first step, you need to assess which questions you're already answering. This, in turn, will help you discover the holes in the strategy.
I typically do it in an Excel document, following these four steps:
Create a section for every step of your customer's journey

. You could use the most common division, like the one I listed above. However, there might be additional steps buyers go to in your industry that you might have to include as well.
Note, each section will include a number of questions, so it will contain more than a single column.

Create separate breakdowns for every persona you target (optional).

The chances are that they'll seek different information in their journey. And so, it's worth to identify their individual needs to get a clearer picture of your content assets.

List various questions these people would ask at every stage in separate columns. Again, if possible, do it for each persona separately.

In every question column, start listing content assets that provide answers to it.
With this exercise, you'll quickly realize where in the buying process you're not providing relevant information.
Part II. Mapping Keywords to Identify New Topics
In this step, we'll dig deeper into the data to discover what insights would help you fill in the gaps in your strategy.
In particular, we'll look into various SEO data points to discover audience's preferences and information needs.
A quick note before we begin. For this walkthrough, I'm going to use our platform, seoClarity, and its many content marketing capabilities. You can find out more about the platform and how it could help you boost search visibility here.
Step 1. Assess Keywords Driving Traffic to Your Content
Keywords provide the clearest indication of what information your audience seeks.
But it's worth to note that I consider more than just the phrases that drove visitors to the site here. Any other query for which Google positions a page could reveal insights about your target customers' preferences.
For the last five years or so, accessing this data was near impossible. After all, the search engine had encrypted search data, resulting in blocking the entire query information.
But one of seoClarity's capabilities, Search Analytics, reverses the "not provided" data, and allows identifying close to 100% of keywords driving traffic to your site.
Using the capability, I review phrases for content we already use to target a specific stage of the buying journey. This research typically uncovers interesting insights about the audience's preferences. I ask, "How are they finding the already published content and with what queries?"
Granted, I often have to filter the data to uncover the best insights. I do it either by the number of impressions on that particular piece of content or by conversion rate to quickly reach phrases with the highest potential.
But the returns of doing so are plenty.
For example, when analyzing one of our articles about a site audit data, I uncovered the audience's need to learn more about auditing the user experience.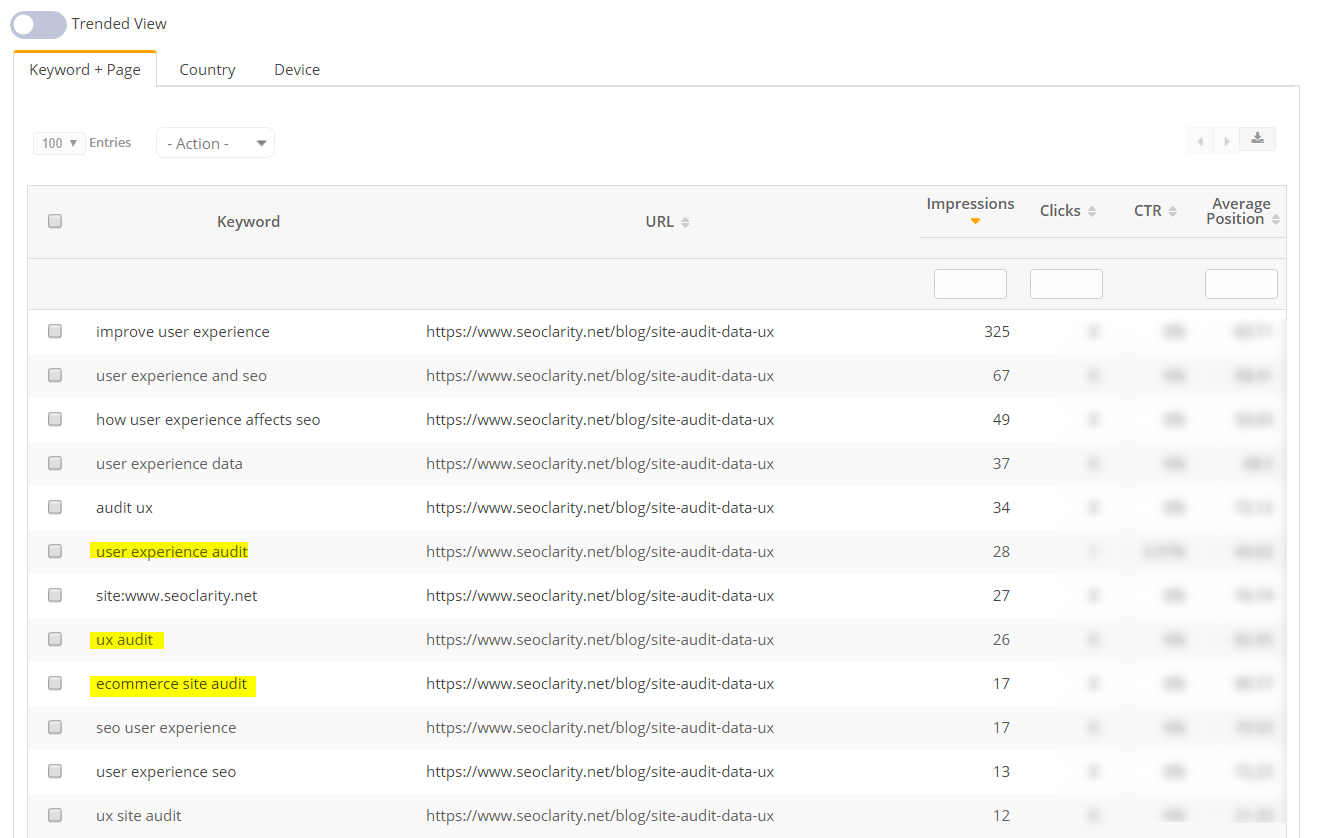 This led me to planning out additional content assets answering those questions.
So, as the first step:
Pick one content asset from your authority map.

Research keywords that drive traffic to it. Depending on the number of results, you might have to filter to find queries with the highest potential. I typically look at those with the highest number of impressions and conversions first and assess where I could improve those results.

List those keywords beside your content asset. You'll discover why shortly.
Step 2. Identify Keyword Opportunity and Content Ideas
The Search Volume feature is a great way to find the long tail keywords around the main keyword you're researching or the term that has already been used. With the word cloud, you can drill down even further to find the more relevant keywords related to that original term that is already driving traffic to your site.

For example, visitors typing "user experience" in the search box often look for specific how-to advice, insights on writing for the user better, and maybe user experience jobs.
By including phrases relevant to the intent you're targeting, you can:
Ensure that Google will position this page only for the most relevant searches

Identify ways to either improve the content or create additional assets to target the same intent.
I use two tools within the platform to do it:
Search Volume includes a handy word cloud and subsequent word list revealing connotations with the target phrase.
I often reference it too to identify new takes on the topic or ideas for new pages.

Using the same search term from above, I looked for "user experience" and noticed something in the list below. Let's say we have already done a piece on user experience data but we don't have content about user experience design. This would be something I would add to my list of potential topics based on the list in Search Volume.

From there, I add that term to Content Ideas tool to determine the questions that users are searching. Now based on the buyers' intent, I select the topic to write as our next piece of content.

The above image displays where the audience I want to capture is getting their questions answered about the term "user experience design". If the buyer is at the awareness stage, then I might select the topic "what is user experience design? overview, tools and resources ..."
Step 3. Discover Semantically Related Keywords
Our latest capability, Content Fusion is a real power-house when it comes to improving and enriching the existing content.
Content Fusion collates various search query data and analyzes your content with a purpose-built deep learning algorithm to suggest what information could enrich it further.
Now that I've finalized a topic based on the keyword "user experience design", we'll take a look at the term in Content Fusion to find the semantic keywords that have been used commonly across the sites that are already ranking for that term.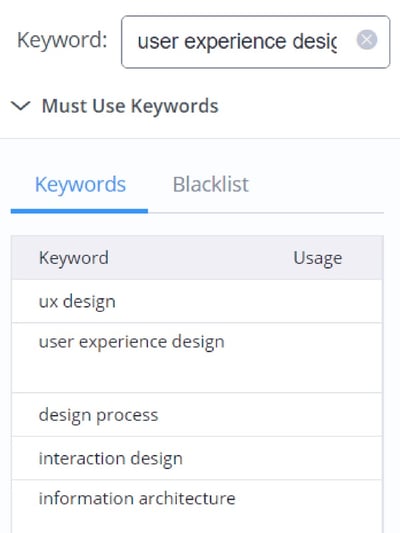 This quick search shows me the terms that I should be using in my page or blog copy in order to improve search visibility on that term. This can also show me, when content mapping, the terms that I may be missing on my site that, if used, improve my search visibility for that content topic.
And that's it.
Now you know how to discover holes in your content strategy and also find the exact information that would position your brand along the entire buyer's journey.
Want to see this action? Reach out below to schedule a demo with our team of experts who will walk you through the benefits of using our platform.