Are you thinking of launching an SEO content strategy but don't know where to begin? Do you wonder how to take your content marketing to the next level so that your pages rank better and drive you visitors and leads?
Content is the core element of many SEO strategies. Granted, Google and other search engines evaluate non-content-related ranking factors, too; however, those factors do not help much unless your site features quality content that answers the user's intent.
So, how do you plan and execute a successful content strategy to drive rankings, traffic, and leads? That's exactly what you'll find out from this guide.
We'll not only define what an SEO content strategy is, why you need it and what it involves, but we'll also walk you through the process of developing such a strategy for your brand.
At the end of this guide, you'll be able to answer the most common questions about an SEO-driven content strategy and know the next steps you should take to create one.


What is an SEO Content Strategy?
To understand the concept fully, we must consider its two core elements – SEO content and the strategy – separately.
SEO content refers to any information planned and created with a single goal in mind – to rank higher in search results and establish credibility and trust with your online audience.
In practical terms, writing such content involves applying SEO principles (both the basics and technical components) to different content types – pillar pages, product pages, blog posts, infographics, slideshows, guides, videos, evergreen content, and countless others.
Creating the content also involves understanding a specific user intent behind target keywords for the content.
An SEO content strategy, on the other hand, describes the process of planning the content to achieve your SEO objectives and executing on the strategy.
Before we go through the process in-depth, we must address one more issue:


Why Do You Need an SEO Content Strategy in the First Place?
It's no secret; when faced with a problem or lacking information, we turn to Google.
We research everything – tips to help us achieve a specific outcome, product suggestions, locations, and so much more.
It comes as no surprise then, that, as we've discovered earlier this year, of all search engines, Google drives nearly 93% of traffic to websites.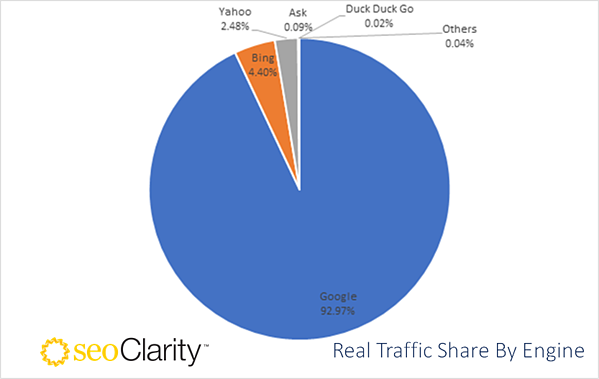 But there's another takeaway here. Potential customers are searching for you too, and the only way to be found is by showing up in the SERPs for whatever phrases they use.
Having an SEO content strategy assures you that you're not publishing content that nobody needs.
Instead, you target specific users' needs and optimize pages to highlight your authority to earn high rankings.
What's Involved in Creating an SEO-focused Content Strategy?
We've covered almost everything you need to know to get started planning your strategy. But before we get into the details, let's gain a 30000-foot view of what you'll need to do.
To me, a solid SEO content strategy focuses on five key areas:
Market and audience research that helps you understand who you're targeting better, learn about their needs and how you could satisfy them.
Topic and keyword research that helps you discover what problems or topics will deliver the biggest ROI from your efforts.
Content ideation defining what each content piece is going to be about.
Editorial calendar that prioritizes content over the course of the entire strategy (or 12-months, at least).
Content creation and optimization when you write your content and sprinkle on-page SEO on it to make sure that it can outrank the competition (while delivering insane value to readers).
Let's go through them in turn.
Note: To simplify the process, I grouped the five elements above into two stages. The first one focuses on preparation and research. The other defines how to write and optimize your content.
Stage I. Preparation and Research
Below, you'll discover all activities to conduct to a) collect all the necessary insights for your strategy, and b) identify specific content opportunities - topics, keywords, and ideas to create.
Please note, what follows is a generic overview of every step in the process. However, where applicable, I shared detailed guides that will help you learn more about a specific step.


Step 1. Determine Your Niche or Industry
The first thing to do is to define your target niche or industry.
Your best customers use different keywords, focus on different intents and seek different information depending on your market.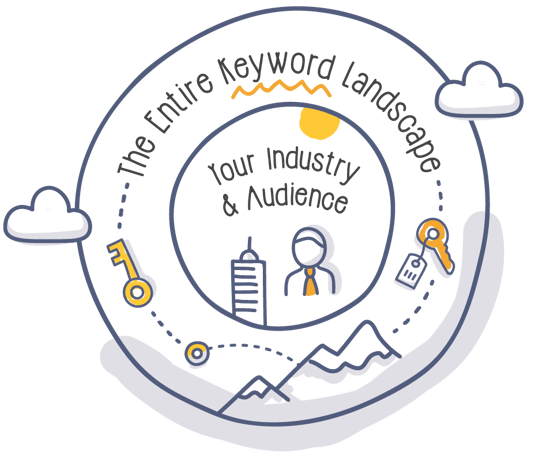 Let me illustrate that with an example. Let's pretend that you devise a content strategy for a basketball apparel store.
At first sight, it may seem that you could write about everything relating to the game, and still attract relevant traffic.
And yet, when I analyze the topic through Topic Explorer, I discover something interesting. Of the total 80 thousand keywords relating to basketball, only 10000 are used in connection in the apparel niche!
Total Keyword Opportunity

Keywords in the Apparel Niche

So, what about the rest? These are phrases relating to anything from sports discipline, hobbies, health to jobs in the industry, electronics and a lot in between.
By identifying your target industry or niche, you reduce the possibility of targeting keywords that are irrelevant to you.


Step 2. Define Your Primary Audience and Their Pain Points
Next, decide who you're targeting with the content. This is a critical step, as understanding your specific audience and their pain points will ensure that whatever content you'll produce will always be relevant.
There are many ways to identify the audience. I always recommend the following:
Evaluate your current best customers and look at what they have in common. You can also survey those people to understand their needs and desires better.
Conduct competitive research and identify who those companies try to attract. You can do so by evaluating their top keywords, the content, as well as their social media following.
Create buyer personas based on the data in your customer base coupled with any demographic data you can find online.


Step 3. Topic Research
At this stage, you have all the insights to start researching potential keywords for your content. But that wouldn't be a wise thing to do. Not anymore, at least.
You see, the way we search for information has changed tremendously in the past couple of years. In the past, Google wasn't capable of evaluating complex queries. As a result, we had to use well-defined keywords.
We had to type "best running shoes" or "best runners."
Today, with RankBrain and the Hummingbird update, the search engine can understand even the most complex queries and deliver the right information.
So, you can look for "running sandy beach shoes" and you'll find exactly what you're looking for.
But this change also means that customers can now use ANY query to find information. As a result, we can safely assume that there are countless possible keywords they could type into the search box.
All those keywords, however, belong to an entity we refer to as topics. The idea of topics in keyword research is vast, exceeding the information that we can include in this guide. Don't worry, though: I've listed some recommended reading to help you learn more about it below.
In general, however, topics are general ideas about the subject of the search (i.e. "SEO," "basketball," Jogging")
Topics do not define what the person is searching for, specifically. They define specific areas of interest of your audience instead and allow you to be highly specific with the keyword research.
Recommended Reading: Why Topic Strategy Matters Most in Keyword Research


Step 4. Keyword Research
With the topics at hand, you're finally ready to research keywords to target with the content.
In short, you're looking for phrases that relate to your target topics, and offer the opportunity to attract visitors to the site (measured by the keywords Search Volume, among other factors.)
During the research process, you also evaluate each keyword for the user intent to ensure that you provide relevant information.
Recommended Readings:
Step 5. Develop Content Ideas
This is the step when you devise specific content ideas based on the research so far.
I realize that it's not easy to discover what to write on each topic, so let me offer some advice:
Review the top-ranking content for each keyword manually. See if there are patterns among those pages. This might shed some light on the audience's expectations.
Use Content Fusion. This AI-powered content editor analyzes the keyword against many data points and delivers insights to help you authoritative content.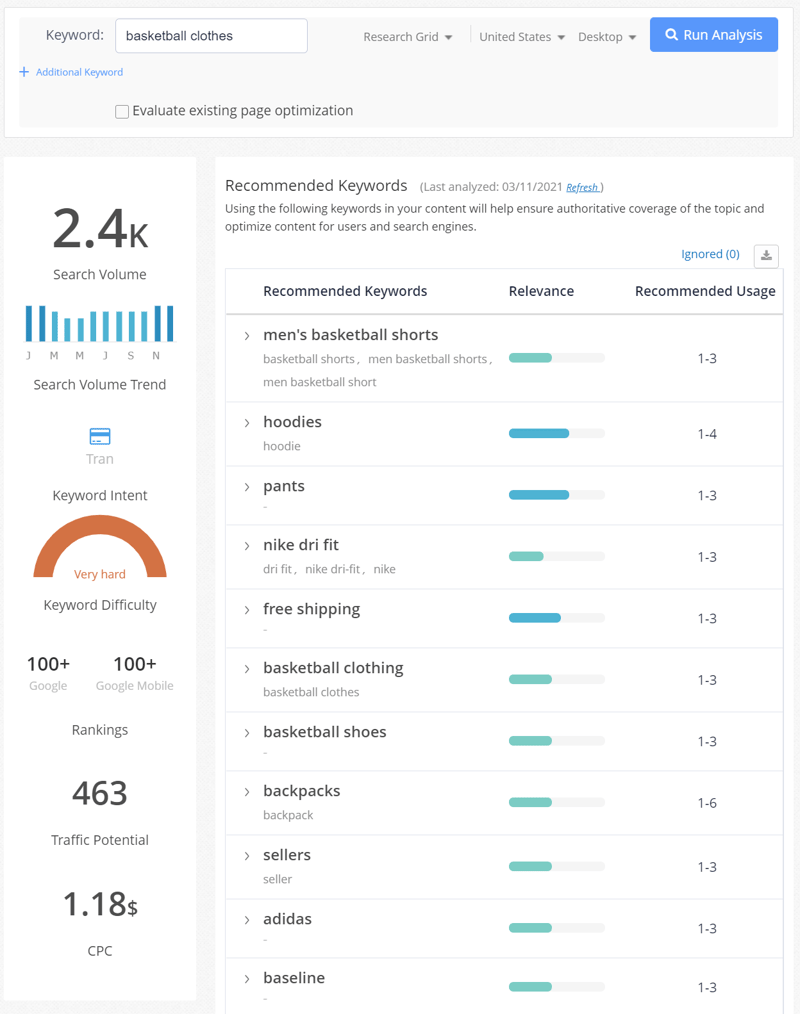 Step 6. Define Your Angle
I find this one of the most overlooked steps in the SEO content strategy. Companies spend time on understanding the audience, their pain points, and so on to create relevant content. Yet, they rarely consider how they could differentiate it from the competition.
But with thousands of new content pieces published every day, the only way to connect with the audience is by having a distinct angle.
Now, it doesn't mean that you have to write completely unique information. With so much content out there, it wouldn't be even possible.
What finding a unique angle means is defining your story or approach to what you're writing about.
Take us, for example. No matter what we write about – keyword research, SEO content, link building, you name it – we always approach those topics from a specific angle.
We become a single source of everything a client could possibly need in SEO. From technology, support, training to consulting and beyond. That level of care and the willingness to share our insights shows in our writing too.
So, find your angle. It will give your content a distinct voice, and connect you with the right customers.


Step 7. Audit Your Existing Content
Most of the advice we've shared so far revolved around identifying your market. The remaining three points in this section go one step further. They focus on preparing your specific content ideas. And the process should begin with a thorough evaluation of your existing assets – an SEO content audit.
Why audit your content?
First of all, because you want to understand what assets you have already and how they've been performing so far. With this information, you can:
Identify which topics have engaged the audience the most (and the ones your readers keep ignoring.)
Discover which pages to improve and boost their search performance,
Pinpoint assets to trim from the site.


Stage II. Content Creation and Optimization
In this section, you'll find advice on how to create a fully optimized, SEO-driven content.
Just like with the section above, what follows are generic overviews of each step in the process. However, you'll also find recommended reading to help you learn more about the relevant steps and discover how to implement them in practice.
The activities I recommend paying attention to when creating content include:


On-page Optimization
Most of your optimization relates to on-page elements:
Using the keyword in the meta title and description,
Featuring the keyword in the H1 tag (and in H2 too, ideally,)
Making your content relevant by including semantic-related keywords throughout the copy,
Verify you've covered the topic with complete authority,
Include a unique point of view within your content,
Ensuring a high engagement rate with your content (more on this in the next step,) and much more.
Recommended Reading: How to Write Optimized Page Title Tags


Engagement
Dwell time – how much time people coming from the search engine spend on your page – plays an incredibly important role in rankings and driving your user further into your site. In fact, as some SEOs point out, it's the engagement signals that get you to the top of the SERPs.
The most common ways to increase engagement include featuring videos, visuals, infographics and other elements that attract the reader's attention and hold them on a page longer.
Recommended Reading: 8 Tricks to Creating Engaging Content
But engagement shouldn't happen by accident. It should be the result of careful planning. Here are some ideas to help you with achieving it:
Review whether other top-ranking content features any engagement elements (videos, visuals, graphs, etc.)
Analyze your pages with the highest dwell time to identify which elements engage the audience the most (hint: use a heatmap software on those pages to find out where users spend the most time,)
Ensure that you cover the topic in-depth, leaving no information out. Such a page is bound to retain readers for longer. Use Content Fusion to identify the information your copy should include, and build it from that.


Interlinking
Internal links connect pages on the same domain. They help point readers to other, relevant information to find out more on the topic.
But internal links also help SEO. Thanks to them, Google can discern the content of the linked page. Not to mention that interlinks pass link equity between pages, allowing you to strengthen new content by passing the authority from higher-level assets.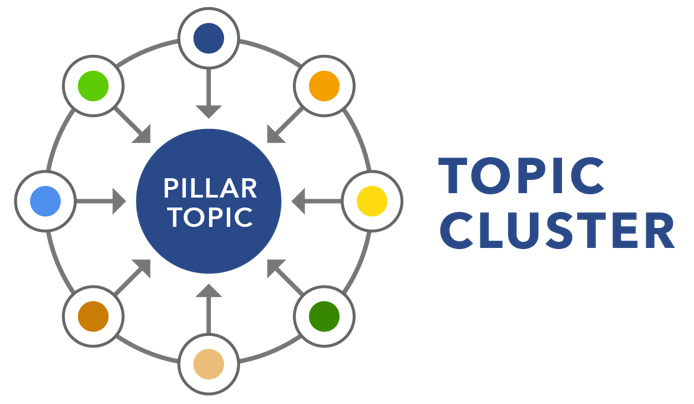 As part of the SEO content strategy, I recommend, you identify interlinking opportunities for each new content asset. By creating those internal connections, you'll help to establish that page in your topic cluster, and boost its chances of ranking well.