There are so many strategies to increase organic visibility, from improving content or meta-tags, creating a better customer journey to building more links and much more in between.
But there's one particular strategy that's highly effective and… so far, greatly overlooked.
And that strategy is figuring out what content already works for your competitor and then, creating even better assets to outrank them in the search quickly.
I already talked about competitor research in SEO here on the blog. But in this article, I want to look at one specific competitive intelligence strategy up close - closing a content gap.
So, if you're wondering how to boost your organic visibility and "steal" your competitors' rankings, then this post is definitely for you.
The Full Cost of Having a Content Gap
Let's face it: every keyword a competitor ranks for and you don't is a lost opportunity for your organization. To put it in more business terms, every one of those keywords means lost sales and revenue. And yet, I bet you actually rarely think about the phrases companies you battle over search real estate to rank for, right?
So I thought that the best way to illustrate the importance of closing the content gap is by showing you the real cost of having it in the first place.
Take a look at the screenshot below. It shows the difference in keywords between two domains (and it's huge, isn't it?). With more of 200,000 keyword gap, there is a huge opportunity here for carmax.com to understand the opportunity they have to increase their search visibility against one of their competitors.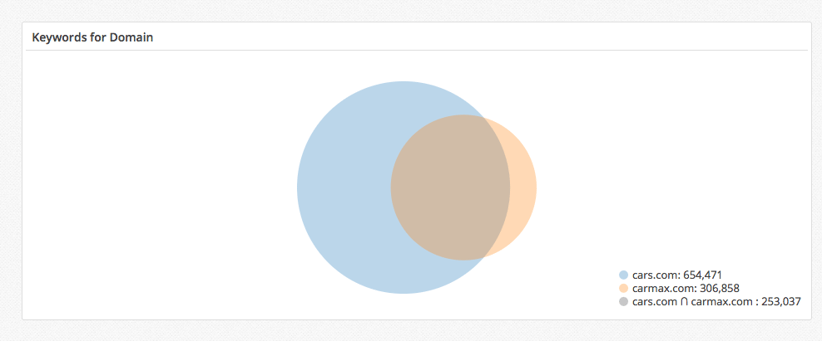 How to Close the Content Gap (Quickly)
Note, for the purpose of this post; I'll use our platform, seoClarity to illustrate the process.
In the platform, navigate to the Content Gap feature which is positioned under the Research Grid. For clients, click here.
Next, specify your domain, and any other domains whose keywords you'd like to compare (you can use a maximum of 5 domains, including yours).

(Notice that you can analyze the content gap by device and location too, giving you access to highly targeted data.)
seoClarity's proprietary analysis methodology will compare keywords all those domains rank for, looking for phrases you and your competitors have in common as well as those only a specific domain ranks for. You can also add your domain to see where you don't rank and where your competitors do to get a complete picture of your industry against your site.
For this example, we will take a look at the associated metrics for Carmax.com and Cars.com:
Between those two domains, there are over 700 thousand lost keyword opportunities, and over 100M lost visits.
Incredible, right? Putting a value to a keyword, or taking your average conversion into consideration could quickly reveal what sort of revenue you might be missing by having a content gap.
(And yes, I realize that this is a very basic calculation that doesn't take many factors like keyword intent or type into consideration. But it's enough to illustrate the lost opportunity of not ranking for those keywords).
From then on, you can scroll down to review keywords per domain. Note that seoClarity reports on rankings per keyword too, giving you additional data points on which you could base your next actions.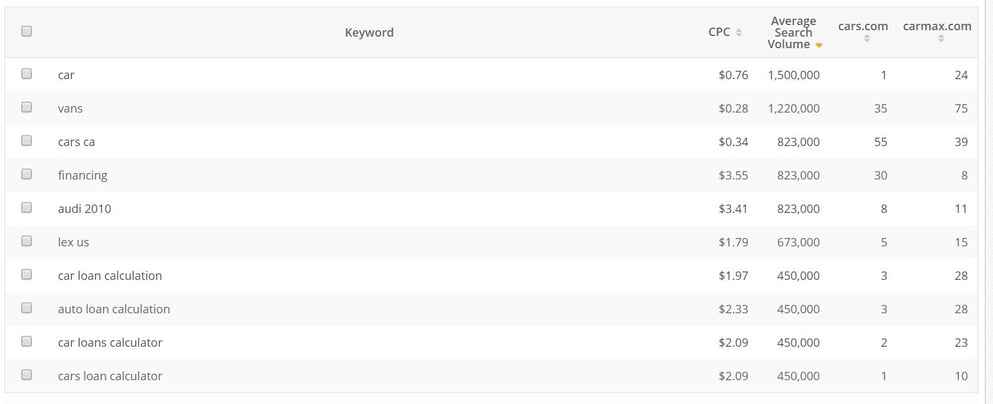 In addition, the platform also reports on the traffic and keyword opportunities for you. I lets you know what gains you could expect when you start closing the content gap. You can also filter out any brand keyword terms, rank position, and many others. This helps to narrow down the opportunities to a manageable way and begin to track your progress.
Assessing Where to Invest Your Time First
I agree, identifying the content gap is actually easy. But figuring out where to start closing it, particularly if you're dealing with tens of thousands (or more) of potential keywords poses quite a challenge.
After all, you can't just start at the top of the list and work your way down. Not with such keyword volume. So here are a couple of ideas on how to get started closing the content gap too quickly see positive ROI.
Strategy #1: Start With Keywords Relevant to Assets You Already Have
The biggest challenge when you're trying to rank for all those additional keywords is producing quality content that could help you achieve that. But the chances are that you already have some assets that could help you rank for some phrases. And to utilize it in this strategy, you might just need to do update some existing pages to make them more relevant for additional keywords.
So, start by identifying keywords that relate to pages or other content assets you already have.
Secondary, look at opportunities to use other assets to quickly create content optimized for specific keywords.
For example, if your organization produced eBooks or white papers that relate to some of the phrases you've identified in the content gap analysis, then those might form a basis for many additional content types. For instance, you could re-purpose them into Slideshare presentations optimized for those specific phrases. Or create dedicated landing pages for them that could help you target additional keywords.
Similarly, you could use sections from those publications as blog posts or other content types, and optimize them for content gap phrases. The opportunities are endless.
Strategy #2: Target Commercial Keywords First
The premise behind this strategy is simple - by their nature, commercial keywords promise the highest opportunity for achieving ROI. And so, focusing on them first helps you quickly deliver results for your organization.
To begin, assess your content gap keywords to identify phrases that correspond with the buying intent. They will also relate to various content assets you already have - product pages, sales pages, etc. And so, to target many of them, you'll just need to update content on those pages.
Additionally, you could begin building dedicated landing pages. Although it will take time, given the potential revenue they might generate, the project would be well worth it.
Strategy #3: Target Quick Gains
Let me begin by clarifying something:
In this case, I understand quick gains as keywords you are sure you could outrank the competition for fast. These could be keywords you already have existing high-quality content assets for (as per the strategy #1 above). But also, phrases where you can quickly exercise your domain authority to overtake the SERPs.
Another good example are phrases that relate to areas in which have a great expertise and could create more valuable content. The key to this particular strategy is to identify phrases you could rank for quickly to show the ROI of closing the content gap most quickly.
Closing Thoughts
Out of all the various ways to increase search visibility, nothing beats identifying keywords that your competitors rank for and you don't. Then create content that helps position your site for those phrases.