You know, contrary to common belief, a content strategy is more than just blogging. Many other content types could successfully drive visibility, traffic, and revenue.
Similarly, creating content for SEO involves a lot more than researching popular, relevant keywords or topics. In this post, I'll share four ideas for delivering a successful content strategy aimed to increase search visibility when you deliver content based on your audience's intent.
Intrigued what they are? Then keep on reading.
Idea 1. Research Your Audience But Also, The Competition
I'm sure you know this already: To deliver a successful content strategy, you first need to discover what's actually going to engage the target audience. Problems, challenges, pain points, and questions your audience asks online provide you with the insight about the topics you should focus on.
And as it turns out, finding those out isn't as difficult as it may seem.
For one, you can find a plethora of this information online. Sites like Quora or Yahoo! Answers give you an opportunity to discover the exact problems your audience struggles with.

Industry-specific communities, forums or newsletters allow you to uncover hot topics your audience ponders about right now.

And researching the most popular content on the blogs your audience frequents could also point you in the right direction.
And then, there's the competitive research.
Analyzing competitors content marketing strategies allows you to quickly identify the content that delivered results for them. And in turn, reduce the trial and error you'd have to go through to achieve similar results.
From most popular keywords, topics, to promotional strategies, researching competitors' content will help you quickly build a solid foundation for your strategy.
What's more, doing so is actually quite simple. Tools like seoClarity allow you to complete practically every type of competitive research from one place. From analyzing content gaps, identifying your competitor's most popular keywords to discovering questions your audience asks.
Idea 2. Target the Right Search Intent
The information we seek (and search phrases we use to find it) change, depending on our current search intent. For example, when planning to buy the Surface device, we'll type "Buy Surface tablet" into the search box. However, if we're only considering whether to get the device, we might search for "Surface reviews", etc.
What goes with it, to deliver a successful strategy, you must create content topics and to target users with the relevant intent.
#1. Map content ideas to the right micro-moment
Typically, when planning a new series of content, you focus on either a specific product or pain paint your products help overcome. And so, as a starting point, map it to the four search intents: KNOW/DO, GO, and BUY.
This way, you'll ensure that you target all searchers interested in the topic, and present them with the most relevant information.

(Sample content map)
#2. Identify existing assets you could leverage
The chances are that you already have content that you could optimize to rank for those micro-moments. And leveraging it would help you speed up getting your brand in front of relevant search audiences. When assessing your content assets, pay attention to pages with the highest search traffic or rankings to identify low-hanging fruit. This is a screenshot from seoClarity's rank check tool that demonstrates our site's performance in search, but allows you to slice, dice and analyze the top pages by rank positions to easily discover opportunities.

You also probably have existing content that you could be leveraged to earn Google's Answer Box, the "rank zero" on the SERP and the single answer to voice queries.
With Answer Box Opportunity, seoClarity can help find the keywords that generate answer box results and also provide information on which site and content types are ranking in the the featured snippet. By delivering or optimizing content that already exists there is an opportunity to earn that top spot.
#3. Leverage user-generated content to optimize and improve existing pages
It's already been proven that user-generated content can help boost rankings, and deliver more user-focused information. Here, take a look at a short clip from Michael DeHaven's Bazaarvoice presentation at Clarity'16 discussing one of his tests on the matter.
Idea 3. Mix Different Content Promotion Strategies
Although your goal might be to boost rankings and organic traffic, don't make the mistake of focusing on this single promotion channel only. Instead, use other content distribution strategies as well to drive traffic to your content.
And there is a number of reasons why:
For one, boosting the promotion of you content will help it rank faster.
It will also help generate more links quickly, particularly if you use strategies like outreach to generate interest from websites that could reference it.
Last but not least, given that many people might be seeking the answers you provide right now, promotion allows you to attract their attention right away, without having to wait for SEO to build.
What's more, some promotion strategies, such as social media marketing and paid social ads could help you test how much the audience engages with the content. And in doing so, improve its relevance, making it even more authoritative (in turn, increasing its chances to rank higher in search).
Idea 4. Test Based on the Data
I admit, testing anything after you've launched a content strategy would deliver hardly any satisfactory results. You simply lack the data to support any decisions regarding new initiatives to test. But once you gather enough information, you should start identifying new opportunities or ideas to boost your content's performance.
From testing new content ideas, topic categories, keywords, to updating the page layout, calls to action and much more, data can allow you to take the strategy to a whole new level. Many brands test not only the impact of their content but how to actually entice visitors to take action.
Drift, for example, tested whether removing lead capture forms would affect their conversions. Hubspot measured the impact of influencer outreach on website traffic. And that's just one of many tests they've conducted recently. In fact, Kieran Flanagan, Hubspot's VP of Marketing shared their methodology for planning and executing tests at the SaaStock conference last year.
Other companies identify top landing pages and optimize page layout to position the most important elements to generate a response. And then, they deploy changes based on those findings.
To conduct those tests, you need to have the data. That's why you should set up your Analytics to provide you with at least some insights beyond just page views and traffic sources.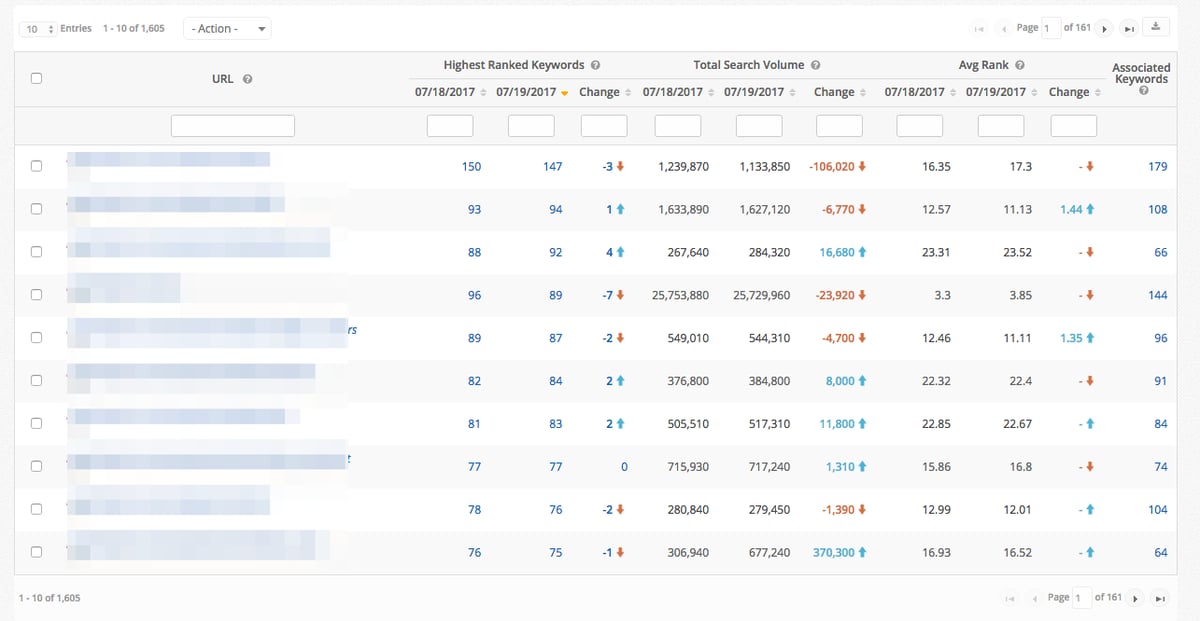 Closing Thoughts
Although in principle content marketing may seem simple, it is slowly becoming an extremely competitive strategy. Simply publishing articles to a blog is hardly enough to attract and generate interest with content. By including other content types that match your audience's search intents, coupled with in-depth research and promotion, could give your strategy the much needed leverage to deliver the ROI you expect.
Want to learn more about how seoClarity works clients to help them drive search visibility and increase their content performance? Schedule a demo today!